Ivana Kotorchevikj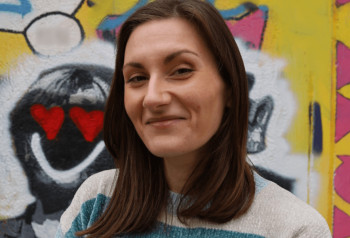 It's not easy to get noticed on TikTok in an ocean of videos. Creators and brands alike are racing to get as many views on their TikTok videos.
However, getting your videos in front of as many eyes as possible and keeping the viewers' attention is not an easy game. It will take a lot more than just getting on board with the latest TikTok trends and hope to go viral on TikTok.
Building a presence on TikTok is one thing. But, there's a whole science behind getting people to watch your videos on TikTok, and it involves everything from using trending sounds to creating captivating captions to optimizing your videos for the For You page.
Don't worry - you don't have to invent the wheel with every new video. In this guide, we've curated battle-tested tips that will help you get more views on your TikToks. You'll also get insights into how the TikTok algorithm works and how to craft your videos accordingly.
Things you need to know about TikTok views
Before revealing to you the insider tips and hacks on how to get more views on TikTok, we'll go back to the basics you need to know about views on TikTok.
What counts as a 'view' on TikTok
First, let's see what is considered a 'view' on TikTok, as each platform counts views differently.
Views on TikTok are counted from the second your video plays. But before you get any crazy ideas, keep in mind that watching your own video on replay a hundred times doesn't transfer to 100 views - TikTok doesn't count the view from your own account.
However, if someone plays your video on a loop, or a viewer watches your video multiple times, all those are counted as new views.
Now, getting someone to watch your video until the end is a whole different story. But we can agree that the threshold for what counts as a 'view' is pretty fair.
How much does TikTok pay for a view?
The second most important thing to know is how much money you can make out of your view.
In August 2020, TikTok launched a Creator Fund to incentivize the most popular and successful creators on the platform.
There is no set or standardized fee or rate, but it ranges between $0.02 and $0.04 per 1,000 views.
However, there are several criteria you need to meet in order to be able to monetize your views:
You have to be at least 18 years old.
Have a minimum of 10,000 followers.
Have had a minimum of 100,000 video views in the past 30 days.
Be based in the US, UK, France, Germany, Spain, or Italy.
Your account needs to meet the TikTok Community Guidelines and Terms of Service.
If you fulfill all the above requirements, you can apply for the Creator Fund. Open TikTok, go to Settings and Privacy > Creator Tools > TikTok Creator Fund.
If you're eligible, you'll be prompted to enter your contact info and agree to the Creator Fund Agreement.
How many views does it take to go viral?
When you post your video on TikTok, it is displayed to 300-500 random users. And for the video to go viral, around 70% of those viewers need to watch the video until the end.
Should you buy TikTok views?
The definite answer is no! Paying for TikTok views won't bring you the desired success. Sure, your view metrics will go up, but your engagement rate will drop, you won't get any followers, and what's worse, the viewers that you paid to watch your videos will be removed by TikTok.
So, roll up your sleeves and invest effort - this will definitely bring you genuine views. Also, follow the tips below to lead you to your desired views.
10 tips to get more views on TikTok
These are the 10 battle-tested tips that can help you get more views on TikTok.
Tip 1: Optimize your TikTok video for the 'For You' page
To get more views and go viral on TikTok, your video should appear on the 'For You' page. The FYP is the first page the user sees when opening TikTok - the app's home page. It features an endless feed of content curated by TikTok's algorithm customized to a user's interests.
The magic of the FYP is that anyone's videos can be featured on it. You don't have to be an established creator with thousands of followers.
However, there are things you can do to boost your chance for the algorithm to show your video:
Focus on high-quality content - Although most TikTok videos are viewed on a phone, that doesn't mean you should sacrifice quality. When creating your video, focus on framing, good lighting, and the best quality sound possible. The TikTok algorithm prioritizes high-quality content.
Post content consistent with your niche.
Use relevant and trending hashtags in your TikTok videos (We'll talk about this in more detail in a separate point below).
Use trending effects and sounds - We'll discuss this tip in detail below too. But, it's mentioned here because it unquestionably helps to optimize your TikTok and gain more views.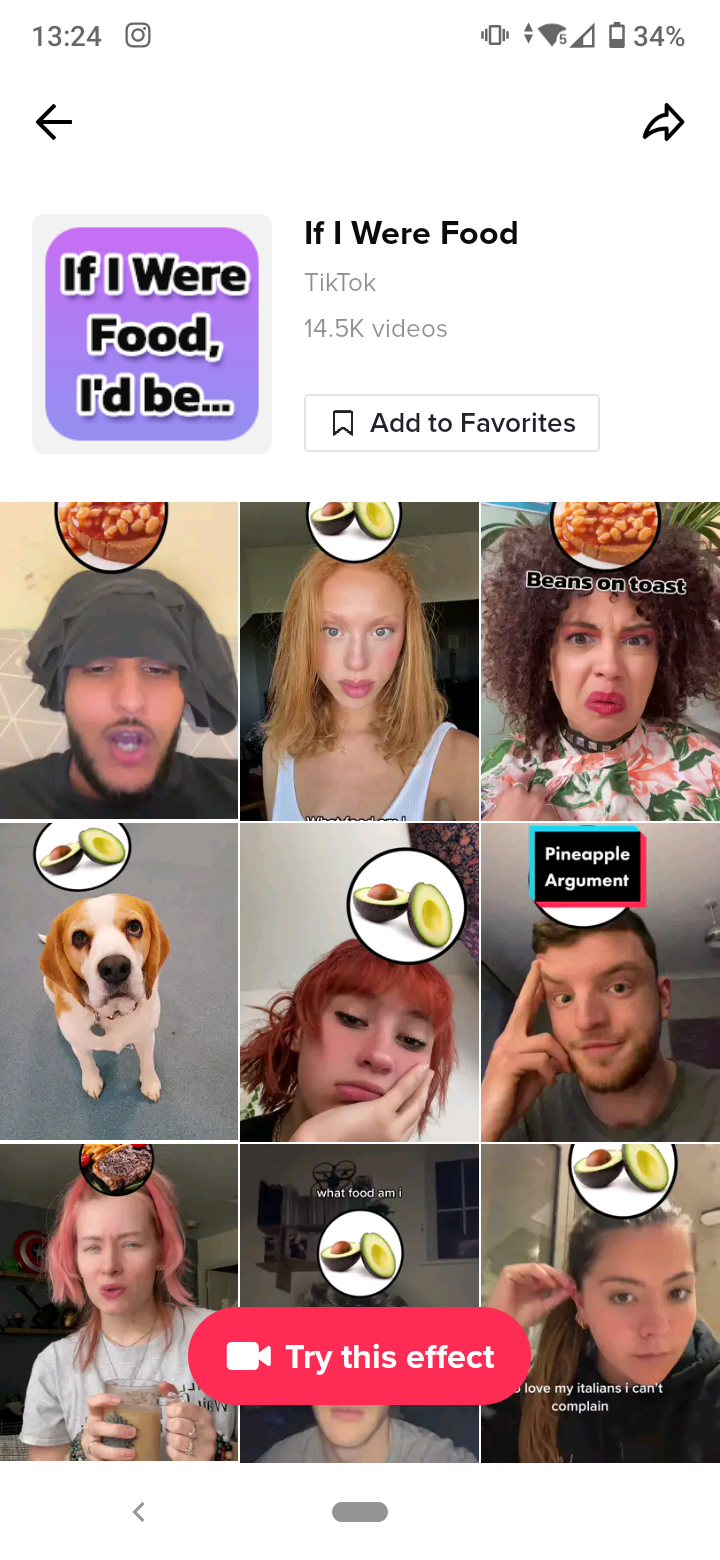 Create shorter videos - It's a fact your TikTok video has a greater chance of being rewatched if it's a shorter video of only about 7 seconds long, as opposed to 55 seconds.
Post your video at the right time - Posting time is an important factor in getting more views. In order to get the desired views, you have to post when your audience is active on the app. Research who your target audience is and check out your analytics to discover when your followers are active to figure out the best time to post your videos.
If your audience is from a different time zone, you can also schedule TikToks in advance on a desktop.
Tip 2: Engage with your target audience
Whether you are a creator or a brand, TikTok is a place for different niches and different audiences for that matter.
You should understand who your audience and followers are, and what they like to watch. Once you do, start engaging with them by liking and commenting on their videos and sending DMs. This way, you'll build relationships and support with other TikTok users, which can lead to more likes and shares on your videos.
This is the best organic way to boost your profile with the algorithm and secure more views for your content.
🔎 Check out how to view someone's TikTok profile without them knowing.
Tip 3: Use trending sounds and effects
One of the proven ways to get more views on your TikTok videos is to get on board with the trend train, including trending sounds and visual effects.
Although it's not official information, there's a theory among TikTokers that adding a trending sound to your video, even at a low volume, will trick TikTok into displaying your video to more people.
Whether this theory is correct remains unclear. One thing is certain though — the TikTok algorithm shows users content that they've engaged with previously. A lot of people watch trend videos; so if you include trending sounds and effects in your videos, you'll increase your chances of more people discovering and watching your TikToks.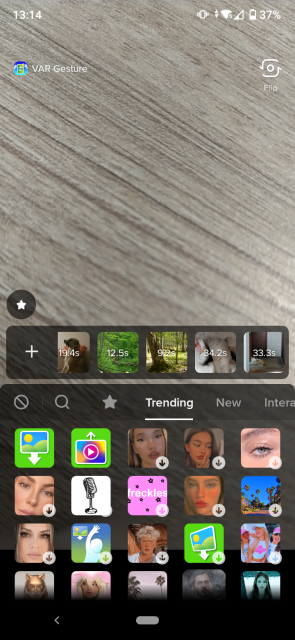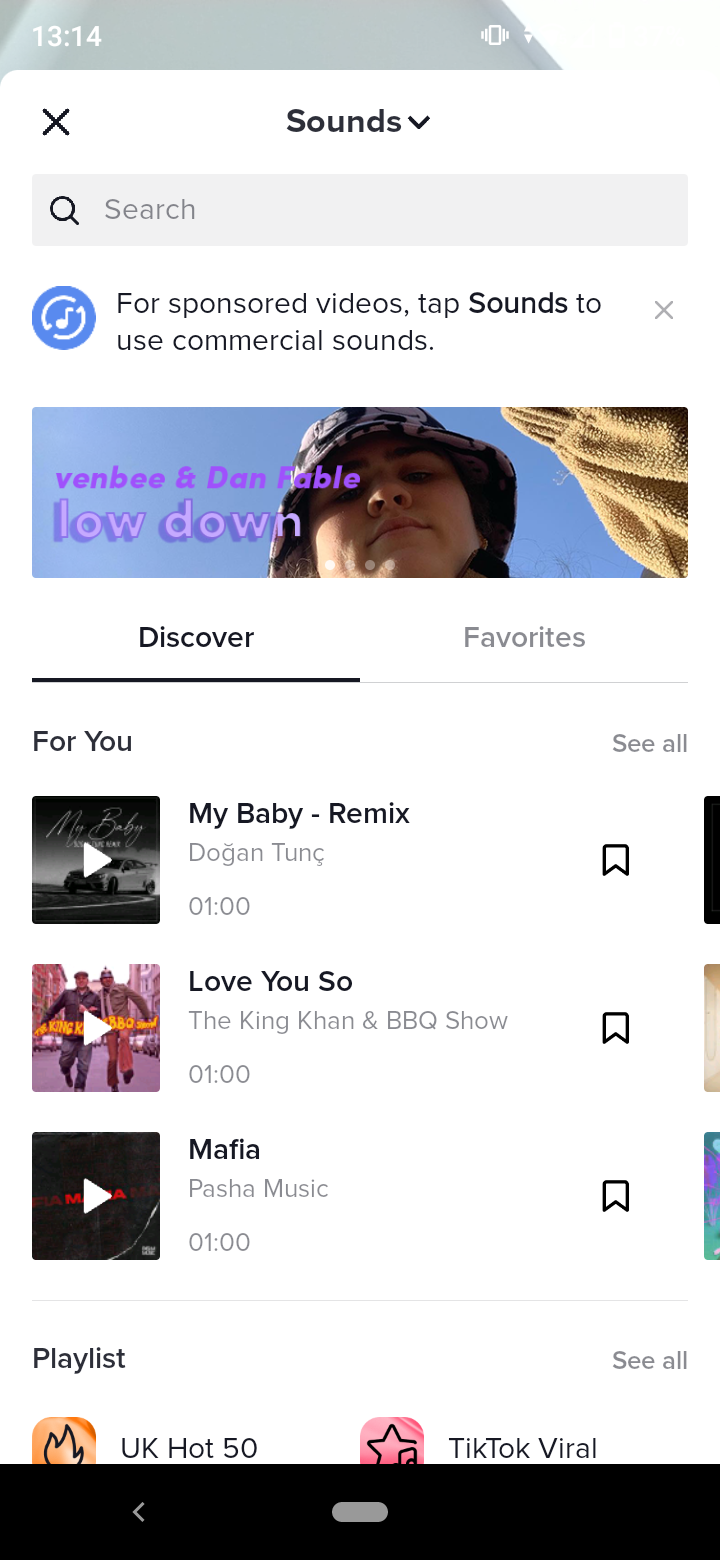 Tip 4: Put keywords in your captions
Including relevant keywords in your captions can boost your videos' discoverability. When TikTok users search for content, they use keywords to narrow down their searches by users, videos, sounds, and hashtags.
Consider the keywords your audience would be using in the search bar and what they would like to see when they are searching for it. Then, add them to video captions relevant to them. For example, if you are an aspiring fashion TikToker, you would want to add keywords such as fashion, fashion trends, beauty trends, outfit, outfit of the day, etc.
Hashtags are an essential part of TikTok's platform. They help TikTok identify what topic you're posting about and who might be interested in watching it.
They are also indispensable tools with which TikTok helps users discover content. For example, if a user watches a video with the same hashtag you used in your video, they will probably also watch your video later.
There are different strategies you can use with hashtags. If you are running a business account on TikTok, you might include niche hashtags that your audience might be interested in.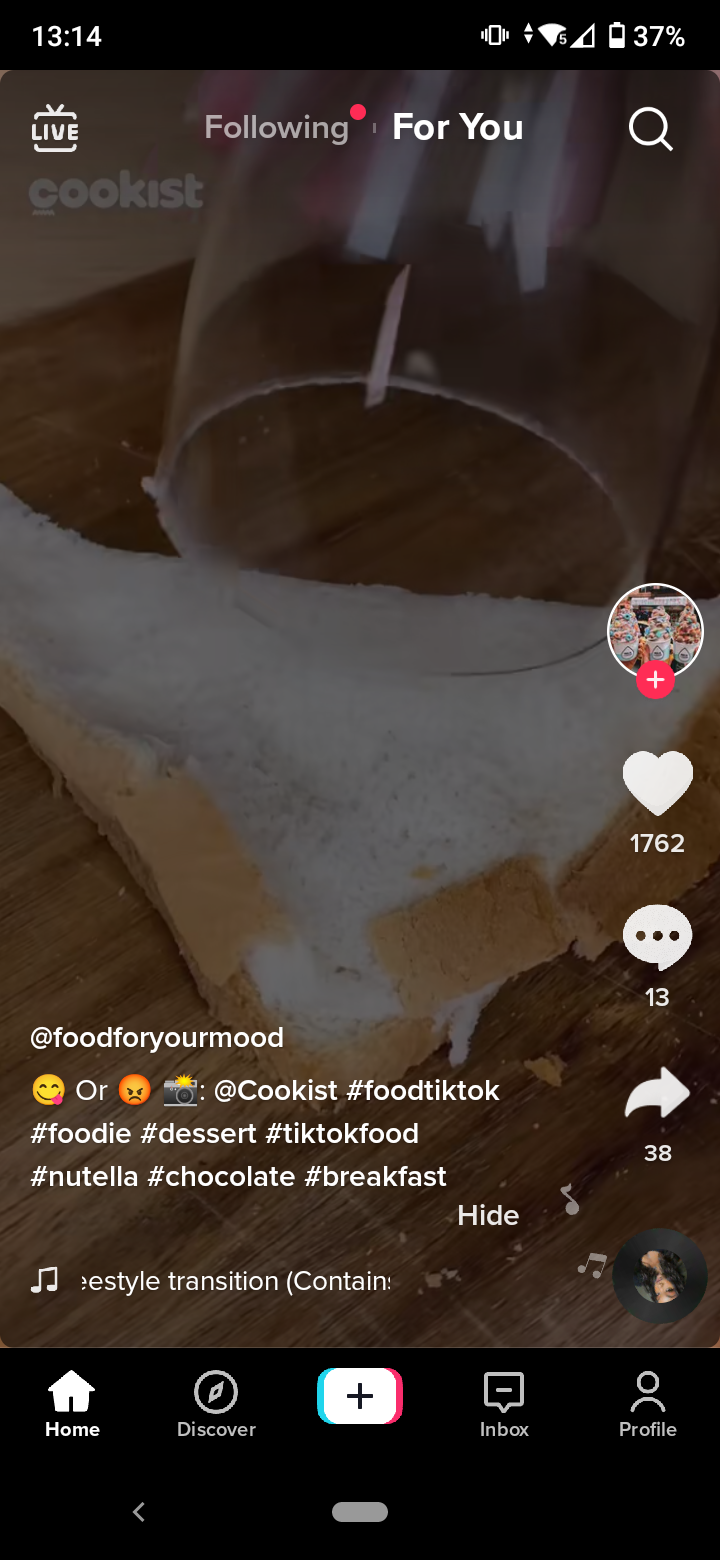 Also, there is evidence that trending topics are more likely to show up on the For You page. So, it might be worth your while to research what are currently trending topics and join in the conversation in your own videos, while providing your brand's or personal authentic touch.
To discover trending hashtags and topics, go to the Discover tab on TikTok. Here you can scroll through the currently trending hashtags and find ones that you can create your content around.
Tip 6: Keep your videos short and sweet
You can now upload longer videos on TikTok, but it's a short-video sharing platform, and TikTok favors shorter videos with a seamless loop.
So, although TikTok expanded the video length to 10 minutes, it's still a good idea to keep your videos short and sweet. Videos that are under 30 seconds have a bigger chance to end up on the FYP and users are more likely to watch until the end and rewatch your videos.
Also, keep in mind that it's essential to hook your viewers in the first three seconds.
Tip 7: Try out duets
What better way to gain more views on TikTok than by utilizing the popular video format that is basically designed to bring in more views?
You can try doing duets, where you can share a split-screen with another user's video that's already posted and piggyback off someone else's following, which can turn into your own views. And who knows, maybe you'll convert some of their fans to your own.
Tip 8: Focus on creating witty captions
Although videos are the foundation of TikTok, don't overlook the captions. You have only 150 characters to work within the captions, they can be a powerful tool to hook the viewers, convince them to watch until the end, and get them engaged in comments. They can serve as a pitch to your audience for your content.
The captions can give more context to your video, and they are a place where you can add relevant keywords and trending hashtags, as we've mentioned above.
If you have accounts on other social media platforms like Instagram, Twitter, and Facebook, you can share your TikTok videos on them.
No matter if you are a creator or a brand, you can direct your audiences on other social media platforms to your TikTok content and increase your views. For example, you can share a snippet on Instagram Story, or share a link to your TikTok on Twitter. This way, you both promote your TikTok videos to your audiences and share fresh content on your other channels - it's a win-win situation.
Tip 10: Join forces with influencers
This tip is more applicable if you are a brand. There's a reason why influencers are successful - they know how to keep viewers watching and keep coming back to see what's new.
Collaborating with popular TikTok creators is a great way to gain more views on your videos.
Whether you team up with an influencer or famous TikToker, or collaborate with another brand for a cross-promotional opportunity, introducing an outside voice in your TikTok videos can get your new audience, fans, and views.
The guest will bring in a fresh twist and perspective to your content and lure in the eyeballs of eager fans to your videos.
💡 TikTok Stories are a great tool for getting more views on TikTok. Explore how to create and use them.
Wrap up
These are several tips you can try to increase your views on TikTok. However, if you don't see any improvements, don't discourage yourself. There are many reasons why you do not see the desired views.
Succeeding on TikTok is all about finding your own voice and groove, which takes time. Be patient and consistent with your content, and the results will come in time.
Additionally, check if your account is shadowbanned by any chance, and what to do to remove it.
If you get more professional in TikTok, check out our Guide on how to get verified on TikTok.