Ivana Kotorchevikj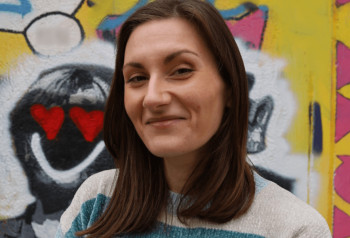 Makeup trends come and go, but it seems like TikTok makeup trends are here to stay. When it comes to TikTok makeup trends, there's no shortage of creativity. From colorful eyeshadow to bold lip colors and innovative contouring techniques, TikTokers are constantly experimenting with new looks.
Of course, not all TikTok makeup trends are wearable in everyday life. But that's part of the fun! It's fun to experiment with different looks, even if you don't end up wearing them out of the house.
So if you're looking for some makeup inspiration, be sure to check out the viral TikTok makeup trends below. We've rounded up the latest and greatest TikTok viral beauty trends that will make your makeup routine easier.
Contouring beauty hack
You might have been contouring for quite some time that you could do it in your dreams. But, TikTok user @meganlavallie enlightened the TikTok community with a smart beauty hack for contouring your face.
In the video, she starts by applying a dot with the Charlotte Tilbury Hollywood contour wand to the spot on the cheek where it touches the teeth. Then, she doesn't swipe her brush back and forth as you would normally do contouring. Instead, she blends it by focusing her brush right on the spot where she added the dot.
This move gives you the illusion of higher cheekbones, Megan explains. If you want to highlight your cheekbones, use this contouring trick to sculpt your face in just a few brush strokes.
Using a color corrector as a blush
Using a single beauty product for multiple purposes is an effective way to save money on makeup products while having your makeup on point. Content creator @makeupbytammi showed us how to use a color corrector as a cream blush.
Tammi uses an orange corrector, which is great for darker skin tones. She applies a few swipes of the bright orange pigment to her cheeks and uses a brush to blend it along her cheekbones. The strong pumpkin color blends into a soft peach blush that highlights her cheekbones amazingly.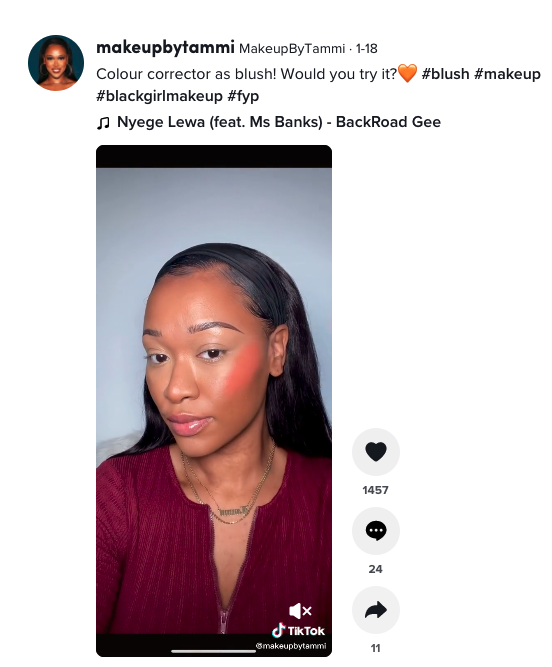 Using eyeliner to contour your nose
Another instance where you can use a makeup product for several purposes is presented by TikToker @_minkeit, who shared an easier way to control your nose contour by using an eyeliner pencil.
Amina chose a liner pencil to draw fine lines on her nose instead of the usual cream or powder contour stick because she couldn't find a contour product dark enough for her skin tone. Apart from contouring her nose, she also uses it on her eyebrows and lips.
Besides being affordable, the eyeliner gave her more control in contouring her nose. Amina adds that she has been using an eyeliner pencil to do her nose contour, although she uses other contour products.
So, if you are looking for multipurpose makeup products, this eyeliner-turned-contour stick is perfect for you.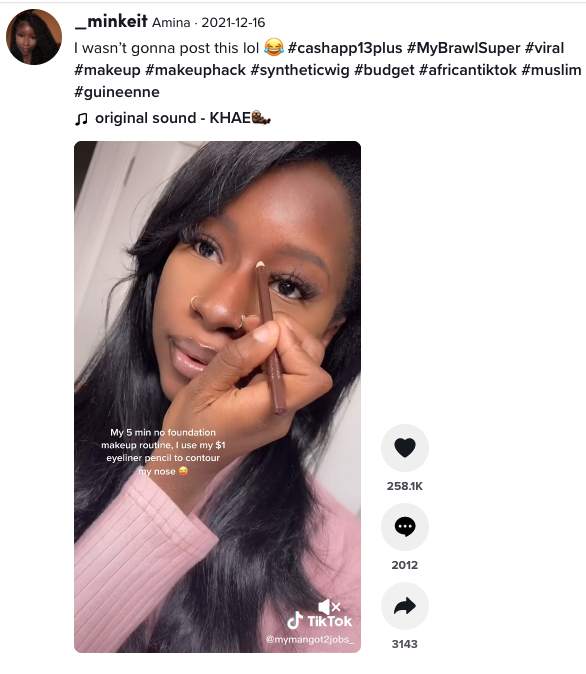 Coloring your eyelashes
The colorful eyelashes trend was a big hit in 2020, and it is still going strong in 2022. Toronto-based TikTok user @glamwithsuzan gave a new twist to the trend. So, instead of coloring her entire eyelashes, she applied yellow eyeliner to only a few eyelash hairs, creating a striped effect.
If you have falsies, make sure to use water-activated pigment so you can wash off the color without damaging them.
Highlighting the undereye
The concealer is a useful makeup product to cover up acne and dark spots on your face, and even as a foundation. But did you know that you can use white concealer to highlight your undereye?
New York-based Thiri, whose username is @blumarinebae, tried the trick and gave her stamp of approval, like many other TikTok users. She was inspired by a fellow TikToker, Halen Rodriguez, who applied a white concealer right under her eye, then blended it out with a concealer a bit lighter than her skin tone.
Thiri highlighted the white concealer underneath her eyes and her eyebrows. It made her undereye brighter without leaving any flashback and gave her a glam finish while accentuating her features nicely.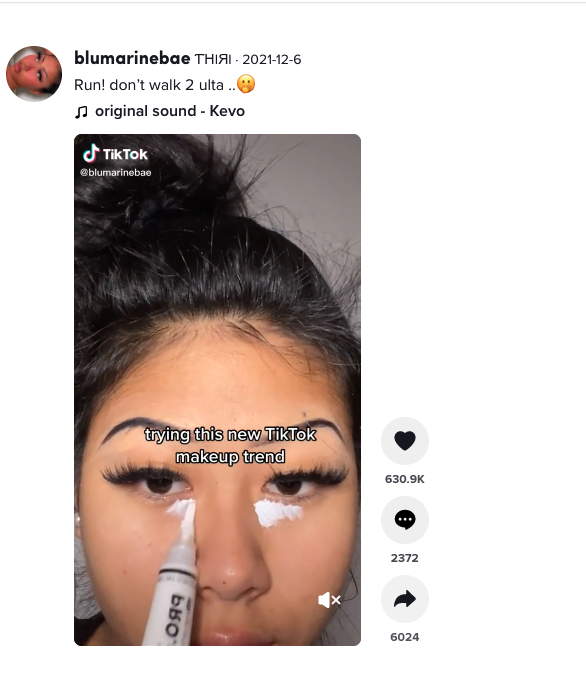 Doing a heart-shaped nose contour
This type of nose contour is more to do with your creative side than honing your contouring skills. If you are looking for more experimental makeup for certain occasions, you will definitely like this next trend.
African TikToker @pridesegale, showed us how to do a heart-shaped nose contour in one of her videos. She uses a contour to draw a small heart of highlighter on the tip of her nose, which adds a cute charm to her look.
Kutlwano starts contouring her nose with a brown concealer, drawing two lines down her nose. Then she adds a tiny heart to the tip of her nose. She blends it using a brush and a sponge and applies power to bake the sides of her nose.
After adding a few swipes of shimmery highlighter in the middle of her nose and on the heart, she finishes off by adding a few dots around her nose to create faux freckles, topping off her avant-garde look.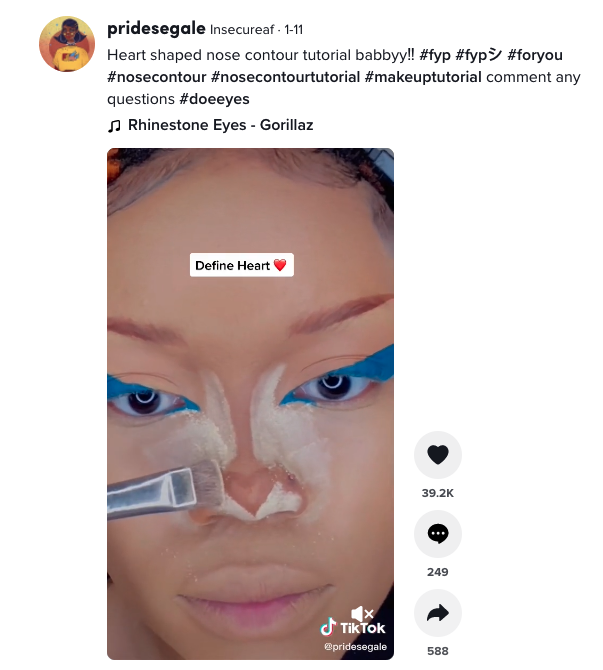 The 'Clean makeup' look
Opposite to adding popping colors, contouring with multipurpose products and bold makeup looks, this next trend is all about the natural look.
The clean makeup look is perfect if you love to look like you are not wearing any makeup at all, using 'barely-there' products. The trend encourages you to embrace your complexion by applying skin-colored pigments that highlight your natural beauty.
Check out the trend in action in a video by @lenkalul if you want to try it out yourself.
Bold blush
2022 is the year of many bold makeup trends, including bold blush looks that are a totally '80s throwback. The blush looks on TikTok include different colors, and we can see tutorials with ombre' blush and even purple blush.
If you are feeling particularly bold, and want to try the ombre' trend, try the mix of orange + pink or purple + pink combos. TikToker @bexcxmpbell shows how to do the bold blush ombre' trend in her video.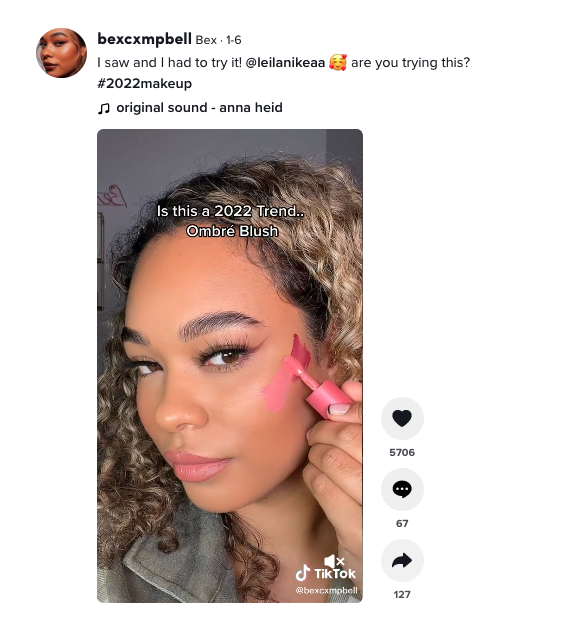 The 60s mod makeup trend
When it comes to throwbacks, the next makeup trend took a page from earlier decades.
TikTok is exploding with 60s makeup tutorial videos inspired by Twiggy, Cher, and Audrey Hepburn-like looks with pastel shades, dark creases, and big, bold lashes. Or you could also opt for a graphic eyeliner or an unusually bright color for your eyeshadow and top it off with dramatic lashes.
It's not only TikTokers that are obsessed with the 60s throwback trend. Ariana Grande brought back this trend with her look in her "Positions" music video.
@lenkalul perfectly shows how to achieve the 60s makeup trend.
Bonus: If you are curious to get more views on your TikToks, check out our guide with essential tips on how to get more views.
Daring pops of color
This makeup trend is completely opposite to the 'clean' makeup look and is all about using daring colors such as orange, pink, blue, purple, and green colors as eyeliners and eye shadows.
If using bold eye color is not your thing, you can try a more subtle look by applying bright colors to the inner eyes or outer eyelids. Take inspiration from Dua Lipa's and H.E.R.'s recent looks. If you want to see a tutorial, check out @stxph.h's video.
Fluffy brows
Those who thought fluffy brows were just a temporary fad couldn't be more wrong. We'll be seeing a lot more of the fluffy brow trend in 2022. The process of letting your eyebrows achieve a fluffy look is known as lamination.
You can get your fluffy eyebrows done by a professional, which will create a structured look and you'll need minimal effort to maintain them after you get them done. If you feel crafty and want to try this look yourself and not go to a professional, you can use brow gel or other products you have at home. Watch the video tutorial from @edenvonweiss to learn how to do it.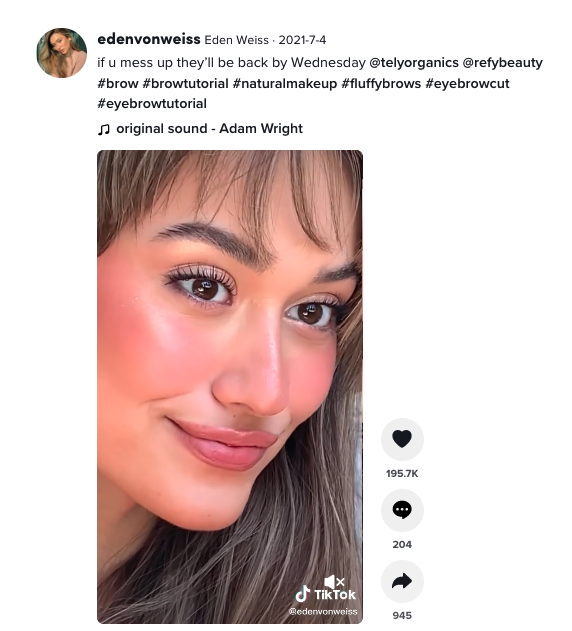 Fox and puppy eyeliner
You've probably heard of and done cat eyeliner, but what has become a makeup trend on TikTok is the fox or puppy eyeliner. A puppy eyeliner involves applying a rounded, smoky look, while fox eyeliner is a sharp, lifted wing on both corners of the eye. See how to do the intricate eyeliner in @daniellemarcan's video on TikTok.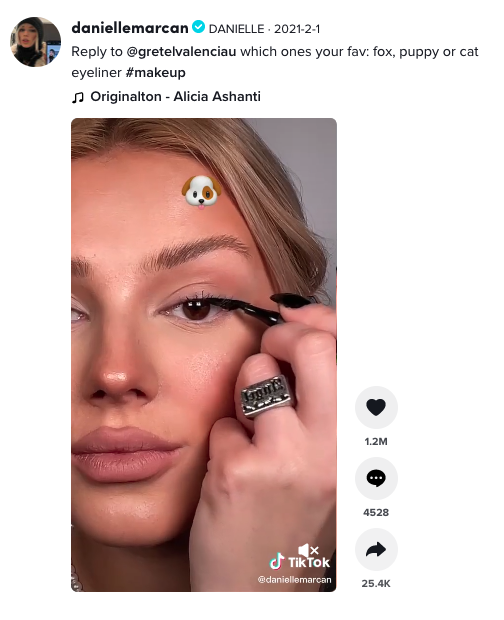 Makeup inspired by emojis
If you are looking for an even bolder and more extravagant look that is a bit 'out there', this makeup trend will definitely bring all eyes to you. @emilytembymakeup uses emojis as inspiration for her makeup creativity. Are you brave enough to try this emoji-inspired makeup look?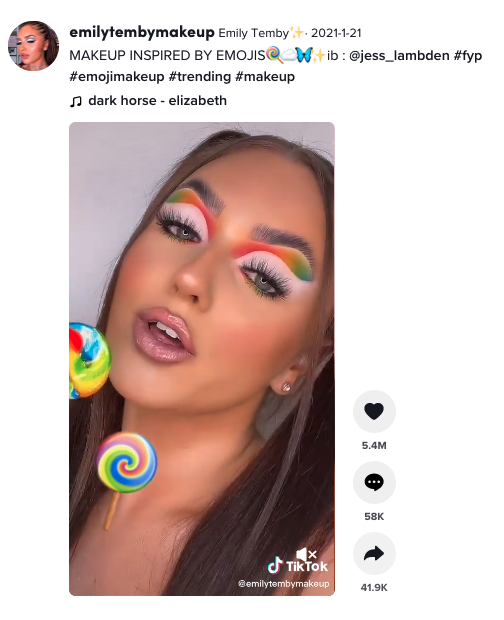 Contouring by blending blush
It seems that color correctors and eyeliners are not the only beauty products used for contouring. The all-time favorite makeup product, blush, is being repurposed as a contouring product in this next makeup trend.
@samperakslis uses liquid and cream blushes and blends them on her face to create a lifted rosy look.
Half-and-half nostalgic comparisons
TikTokers have been really popularizing throwback makeup looks, drawing inspiration from different decades and styles. However, with this trend, creators are doing two different looks at the same time on their faces as a comparison, invoking nostalgia for how we used to do our makeup several years ago vs. now.
This look is definitely something you would do to go out, but it would be fun if you want to take part in the trend and record a TikTok making a half-and-half comparison between how you used to do your makeup in high school and how you are doing your makeup now. Take a look at how creator @mikaylanogueira makes her makeup comparison.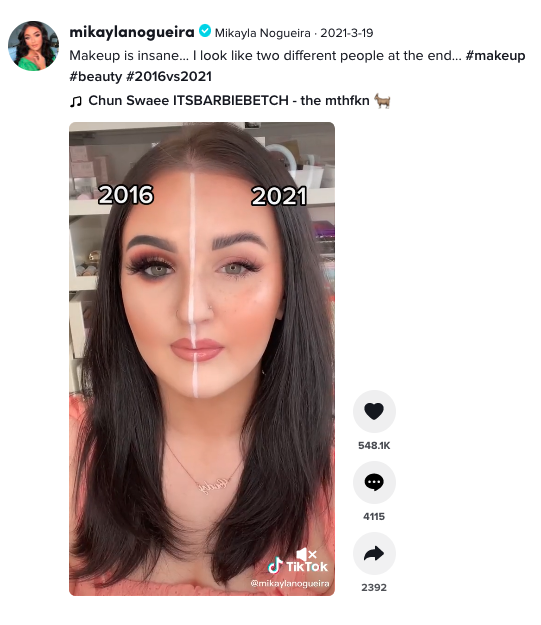 Heart-shaped eyeliner
Apart from adding a heart-shaped contour to your nose, with this makeup trend, you can make your dark brown eyes pop up with heart-shaped eyeliner. With a few simple strokes, your pupils will become cute hearts, making your look that much more appealing.
Take a look at how TikToker @Lu.bents does her heart-shaped eyeliner.
90s makeup
90s clothing and makeup trends have really taken a swing in the TikTok beauty community. The 90s nostalgia is an endless source of inspiration. And when we say the 90s, we mean it - everything from grunge liner, glitter, purple and blue eyeshadow, brown lipstick and skinny brows.
@lenkalul combines all that represents 90s nostalgia in her makeup tutorial.
Glass skin
The glass skin or 'skinimalism' trend started in 2021, but is still quite present in TikTok tutorials in 2022 as well. It shifts the focus from makeup to cover spots to make up to reinforce the skincare to result in a perfect base. And when you have a perfect base, you don't want to cover up your face but showcase it.
The glass skin trend comes from Korea and refers to a clean, flawless, and translucent complexion - almost like you are glowing from within.
The key to achieving that glass, flawless skin is by taking great care of it. This includes using a gentle cleanser, followed by a hydrating toner, then applying serum and a moisturizer. You can top that off with a hydrating foundation and a little illuminator to accentuate your natural glow. Doing regular exfoliation and facials can also help achieve that glowy, glass-skin effect.
@chareesbeauty showcases how a regular skincare routine can provide you with that clean, flawless skin.
Glossy lips
This is another makeup trend that has its roots in an earlier decade. After many years of popularity, matte lips finally made room for the early Y2K glossy lips.
TikTok is overflowing with shiny, lustrous lip tutorials, and searches for gleaming lip products are on the rise. The glossy lips trend goes really well with another current trend - the cream blush -, and it looks amazing when applied over a base of lip pencil in a shade that matches your natural lip tone.
Luckily, compared to early Y2K lip glosses that were sticky, current products are balm-like and far more pleasant to wear.
@yhkayla shows us different types of glossy lip balms in her video.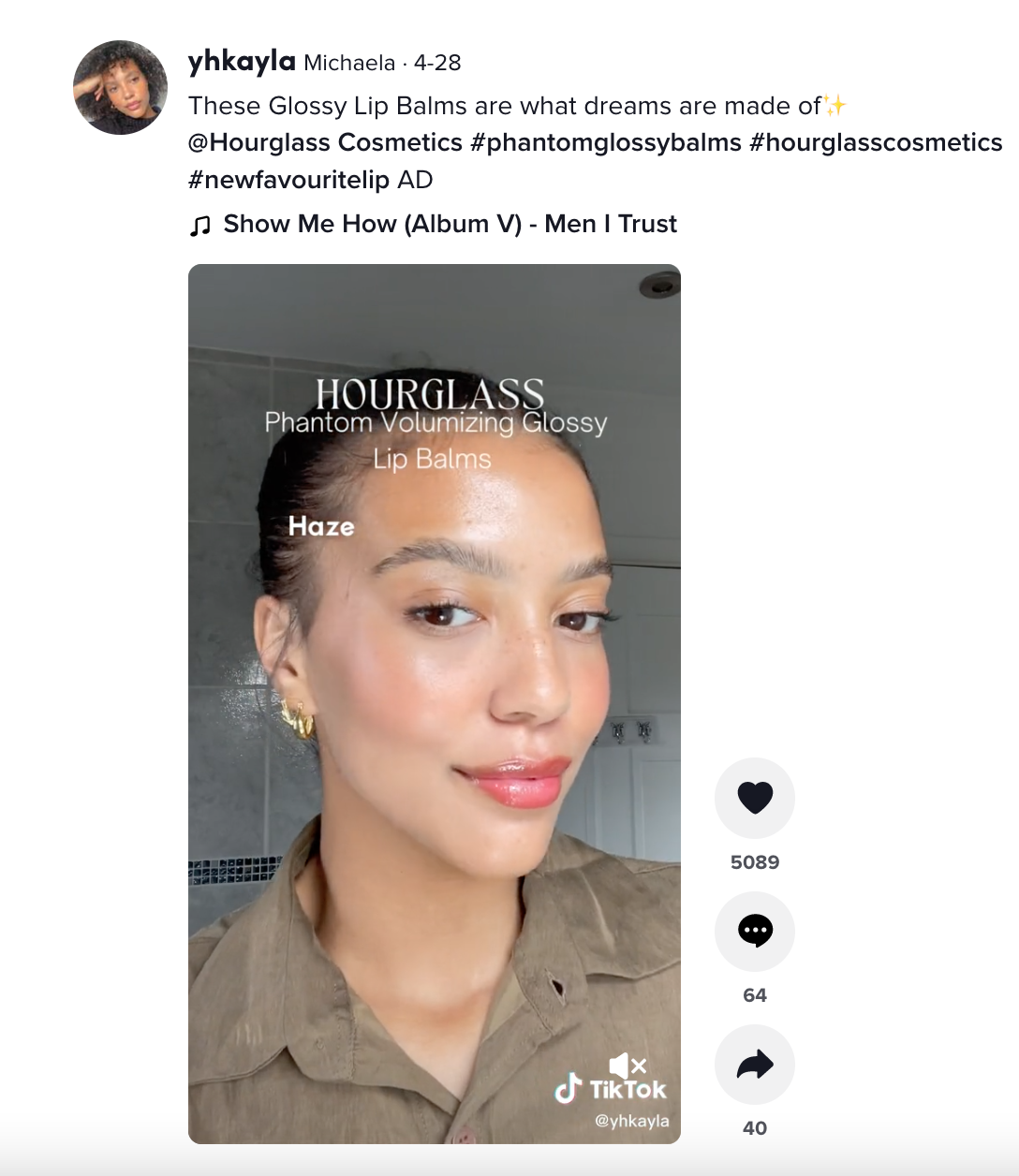 'Face Lift' makeup
Beauty influencers on TikTok are increasingly popularizing the 'face lifting' or 'sculpting' makeup trend, which involves abandoning full coverage foundations and promoting makeup routines with technical touch-ups and perfected application of concealer.
The concealer has always been a 'must-have' beauty product that takes care of everything from disguising dark circles to color correcting and vanishing 'maskne' blemishes. But now, it has been elevated by being used for a 'face lifting' effect.
TikToker @meghaess went viral with her makeup tutorial on how to face-lift specific facial features such as the inner and outer corners of the eyes, edges of the nose and lips, as well as cheekbone. She finishes by blending the liquid concealer upwards and outwards to give a lifted, illuminating effect.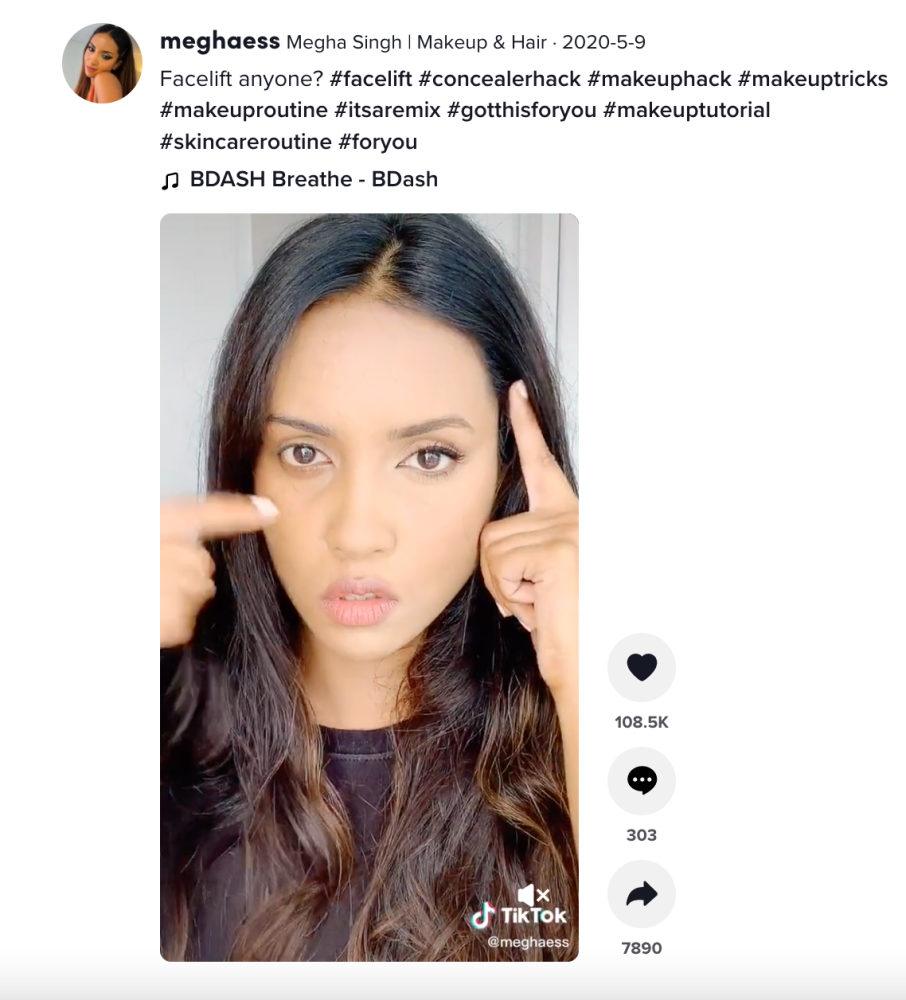 Graphic eyeliner
Eyeliner has been an essential beauty product in makeup routines for ages, as well as in current makeup trends. With a simple swipe of the classic wing, it can accentuate your eyes and transform your everyday makeup look into a glam night look.
But with this latest trend, beauty influencers have been taking eyeliner to the next level and moving towards classic liner looks - the graphic eyeliner.
The mandatory mask-wearing during the pandemic forced makeup lovers to focus their creativity on the eye, unable to do expressive lip combinations and bold cheek colors as before. This inspired Gen Z makeup influencers to create expressive eyeliner styles outside of the box.
Now we are seeing artistic graphic eyeliner styles from a simple double-winged eyeliner to a bolder negative space design all over TikTok, topped off with colorful Y2K-inspired shadows.
TikToker @katie_and_the_chemists shows her bold version of the graphic eyeliner looks that brings her eyes. Try recreating Katie's look or add your touch to it.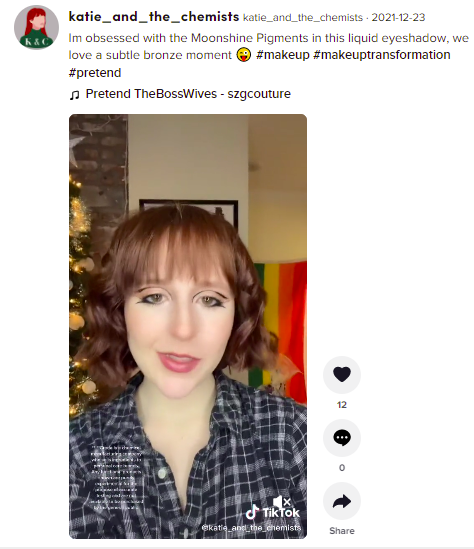 Euphoria-inspired makeup
The last of the hottest TikTok makeup trends is reserved for the look inspired by Euphoria - HBO's popular teen drama series, including eye makeup statement, looks. If you also watched Euphoria, you must have seen the dramatic eye makeup sported by the characters.
This color-splashed, shimmering, and rhinestone eye look has also caught up with Millennial and Gen Z TikTokers. Beauty TikToker @hayleybuix presented how she does her bedazzled Euphoria-inspired makeup look. If you like adding glitter to your makeup, you might try this TikTok makeup trend for your next night out.
Wrap up
We've seen some of the hottest TikTok makeup trends of 2022. Browse through them and feel free to try them for different occasions or customize them to create your own staple look to share on TikTok.
If you are interested in exploring more TikTok trends, read the most viral TikTok food trends of 2022.