Ivana Kotorchevikj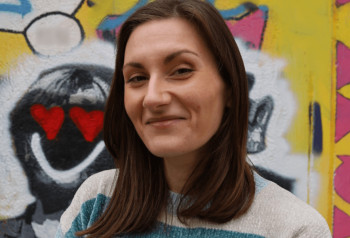 TikToks without sounds are simply unacceptable. Adding music, or popularly known as TikTok sounds to your TikToks is the ultimate key for creating and sharing engaging content with your followers.
Additionally, using the magic of sound to give that extra touch to your TikTok videos will help you increase your followers. Sounds can also play a big role in your TikTok video going viral.
However, if you haven't used TikTok sounds so far, you may be wondering how to find them. And more importantly, how to find popular sounds on TikTok that will stick in people's minds and get you more likes and views.
In this article, you'll discover everything you need to know about how to find and add sounds to your TikToks.
Where to find sounds on TikTok
Compared to other search engines, that require more information than a single keyword to find a video, TikTok's impressive search bar enables you to find exactly what you are looking for, even if you have no idea what you are looking for.
Below are several ways you can find an audio clip to add them to your own TikToks, or just save them to your playlist.
1. Search for audio clips in the "Discovery" tab
The first way how you can search for sounds on TikTok is by typing any words you remember from the clip in "Discovery". Type the words in the search bar and just below the "Videos" results, you'll see the "Sounds" results.
Here you will find a list of all audio files that contain the words you have input in search. If the audio you are looking for is a popular one at the moment, you may even find several different versions of the same sound uploaded by different users.
When you find the clip or its version you want to use, simply tap "Use this sound" to embed it in your new TikTok video.
2. Search Twitter and Instagram for popular TikTok songs
However, if you don't remember any words of the clip, it's not in English or it simply doesn't have any words, it's going to be a bit more challenging to find your desired sound, though not impossible.
Often popular TikTok trends are shared on other social media platforms like Twitter and Instagram. So with little luck and a bit more browsing, you may be able to find the audio you are looking for on someone's post on Twitter and Instagram. Alternatively, you can check out the viral hits playlists on Apple Music or Spotify. To avoid future frustrations like these, double-tap and save TikTok videos in your Favorites so you are able to find them later.
Learn more about how to block a sound on TikTok as well.
3. Tap the audio title in a TikTok video to learn more
The most direct way to find TikTok sounds is when you are watching a TikTok video and it plays the audio you want to save or use. Just above the menu at the bottom of the screen, you will see the scrolling audio information right next to the music note icon.
Tap on the song information and you will be taken to the main page of the audio file. Here you can watch the original video that contains the sound, learn more about the creator, save the video in your Favorites, see other videos that have used the audio file, and use the sound in your own video by tapping on "Use this sound".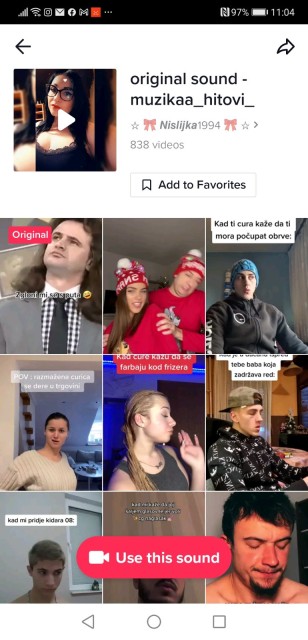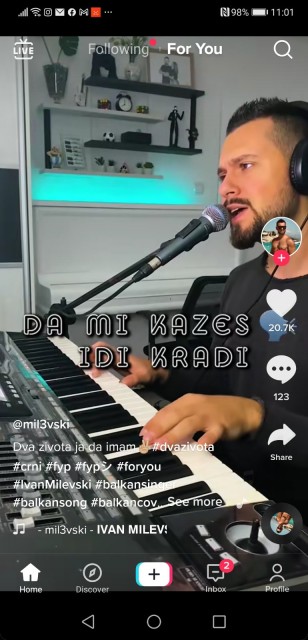 If the sound you are searching for is really popular and you can hear it in every second TikTok, like "Drivers License", you can use the hashtags to find it by typing in the name of the song. If you see the file you were looking for in the hashtag library - hooray! Tap on the video, tap on the scrolling audio info at the bottom of the screen, which will take you to the audio homepage. Here, tap on "Use this sound" or add it to your Favorites for later use.
5. Search in your Favorites
If you have the habit of saving audio files in Favorites, it will save you the time and effort of going through the whole search process. To save an audio file,
Go to the audio page by tapping on the scroll track at the bottom of the video.
Once on the audio home page, under the audio info, you will see "Add to Favorites". Tap the ribbon icon, the sound will be added to your personal sound library.
You can access it by tapping on "Sounds" found at the top center of the preview screen in record mode.
If you want to listen to your Favorites without including them in a video:
Go to your profile.
Next to "Edit profile", tap on the ribbon icon.
Here you will see all your saved Favorites, like videos, hashtags, sounds, and effects.
You can let your Instagram followers know about your TikTok account by adding your TikTok profile link to your Instagram bio.