Tijana Kargovska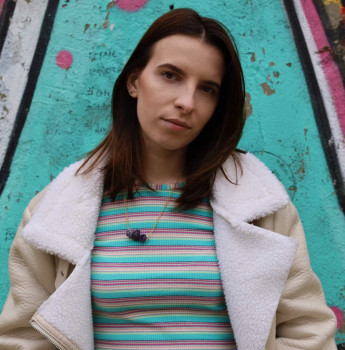 Key Takeaways
Check out Instagram Voice Downloader, or use your smartphone's built-in screen recording feature to save Instagram voice messages to your phone.
Even though there are numerous built-in features on Instagram, voice download is not one of them. Saving audio is not something you can do in Instagram chats directly, but there are workarounds to fix this problem.
A lot of Instagrammers prefer sending voice messages on Instagram, and saving them is sometimes necessary, especially if they contain important information you would rather not lose. In addition, even though there is no way to save Instagram audio messages, there's no feature allowing users to search for the voice memos either.
There are solutions when it comes to sending photos; for example, Instagram implemented a download button. However, when it comes to saving voice messages, the saving part is a bit tricky.
Luckily, there are third-party apps, Chrome extensions, and the good, old screen recording. Check out the workarounds for downloading Instagram voice messages in the article below.
You might also like: Does Instagram Notify When You Screen Record a Story 2022? and How to Record on Instagram Without Holding the Button.
How do I download audio from Instagram?
We understand the frustration behind being unable to download your audio files from your Instagram account, so check out these methods.
There are three methods users can save Instgaram voice messages to their devices:
Through the Instagram web version, using the inspect elements method.
Through online tools.
Through a screen recording app from their mobile device.
Bonus read: Fix: Instagram Says I Have a Message, But I Dont.
Method 1: Save audio messages from Instagram through a web browser
Log in to your Instagram account through a web browser from your computer.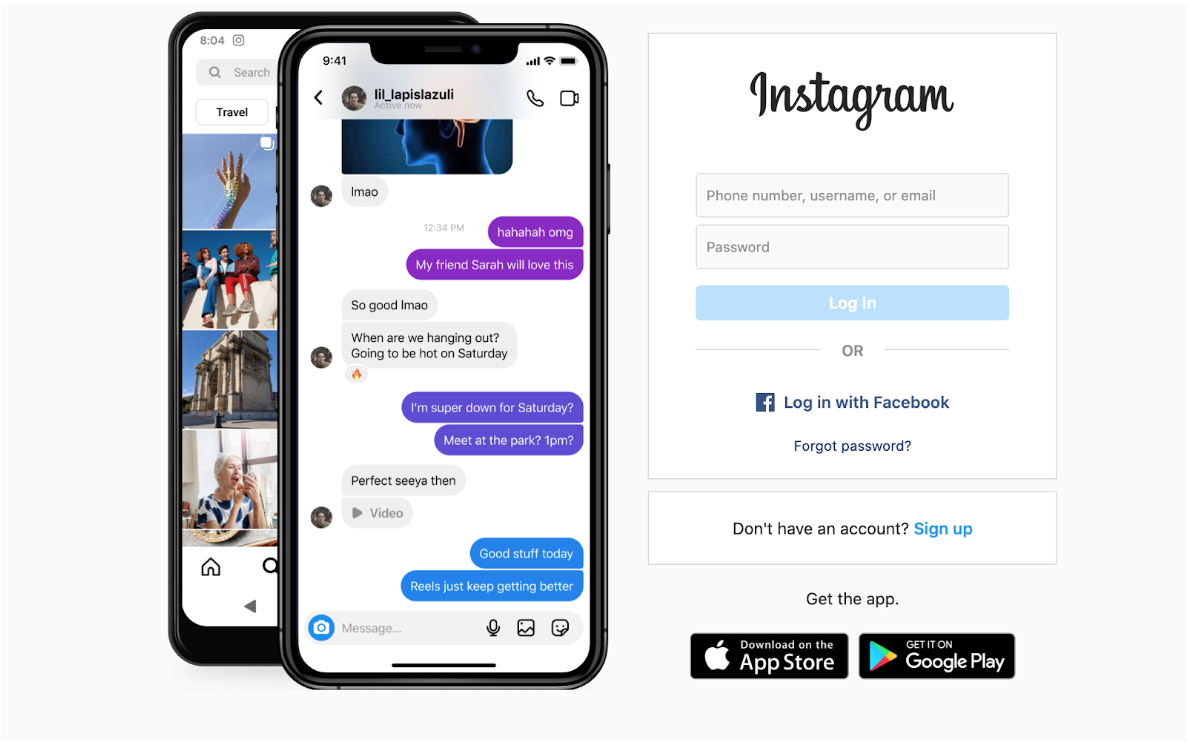 Go to your Instagram chats in the top right corner.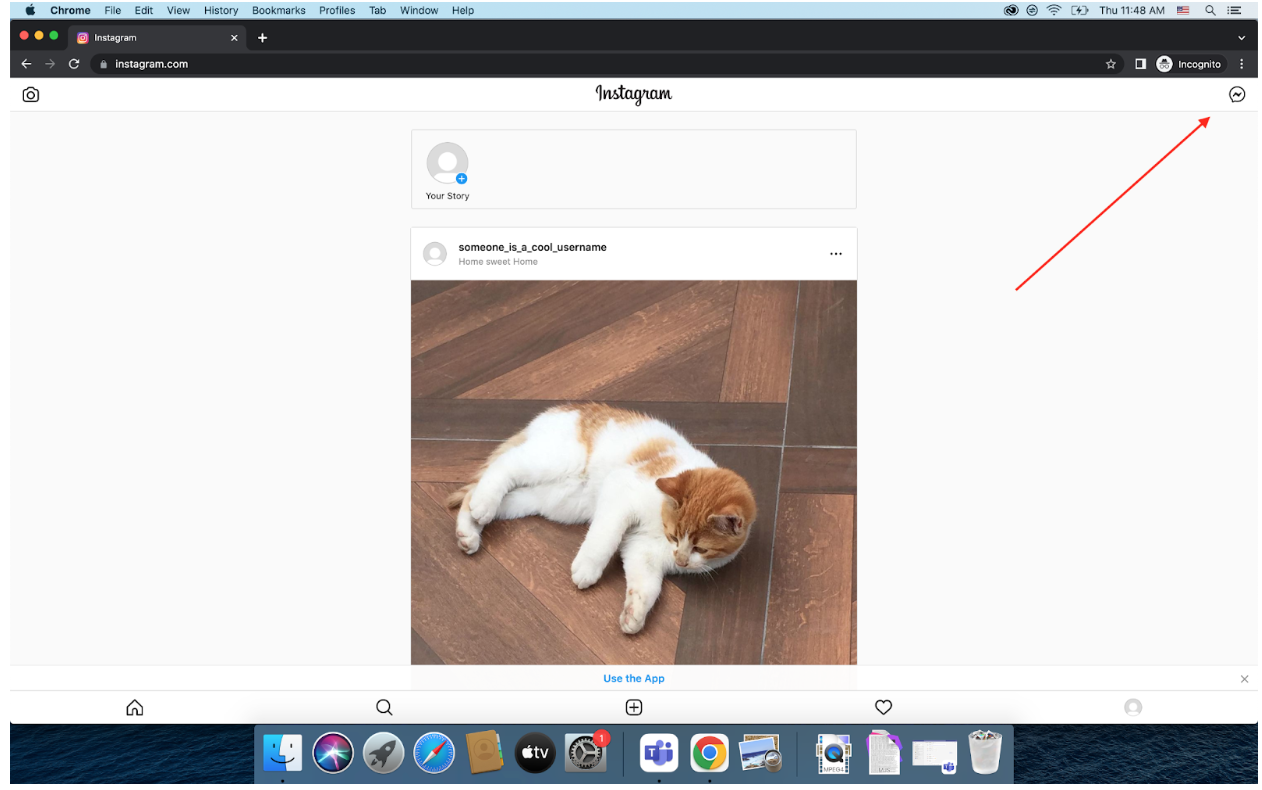 Open the message with the voice memo.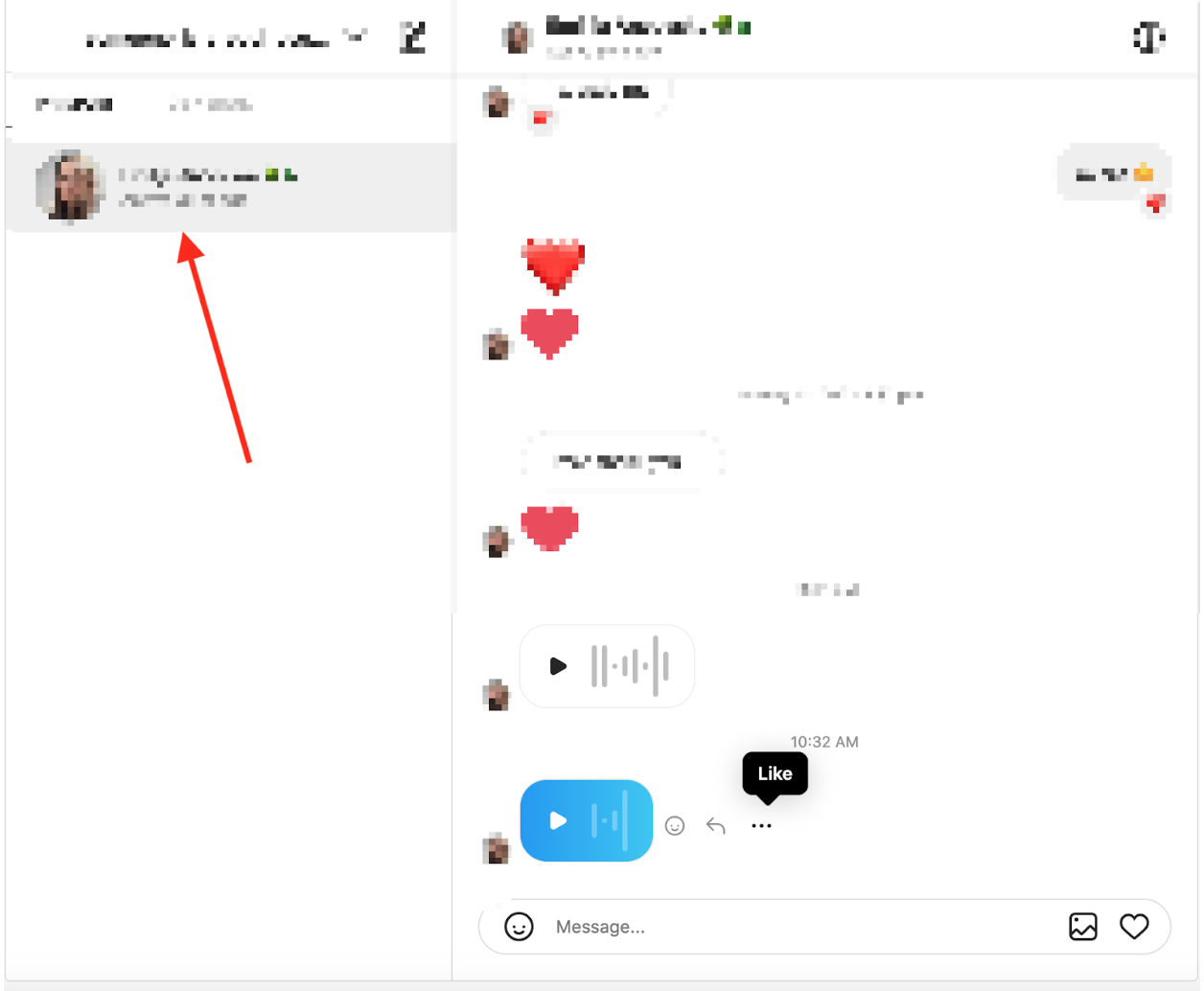 Right-click on 'Inspect'.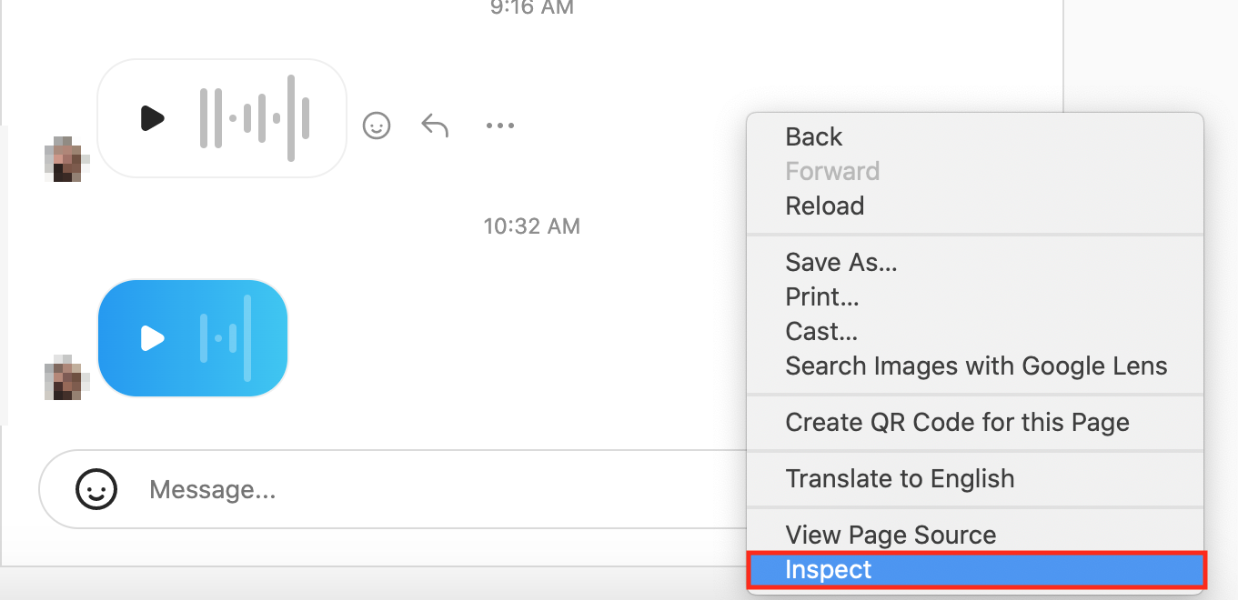 Note: Safari users need to activate the developer menu to access the Inspect elements feature.
Click on the 'Network' tab, and refresh the page for everything to load correctly.
Again, click on the user that has sent you the voice message.
Play the voice file again by clicking on the 'Play icon' and then pause it.
Click on the 'Media' tab and find the 'audio clip' file.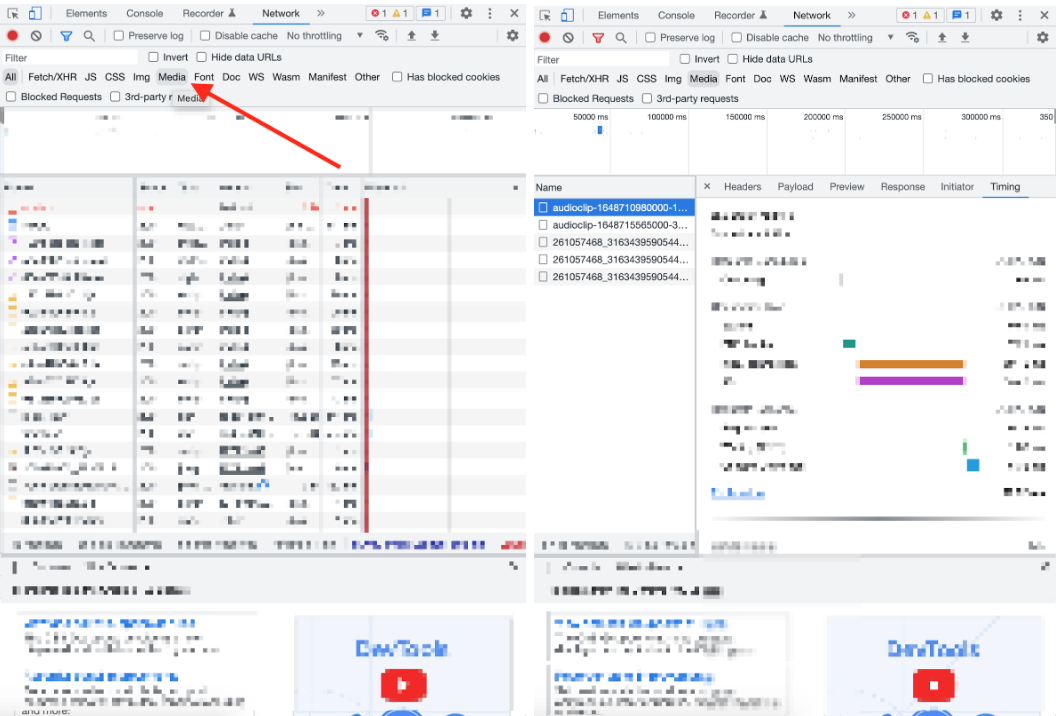 Right-click on it and select 'Open in new tab'. The audio file will download automatically.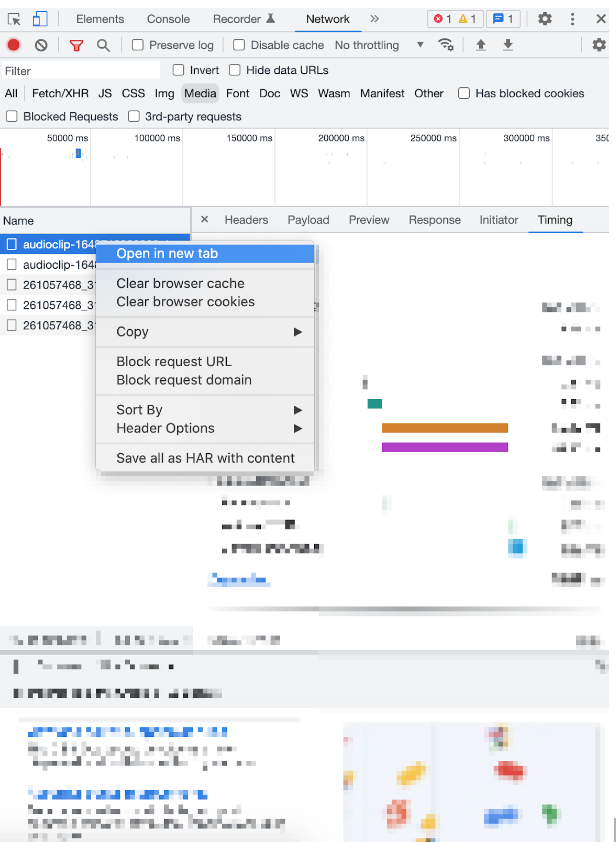 Again, right-click the audio file and select 'Save as'.
That's it; the file has been downloaded to your computer.
Check out the other way to save Instagram voice messages.
👉 Also, check out: How to Delete TikTok Messages
For every seemingly impossible tech problem, there's someone that created a Google Chrome Extension. However, the extension got removed from the official Chrome Web Store a couple of months ago. It can still be downloaded from this site.
Follow these steps:
Open Google Chrome on your laptop/PC.
Open the link, and tap on 'Download/Install'.

Wait until the download has finished, and open the downloaded folder. Remember where the file has been downloaded.
Menu > Extensions
In the top-right corner, toggle the button next to 'Developer Mode'.
Load unpacked
The Instagram Voice Downloader will show up, and it gets automatically activated.
'Download' button
Method 3: Screen recording
If you're using your phone, the best and quickest option is to record the audio using your smartphone's built-in screen recorder.
iPhone users
Follow these steps:
Open the Instagram app and find the chat where you want to record the audio.
Swipe down from the top-right corner on your iPhone to open the Control Center, and tap on the screen recorder button.
Play the audio, and tap on the red stop button in the top-left corner, right where your phone shows the time.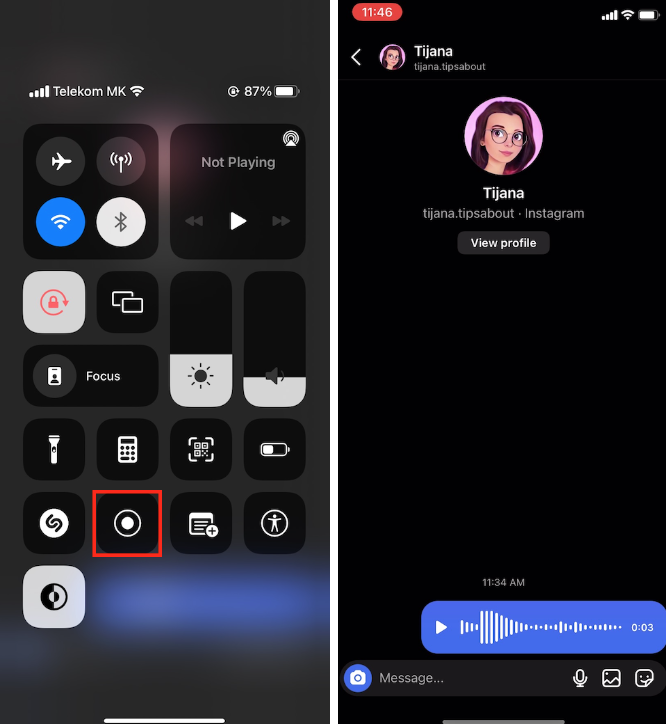 Android users:
Open the Instagram chat where you want to record the audio from.
Swipe down from the notification bar, and start recording by tapping on the screen recorder button.
Swipe up to exit the notification bar, and press play on the audio. Stop the recording when you're finished. You'll find your recording in your gallery.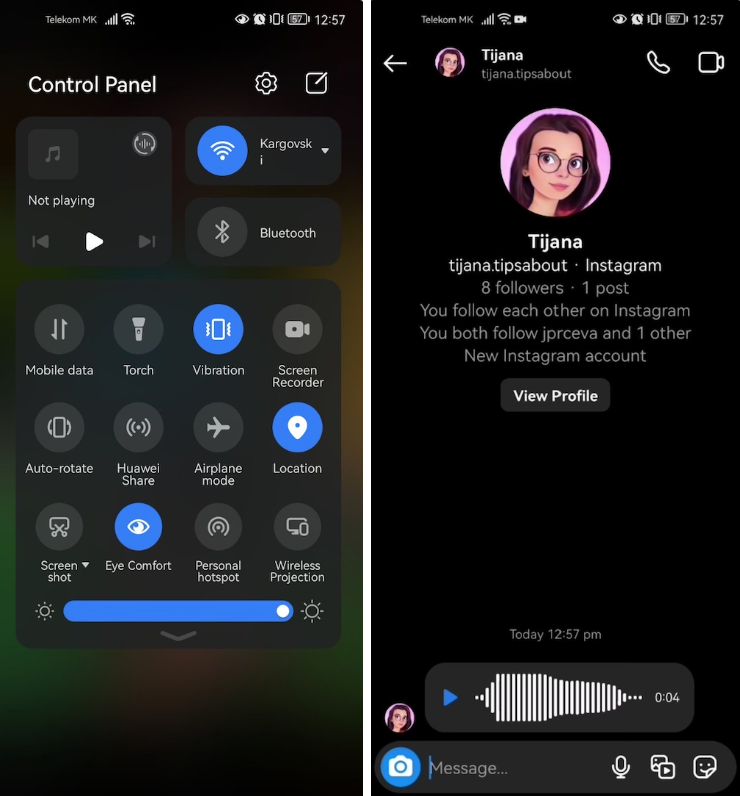 Additional method: Voice recording
Another thing you can try is playing the audio you need to download from your laptop/PC, and using your phone's voice recorder app.
Most smartphones have voice memo apps, so you can simply play the audio on your laptop, and use your iPhone/Android to record the Instagram voice message.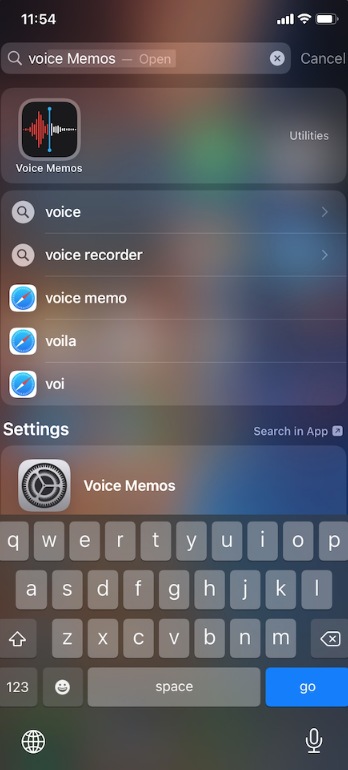 Conclusion
Instagram is surely one of the most widely used social media platforms worldwide, and downloading voice memos is absolutely necessary. Since there is no built-in feature to download them, use the methods listed above to download your Instagram voice messages and save them indefinitely.
If you liked this article, check out: How to Fix: Instagram Messages Not Sending (Solutions) and How to Get to Advanced Settings on Instagram.
FAQ
Can you save voice messages from Instagram?

Instagram does not have a native feature for downloading voice messages; however, users can save them by either using the inspect elements trick from a web browser or by using a screen recorder app from their phone.

Do Instagram voice messages expire?

No.




The recordings don't have an expiration date.