How to Get to Advanced Settings on Instagram
---
Table of Contents
Are you looking for Advanced Settings on Instagram, but have trouble locating them in the app?
There's no need to worry - in this post, we'll shed a light on how to get to Advanced Settings on Instagram, where the advanced Settings are located, and how to use them to customize your posts with these Instagram's hidden advanced features.
How to get to Advanced Settings on Instagram
First of all, we need to make it clear that there's no tab named 'Advanced Settings' on Instagram apart from the Feed Post page screen that appears when you are posting photos on Instagram.
This is how you can get to Advanced Settings on the Feed Post page. First, you need to post a picture on Instagram.
Open Instagram and tap on the '+' icon in the top-right corner. You also have the option on your Instagram profile.
Select 'Post'.
Select the photo you want to share in the post and tap on the 'blue arrow' in the top-right corner.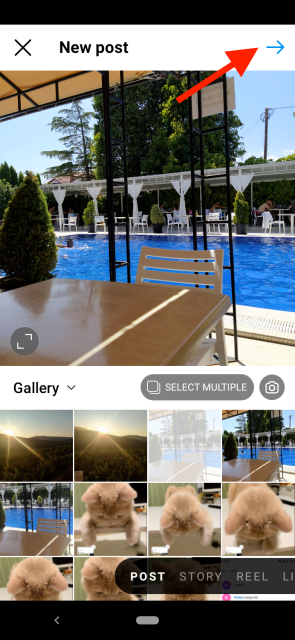 On the next page, you can apply a filter to your picture or skip it and move to the next screen.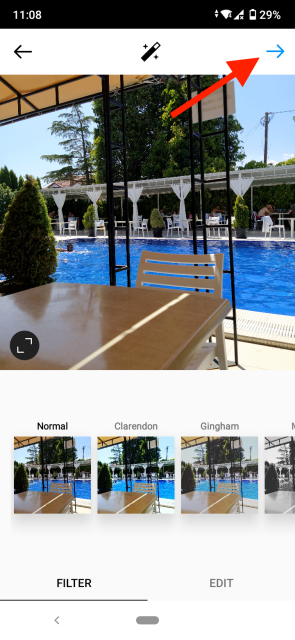 On the next page, you'll see the New Post screen where you can tag people, add a location and choose if you want the photo to be shared to other channels.
At the bottom, you'll see 'Advanced Settings'. If you tap on it, you'll be taken to a screen with Advanced Settings you can adjust for your post.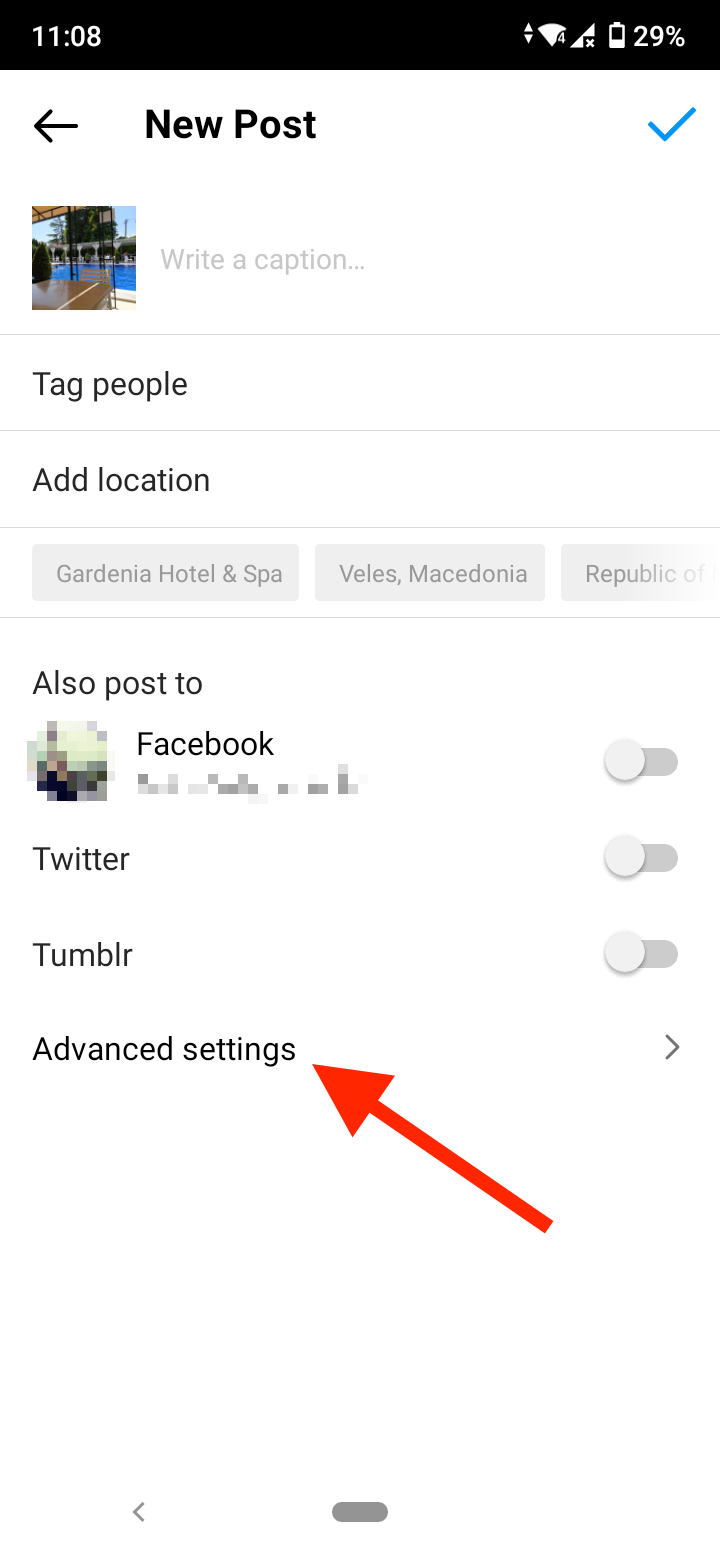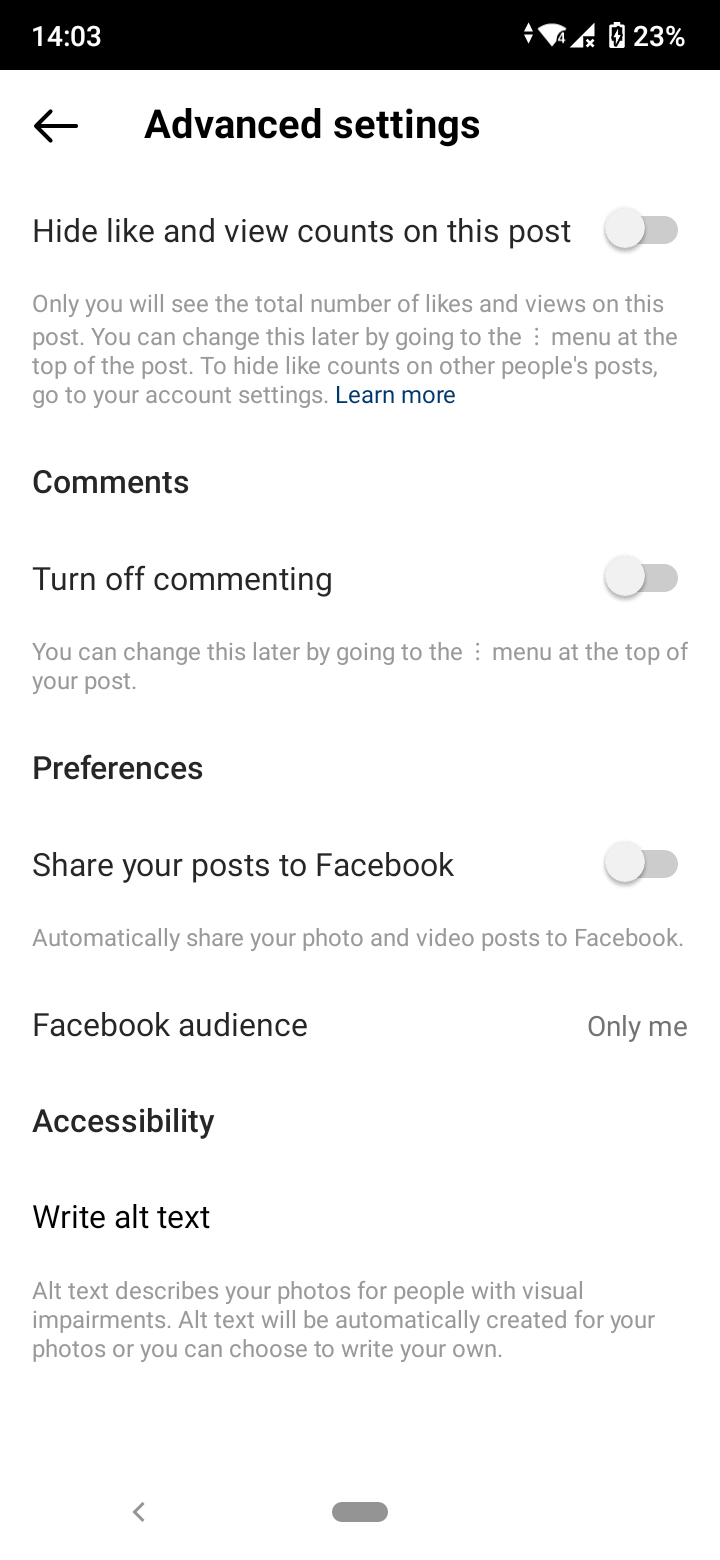 The settings include:
Hide Like and View Counts on This Post: Turning on this option will hide likes and view counts on that particular post for other users.
Turn off Commenting: Disable comments on this post.
Share Your Posts to Facebook: If your Instagram account is connected to your Facebook, your photo will be automatically shared on Facebook.
Facebook audience: If you have enabled the above option, in this setting, you can also select who can see your Instagram photos on Facebook.
Write alt text: You can also add alt text, or alternative text, for visually impaired people who use screen readers.
Add Paid Partnership Label: This option is available only to Business accounts. You can tag business partners if you have a paid partnership with a brand.
Minimum age: You can add a minimum age that people need to be in order to see the post.
Note: The Advanced Settings may differ from account to account.
Explore how you can download photos from Instagram.
Additional Questions (FAQs)
Are there Advanced Settings for high-quality photos?

Unfortunately, there are no Advanced Settings for adjusting the quality of your photos.




When you upload a photo to Instagram, the resolution is not the same as the original one in your phone gallery. This is because Instagram compresses the posted photo to a lower resolution than the original one.




Nevertheless, Instagram always ensures to upload at the best quality resolution possible.




How to hide likes and views in Advanced Settings?

To die the likes and views on a post you are creating:






Start creating a post as you usually do.


When you reach the New post screen, tap on 'Advanced Settings' at the bottom.


Toggle on the 'Hide Like and View Counts on This Post'.






When you turn this option on, only you would be able to see the like counts on your photos and view counts on your video posts, other users won't be able to see them.

What is the Alt Text option in Advanced Settings?

The Alt Text is an additional text that you add to describe the photo to visually impaired people. You can add your own alt text or Instagram will create one automatically for your photos.