Ivana Kotorchevikj
Stickers are an awesome way to add an extra flair to your Instagram stories. Adding cute, animated, or still images will get your followers' attention and make your stories more memorable.
However, if you've been using stickers for a long time, the sticker choices might become a bit stale and boring. So naturally, you are looking for new, exciting, and eye-catching stickers to spark your stories.
Look no further, because below, we are sharing a list of 21 cute Instagram stickers names you can use to find playful and irresistible stickers that will leave no one unmoved.
How to add stickers on Instagram
Before going into the list of cute stickers, let's first see how you can add stickers on Instagram.
Open the Instagram app.
Tap on your profile picture with a plus icon at the top-left corner or swipe from left to right.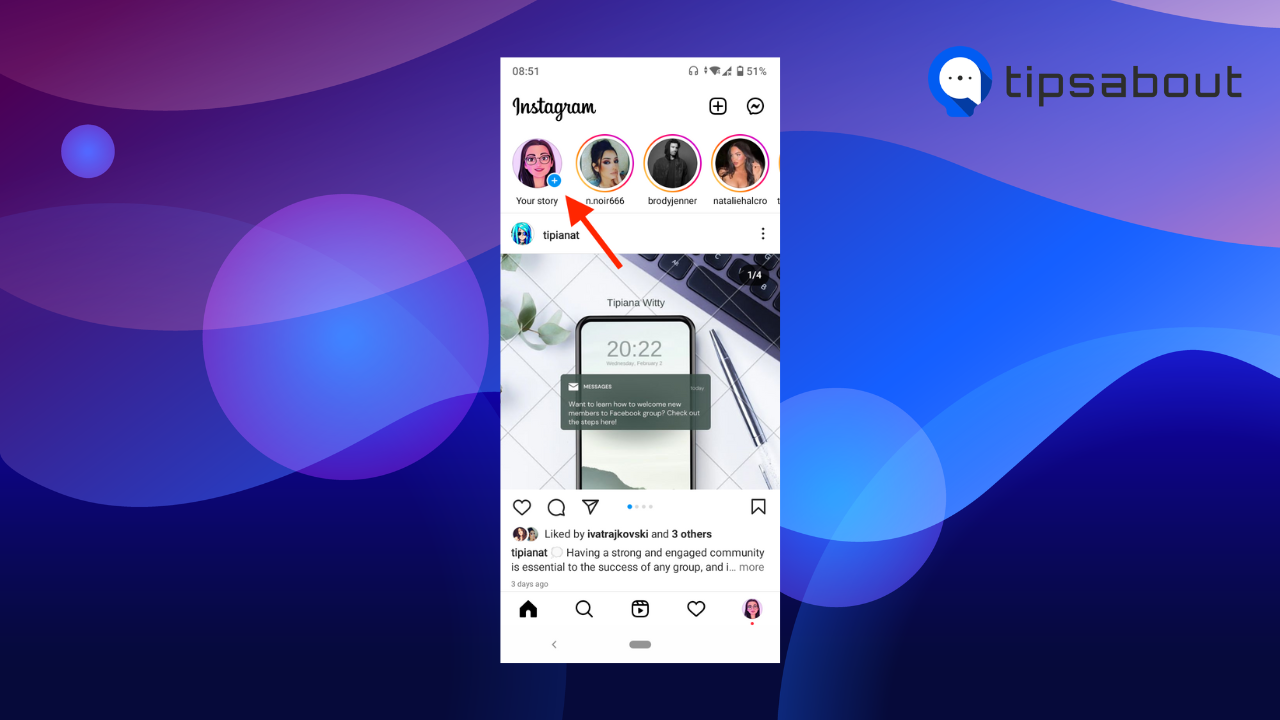 Take a photo or video, or upload one from your camera roll.
Next, tap on the 'sticker' icon at the top of the screen.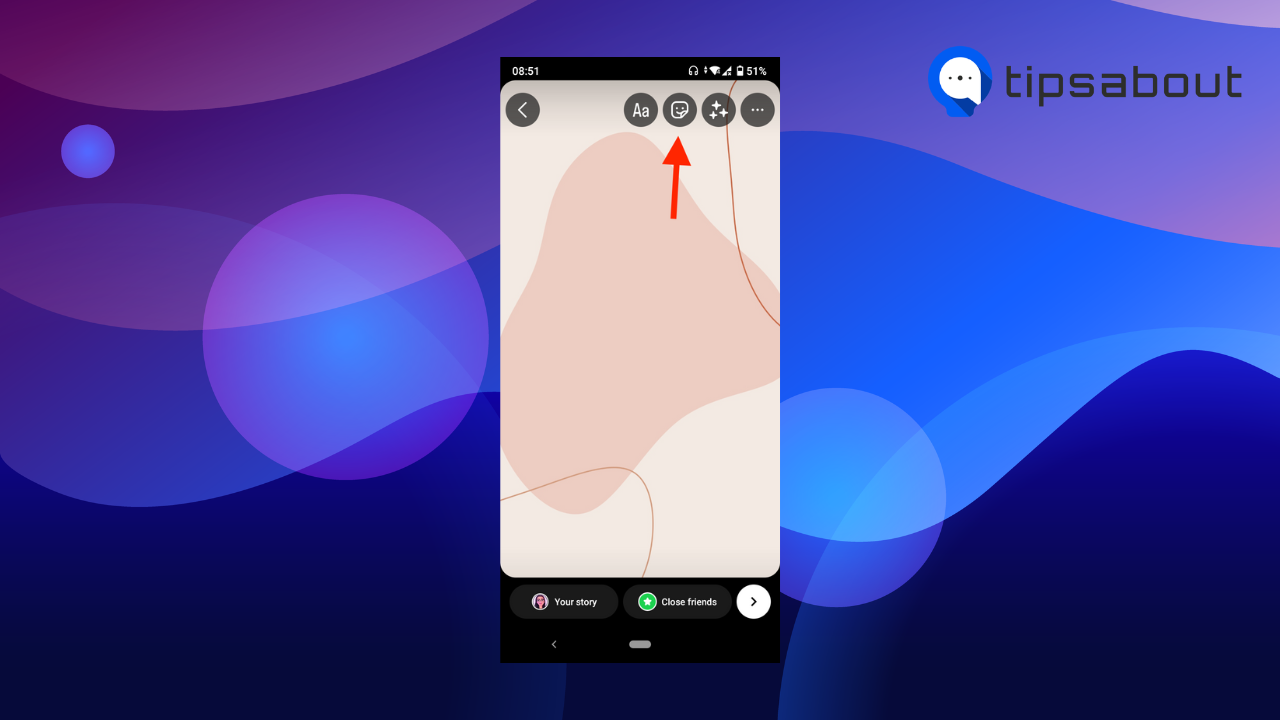 Tap on 'GIF.'
In the search bar, enter the Instagram sticker names in the post below.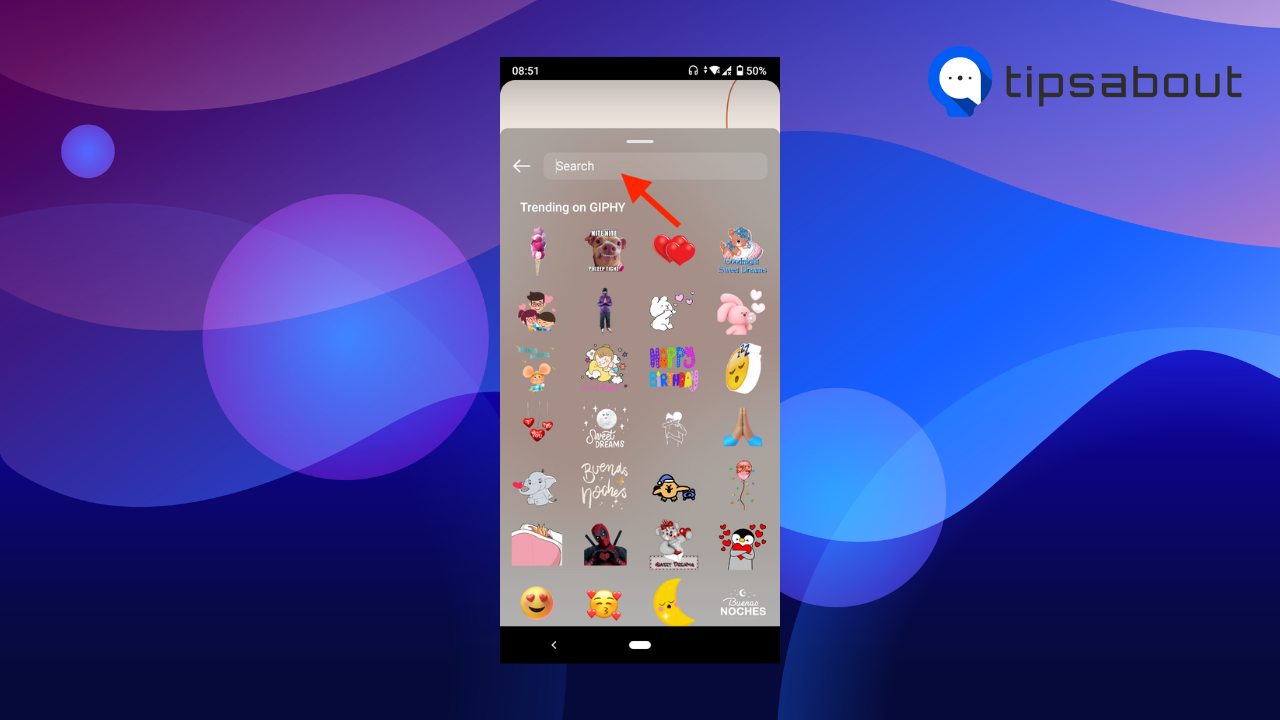 You'll get a whole Instagram package from which you can choose cute stickers.
You might also like to read: The Best Instagram Story Games.
Cute Instagram stickers to spice up your stories
Now that you know how to add stickers to your Instagram story, check out the cute Instagram story stickers you can search for on Instagram.
Vipapier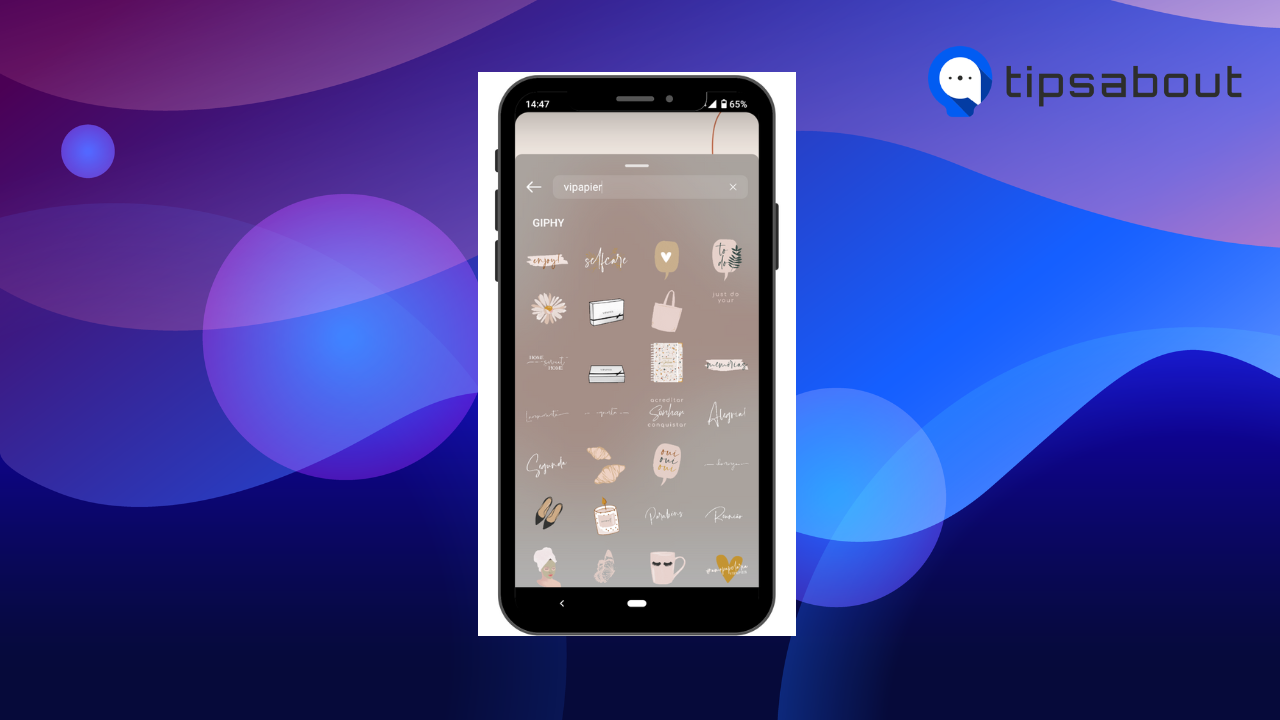 These Instagram stickers are some of the most popular on the platform, including yours truly, so it's no coincidence that we are starting the list with these stickers.
Vipapier stickers come in cute notebooks, cups, hearts, candles, vials, and quotes in vintage, muted colors - in short, stickers that would make you fall in love with the feminine.
The Vipapier stickers are created by the eponymous brand Vipapier which offers planners, notebooks, and paper stickers in the same vintage, girly style.
Sinalisa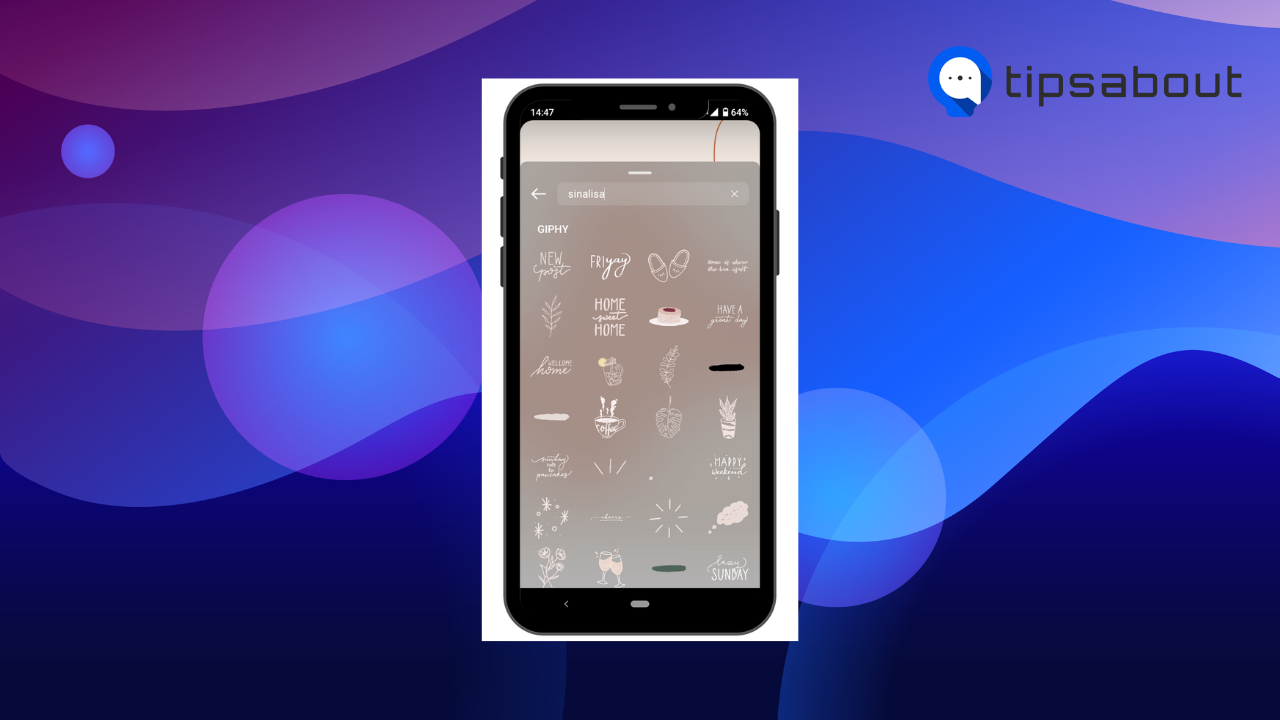 If you don't like flashy stickers, you'll love Sinalisa stickers. The set includes minimalistic doodles with white and light pink colors. You can use 'Home Sweet Home,' 'Home is Where the Bra Isn't,' cute plants, pancakes, stars, and flowers, especially fitting for home lovers.
Gladdest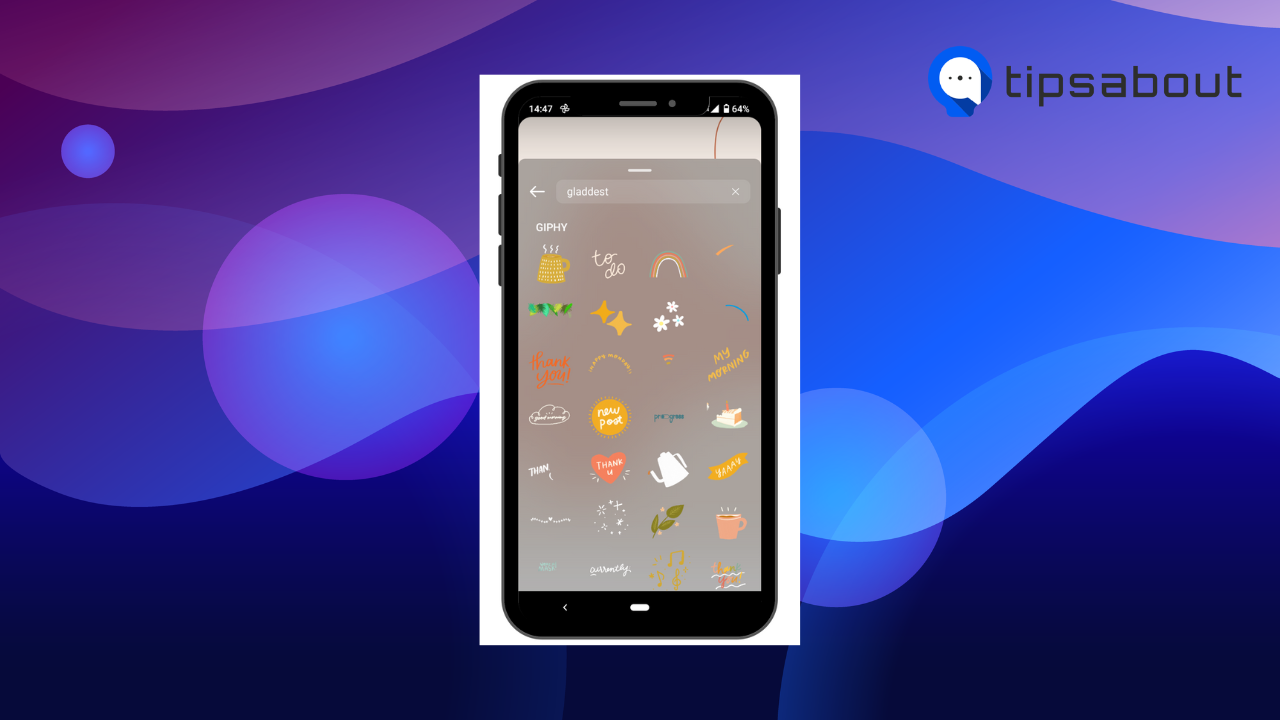 The Gladdest stickers include cheerful and colorful rainbows, balloons, and stars with upbeat, warm vibes. Gladdest stickers are a sharp contrast to the muted tones of the above two sticker sets and are perfect for sunny, outdoorsy summer days.
The Gladdest designer is Mac Ford. You can check out her art on her Instagram profile, which keeps up with the sticker vibe.
Lizaproch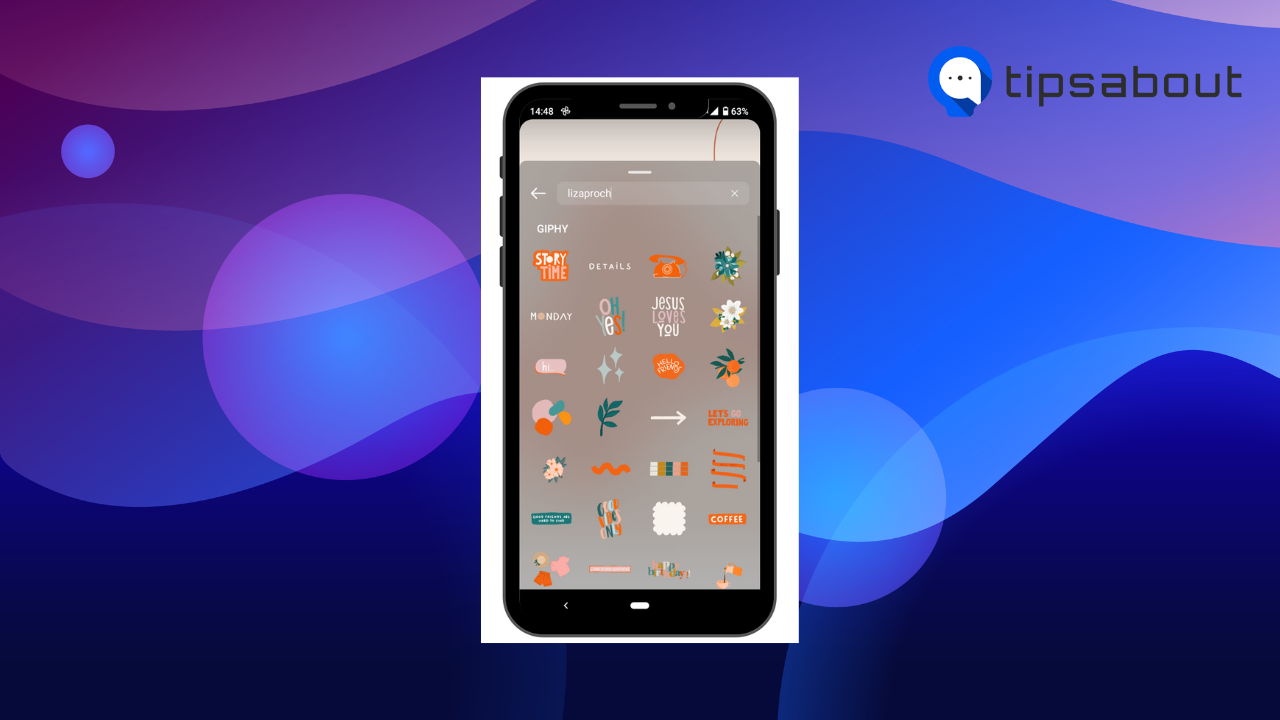 The Lizaproch sticker pack shines with bright orange, green, and peach stickers, which would go great with a cozy fall story of a cup of tea and a book, or a casual walk in the park.
The artist Liza Proch creates wonderful art, which you can see on her profile, with the staple orange, green, and brown color combo.
Check out also 20 Funny Locations on Instagram to Use Right Away.
Boho
As the name suggests, the Boho stickers offer visuals in the bohemian style and retro vibe. They go perfectly with inspirational and whimsical lifestyle stories. Plus, the name is really easy to remember when searching for stickers.
Floweringwords
Opposite to what the name suggests, the Floweringwords stickers offer cute GIFs and cursive words that offer something for all seasons. So you'll find flowers, snowmen, pinecones, inspirational sayings, and whimsical dishes.
The sticker artist Chloe does amazing watercolor pictures that immediately associate with the stickers, especially her dish pictures. It's almost mesmerizing watching her color her pictures.
Foopklo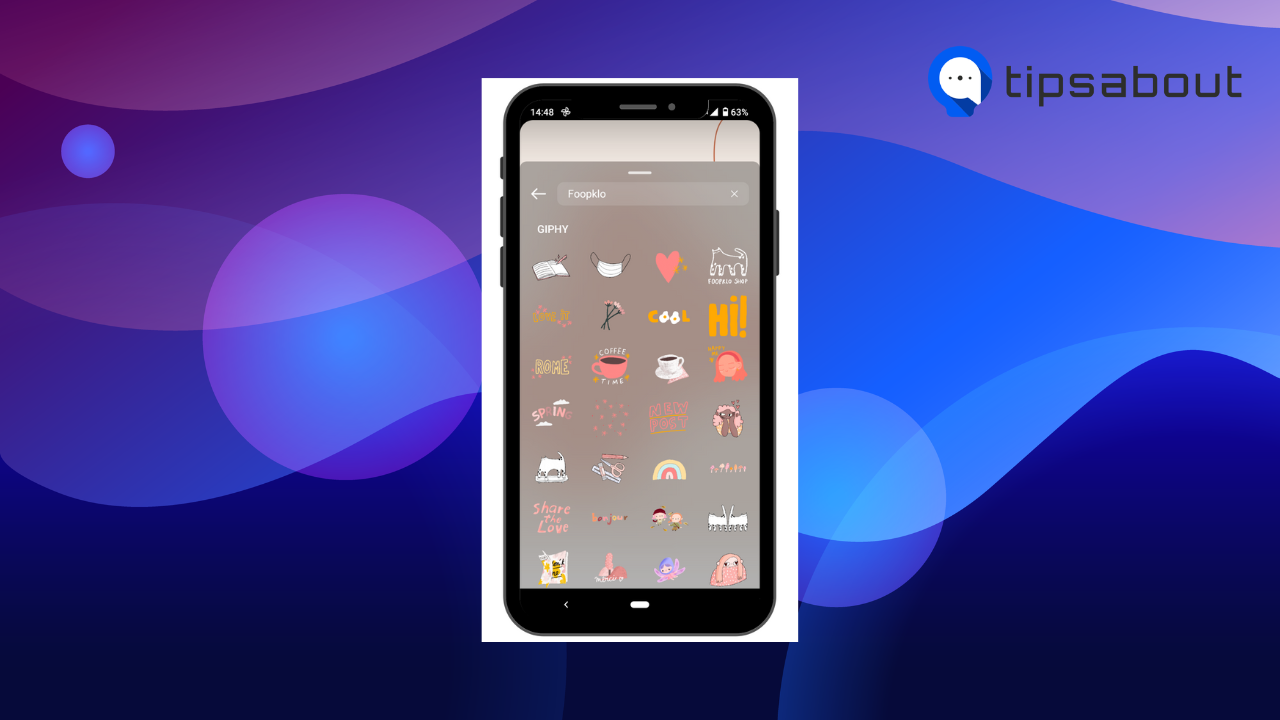 If you type in 'Floopklo,' a little tricky sticker name, I must admit, you'll come across a screen filled with girly and pink-themed drawing stickers of cats, flowers, stars, coffee cups, and more that would take you back to your childhood. These stickers are great for playful and girlish stories.
Visit the artist Foopklo and enjoy their art that looks like it came out of a child's imagination.
Haleyivers
When you open the Haleyivers stickers, you can almost smell fall with the pumpkin spice latte, hot tea, pumpkin pie, ripe apple, and acorn leaves. These stickers would go hand in hand with beautiful, muted-colored images and add shimmer to the photos in your story.
Olly kit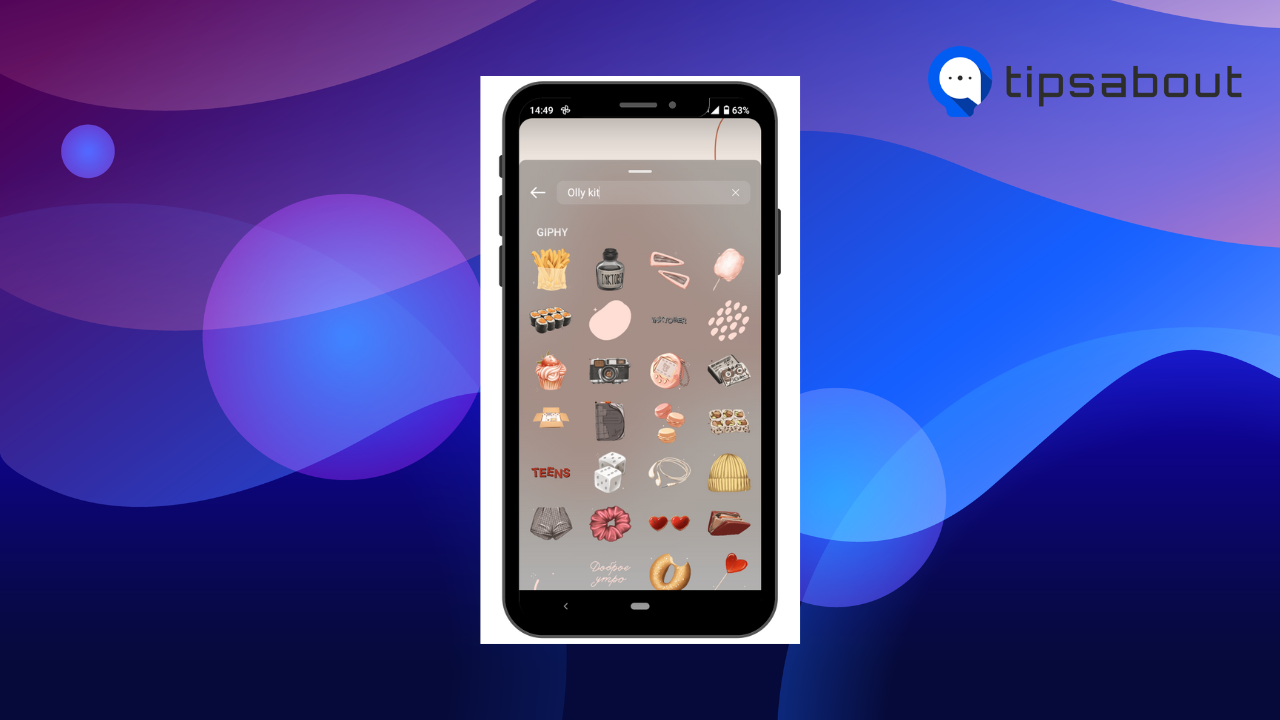 This sticker set combines old-fashioned and everyday objects with a glimmer of enchantment. The stickers are exceptionally drawn with clear, realistic lines and colors. The Oly kit stickers are great if you want to bring an eclectic touch to your stories.
All Things Lilly Ann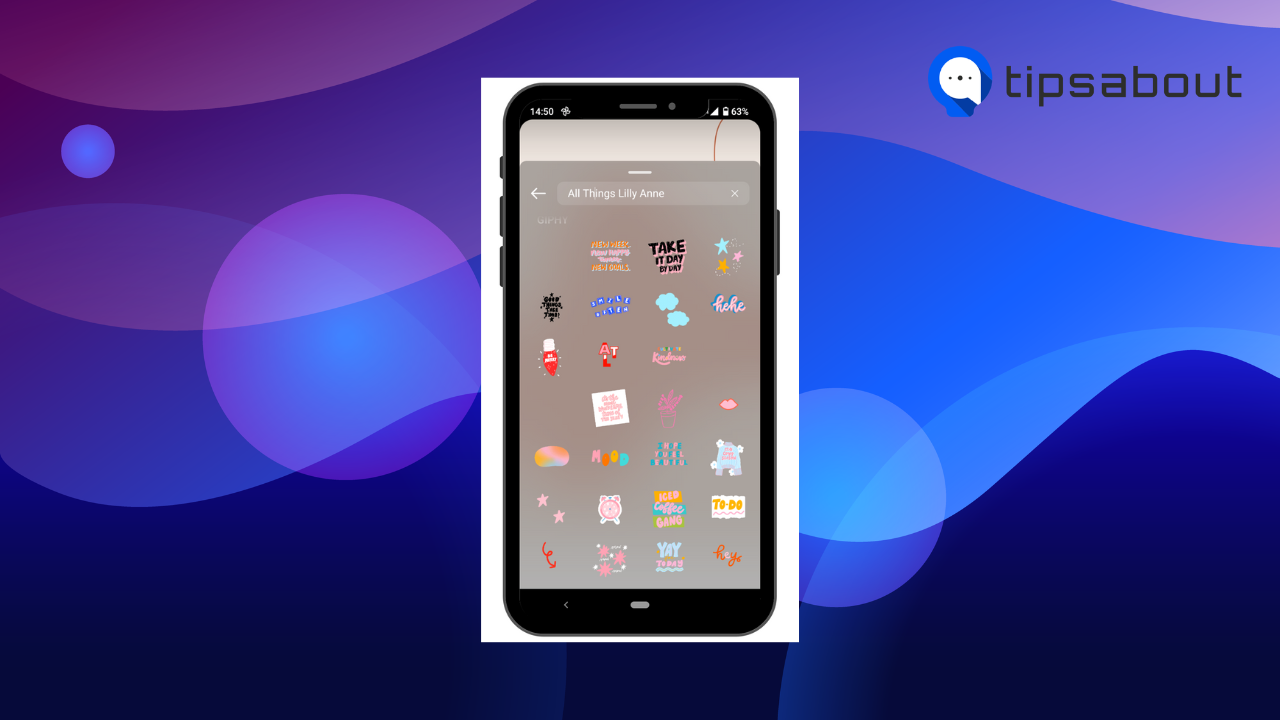 All Things Lilly Ann's Instagram profile is a gush of girly, flowery, and pink pictures of her products, sneak peeks at her daily life, and eye-catching designs.
Her self-named stickers reflect her cite, childlike spirit. You find feminine, minimalistic stickers of wiggling sayings, stats, cute pieces of clothing that will bring life into any still picture,
If you want to share a travel Reel, check out our list of the best travel songs for Instagram Reels.
Latifundija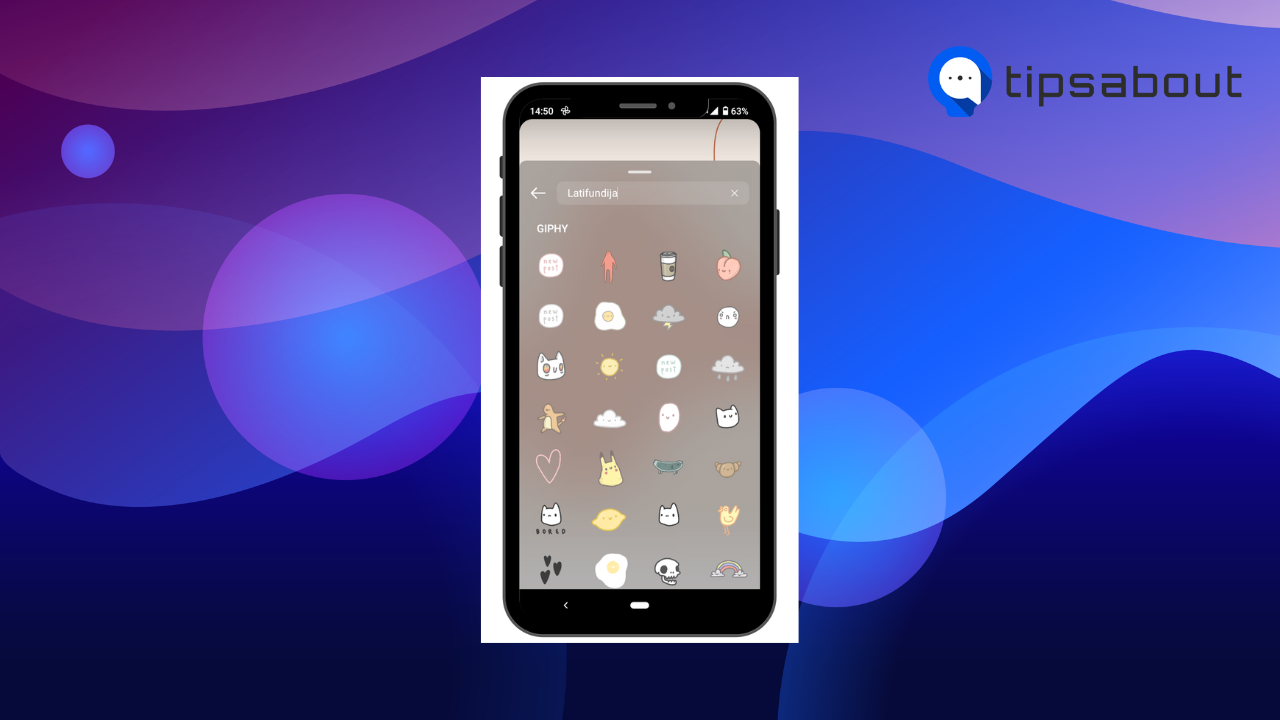 Latifundija sticker set is cartoon-like, pokemon-looking stickers are guaranteed to melt your heart. Just look at the smiley faces on the clouds, kitties, blobs, and avocados! Who wouldn't put a sticker like that on their story?
Plantethics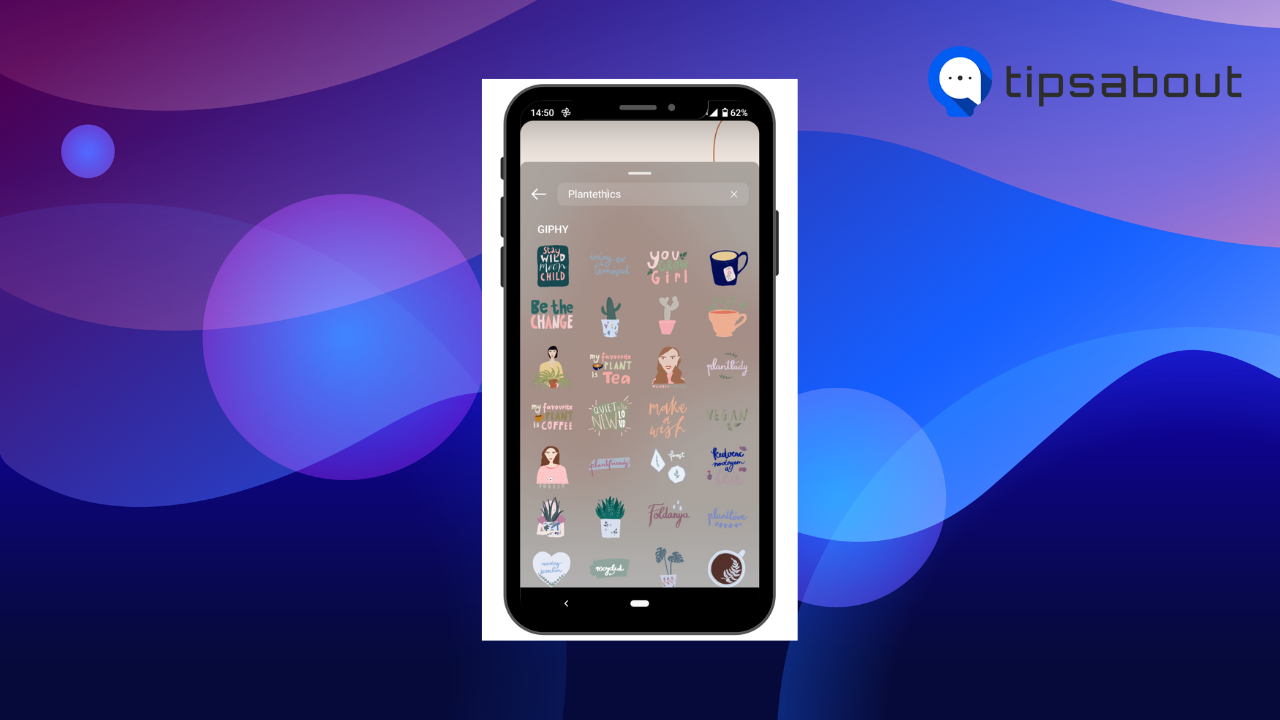 If you love plants or are a vegan, I guarantee these stickers will be one of your favorites. Plantethics offer cute plant and vegan-style sticker in earth tones, which make them more appealing for plant lovers.
Dindaps
Simple, yet cheerful and colorful stickers that make a statement. Dindaps stickers offer you a variety of cute stripes, blobs, and flowers that will wake up the girly side in you.
Malenaflores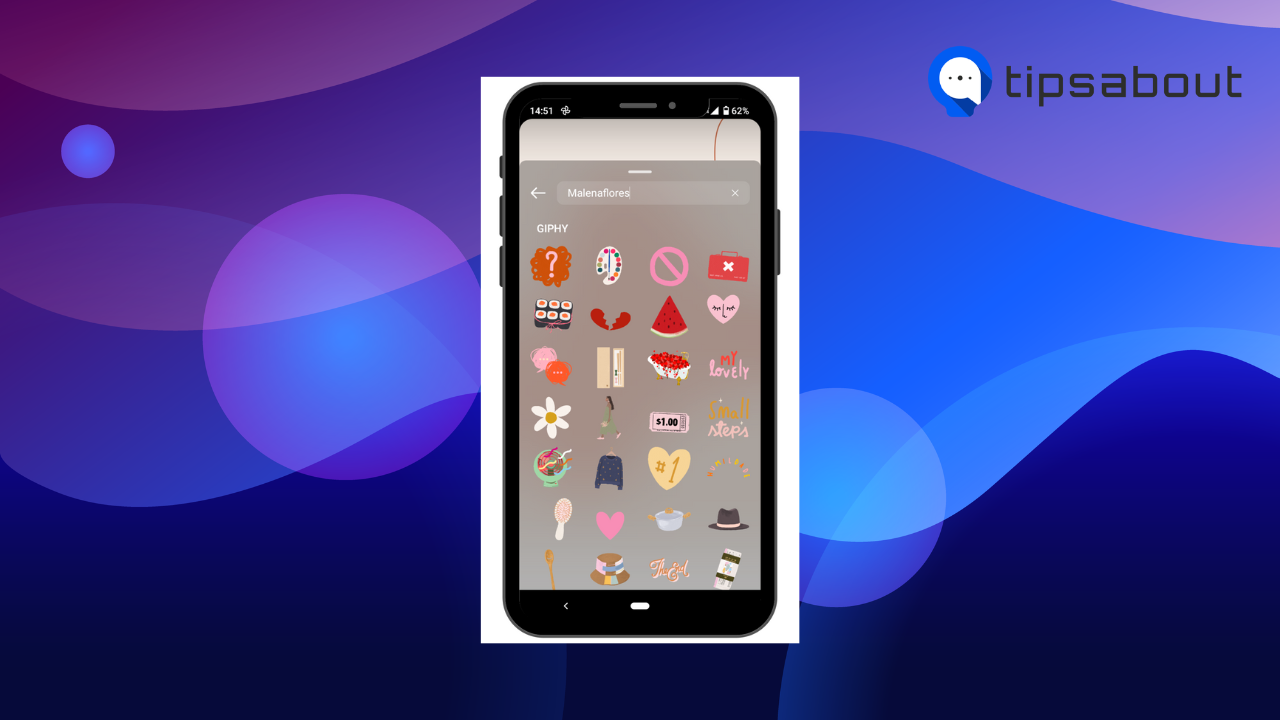 Malenaflores stickers bring a pastel-colored collection of fun and feminine GIFS that can be used in lifestyle or fashion stories. You'll find a wide choice of stickers, from cute food to dancing home appliances, clothes, and random objects that we gals like.
Hygge
If you are creating a cozy winter story and looking for fitting stickers, Hygge stickers are your choice. What goes better with a cozy winter photo than stickers that inspire precisely that: a steaming cup of hot chocolate, lighted candles, a piece of cake, or a waving snowman?
Plus, the word Hygge comes from Norwegian and Danish, which translates into a feeling of coziness.
Laurenblair
If the Hygge stickers invoked an indoorsy, cozy feeling, the Laurenblair stickers go well for a more rustic, outdoorsy aesthetics.
The designs, such as the falling leaves, tea, and candles, invoke a nostalgic, lazy, and autumn feeling. However, some of the stickers can also be applied to spring-themed stories.
Neutral
Sometimes typing the least extraordinary sticker name can surprise you with the most amazing stickers. I bet you didn't expect to look for 'Neutral' in Instagram stickers and find just the cutest display of muted-pastel orbs, hearts, stars, rainbows, ornaments, and sayings that will jazz up your story.
Alittlesomething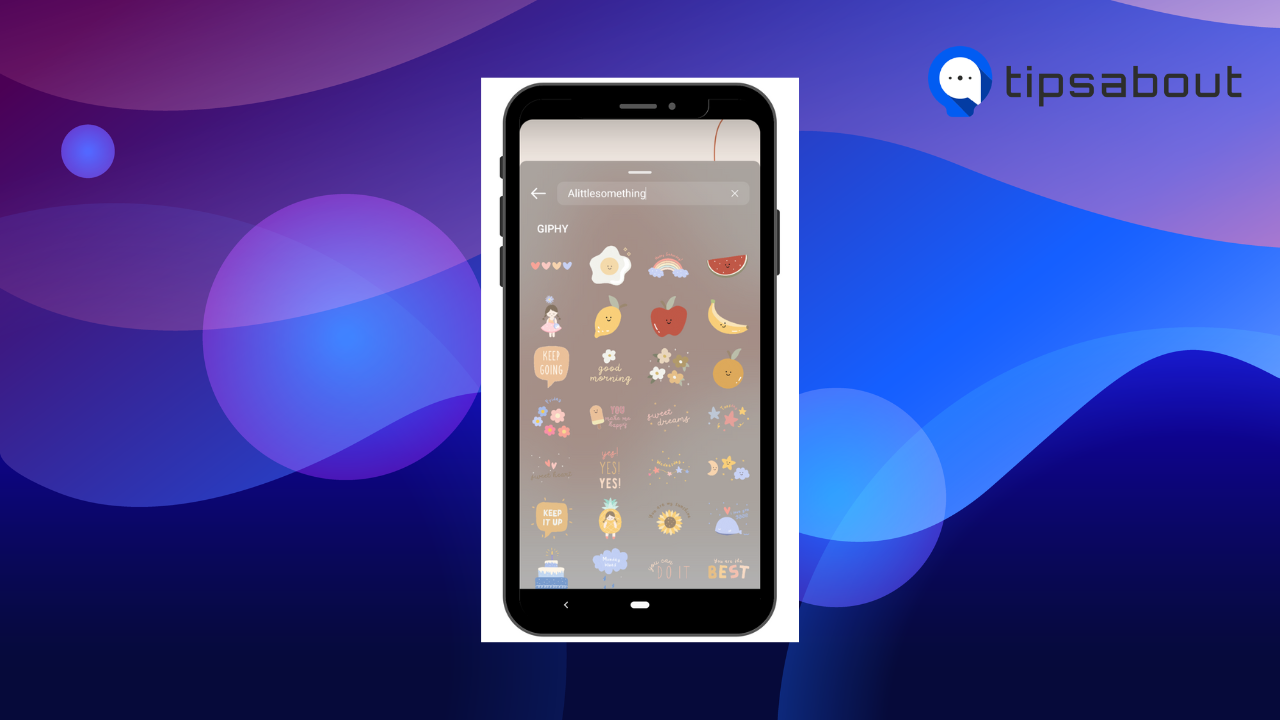 As the name suggests, Alittlesomething offers you a little something of cute stickers of simply adorable smiley fruits, kiwis, avocados, stars, moons, ice creams, and other images to cheer you up and put a smile on everyone that comes across your story.
Addinaf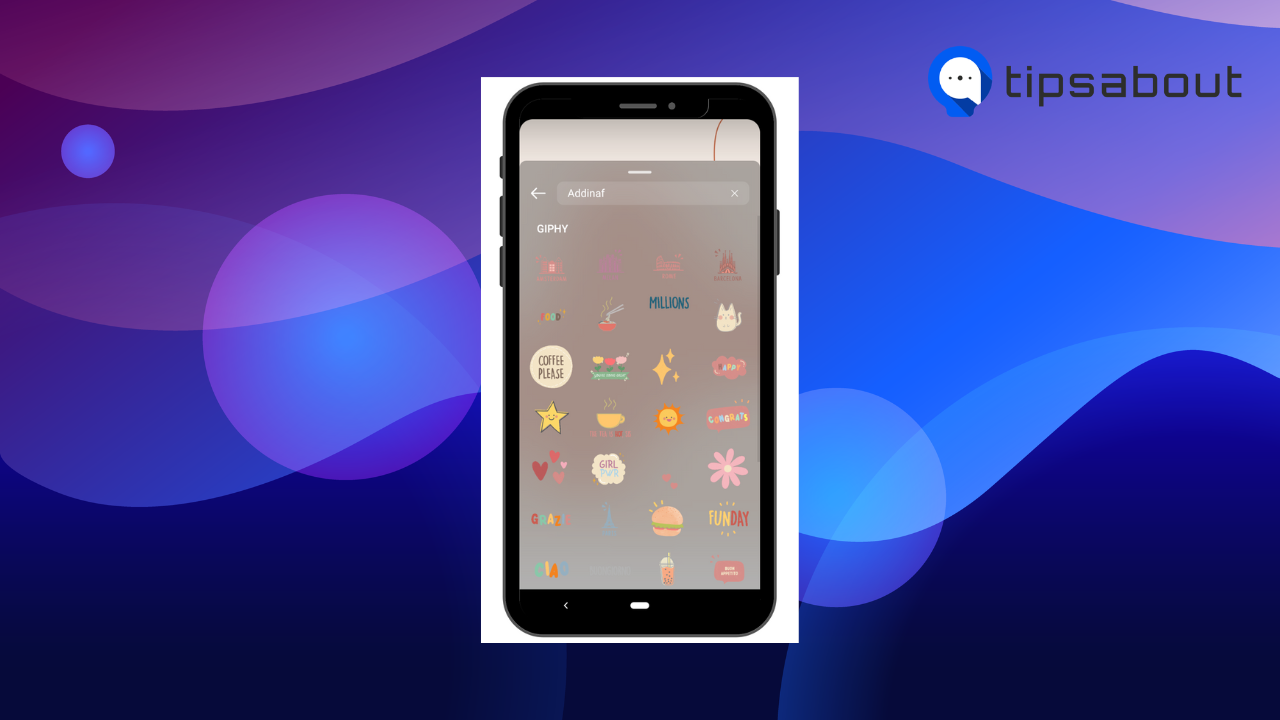 You can use Addinaf stickers if you are a travel Instagrammer. Apart from the adorably cute smiling kitties, stars, and suns, you get a variety of international locations and places stickers, as well as Italian sayings that will go hand in hand with your travel story.
If you are struggling with coming up with outstanding captions, check out our guide on creating Fire Instagram stickers + 22 inspirational captions.
Tatianaariel
Puppies, coffee, drinks, and good vibes are the dominant themes in the Tatianaariel sticker pack. Pastel, pitch, and pink is the sticker color combination that will give a groovy touch to your story photo.
Handmade
We finish the list of cute Instagram sticker names with a sticker set for the DIY users.
If you create handmade products and want to promote them in your story, this sticker set is made for your handmade stuff.
The Handmade stickers will provide the cherry on the cake in a story of your DIY crafts story.
Bonus: Other types of stickers you can use
Besides beautiful stickers that liven up your stories, there's a whole array of stickers you can use to increase engagement on your story.
Location sticker - You can tag the location of your story.
Mention sticker - Use it to tag other people in your story.
'Add yours' sticker - other people can upload their own story on your chosen topic. For example, 'The best day in your life.'
Question (Q&A) sticker - You can ask your followers questions, recommendations, opinions, or feedback. Later, you can share the responses to the question on your story.
Poll sticker - The sticker works as a quiz where you can provide two options and ask your followers to vote.
Quiz sticker - It's similar to the poll sticker, with the difference that you can ask a question and provide several possible answers from which people can choose.
Countdown sticker - You can use it to hype your followers for an upcoming event, announcement, or reveal.
Hashtag sticker - It allows you to add hashtags to your story.
Music sticker - It allows you to add a catchy song or sound to your story.
Emoji slider sticker - Your followers can give their vote or opinion by moving an emoji on a slider.
Small business sticker - If you want to support or promote a local business, use the sticker to tag the business in your story.
Conclusion
In this post, we listed several cute Instagram sticker names to make your story stand out in the infinite line of other stories. By using these stickers, your stories will always feel exciting and not like something already seen.
Additionally, we gave you ideas on other types of stickers to build up engagement in your stories.
Of course, you are free to do your own research and come up with more adorable Instagram stickers that will grab your followers' attention.