Tijana Kargovska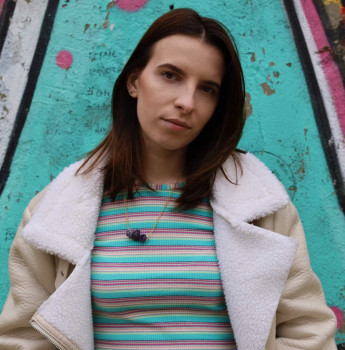 If you're posting on TikTok regularly and chasing that viral video, being unable to post your newest TikTok can sure be frustrating.
Reportedly, there are a number of users that are struggling with the same error lately.
TikTok is currently among the biggest social media platforms worldwide, and with the massive number of daily users, glitches and errors such as this one should be brought to a minimum.
Since there are so many reports about the same error, naturally - it's fixable.
However, since the reason why this issue is showing up can't be determined for sure, we created a list of the most common causes, and how to fix them.
Hence, if you're trying to get back to posting TikToks and fighting TikTok's algorithm, check out the article below to resolve the problem and get back to posting in no time.
How do I get my TikTok to work?
Since multiple reports were placed regarding the same error, users explained what was the core of the issue once they resolved it. For some, the issue was on their end, while others only tried posting when there were some minor crashes in TikTok's servers.
1. Closing and reopening the TikTok app
In case there's some minor glitch happening, which is causing the app to not fully upload the video, and therefore post it, closing the app, and opening it once again might fix the problem.
This is due to the fact that restarting an app will also restart all operations you have going on, and it might speed up the process of finishing and posting the TikTok.
To do this, just close the app from the list of 'Recently Opened Apps' and relaunch it again.
Additional note: If this doesn't seem to be fixing the issue, try to restart the device you're using - phone or tablet.
This too helps reboot the entire system, and it will help the app to start off with a clean slate.
2. Checking TikTok's server status
Any minor issue with the app's server might cause your app to either get stuck while you upload videos on TikTok, or not allow you to finish up posting by showing an error prompt.
Hence, the best way to make sure the issue is not on your end is checking the status of TikTok's servers.
There are plenty of third-party websites, giving detailed reports for any types of issues, problems and spikes with the servers. We recommend using DownDetector.
3. Checking your Internet connection
The most common issue is an unstable internet connection. If your Wi-Fi or mobile internet are weak at the moment you're trying to post a TikTok, an error such as being unable to post videos might occur.
You can make sure that your Internet connection is stable by glancing at your status bar.
If you're using your Wi-Fi, you should have at least two bars to be able to post, while for mobile data you should at least have an 'H+' or 3G connection.
If you do notice issues with your Wi-Fi, make sure to restart the router, so the connection gets back to normal.
On the other hand, if you're using your mobile data, make sure to restart the device and try posting on TikTok once again.
👉 Explore what the "Too Many Attempts. Try Again Later" error message means and how to fix it.
4. Deleting the Cache Memory from the TikTok app
There's cache memory stored within the TikTok app, that can be deleted with a few easy clicks.
The cache memory can be considered as trash memory, which may cause your app to block you from posting.
To remove the built-in cache memory from the TikTok app, follow these steps:
Open the TikTok app, and click on 'Me' in the bottom-right corner.
Next, from your profile page, click on the three dots in the upper-right corner, and open 'Settings & Privacy'.
Scroll down to the bottom of the page, and click on 'Clear Cache'.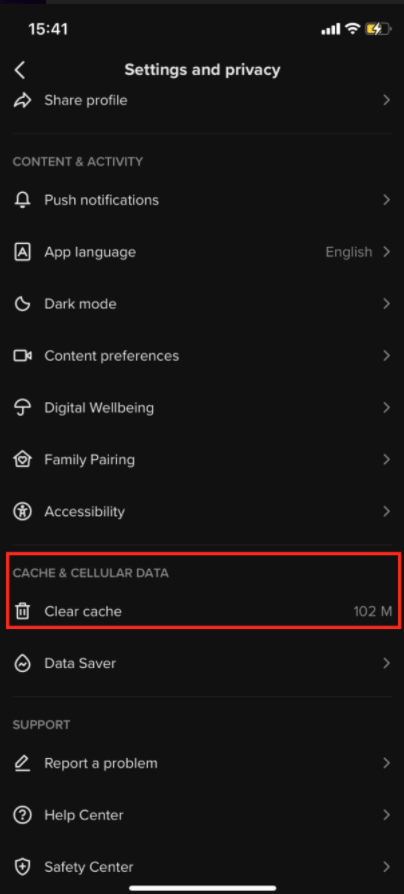 Additional note: Android users can clear cache memory and data by going to their phone 'Settings' > 'Apps' > TikTok > Memory > Clear cache / clear data.
Bonus: How to Fix: TikTok no Sound on iPhone
5. Copyright Violations
TikTok has strict guidelines and T&C regarding copyright violations. Hence, using sounds that are not allowed, or even trying to post a video that was originally created by another TikTok account may be why you're unable to post on TikTok.
Hence, if you posted a video that violated copyright guidelines, and consequently you got reported by other TikTok accounts, TikTok may have blocked you from posting as a penalty.
If you think you were blocked, but you haven't violated any of TikTok's T&C, make sure to file a report to TikTok's Help Center, and wait for their reply, so they can remove the ban.