How to Fix: "Too Many Attempts. Try Again Later" on TikTok
---
Table of Contents
Have you tried to log into TikTok and got the "Too Many Attempts. Try Again Later" error message and are looking for solutions? Then, you've come to the right resource.
TikTok, like all other social media platforms, has its fair share of errors. Some of the most common TikTok errors you might have also gotten are the 'Server Error', 'No Internet Error', TikTok keeps crashing or resetting.
However, as frustrating as it is to get the error message, you are not alone. There are a lot of people who have the same issue when trying to log into TikTok. The good news is that there are some things you can do about it.
In the guide below, you'll learn how to fix it if you get the TikTok "Too Many Attempts. Try Again Later" error message.
How to Fix: "Too Many Attempts. Try Again Later" on TikTok
The "Too Many Attempts" TikTok error message may occur due to several reasons. Most commonly, it's because your IP address has been temporarily banned by TikTok because of repeated attempts to perform the same action in a short period of time, such as login attempts. For example, if you tried to log in with incorrect credentials.
Also, if you are trying to send too many security or verification codes to your phone number, you may also get the "Too Many Attempts. Try Again Later" error message.
As a result, you may be restricted from performing certain actions on TikTok for a few minutes to a few hours.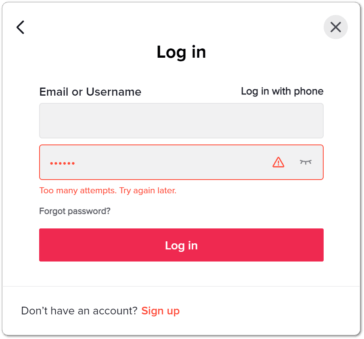 Here are several fixes you can try to get rid of the issue.
Delete and reinstall TikTok
The first method you can try is deleting and reinstalling TikTok. This will also clear the cache on your TikTok app, and possibly eliminate the temporary block. Afterward, when you open TikTok again, the issue should be resolved and you should be able to use the app normally.
Use a VPN
If deleting and reinstalling the TikTok app didn't remove the error message, another method you can use is connecting to a VPN to change your IP address.
There are many VPN services available on the market. Go to the App Store or Google Play Store and download an app that works best for you.
After you download a VPN app, log into it and select a different region. Now, try to log into TikTok again.
Note: You could also try to access your TikTok account via 'Incognito' mode in the web browser.
Switch to another network
If you disconnect from your current network and connect to another, you'll get a different IP address, which will help to get back to your TikTok account and use it normally.
If you are connected to Wi-Fi, simply connect to mobile data and try logging in to TikTok again.
Wait it out
If none of the above fixes worked, the last method is to simply sit back and wait it out. As we mentioned, the "Too Many Attempts. Try Again Later" error is a temporary one, so eventually it will be lifted.
Typically, it lasts less than an hour, but even if the error lasts longer, it will be lifted. So, the safest option is to take the time to do something else and then, as the error suggests, "Try Again Later" after some time.
Wrapping it up
If you get the "Too Many Attempts. Try Again Later" error message on TikTok, this means that TikTok has temporarily banned your IP address. This usually happens when you perform the same or similar action too many times. The actions can involve sending security codes too many times, or trying to log in too many times with the wrong credentials.
You can try the fixes above to resolve the issue, but the most effective method is to simply wait it out for the ban to be lifted to be able to log in to your TikTok account again.
If you experience other issues such as TikTok not letting you like videos or you can't post on TikTok, check out our guides on how to fix them too.