Tijana
Instagram users have the option to privately message another user via disappearing photos and videos. There are other apps that offer this feature as well, such as Telegram, Signal, Messenger, or WhatsApp.
Instagram, the largest photo-hosting platform worldwide, also allows users to share photos and videos with their followers through an internal messaging system, more commonly known as DMs.
There are instances, however, when a user would prefer that their content be read just once or a specific amount of times, in which case Instagram offers an 'exploding message' option in its DMs feature.
However, the so-called 'bomb' message only works for photos and videos being shared, not text messages.
Luckily, though, Instagram's developers thought this through, and for disappearing text messages, they implemented the 'Vanish Mode' feature.
Users can send pictures and videos that instantly vanish from the recipient's inbox by using "exploding messages." These photos/videos that are being sent by using the disappearing messages feature, or the 'bomb' picture, can only be viewed once, and cannot be replayed.
If you're wondering how to send a disappearing message on Instagram, or a 'bomb' photo, you're in the right place. Check out the step-by-step process in the article below.
You might also like: How to Find Out When an Instagram Account Was Created.
How do I send a disappearing photo on Instagram?
Follow these steps to send a 'self-destructing' message on Instagram:
Open the Instagram app, and find the chat window of the Instagram account you want to message the photo.
In the bottom-left corner, click on the Camera icon to launch it.
On the Camera screen, either open a photo/video from your Camera Roll or take a photo/video using the Camera, as you normally do.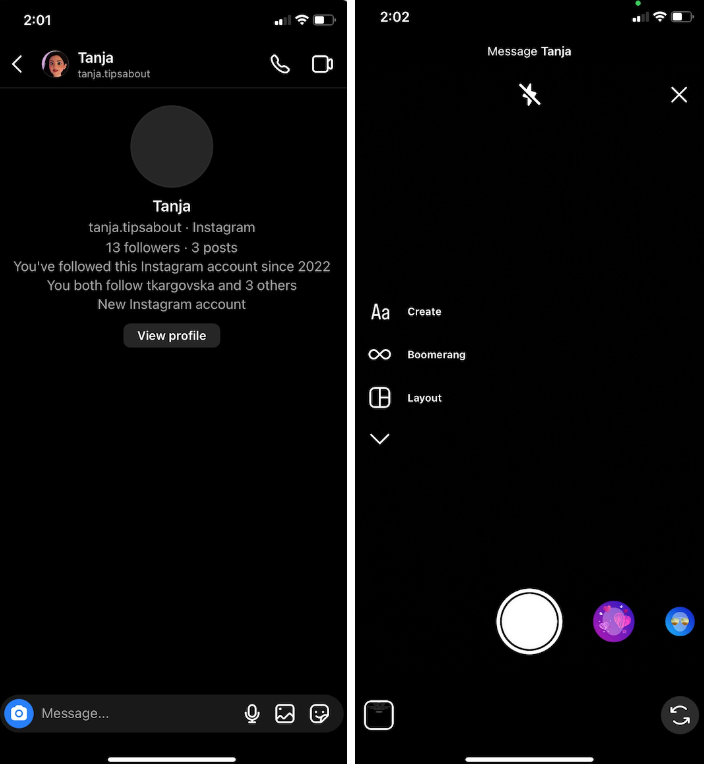 After taking the photo/video or uploading it, tap on the icon in the bottom-left corner that says 'Allow replay'. The feature will change to 'Keep in chat', and you need to tap once again. The feature will change again to 'View Once'.
This will activate the disappearing message and will be sent as an Instagram DM with a bomb icon.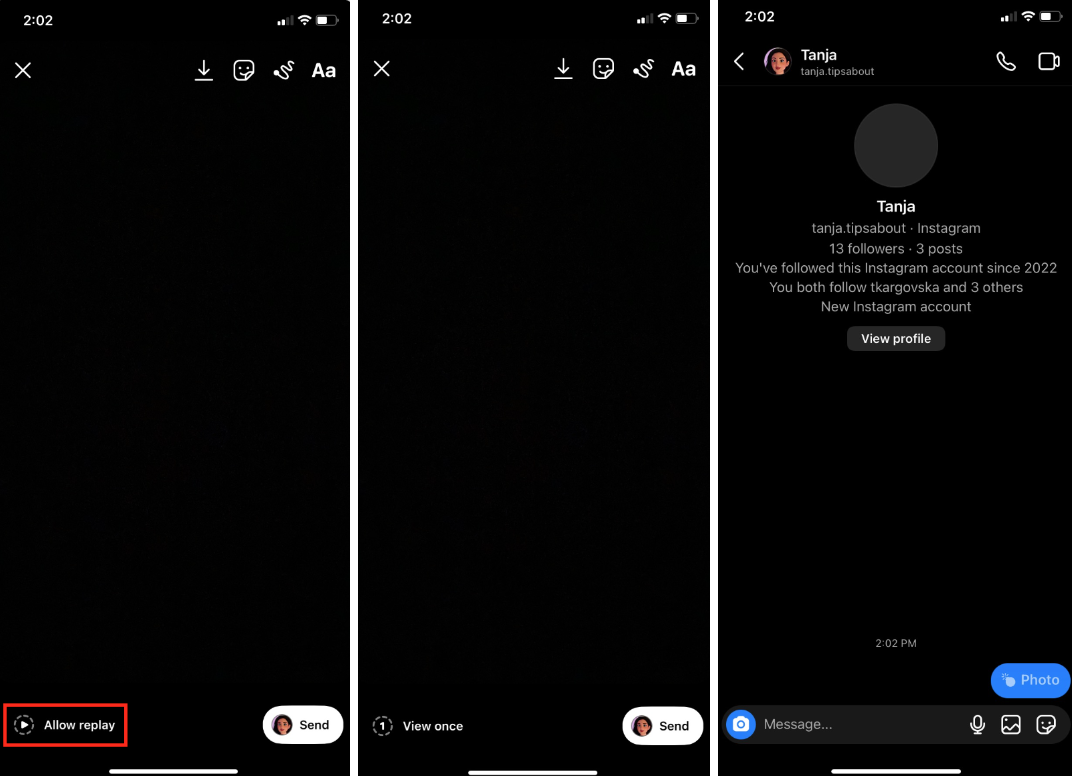 These are all the steps to sending a disappearing bomb photo or video on Instagram.
Can the other user screenshot a disappearing photo/video?
Yes. Unfortunately, Instagram currently doesn't have a feature that protects users from screenshotting.
Regardless of which type of photo you'll send - Allow replay, Keep in chat, or View once, the other party will still be able to take a screenshot.
However, if that does happen, you'll be notified, and you'll see a sun-like icon next to your Instagram DM.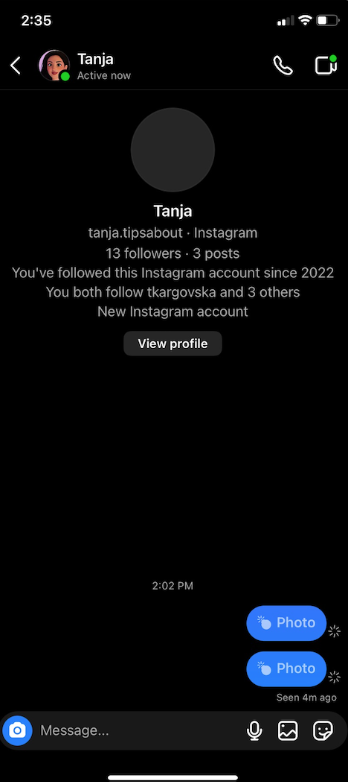 Related: Can You Know When Someone Takes a Screenshot of Your Instagram DM?
Why can't I send disappearing photos on Instagram?
The disappearing photos on Instagram only work among accounts that mutually follow each other, or have approved messages coming through even if they don't follow each other.
Hence, if the account you're texting doesn't follow you back, and hasn't approved receiving messages from you, you won't be able to send them disappearing photos/videos until they follow you, or accept your messages.
How can I see the one-time picture on Instagram again?
Unfortunately, there is no workaround to this feature. The point of sending photos of this nature is to keep and respect the privacy of the sender, which is why Instagram doesn't allow users to open a 'View once' bomb photos multiple times.
Your best bet would be to ask for the same picture again from the sender.
How do you retrieve a vanished message on Instagram?
There is no direct way to retrieve vanished messages on Instagram. What you could do, however, is request to download your account data from Instagram, which contains everything that has passed through your Instagram account since it was created.
This information is sent within 24-48h in a .zip file.
Conclusion
If you regret the photo you have sent, you can always unsend it by tapping and long-pressing on the bomb photo. Tap on 'Unsend' from the menu that will show up.
Also, bear in mind that the disappearing photos cannot be opened by the sender after they have been sent.
If you liked this article, check out: How to View Private Instagram Profiles 2022 - 5 Easy Ways and How to Fix Instagram Security Code Not Sending 2022.