Tijana
Filming and editing TikToks is extremely fun, especially when you're chasing the thrill of going viral. However, some TikToks never meet the light of day by getting published and spend an eternity in the 'Drafts' section.
Luckily, TikTok allows you to get back to the forgotten TikToks from the 'Drafts', and you can go back to editing them and posting them after all.
However, what about saving a draft to your Camera Roll? Surely, there are plenty of beautiful moments that can be caught with the TikTok built-in editor and camera, and not your regular phone camera, meaning the video only exists on the platform, but not in your phone.
Although the process of using and creating on TikTok is quite simple and understandable, finding out how to save drafts is not as simple as everything else.
The reason behind this is that TikTok does not have a 'Download' or 'Save to Camera Roll' button in the app, but there are workarounds, fortunately.
We created a step-by-step guide to help you find out how you can save your TikTok drafts directly to your Camera Roll, keep reading and follow the steps!
How do I save my TikTok drafts to my Camera Roll?
First things first, the 'Drafts' folder on TikTok is where all your edited, but never-finished and published TikToks are stored.
You can find all videos you once started filming in this particular folder, and you can get back to editing them.
For those users that are unsure of how you put a video to your 'Drafts' folder, follow these steps:
Open TikTok on your phone, and start filming your TikTok.
Edit the video if you want to, or you can get back to editing later.
Click on 'Done' once you're finished filming.
On the following screen, instead of posting the video, click on 'Save to Drafts'.
Note: After clicking on 'Draft', your video will be saved in the 'Drafts' folder. To find the folder, click on 'Profile' in the bottom-right corner, and the 'Drafts' section will show up first.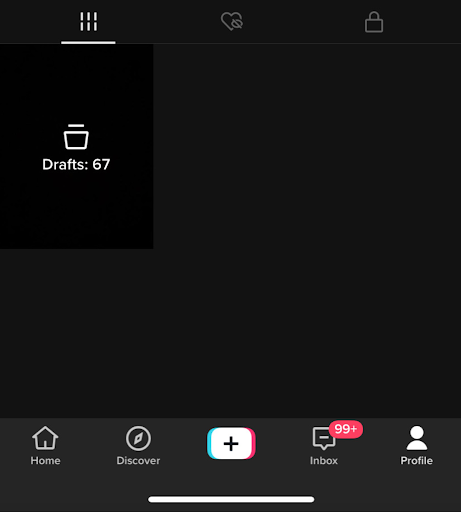 How to save draft videos on TikTok to Camera Roll
As we mentioned, there is a way to save the TikToks to your Camera Roll. However, you'll need to post the video privately in order for the video to be automatically saved to your phone.
Follow these steps to download the TikTok video to your phone:
Open the TikTok app, and click on the 'Profile' icon in the bottom-right corner.
Click on the 'Drafts' folder, and open the drafted video you want to save to your phone.
Click on 'Next' to open the posting options.
Make sure the 'Save to Device' feature is set as 'On' and set the video as private, i.e. 'Only Me'.
Click on the 'Post' button, and it will automatically get saved to your phone.
Note: Since TikTok doesn't have a 'Save Video' or 'Download' button, the video will get downloaded with the TikTok watermark, along with your username below. To download your TikTok without the watermark, check out our article How to Download TikTok Videos Without the Watermark.
Bonus: Check out how to restore your deleted drafts and videos on TikTok.
Alternative method to downloading a TikTok draft
Unfortunately, the only way to download a drafted video from TikTok is by downloading it with a watermark. However, there are plenty of websites offering you to remove the watermark from the video, but it can be a hassle.
Luckily, there's a method to get your video, without having to use websites.
Open the TikTok app on your phone, and click on 'Profile' in the bottom-right corner.
Tap on the 'Drafts' album on the following screen, and find the video you want to download.
Open the TikTok, and play the video. In the meantime, use your phone's screen recorder to capture your screen.
The video will be saved to your Camera Roll, and you can cut the parts where TikTok's video editor is showing up.
These are the only methods to get your TikTok video to your Camera Roll. Even though the app has evolved a lot, a 'Download' button is still not available in the app. Even though the workarounds come off as a hassle, they are all perfectly functional.
Further reading: What Does Clear Cache Mean on TikTok?