Tijana Kargovska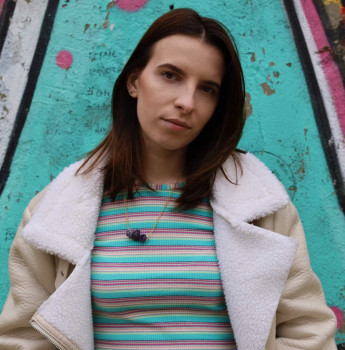 Key Takeaways
To turn off 'Restricted mode': Open your profile > open 'Settings and Privacy' > open 'Content Preferences' > Turn off 'Restricted Mode'.
To report a bug/request a birthday change: On TikTok's feedback form, select the suitable category for your issue.
If you recently got prompted by TikTok's 'This post is age-protected' error, you're not alone.
Many users, myself included, got the same error message, which normally occurs for underage users.
In my case, I had entered a random birthday instead of my correct one, which is why TikTok labeled my account as 'underage'. Consequently, the error message for age-inappropriate content popped up.
In this article, we'll cover what age-protected TikToks stands for, how to get rid of the error, and fix age protection limits on TikTok's service.
Check out: How to Fix: Why Can't I Post on TikTok?
What does age protection mean on TikTok?
TikTok's age protection is developed to keep the 'digital wellbeing' of the younger audiences using the platform.
In this group, users aged 13 to 15 have TikTok accounts labeled as age-restricted, meaning videos that the TikTok algorithm considers inappropriate will be made unavailable.
One of the safety regulations is the 'video downloading' feature, which for underage users, is made unavailable by default. In addition, depending on the content of some TikToks, if inappropriate content or language is being used, the short videos on TikTok will be made unavailable as well.
However, TikTok users that are older than 13 years, and are of legal age seem to be experiencing this issue as well.
Luckily, there are things you can do to resolve this issue based on other users' experiences.
Similar: What is "This Sound Isn't Licensed for Commercial Use"?
How do I fix the 'This post is age protected' error on the TikTok app?
The quickest and most direct way to shutting down this protection feature is to turn off restricted mode.
If you either entered a wrong birthday, or recently turned 18, but TikTok keeps considering your account as underage, you'll need to contact TikTok to change your birthday.
However, numerous users have reported that their accounts wouldn't stop blocking age-inappropriate content, which is why some create new TikTok accounts and set their age to 18 or above.
How to turn off 'Restricted Mode'
If you already set your birthday correctly and you are of legal age, the reason you're getting the 'Post unavailable' / 'This post is age protected' error is because the 'Restricted Mode' feature is activated on your account.
Follow these steps to turn it off:
Launch the TikTok app and open your profile by tapping on the 'Profile' icon in the bottom-right corner.
On the following screen, tap on the hamburger menu in the upper-right corner.
From the menu, tap on 'Settings and privacy'.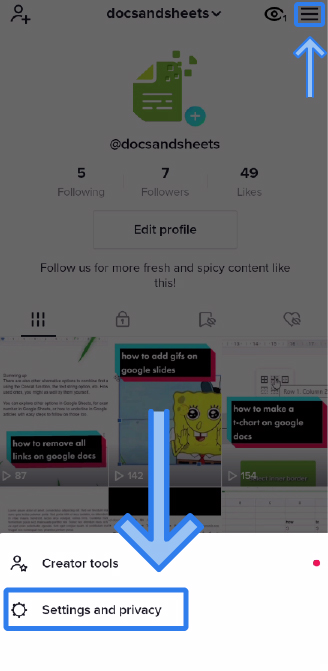 Tap on 'Content Preferences', and open the 'Restricted Mode' feature.
On the following screen, make sure to turn it off.
Note: You'll need to enter your 4-digit passcode to turn off 'Restricted Mode'. The passcode is the same as the one you entered when you activated 'Restricted Mode'.
You might also like: How to Change Your Bio on TikTok.
Note: If you entered a random birthday when you were creating your TikTok account, as I did, it's best to submit a photo of your ID, which is the best proof of age. TikTok will contact you by email in the following couple of days, so make sure to check for updates.
Open TikTok's feedback form, and enter your email and TikTok username in the respective field.
From the list of categories, select 'Change account information'.
Under the subcategory, select 'Other' or 'General question', and describe your issue as well as you can in the 'How can we help?' section.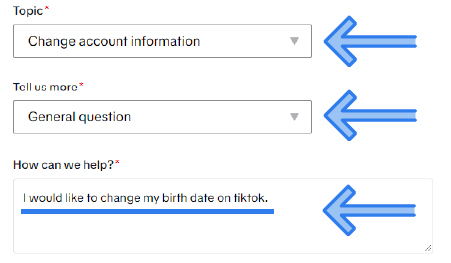 Tap on 'Agree' with the statements below, and submit the form.
Additional note: If you already have set the correct birthday, but keep getting age-restricted content, under categories, select 'Report a bug', and in the field, explain in detail the issue you're having.
Create a new TikTok account
Even though it's not a workaround or a direct solution, many users resort to creating new TikTok accounts with the right birthday, instead of waiting for TikTok's response.
You can create another account as you previously did; just make sure to sign up with a different username and email.
Conclusion
Many users face age-restricted video filtering on TikTok. But luckily, regardless if it's due to a bug, or a wrong birth date entered, there's a solution.
In this article, we covered how to turn off 'Restricted Mode', how to report a bug, and how to place a request to change your birthday.
If you liked this article, check out: What Does Shadowbanned Mean on TikTok? And How to Avoid It and How to Change Your Interests on TikTok (To See The Content You Want).