Ivana Kotorchevikj
If you have made your TikTok videos public, other TikTok users can post comments to them. However, we all know that not all comments are nice and with good intentions.
Hate comments on TikTok are not uncommon, and unfortunately, they are part of social media today, especially if your videos on TikTok are viral.
And in case you are still wondering what it takes to go viral on this platform, you can check out our blog - we have the ultimate guide, tips and tricks for going viral on TikTok in 2022.
So it's definitely convenient that TikTok, like the other media platforms, allows you to moderate the comments posted to your videos, and also remove them if you think are not suitable.
Read below to learn how to do it.
Open the TikTok app and tap on the profile icon in the bottom-right corner of the screen.
Tap on the video that you want to moderate.
Tap on the comments icon from the right-hand side menu, which looks like a speech bubble with three dots inside.
Long-press on the comment you want to delete.
Tap 'Delete'.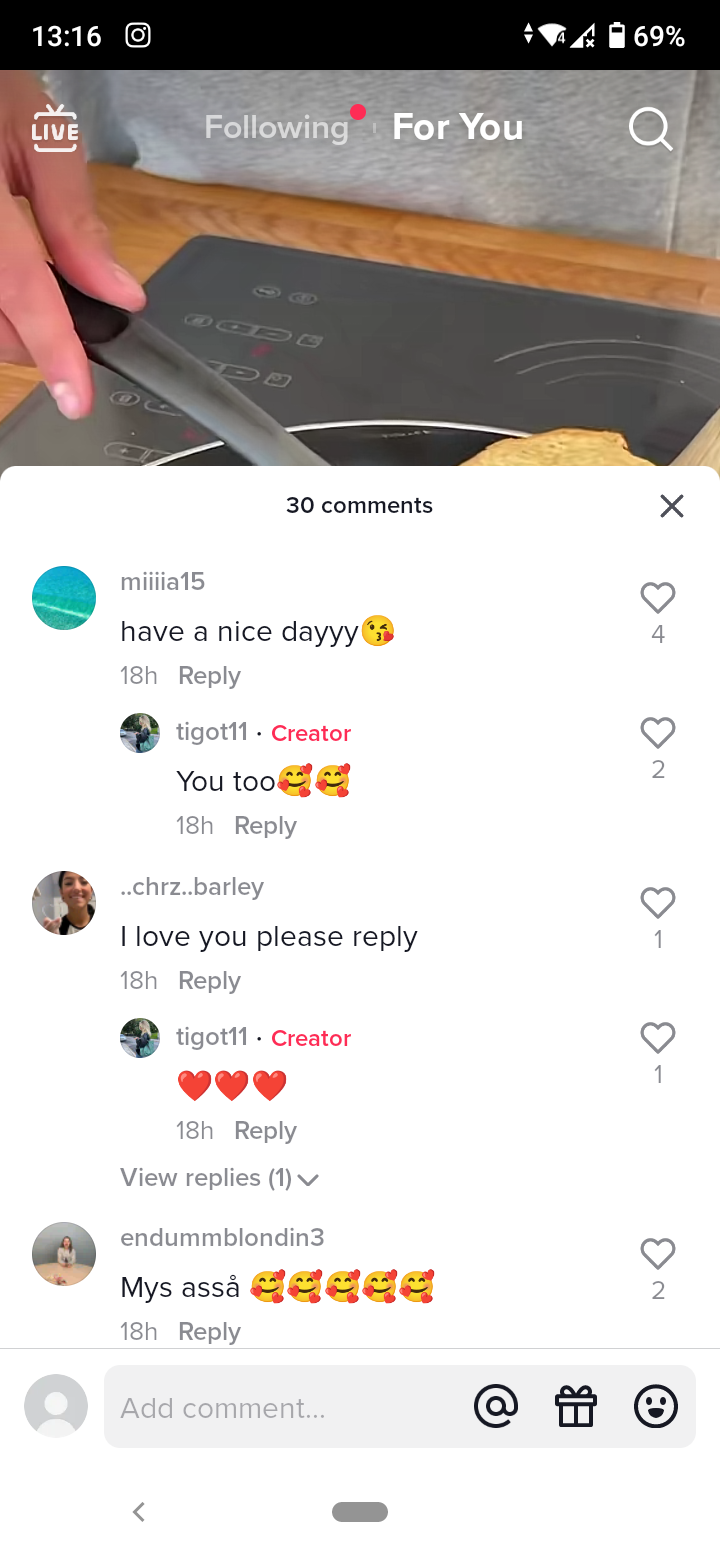 ✅ You might also like to learn: How to Delete TikTok Story
Although TikTok is less commonly used from a web browser, you can still delete a comment on TikTok from a desktop web browser.
Go to tiktok.com from your preferred browser and log into your account.
Hover over your profile picture in the top-right corner and click on 'View profile'.
Select the video you want to moderate.
Put your cursor over the comment you want to delete. You should see an ellipsis (three horizontal dots) appear to the right of the comment.
WIth your mouse hover over the ellipsis and click on 'Delete' in the pop-up menu.
Note: TikTok doesn't ask you for confirmation before deleting a comment. Also, you can't retrieve a deleted comment. So before you delete a comment, make sure you really want it gone.
Also, learn how to delete a couple of dozen draft videos you have made before creating the perfect TikTok video.
Bonus: Read how to pin comments on your TikTok videos.
If you want to delete a comment you've posted on a video:
Go to the video or open the comment thread you've commented on.
Find your comment, and tap and hold on it.
Tap on 'Delete' in the pop-up window.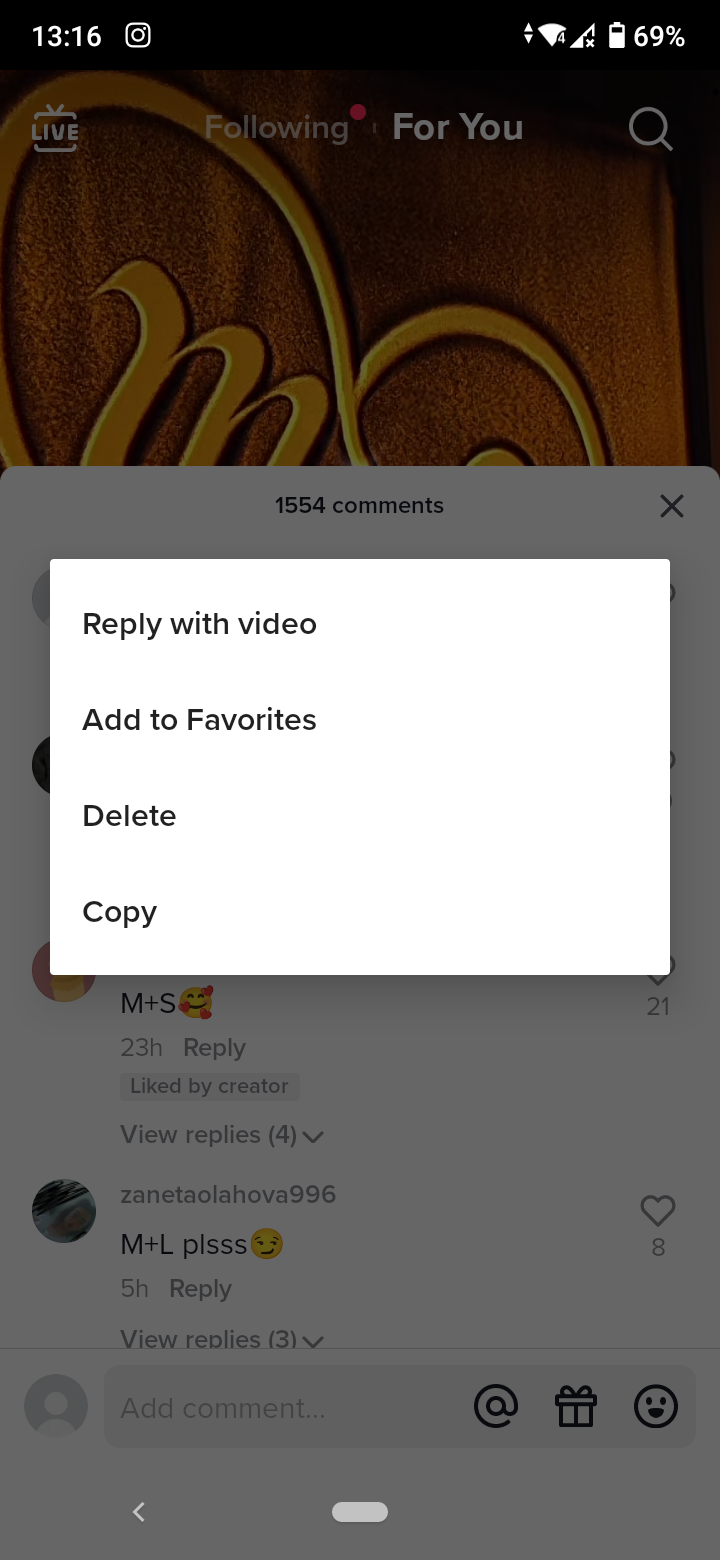 Note: You can only delete comments you have made and not other users' comments on videos that are not your own.
Also, you can't bring back a comment once you've deleted it. So if you are deleting a comment because you've made a typo, make sure to 'Copy' the comment because you tap on 'Delete'. After deleting it, you can paste the text and edit it before reposting in it a comment.
Alternatively, you can use one of the options to limit comments on TikTok.
If you want to learn more helpful TikTok tips, check out how to delete your TikTok account if you don't have access to the phone number you've signed up with.
Frequently Asked Questions
How do I delete someone else's comment?

You can only remove comments to your own videos on TikTok. TO delete a comment, tap and hold on the comment, next tap 'Delete'.

How to mass-delete comments on TikTok?

TikTok has made it possible to bulk or mass-delete, and reports comments in order to prevent bullying on the app.




You can select up to 100 comments at once to delete or report as inappropriate. Long-press on a comment or tap on the pencil icon to get access to more options. Then choose whether to delete, block or report them.

If I comment on a TikTok but then delete it, will the creator still know I commented?

Users get a notification when you comment on their videos. But if you delete the comment before they see it, TikTok will delete the comment and the notification.

Will someone know if I delete their comment on TikTok?

Users can see that their comments have been deleted if they go to view them in the comment thread, but they won't be notified that their comments have been deleted.