Tanja Lepcheska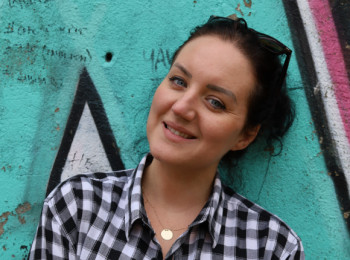 Just like most messaging apps out there, Telegram also shows the time when a user has last visited the app. However, the time that is shown is not always exact because users can make changes to their status and adjust it the way they want it.
And yes, we get it, many people are eager every single day to know when was the last time you were active on Telegram.
Now you must be wondering how you can make this change. The answer is easy and simple and all you need to do is keep on reading this blog post to guide you through the process.
Bonus: How to change the font size on Telegram and how to search for people near you on Telegram.
Keep scrolling for learning how to do it step-by-step.
How to make status 'last seen recently' on Telegram
To make your status 'last seen recently' on Telegram, you need to make some adjustments to the Settings on this messaging platform to change your online status. To do this, these are the steps to follow:
Launch the Telegram app on your smartphone.
Tap on the three horizontal lines (top left corner).
A menu with options will appear, choose and tap on 'Settings'.
From the new window, choose and tap on 'Privacy and Security'.
Under Privacy, tap on the option 'Last Seen'.
A new window will appear, asking you who can see your 'last seen' status.
You will be given three options: 'Everybody', 'My Contacts' and 'Nobody' - choose and tap on 'Nobody'.
When the pop-up window appears, just tap on OK.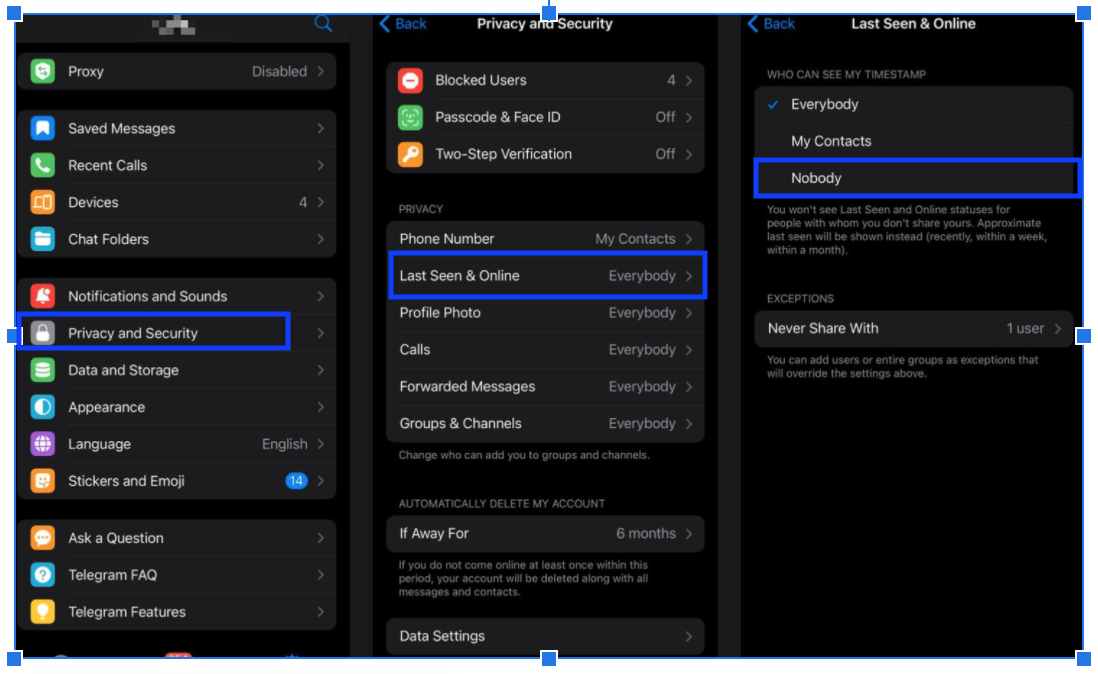 From then on, your Telegram status will show 'last seen recently' to all your friends who are checking on you from time to time or for those who trying to inspect your activities every single day.
The true meaning of online statuses on Telegram
This Telegram status covers a period between 24 hours up to three days.
This status is shown when a person is not available for a week and can cover a period between 3 days up to a week.
This status means that a person has not opened their Telegram account for a whole month and can cover a period of time that ranges from 7 days up to a month. Also, if you still see their DP, then it means that are still on Telegram and have not deleted their account.
Last seen a long time ago
This status might mean that you actually got blocked by that particular person. But, you should not jump to conclusions right away but check other parameters.
Can I hide last seen from someone on Telegram?
Absolutely! The Telegram app also allows users to hide their last seen from only selective people on their contact list and it is easily done by following the steps given down below:
Open the Telegram app on your phone as usual.
Tap on the three horizontal lines (top left corner).
Tap on 'Settings'.
Scroll down and tap on the 'Privacy and Security' option.
Tap on 'Last Seen & Online'.
Tap on 'Never Share With' and add the contacts you want.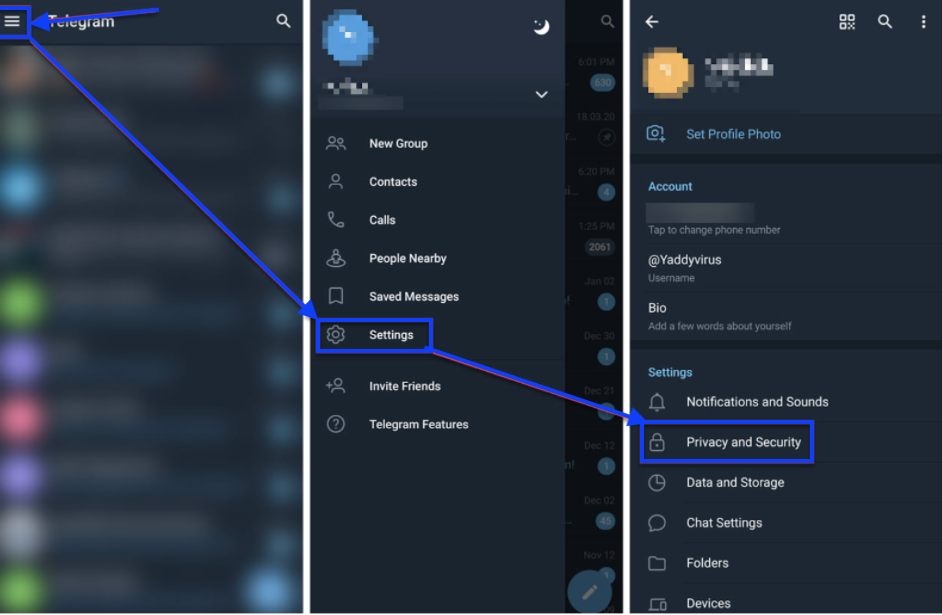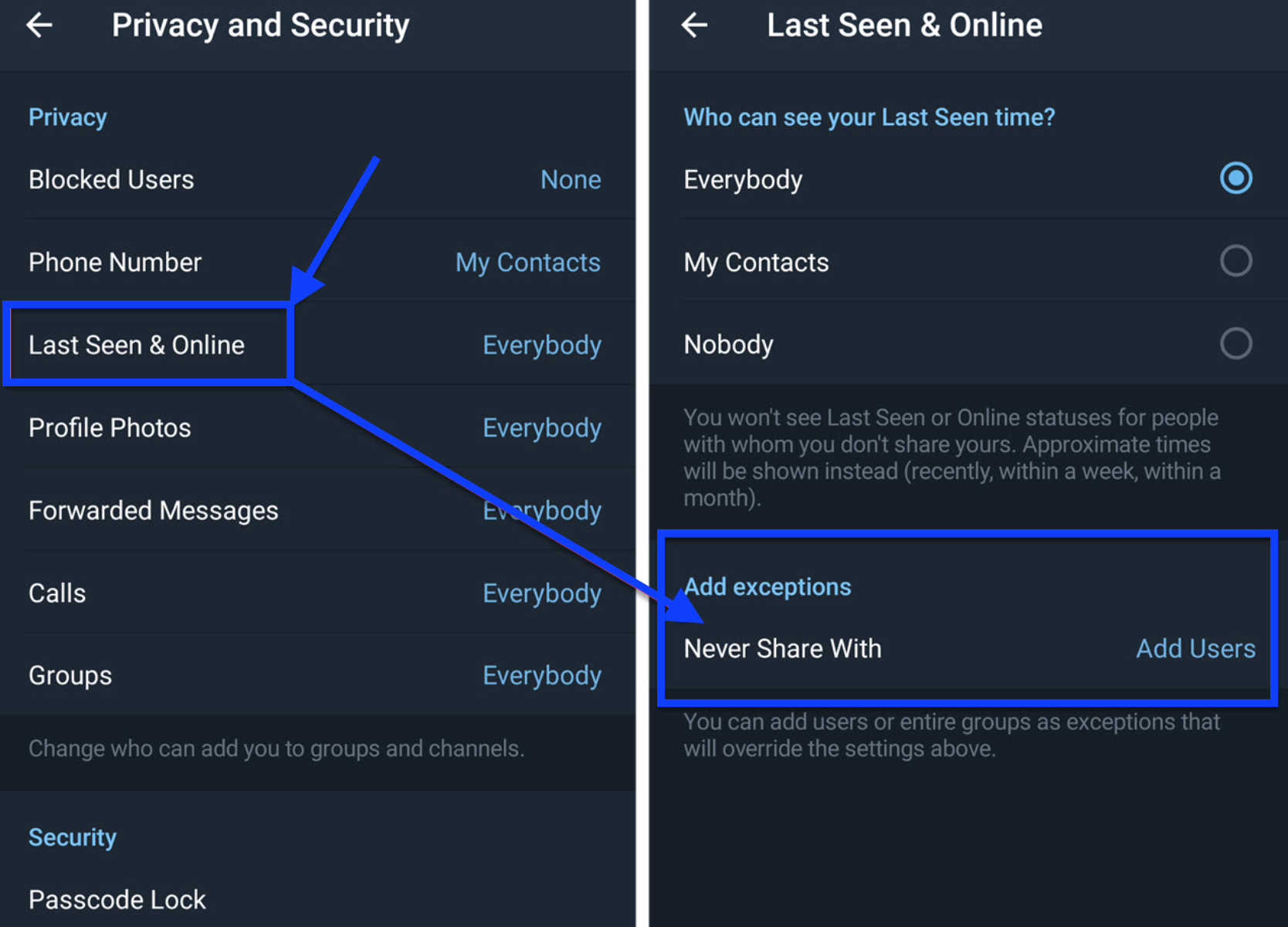 Apart from this, did you know that you can edit messages in Telegram?! You can totally do this and change a silly message you typed and we have just the right steps to guide you and do it.
Or, in case your Telegram account is becoming a hectic place from all of those messages you get and you want to do some organizing, you can learn how to create folders there. We have a great guide to help you group your conversations into chat folders.