Ivana Kotorchevikj
Comments on TikTok are definitely welcome. In fact, if you aspire for your TikToks to go viral, comments are one of the requirements to get you there. Nevertheless, the reality of social media is that there are also hateful and bullying comments.
Of course, you can always delete nasty comments. But TikTok also offers you the option to limit comments on your videos. There are several different ways you can limit and restrict comments on TikTok.
Continue reading below to learn how to limit comments on TikTok.
TikTok has built-in options in the app that protect you from harmful, spammy and bullying comments. These features are AI-based and automatically review and decide if a comment contains offensive language.
It works well in detecting spammy content and insulting language if these filters in TikTok are enabled. However, since it's an algorithm, it may not always catch implicit or covert malicious comments.
This is why TikTok has a default limitation that appears in the form of a pop-up message whenever a user writes an offensive comment. TikTok asks the user to reconsider the message because it goes against their community guidelines.
However, the user can still post the comment if they tap on 'Post it anyways'. Also, as we mentioned above, they may still post hurtful comments without using cuss words and profanity.
The methods below allow you to take matters into your own hands and enable the options that limit comments on TikTok.
One of the ways you can limit comments on TikTok is to enable a filter that restricts spam or offensive comments.
To activate the filter:
Open the TikTok app and go to your profile.
Tap on the hamburger icon in the top-right corner of the screen and select 'Settings and privacy'.
Go to 'Privacy' under the Account section.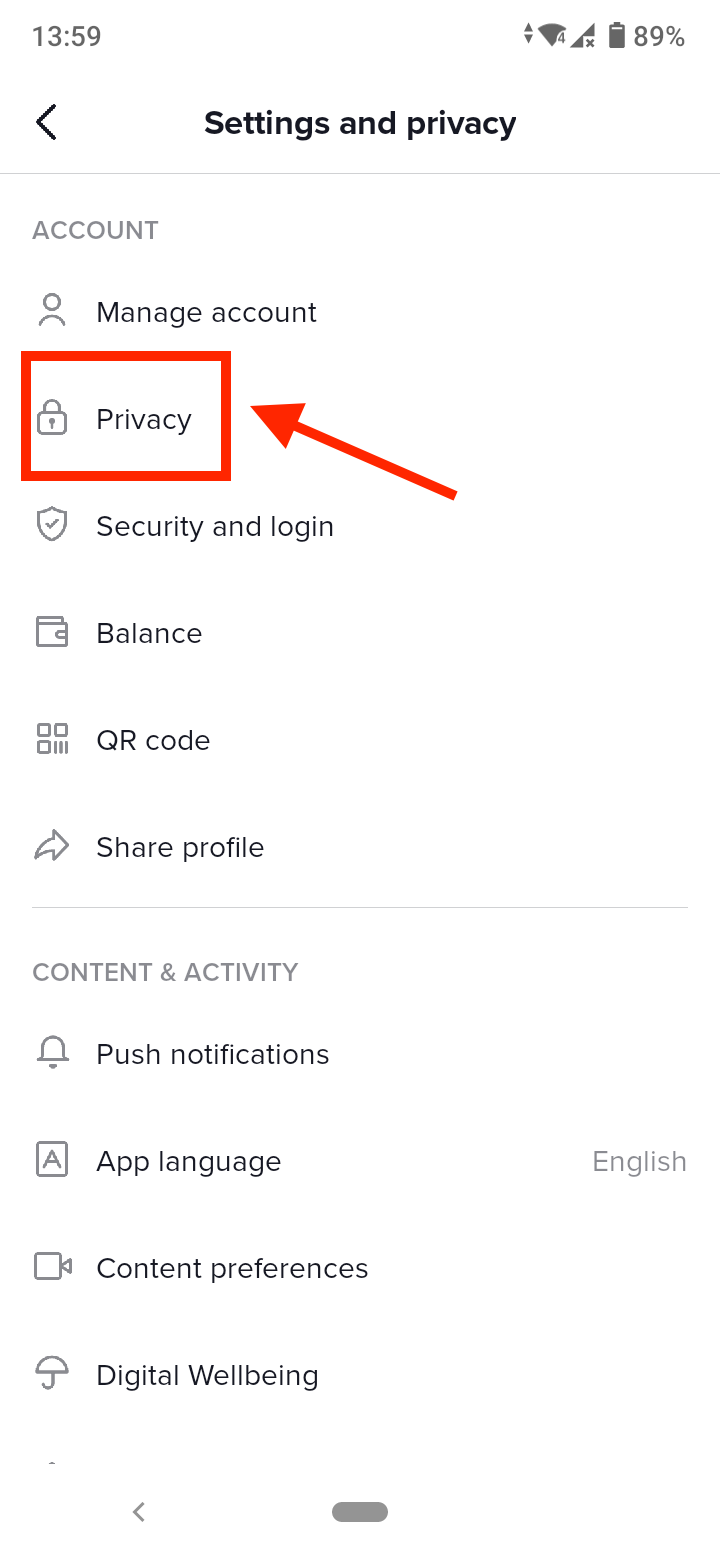 Scroll down and select 'Comments'.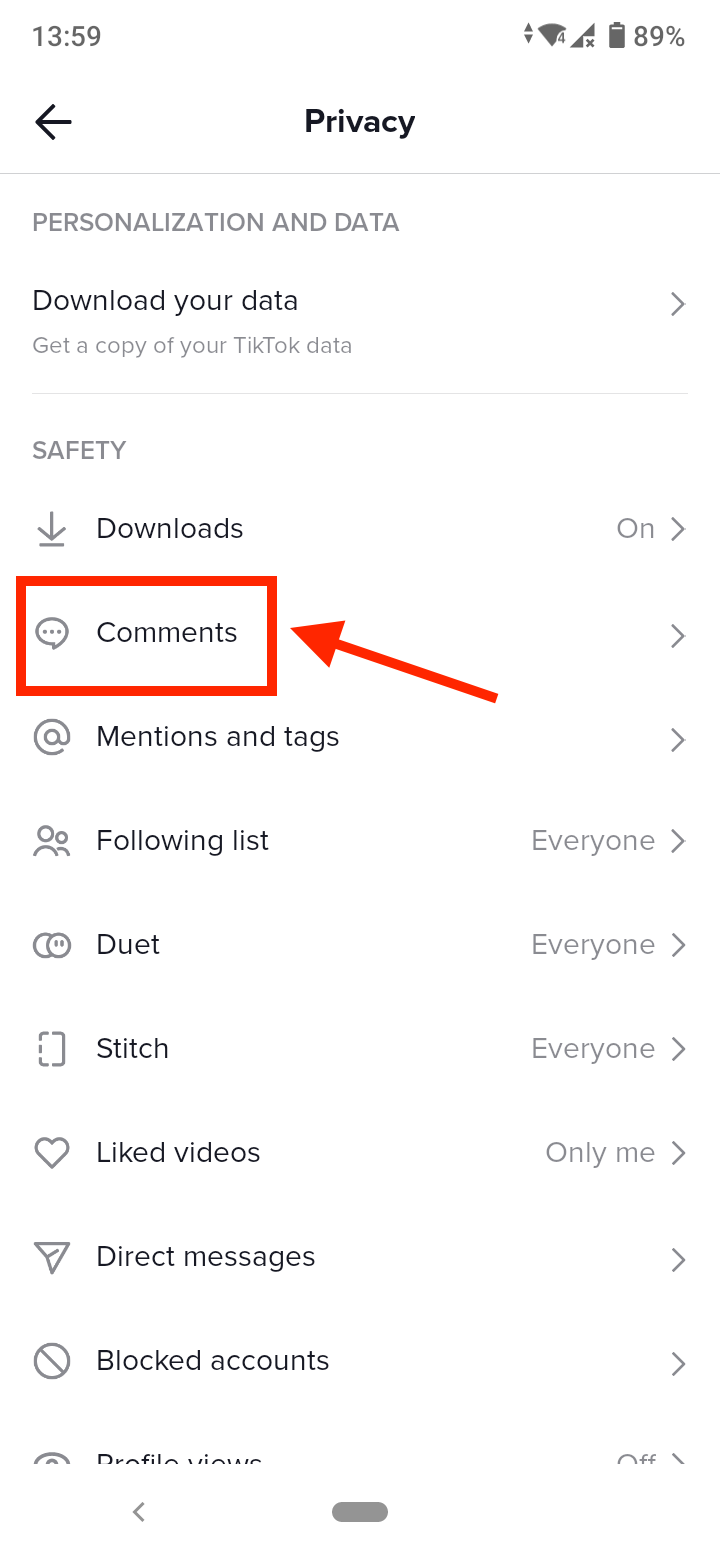 Under Comment filters, toggle on the 'Filter spam and offensive comments' option.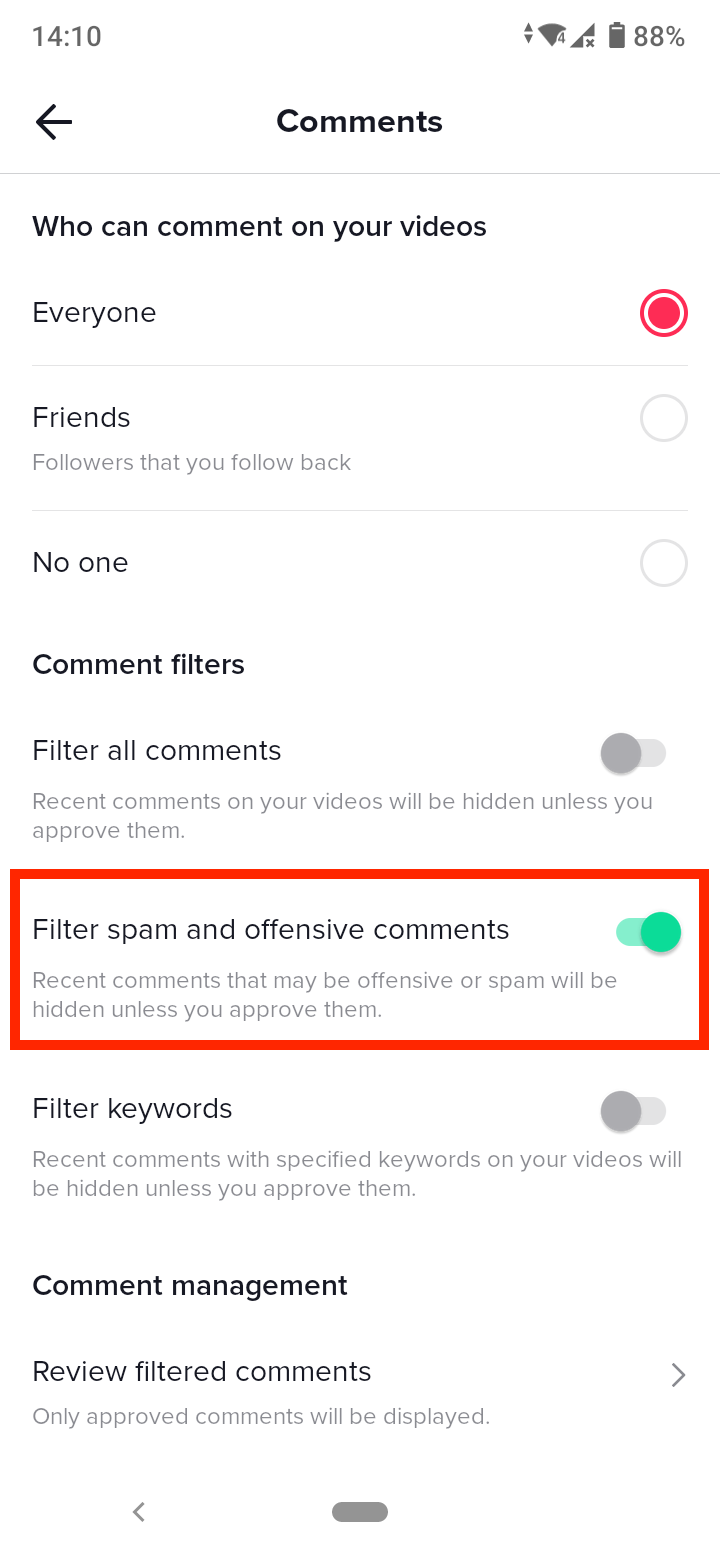 Now all recent comments that may be offensive or spam will be hidden unless you approve them.
Apart from the above filter that limits or hides comments that may contain offensive or spammy words, you can also enable the filter that hides all comments on your videos unless you approve them.
This option allows you to have total control over the comments on your TikTok videos and reviews comments before approving them to make sure your TikTok profile is free of hate and abuse.
To enable this filter:
Go to your TikTok account.
Tap on the three-line menu > 'Settings and privacy'.
Go to 'Privacy'.
Tap on 'Comments'.
Then, toggle on the 'Filter all comments
Turning this filter on will allow you to review all comments and approve those you want.
This filter enables you to restrict comments that contain specific keywords. It may be words containing cuss, hate, racism, sexism, or just any topic you want to avoid for whatever reason.
Open TikTok.
Tap on the three-line menu > 'Settings and privacy'.
Go to 'Privacy'.
Tap on 'Comments'.
Toggle on the 'Filter keywords' option.
Next, add any keywords that you want TikTok to restrict if they appear in comments.
When enabled, the filter will detect comments containing the keywords you've entered and hide them.
After the comments have been restricted by any of the three filters above, you can still review them and decide if you want to approve or block them.
To review restricted comments:
Go to the Privacy settings on TikTok.
Tap on 'Comments'.
Scroll down and tap on 'Review filtered comment'.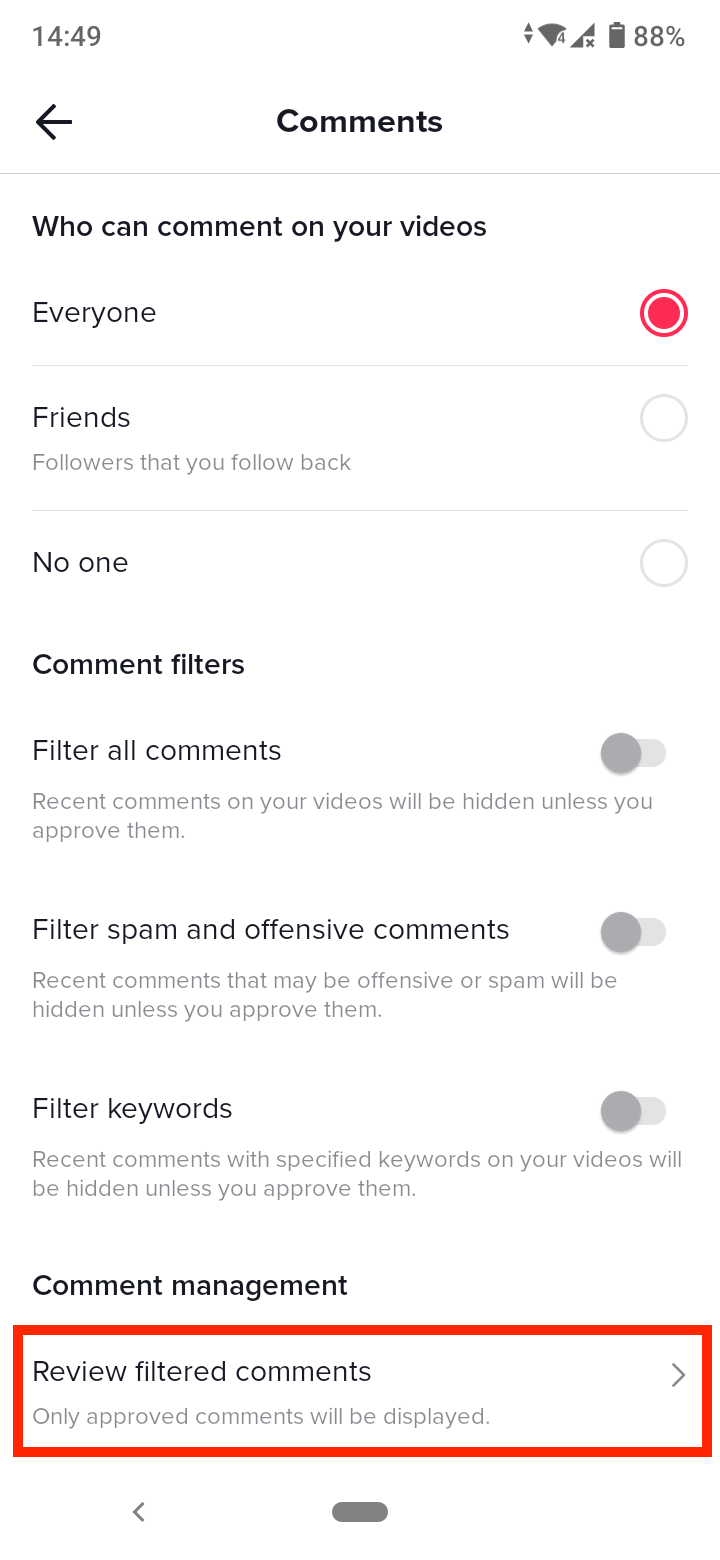 In this section, you'll see all comments waiting to be moderated. You can allow them to appear on your profile or delete them.
Apart from setting filters to comments, you can also moderate who can comment on your content.
Again go to Settings > Privacy > Comments. On the Comments page, you'll see the first section 'Who can comment on your videos'.
Here you can choose if you want Everyone, Friends or No one to comment.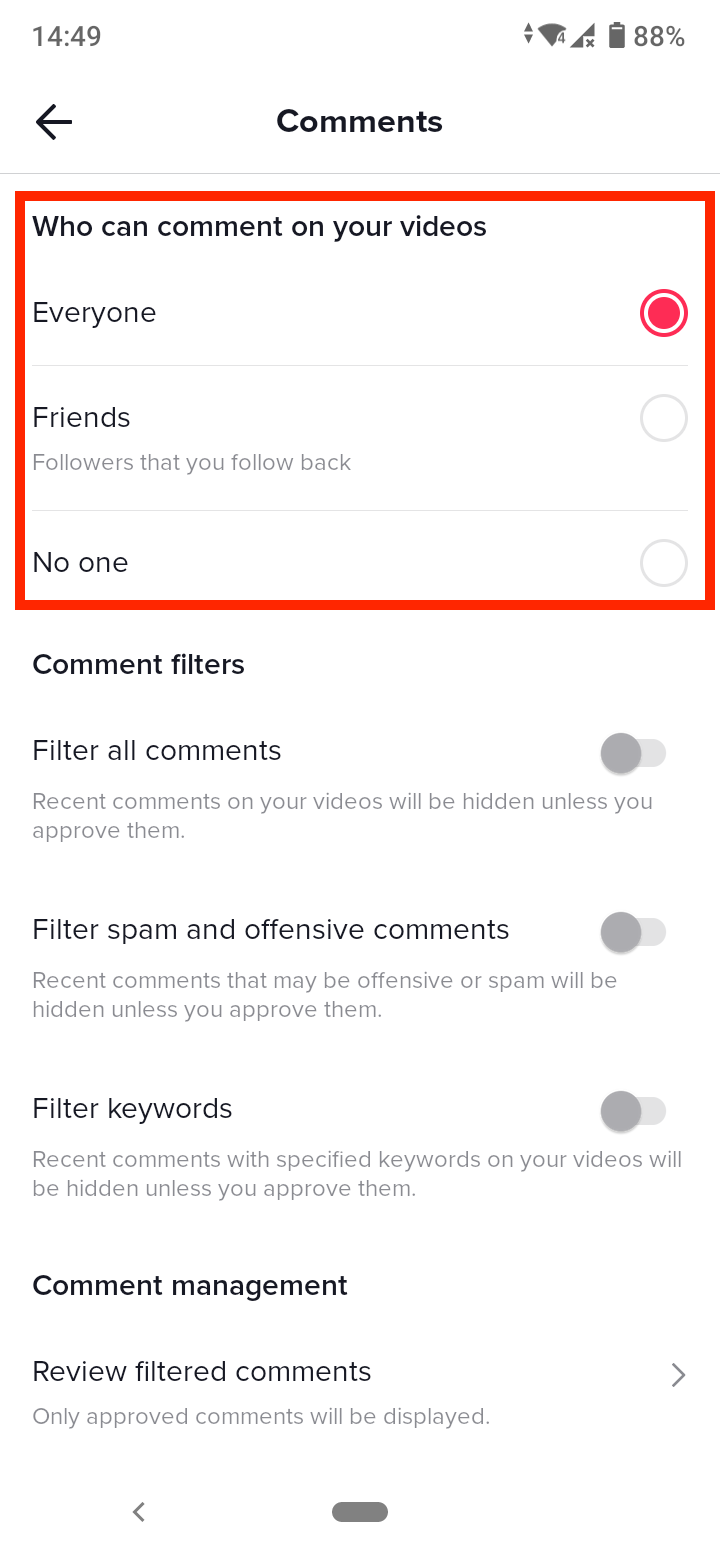 Videos are not the only place where haters and bullies can post negative comments. Viewers can also leave comments on TikTok Live. Considering the conversation is in real-time, it's a bit more challenging to moderate comments.
Luckily, there are options you can use to restrict unwanted comments:
Add filters - Before starting your live stream, you have the option to add up to 200 keywords filtered in the comments section. When you are on the Live screen, tap on Settings and select 'Keyword filter (0/200).'
Assign a moderator - The live moderator can report or mute unwanted content and accounts.
Mute option - As noted above, the mute option during a live stream is another way to limit comments. To mute someone, tap on any viewer's name and tap 'Manage' to mute them for 5 seconds up to 5 minutes, or for the whole stream.
Reconsider message - Similarly to comments on posts, TikTok also warns live stream viewers before they post a negative, hateful, or offensive comment. The message pops up automatically if the algorithm detects language that violates TikTok guidelines. However, the user still has the option to post the comment, so it's wise to have a moderator actively following the discussion for any inappropriate comments.
Final words
To find all options to limit comments on TikTok, go to Settings > Privacy > Comments. Here you'll see all filters and features that allow you to moderate and review comments.