Ivana Kotorchevikj
Like all other online streaming platforms, Netflix requires you to enter your credit card to get access to TV shows, movies, and documentaries.
When you create an account on Netflix, you are asked to provide your payment information and choose a payment method with a debit card, credit card, Netflix gift card, or PayPal.
The payment is automatically made and money is taken from your account each month on the day when you registered.
But, when people want to change their credit card, many come across a challenge and have been asking 'Why can't I remove my payment info on Netflix?'.
So, if you too have been trying to remove your credit card from your Netflix account, but you are confused about why there's no option for that, keep on reading below.
Why can't I remove my payment info on Netflix?
The reason why you can't remove payment information Netflix states that "if you only have one payment method added on your account, you will be unable to remove it until after you add a new payment method" on their Help Center page.
Additionally, if you are being billed through a third-party service, you must update your payment information through that service. Netflix also adds that some third-party payment methods cannot be removed from accounts, as well as billing information can't be removed if you are paying through a partner or with a gift card.
If you are not sure what kind of payment method you are using, or you have additional questions about deleting credit card information from your Netflix account, contact customer support at [email protected].
How can I change my credit card info on Netflix?
If you have updated your credit card, this is how you can edit your payment information on Netflix:
Go to Netflix's website and log into your account.
Select your profile.
Hover over your profile icon in the top-right corner and select 'Account' from the drop-down menu.
On Your Account page, select 'Manage payment info' from the right, under the Membership and Billing section.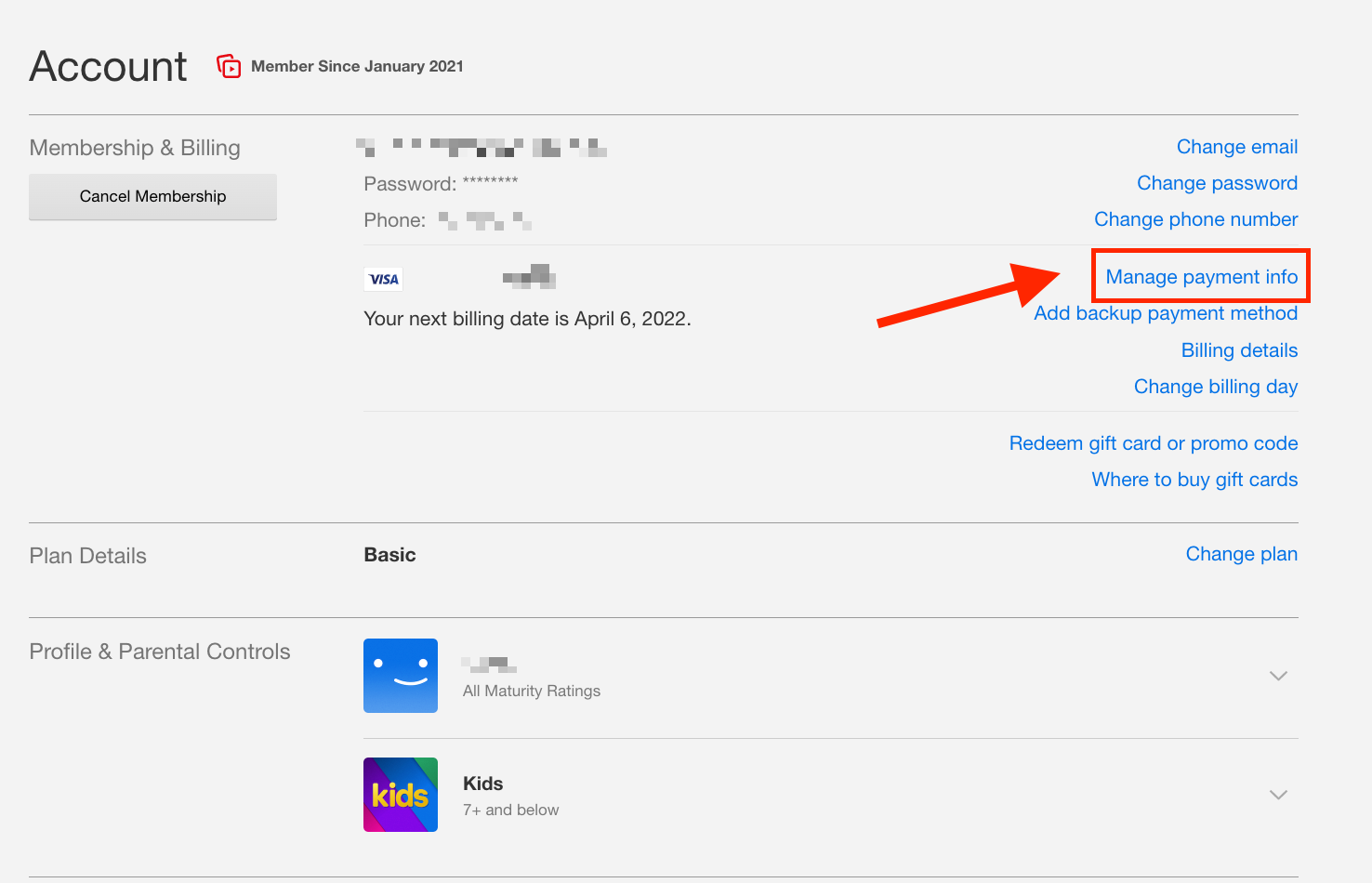 Click on 'Add Payment Method'.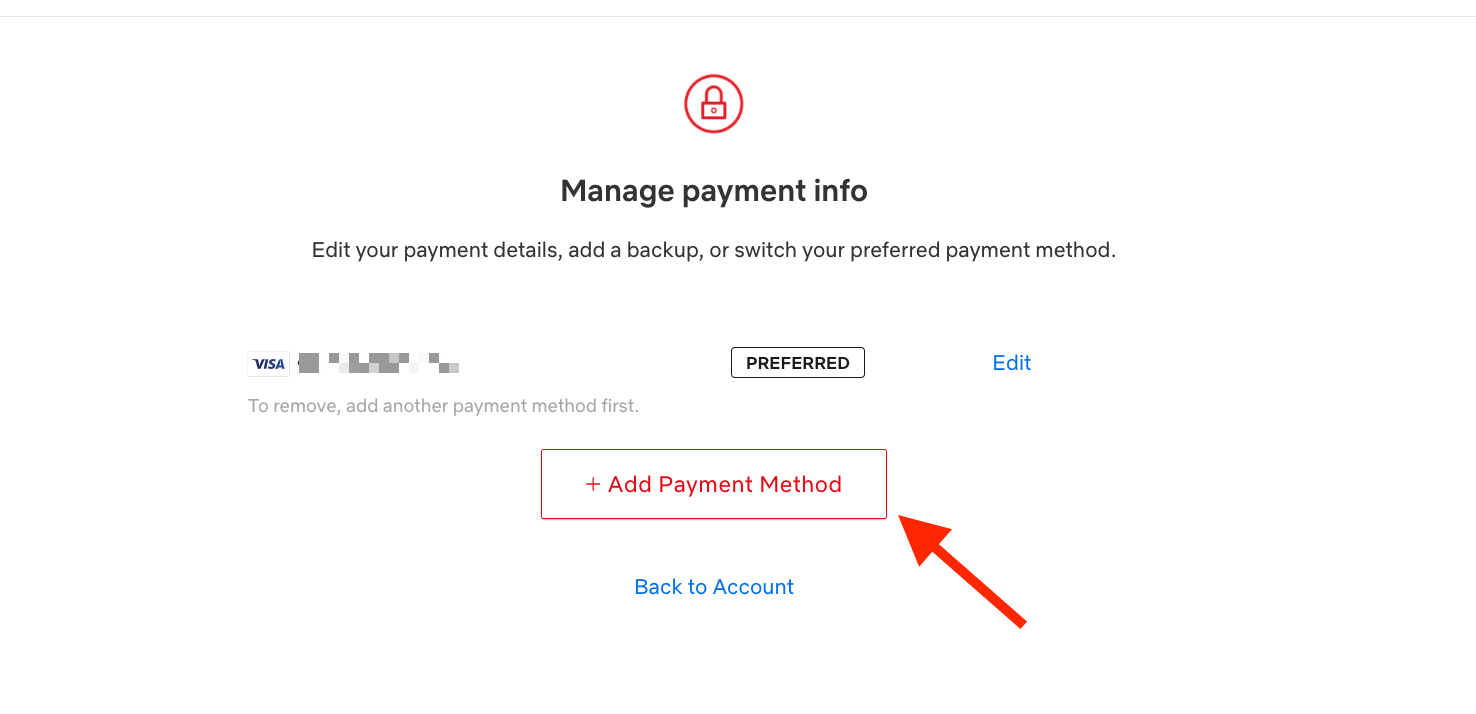 Choose one payment method from the offered: Credit or Debit Card, PayPal, or Redeem a gift code or special offer code and provide the payment details. Note: If you've chosen PayPal, you will be directed to the PayPal log-in page.
When you've added the second payment method, go back to the Manage Payment Info page, and click on 'Make preferred' next to your new payment method.
Now you can remove your old billing information from your account by clicking on 'Remove' next to it.
Quick tip: On Your Account page, you can also select 'Add backup payment method' to add another card for Netflix to bill in case there's a problem with your preferred payment option.
Bonus: You might also be interested in reading how to change the language on Netflix.
How can I update my credit card info on Netflix?
If you want to change your payment method to a different credit card, but you want to skip adding a new payment method, you can replace the old card information with the new card's information.
Just click on the 'Edit' button next to your payment method and update the information.
How can I change my automatic payment on Netflix?
If you want to change the day you get automatically billed on Netflix, on Your Account page, go to 'Change billing day' and pick a different day for your automatic payment.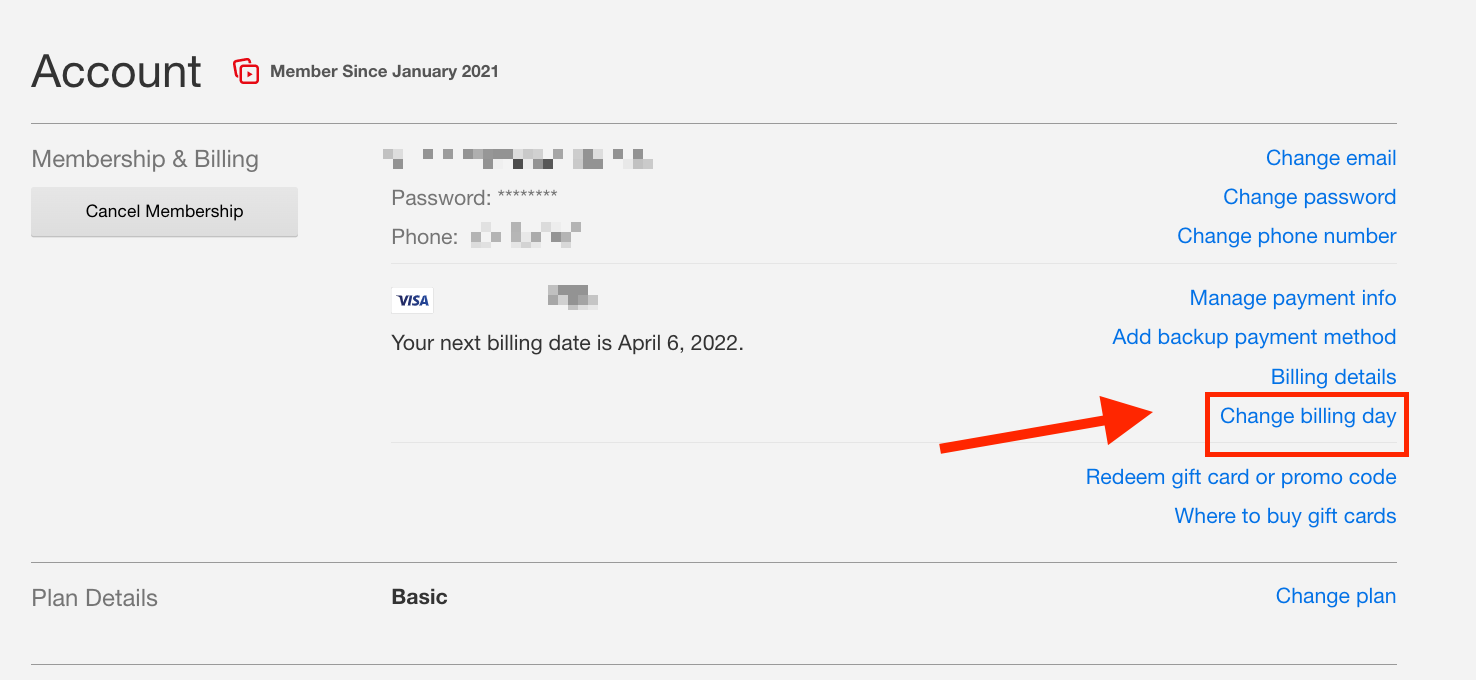 You can also go to 'Billing details' to see your payment history and membership plan information.
To change your Netflix plan, select 'Change plan' under the Plan Details section to upgrade or downgrade your Netflix plan.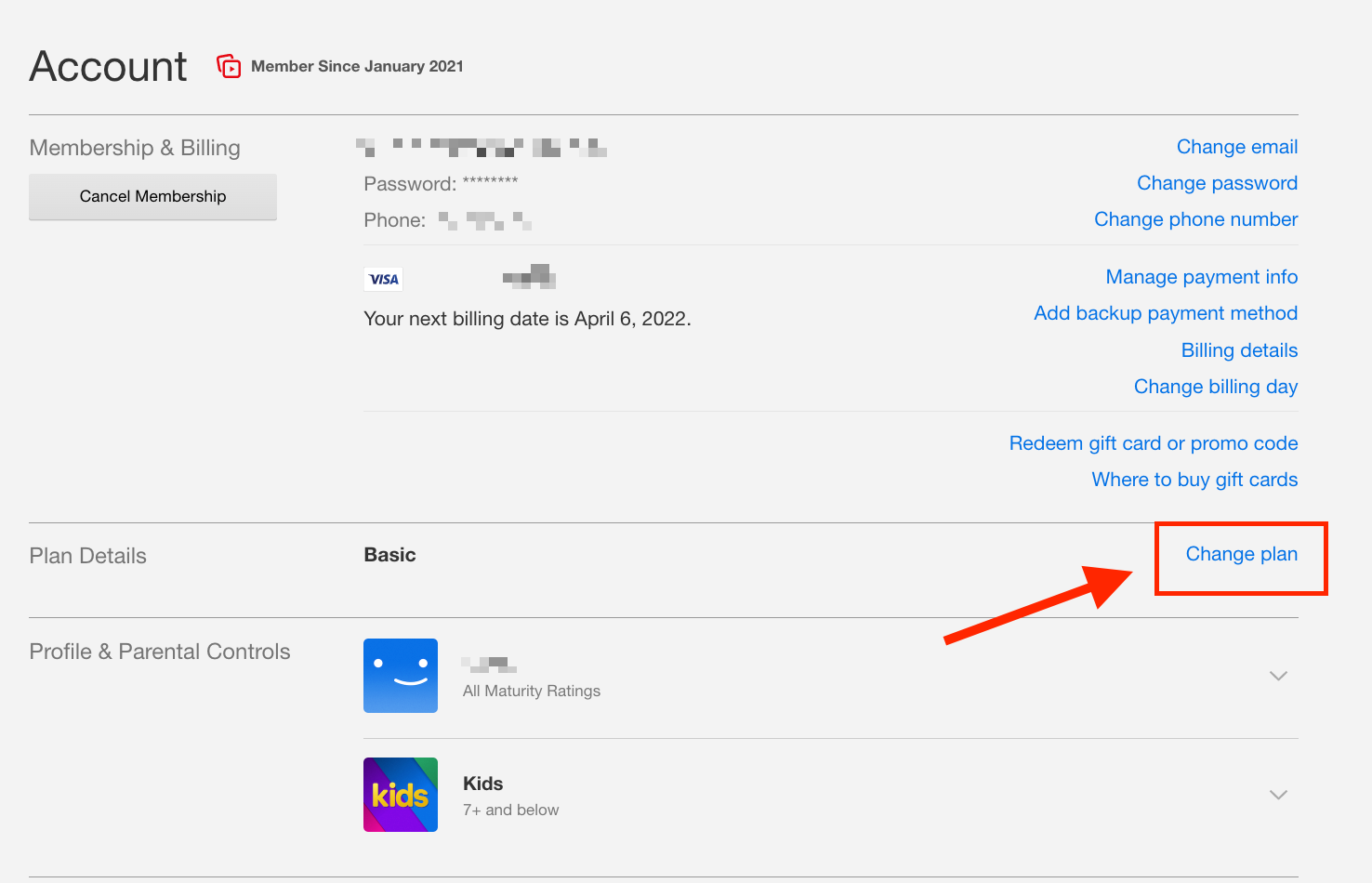 Do you want to learn how to delete 'Recently Watched' on Netflix? Check out our blog post with the step-by-step guide.
You might also like: What Is My Netflix Service Code and How to Use it?