Ivana Kotorchevikj
If you are trying to grow your followers, you might want to see what other successful Instagrammers do and get inspired by their content for your own posts. As we know, the more users like your posts, the newer subscribers will see them, and potentially become your followers. So naturally, you'd like to find out someone's most commented and liked Instagram posts.
Unfortunately, Instagram doesn't offer that feature, but there are apps with which you can see someone's most liked Instagram posts.
In this article, we'll share a couple of third-party apps that will help you find someone's most liked Instagram posts.
Bonus: Learn how you can edit your Instagram posts like a pro.
Popster
Popster is a web tool that helps you find out the most liked Instagram posts by users. The tool allows you to analyze Instagram profiles in detail, understand why they are popular, find out which categories of content are perceived the best and later use this knowledge to create or adapt your own posts.
With Popster you can:
Find the most liked and popular posts on Instagram profiles.
Sort Instagram posts by likes, shares, comments, ER (publication engagement rate);
Filter posts by content type (photo, video, animation, text, etc.).
To compare and analyze several profiles or groups at the same time.
To extract statistics in XLSX, PPTX, PDF formats.
So, it not only allows you to find the most liked posts on Instagram, but it also finds viral posts, the most discussed posts, and posts containing a specific word or phrase.
Note: Popster requires you to have a business account to be able to sign up. Additionally, keep in mind that it's paid app with 3 different plans. But you can sign up for a 7-day trial and try it out.
How to use Popster:
Go to popster.com.

Log in with one of the social media accounts you want to analyze - in this case, Instagram.
Enter the profile for which you want to see the most liked posts.
Specify the time period you are interested in.
When the results are loaded, you will be able to sort posts by the number of likes, comments, reposts and engagement rate. This way you can easily find the most liked posts of the profiles.
You can also filter the posts by content type (photo, video, animation, text, etc.).
Additionally, you can add your target record in favorites by clicking on 'Add to favorites'.
👉 You might also like to read how to find older posts on Instagram.
Snoopreport
Snoopreport is an Instagram monitoring service that lets you track Instagram accounts' actions, including likes, comments and follows of the Instagram profiles that you're interested in. The tools can be used for a fee of $4.99 a month.
Snoopreport mainly focuses on tracking users' Instagram activity, namely what posts they like and the accounts of the posts they like. The app doesn't display the most liked posts on Instagram users' profiles. So, it may be helpful if you want to check out what kind of content your target users like.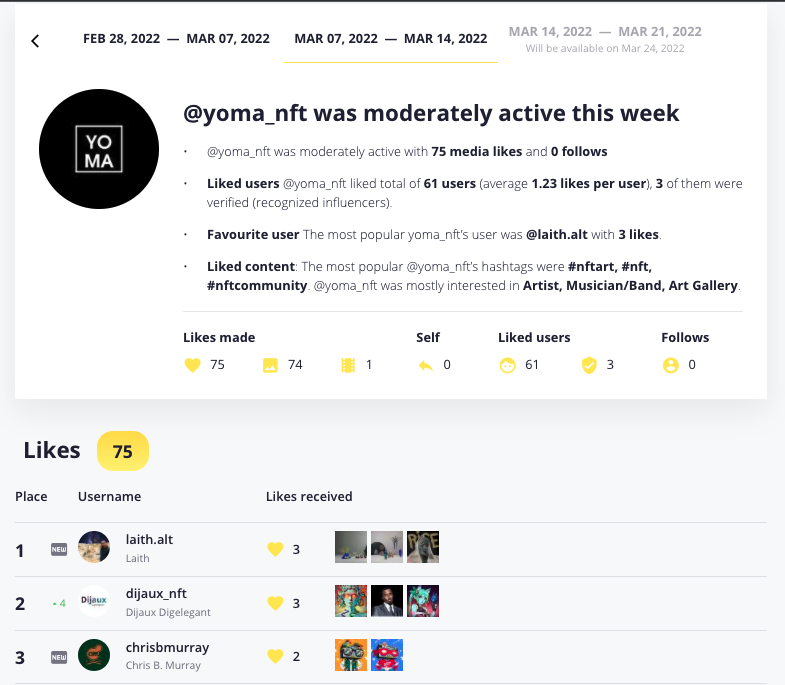 How to use Snoopreport:
Go to snoopreport.com.
Click on the 'Sign up' to create an account with your email and password.
After registration, you'll be redirected to a dashboard. Here, you can add Instagram accounts for monitoring and looking at reports.
When you enter the username in the field, Instagram users are shown in a dropdown list, from which you need to select one. Note: You can only monitor public accounts, not private ones.
After adding account(s), you are redirected to buy a time package of 4, 26 or 52 weeks to start the monitoring. If you have added several accounts, you can distribute the weeks among them the way you want.
After buying a time package, the monitoring starts automatically.
The first report with users' likes and follows will be available in a week. Choose the time frame of the report, click on it and you'll be able to see every photo someone liked on Instagram.
👉 Check out also how to see someone's birthday on Instagram.
How to see the most liked posts on your profile
You can see your own most liked posts in the Instagram app itself if you have a business account in the Instagram Insights section. If you haven't done it already, you first need to convert your personal account into a business account.
Afterward, follow the steps below to see your most liked posts:
Go to your Instagram profile.
Tap on the three horizontal lines (hamburger menu) in the top-right corner.
Select 'Insights'.
Here, you will be redirected to a new page named 'Recent Highlights', which provides you data from within the last 7 days.
Under the Accounts reached section, you'll find the 'Top posts' - the posts which were the most successful, meaning reached the most users and had the biggest percentage of engagement.
Conclusion
Although Instagram doesn't support the feature that allows you to see someone's most liked Instagram posts, there are third-party apps that enable you to find that out. There are tools that also enable you to track the Instagram activity of specific accounts, such as likes, comments and follows,
On the other hand, if you want to see your most liked posts on Instagram, you need to convert your personal account to a business account and then go to Insights.