Ivana Kotorchevikj
Snapchat is a popular multimedia and instant messaging app with millennials and Gen Zs because of its privacy feature that allows users to make sent photos, videos, and messages disappear and set the time when they disappear.
If you don't want these files to disappear forever, you can save the memories, which are stored in your local storage as well as the cloud. Later on, you can view and edit your memories, send them to your followers, download them to your device, or even repost them to your story.
When photos and videos are saved as memories, they can be easily forwarded in a jiff file.
But if you take and send a lot of snaps and save them as memories, you may easily run out of storage space. And when this happens, we are forced to delete memories.
When we choose which memories to delete, sometimes we may accidentally delete memories we didn't intend on deleting. Also, Snapchat memories may disappear if you factory reset your phone.
If this has happened to you, and you are wondering if there's a way to bring back your deleted Snapchat memories - there's no room for panic. In this article, we'll outline some solutions on how to recover deleted Snapchat memories.
We've also created a video tutorial on how to recover your deleted Snapchat Memories. Check it out below:
Recover deleted Snapchat Memories with Snapchat My Data
The first method you can try to recover deleted Snapchat memories is by requesting your account data on the Snapchat My Data page.
Open your browser and go to the Snapchat My Data page.
Enter your username/email address and password and tap on the Log in button.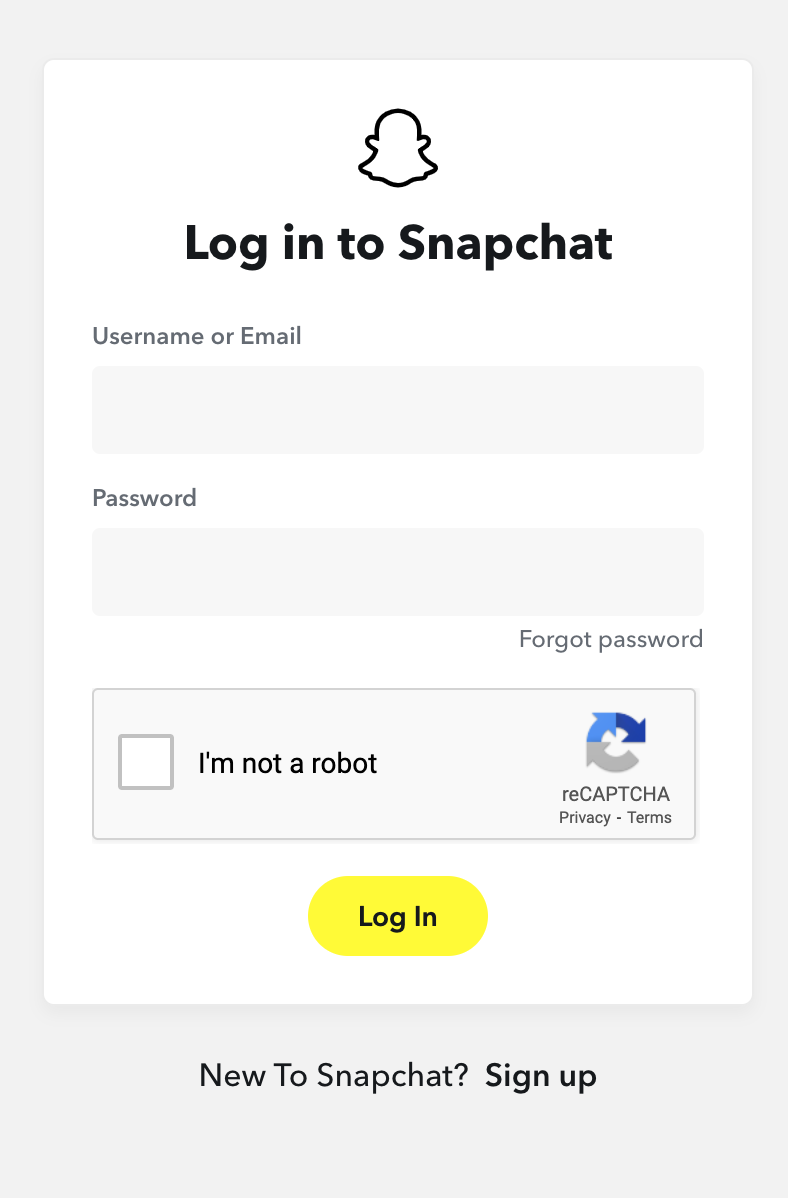 On the Manage my Account page, tap on the 'My Data' tab.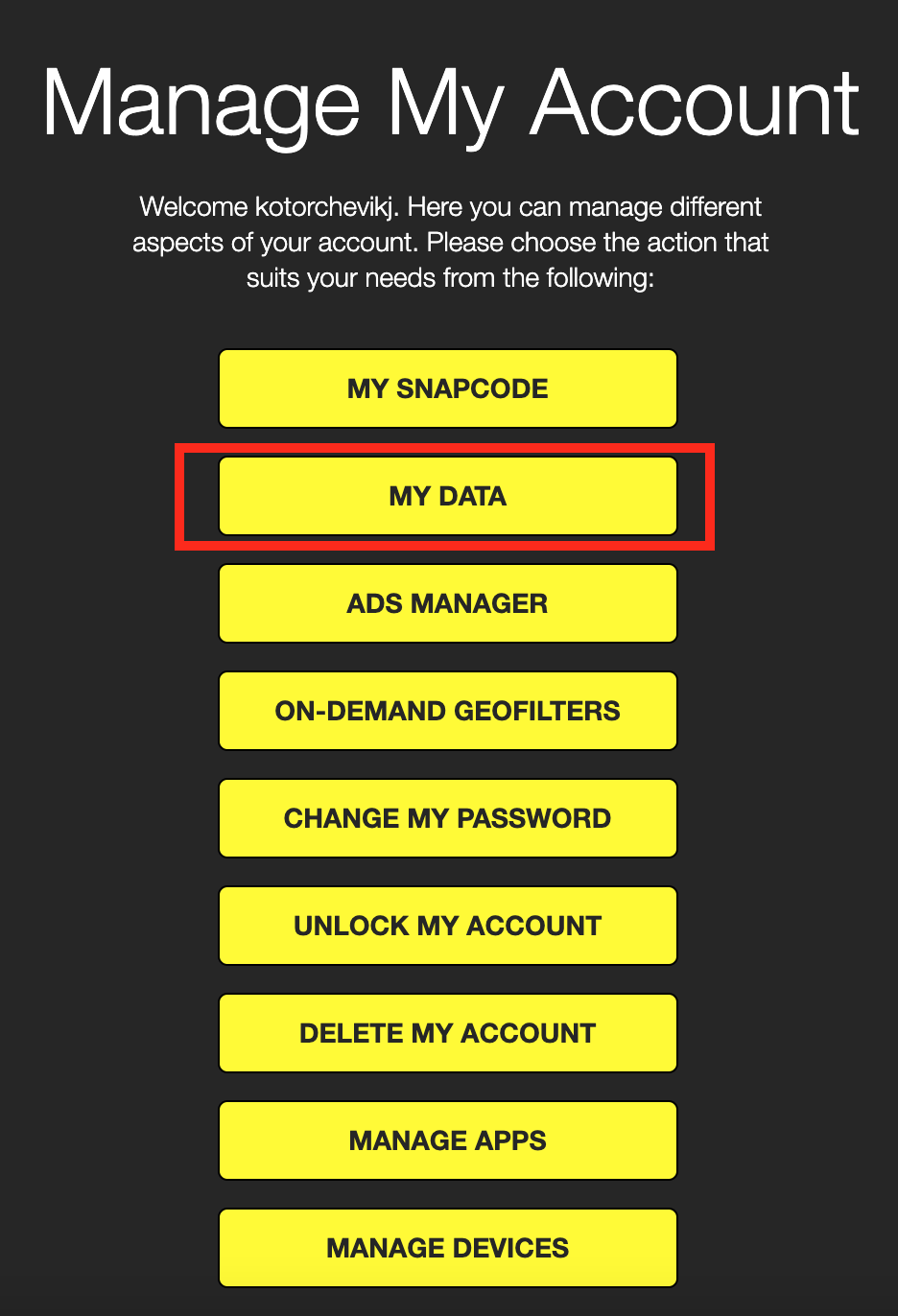 You will be taken to the My Data page, where you can request Snapchat to download your account data.
Scroll down to the bottom of the page and tap on the 'Submit Request' button.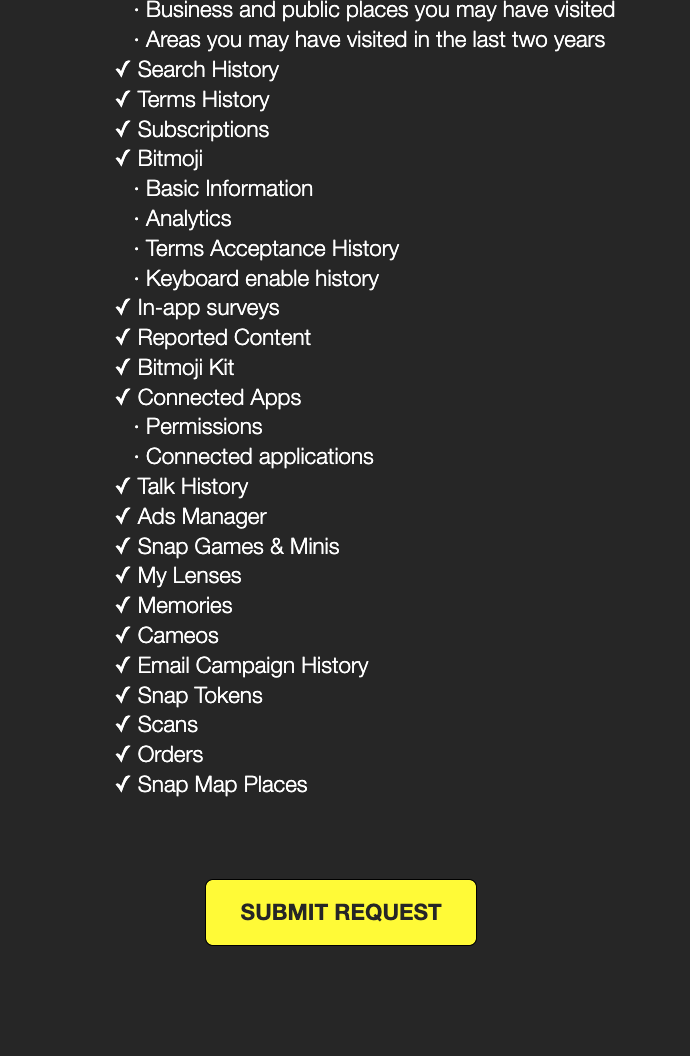 Once you submit your request, the Snapchat support team will prepare an archive for your account.
You will receive an email when a copy of your data is ready to download, which may take up to 24 hours.
When you receive the email, tap on the download link. You will be redirected to the My Data page.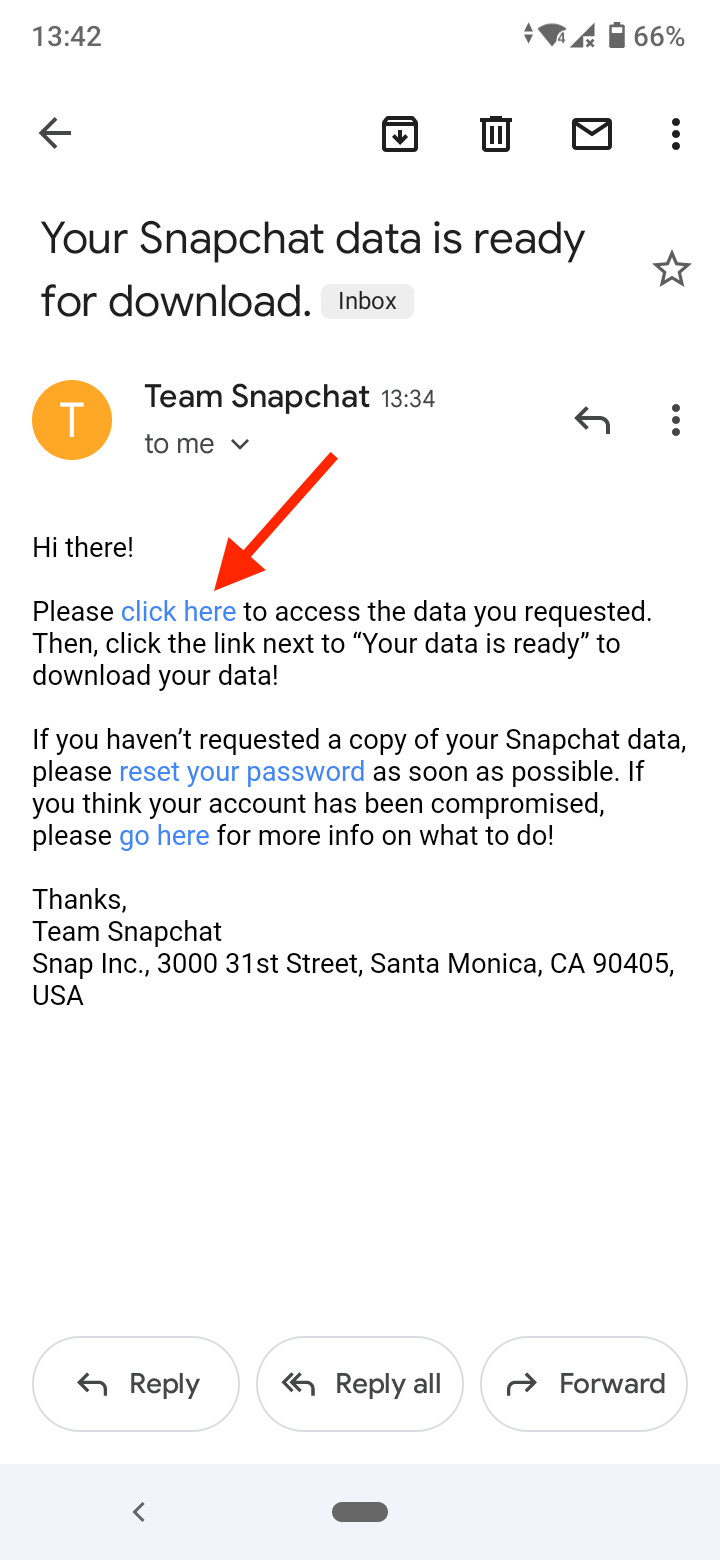 Scroll down and tap on the mydata~(unique number).zip to save it as a .zip file on your device.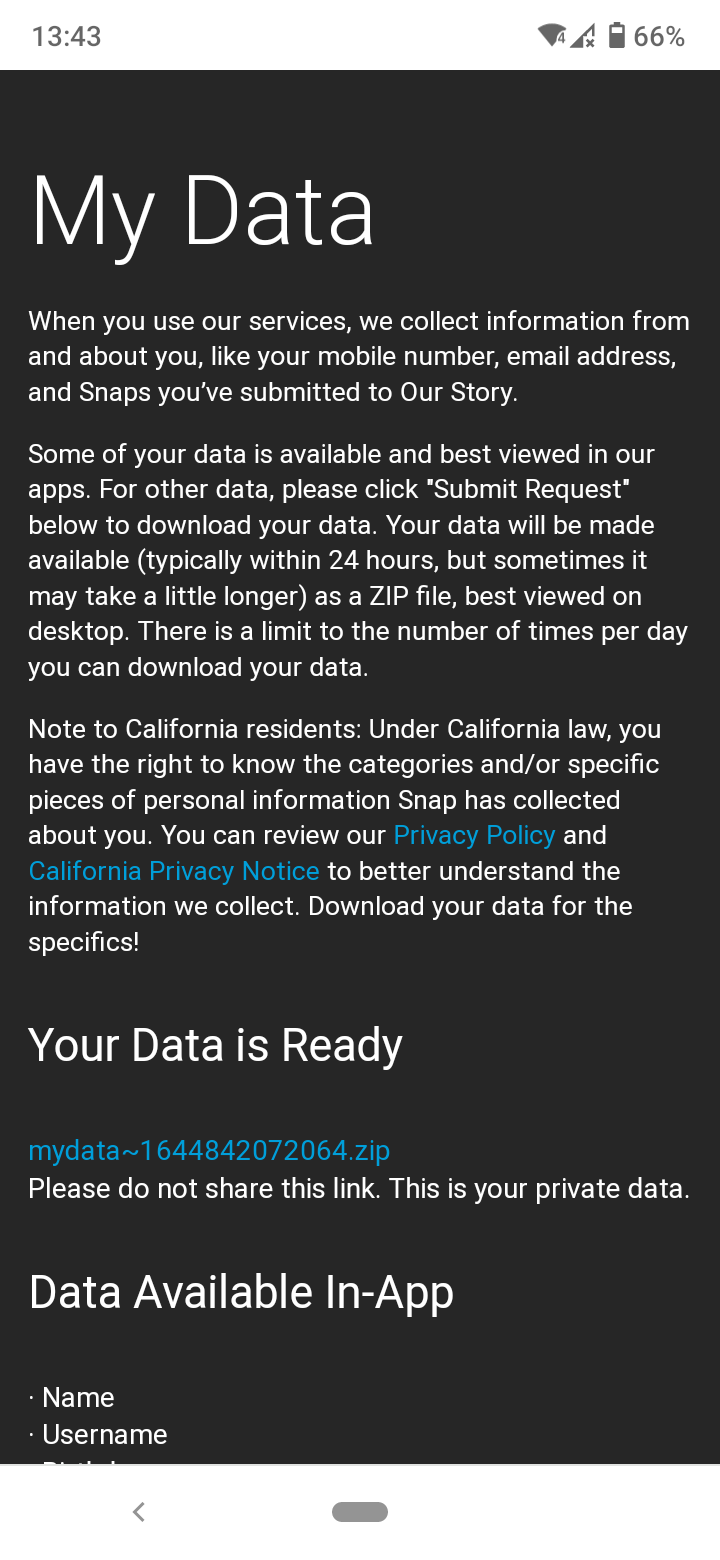 Now, proceed to the steps below to view and restore deleted memories to your Snapchat account.
Go to downloads, tap on the mydata.zip file and extract it on your device.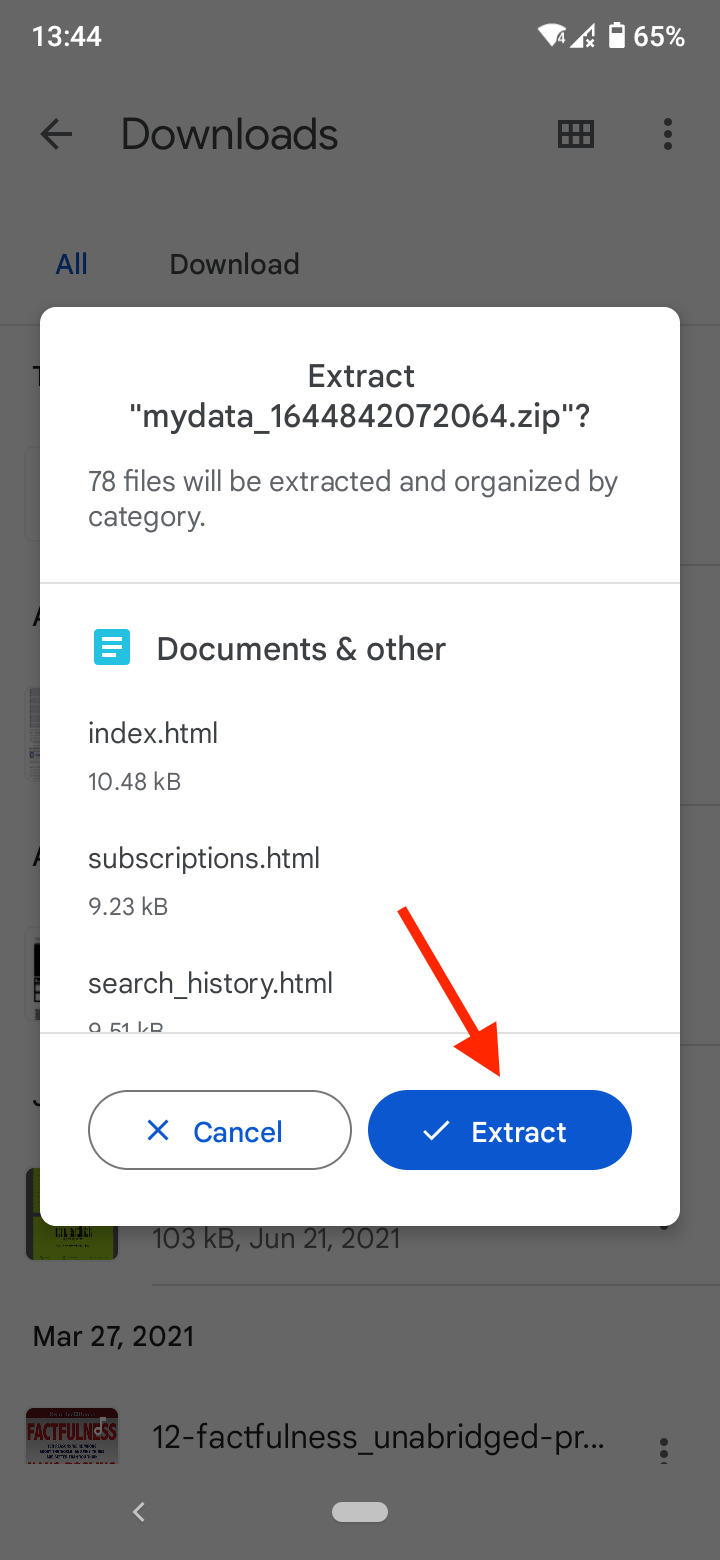 When you extract the file, you'll get a new folder named just like the zip file you downloaded.
Open the folder and tap on the index.html file. Choose to open it with your device browser.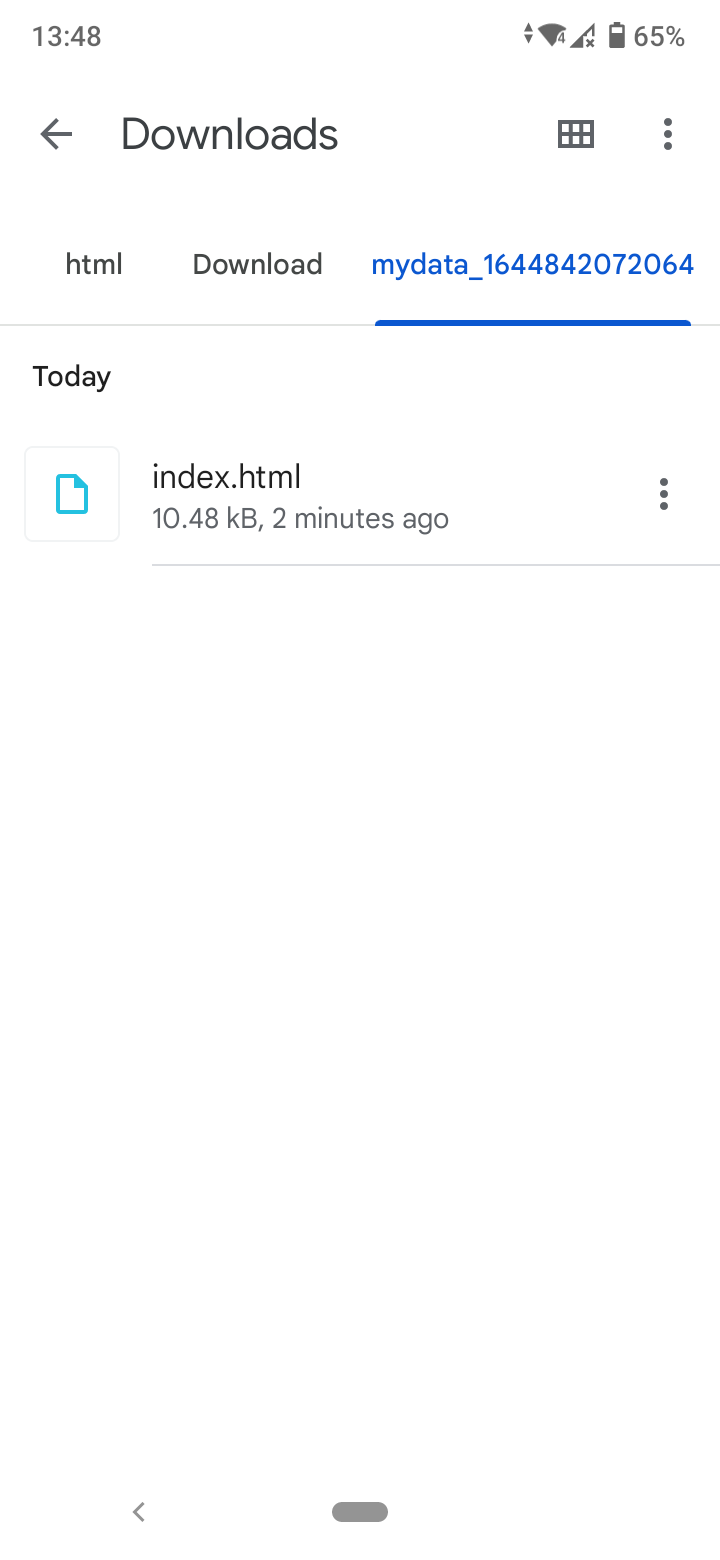 Tap on 'Memories' on the left-hand side menu.
Here you'll find all your deleted Snapchat memories.
Recover deleted Snapchat memories from your phone cache
Another way you can recover your deleted Snapchat memories is from your Android device cache.
An application stores cache in your device to work faster and provide a better user experience. So your deleted memories might also be stored in the device's cache.
However, keep in mind that the chances to retrieve a deleted Snapchat memory from the phone's cache are slim, but it's still worth the try.
Open your phone file manager. Alternatively, connect your Android device to your Windows PC.
Look for the internal storage folder and open it. Here, look for a folder named Snapchat. Most frequently, it's stored under Android > Data > com.snapchat.android.
Once there, you can just look for the Cache folder here and your deleted memories stored in the cache.
If you are in luck to find any, move them to any other location and change their extensions to access them the usual way.
Recover deleted Snapchat memories with Google Drive
If you have an Android device, it's usually linked to a Google account, which allows you to back up your data regularly on Google Drive, even if you delete it from the app or the device.
If you have also enabled your Snapchat data to be synced with your Google account, you can easily recover your deleted Snapchat memories.
To check if your deleted memories are backed up in Google Drive:
Sign in to your Google account and go to Google Drive.
Open the recent backup folder.
If your Snapchat data was backed up, you'll be able to recover the deleted Snapchat memories here.
Alternatively, if your Snapchat data is synced with Google Photos, you may be able to restore them from there.
Go to Google Photos and check all the photos stored there. If you see your Snapchat memories among them, simply select them and download them to your device.
You can also check the archives or the trash folder in the Google Photos app on your Android device. Select the images you want to get back and tap on 'Recover'.
Recover deleted Snapchat memories via iTunes
If you have an iPhone, it's most likely you use iTunes to back up your data. If your Snapchat memories have been backed up in iTunes, you can restore them to your device.
Note: Make sure that the deleted Snapchat memories are present on iTunes. Restoring a backup from iTunes will restore your device and delete its existing data. So make sure you are ready to take the risk before you proceed to the steps below.
Connect your iPhone to the system and launch iTunes on it.
In the devices section, select iPhone and go to the Summary page.
Under the Backups section, you will see solutions to back up and restore your device. Click on the 'Restore Backup' button.
In the pop-up window, select the appropriate backup file.
Click on the 'Restore' button again and wait for the data to be extracted on your iPhone.
So there you go - these are the ways you can recover your lost Snapchat memories.
Now that you know how to do that, check out how to make a private story on Snapchat. If you want to create advanced and engaging video content for Snapchat, learn how to access Snapchat Story Studio.