Tijana Kargovska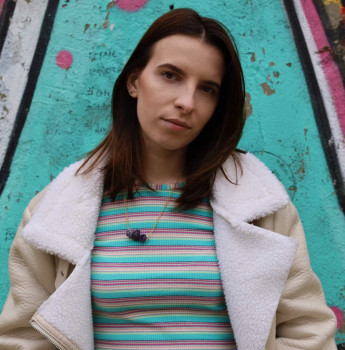 In 2019, Google made the ground-breaking change in the appearance of the platform - they rolled out Dark Mode. Ever since, nearly all other social media apps introduced the same feature, and users are loving it. Besides how helpful Dark mode is for the human eye, it has an aesthetically pleasing kick to it.
TikTok, of course, was one of the platforms that rolled out Dark Mode too, but currently for iOS only. Android users are still unable to access this feature and switch from light to dark mode, the exception being some beta testers. As TikTok recently released dark mode support for the latest version of iOS, it is expected for the feature to become available any minute now. But up until then, keep reading to see what you can do about Dark Mode on TikTok.
How can I enable Dark Mode for TikTok on Android?
If you are using Android, unfortunately, the simplest answer is - you can't yet. As we mentioned, TikTok Dark Mode for iOS was created earlier this year, so all iPhone and iPad users can switch at their convenience. For Android, on the other hand, the dark mode feature is something to be waited upon yet, but since it's available for beta testers, Android users should be able to turn on dark mode sometime soon. Once Dark Mode for Android rolls out, we will update this article with a step-by-step tutorial.
How can I enable Dark Mode for TikTok on iOS?
However, if you're an iPhone user, it's a different story. iOS users have luck on their side! Contrasting Android's version for TikTok, iOS users do have the ability to switch between dark and light mode whenever they want, and it's really simple to do so. Follow these steps to change the look of your TikTok. Keep in mind you need to have updated to iOS 13 and have the latest version on the app.
Open the TikTok app on your phone, and click on your profile in the right-hand corner.
Click on 'More', or the three horizontal dots in the top right corner.
Once you've opened 'Settings and Privacy', search for 'Dark Mode' under 'Content and Activity'.
Click on it, and choose the dark theme. Your whole app will switch to dark mode.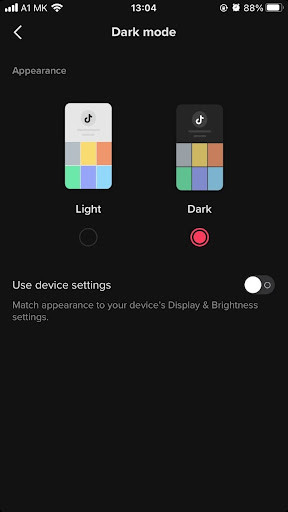 Another way of doing this is to toggle on 'Use Device's Settings', so whenever you switch the whole system of your phone from dark to light mode and vice versa, the TikTok app will automatically switch again.
However, if you're usually using TikTok from your laptop or desktop computer, there are Google Chrome extensions that can transform your TikTok screen to dark mode. In the Google Chrome extensions section, type in Dark theme for TikTok, install it, and start using TikTok with dark mode.
Fortunately, other social media platforms have the dark mode option available for iPhone and Android. If you are a fan of the dark mode, explore how to also put dark mode on Snapchat, on Facebook, LinkedIn.
You can also enable dark mode for Google's services Google Maps and YouTube.