Tijana Kargovska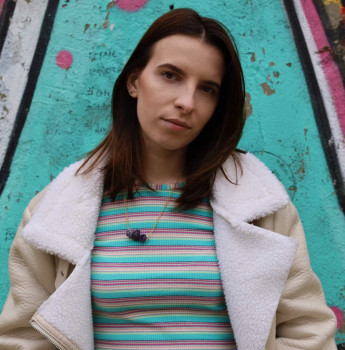 Key Takeaways
To change your birthday on Twitter, you need to Open Twitter > Tap on your profile > Go to 'Edit Profile' > Tap on the 'Birth date' section > Change your birthday.
Congratulating someone for their birthday became a trend with the rise of social media - Instagram, Facebook, Snapchat; and Twitter is no exception.
You can add your birthday to your Twitter account, and it can be a good conversation starter with all your Twitter friends.
However, in case you entered the wrong birthday at some point, or simply didn't feel like adding the correct birth date due to privacy reasons, you might be interested in finding out the steps to changing your birthday on Twitter.
In this article, we'll cover how to change your birthday on Twitter using both the mobile app and Twitter's Desktop version. Keep reading to find out the entire step-by-step guide.
You might also like: How to Change Twitter Color on Mobile.
Follow these steps to change your birthday on Twitter:
Note: The following steps are the same for both the Android and iOS versions of the app. The step-by-step process is similar to the Desktop web version of Twitter as well.
Launch the Twitter app on your device, and go to your Twitter profile.
Tap on the 'Edit Profile' button.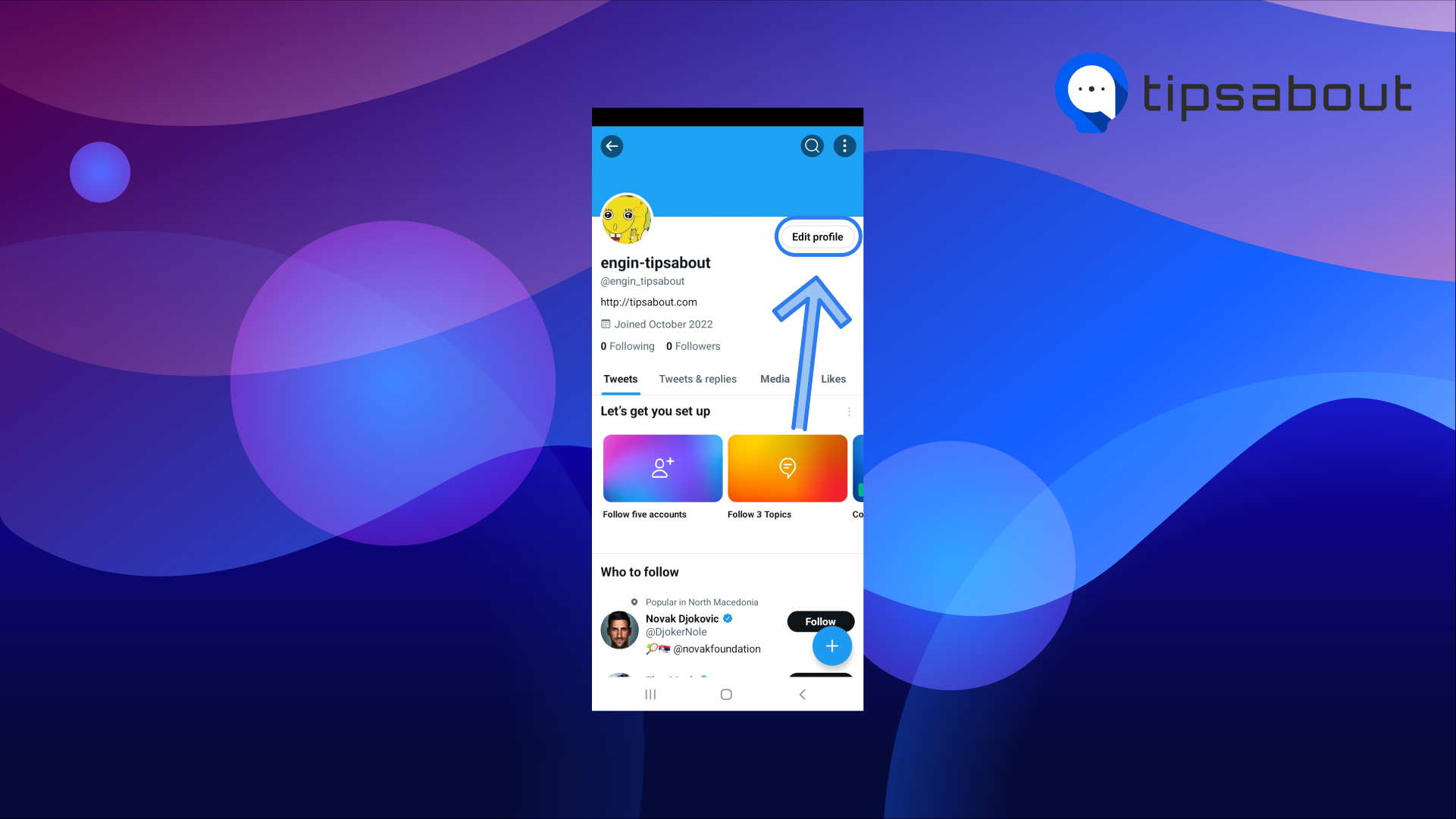 From the menu, tap on the 'Birth date' section.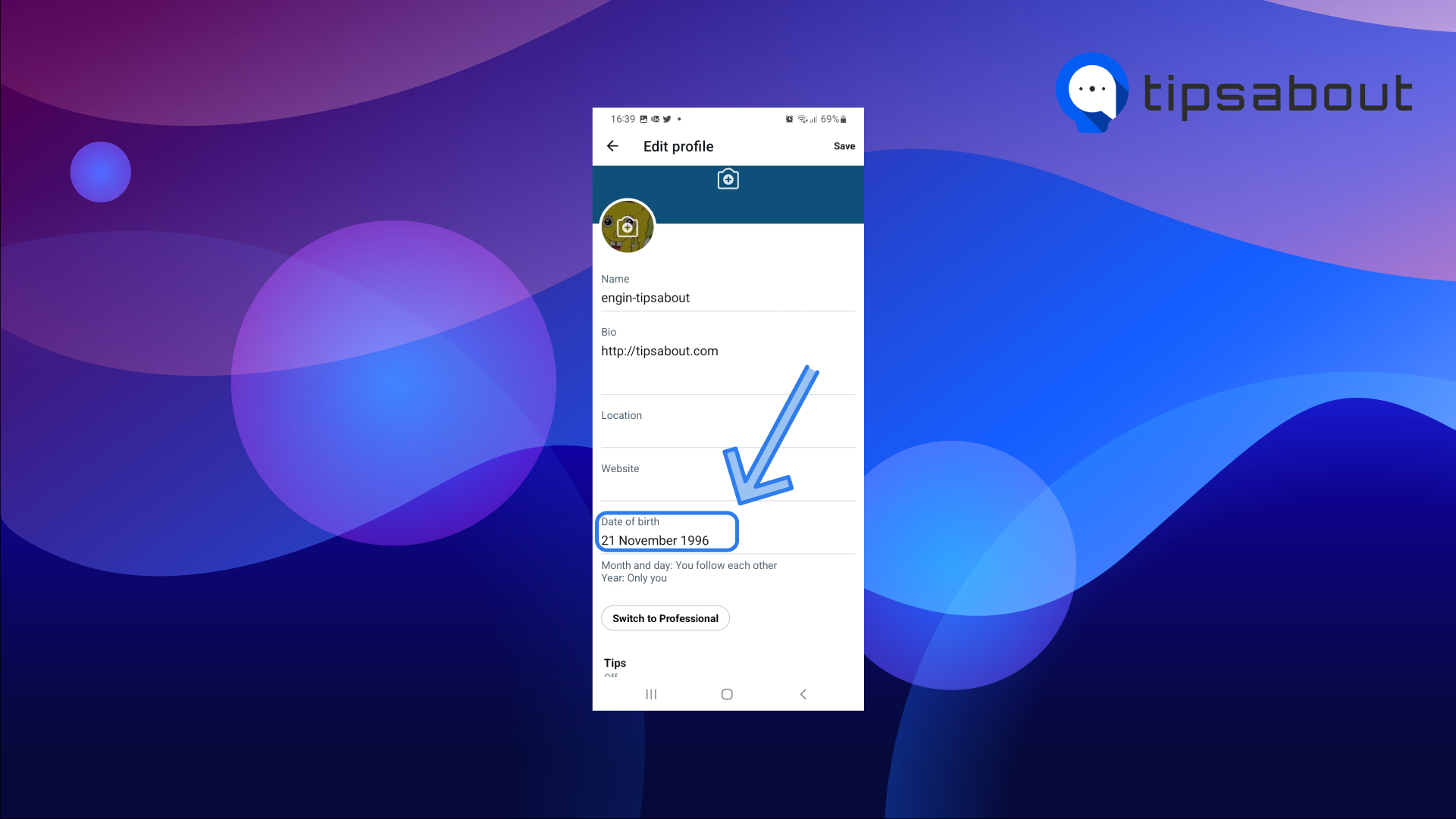 You can change your birthday here; your birth day, month, and birth year.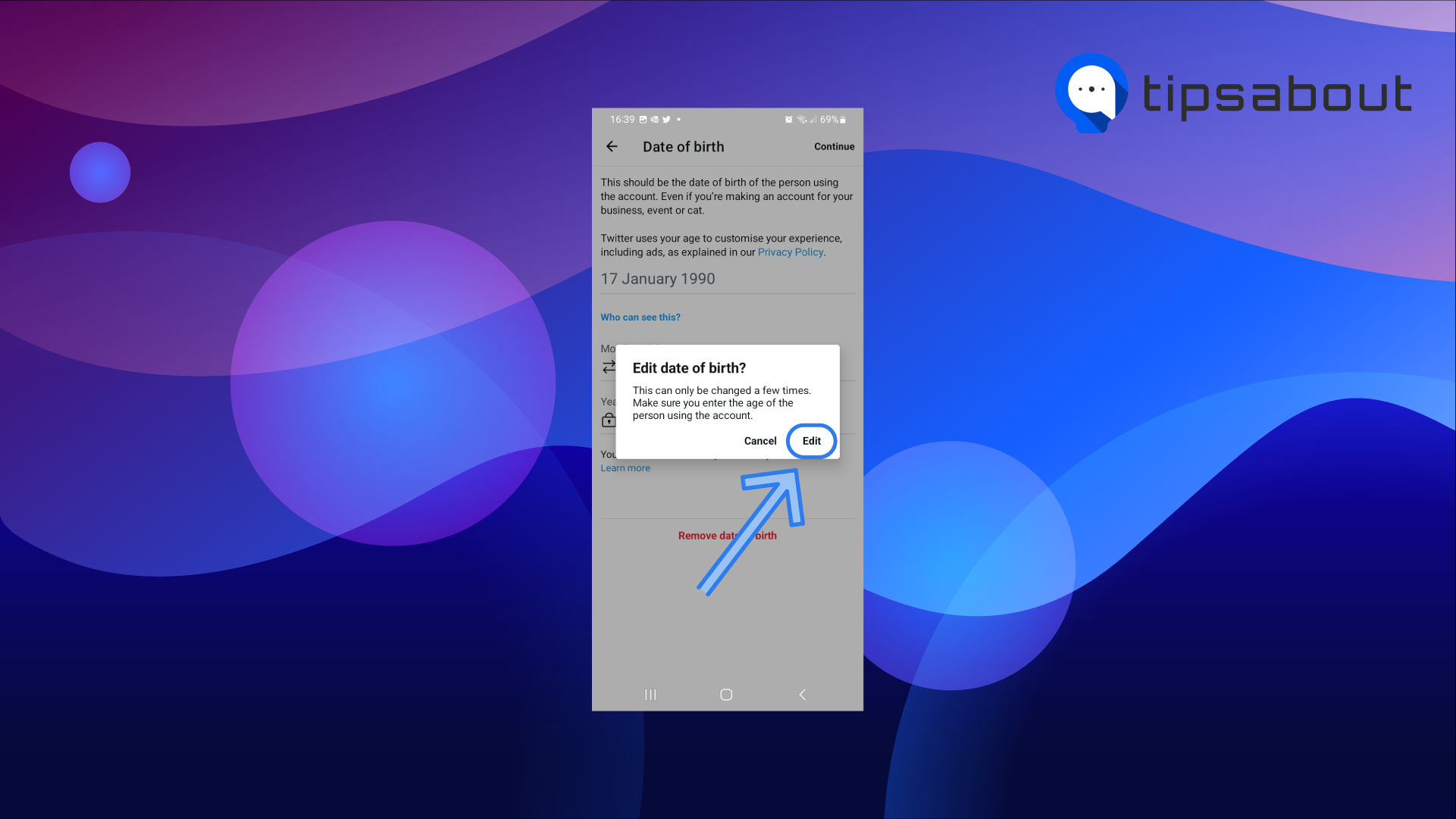 Once you're done, tap on 'Save' to save all your changes.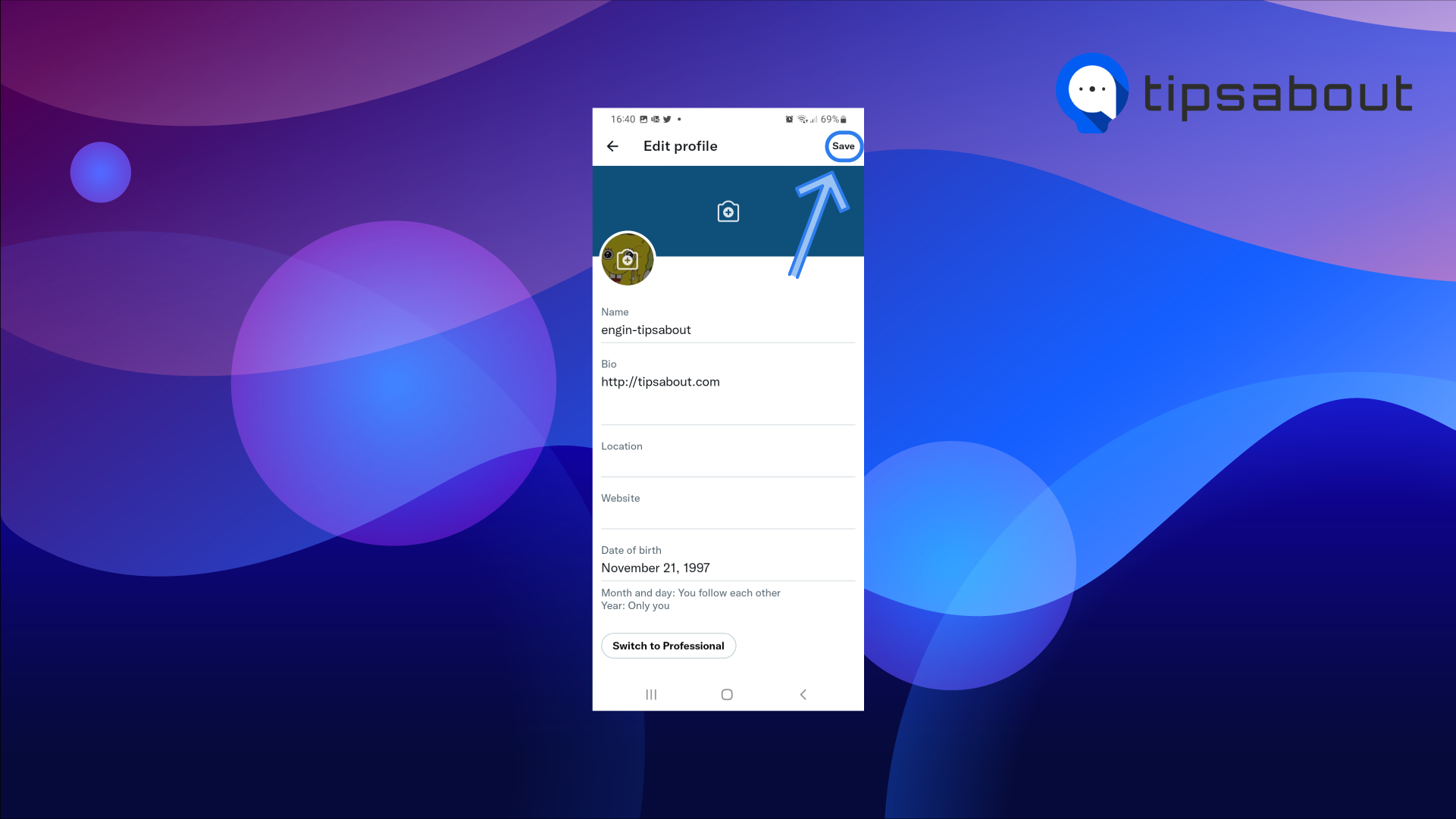 Twitter allows you to adjust the settings on your account, such as hiding your birthday altogether. In the same section we mentioned above, you will see two visibility settings - one is to hide your birth year, and one is to hide your birth month and day.
You can choose between 'Only You', 'Your Followers', and 'Public'.
To adjust these settings using the mobile apps (iOS and Android), you can adjust the 'Who sees this' section; and for the Desktop version, click on the 'Visibility icon' and adjust your settings.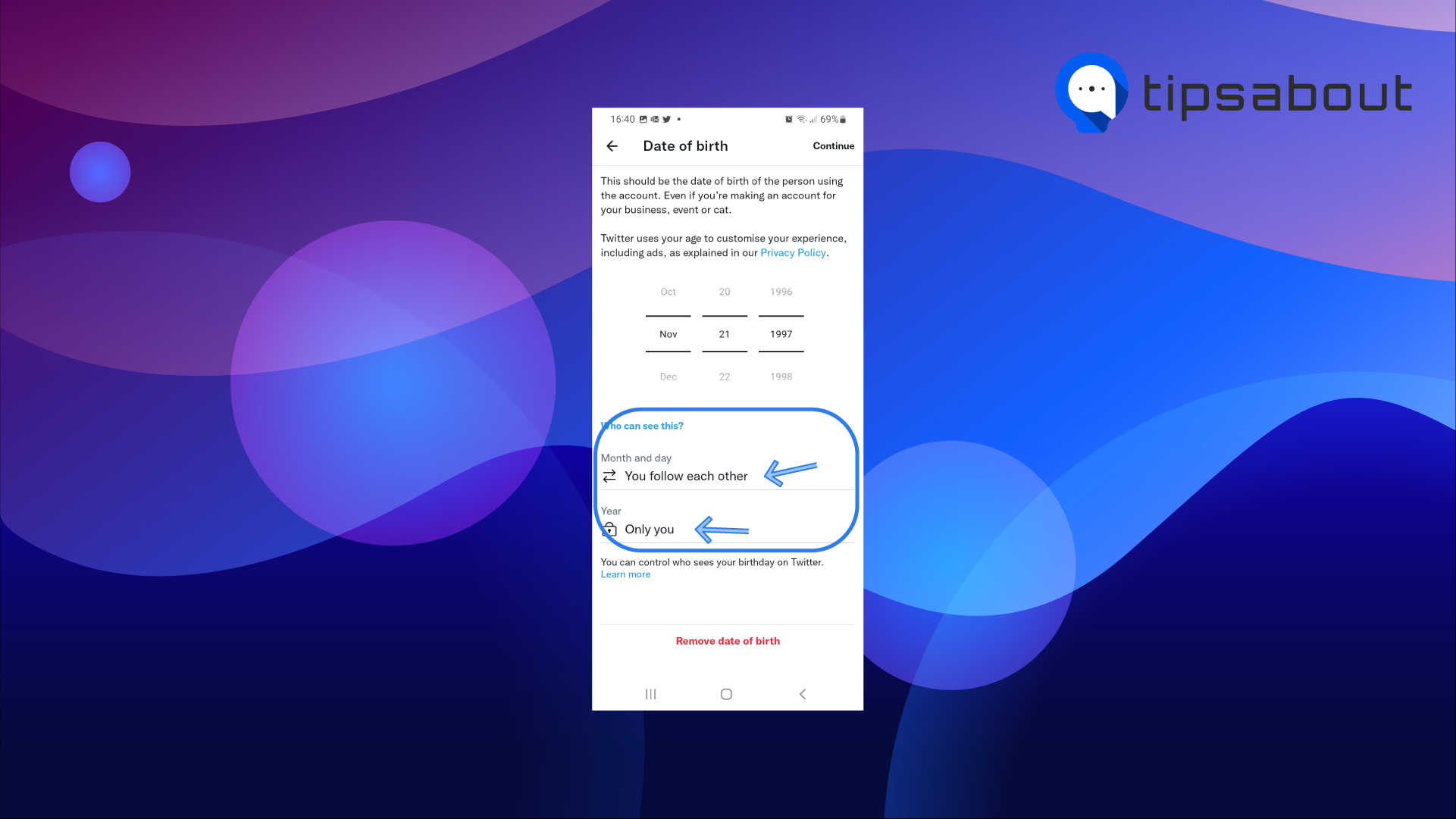 Even though there isn't a fixed number listed on Twitter's official statement, there's a limit of a few times for editing your birthday on Twitter. After doing so, you won't be able to make any further changes.
If you have already wasted your 'few times' of making changes, you can contact Customer Support and ask for assistance in changing your birthday on your Twitter account.
Bear in mind, if you enter a birthday that sets your age as below 13 years, you will lock your account, since Twitter doesn't allow young audiences on its services. However, the account will be unlocked and will be active after you 'turn 13'.
Due to Twitter's privacy policies, some of the information you add to your account is public, and some are private. Twitter asks for users' birthdays to keep track of the content suitable for the users to see since there are numerous minors on Twitter's services.
In addition, some information, such as your bio, profile picture, website, and location, is always public. However, some information - such as your birthday, can be made public if you choose to, but not necessarily.
Keep in mind, you cannot remove your birth date from your account once it has been added.
You may also like to read: How to Clear Twitter Cache
After the account is of appropriate age based on Twitter's policies, a big share of the data related to the account will get removed:
Tweets posted before the account owner was above 13,
Likes given before the account owner was above 13,
Direct Messages (both sent and received) before the account owner was above 13,
Profile details, moments, lists, and collections you saved.
Restoring your Twitter account can take up to 72 hours since Twitter will prompt you to confirm your personal information, and contact information. After your account is listed as eligible for restoration, you'll have 30 days to proceed with restoring your account. If you don't do so in that time period, however, you'll lose access to this account.
Read also: How to See Who Retweeted Your Tweet.
Conclusion
The entire process of changing your birthday on Twitter is not complicated whatsoever, and it should take you more than a few minutes.
In this article, we covered changing your birthday using the mobile app, the Desktop web version, and some possible issues that might come up with the birthday feature on Twitter's services.