Emilija Anchevska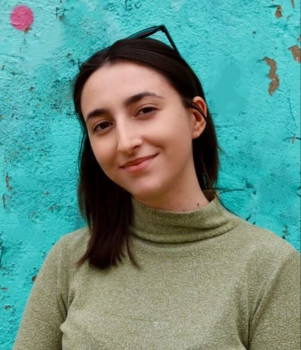 Fire Instagram captions
Making memories one adventure at a time.
Life is a beautiful journey; enjoy the ride.
Creating a life I love and sharing it with the world
Happiness is not a destination; it's a journey
Sipping on good vibes and living my best life
Finding beauty in the everyday moments
Set your life on fire. Seek those who fan your flames
Never enough
Making moments that matter
Let's make the most of every moment and create memories to last a lifetime
This place…
A hunk of burning love
The secret ingredient to life is always a s'more
The last one is forever mood
Don't let the same snake bite you twice
Talent is a flame. Genius is a fire
Hard to forget, but here is a reminder
Be stubborn about your goals and flexible about your methods
What's more special than you?
Frosty
Quality time
Recent eats
Captions are essential for businesses and influencers who use photo-based social media platforms such as Instagram as a primary tool to promote themselves.
A study by Hootsuite in 2021 found that long Instagram captions drive more engagement than short ones. This highlights the importance of captions in driving user engagement, which is crucial for success on social media platforms.
Even if you don't run a business, well-crafted captions can enhance engagement on your personal Instagram profile.
If writing original and creative captions for your photos is challenging, this blog post offers step-by-step guidance to help you get started.
💯 In addition, you can use the 22 fire Instagram captions we provided above or check out our article about Best One Word Instagram Captions.
Before you start writing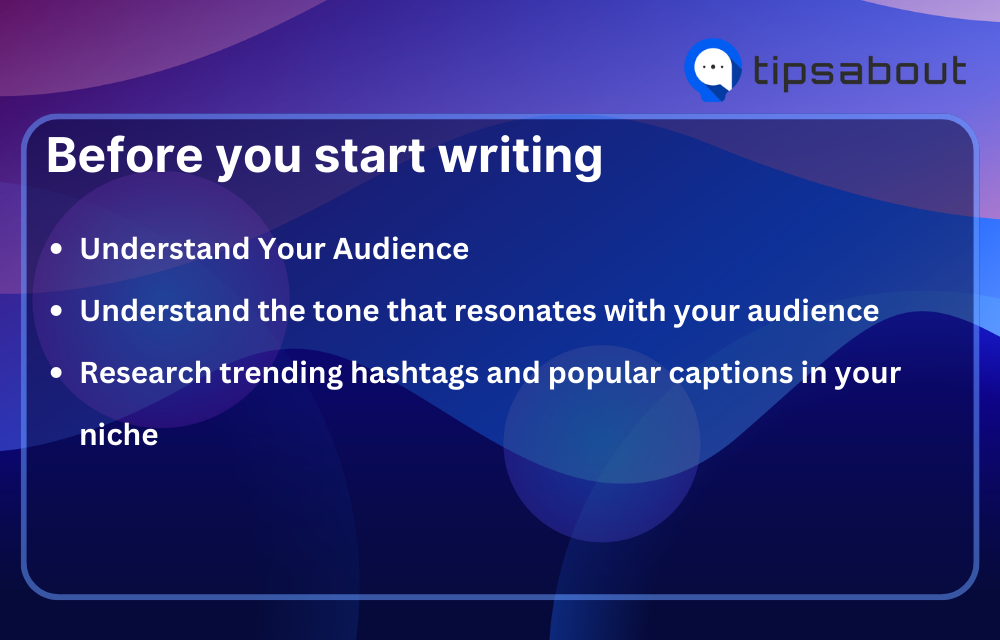 Understand Your Audience
Putting your ideas onto paper begins with understanding your audience.
Is the audience primarily male or female, or maybe mixed?
How old are they, and how do they express themselves? What are their interests? What are their main pain points?
These are critical traits you need to know about your followers. The more you know about your audience, the more relatable and sympathetic your Instagram captions will be.
For an example of relatable and on-point captions, check out the ones for the world-famous clothing store Tally Weijl.
Their audience is primarily younger girls between 14-25 years old, so the brand uses an urban style of expression and slang in their descriptions. This way, their customers can relate to the brand, develop meaningful and long-lasting relationships, and ultimately buy their clothes.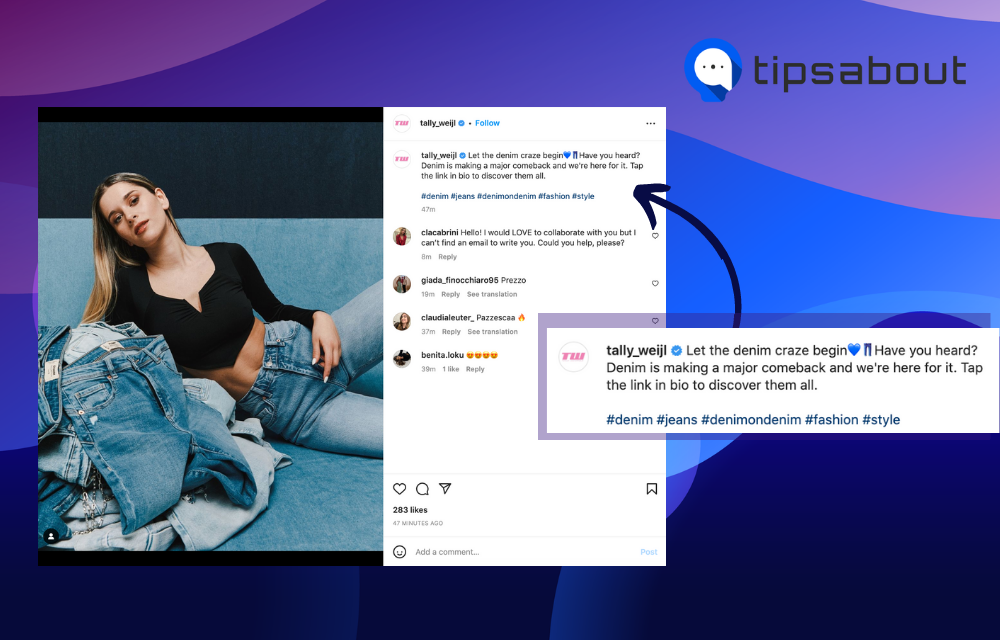 The same goes for users with private Instagram accounts whose primary goal is not to become influencers but to write engaging and exciting captions below their photos.
Understand the tone that resonates with your audience
The voice style in writing is crucial as it conveys the mood and emotion behind your words.
It refers to how you express yourself, ranging from formal to informal, sad to happy, and more.
Choosing the right tone of voice for your captions is essential in ensuring your audience receives your message the way you intended.
Think about the emotions you want to evoke and adjust your tone accordingly.
For example, if you are passionate about a particular topic, use enthusiastic language, creative sentence structure, and appropriate punctuation to convey your excitement.
A great example of this is seen in the captions on the Instagram profile of Beautiful Destinations, where the tone of voice perfectly captures the beauty and wonder of the featured locations.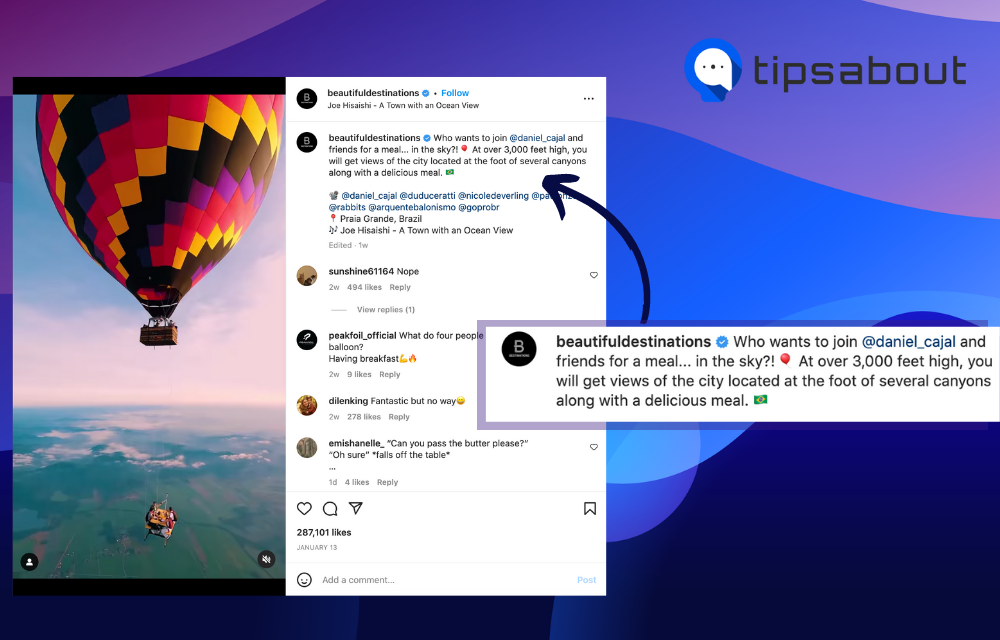 Everyone knows the importance of Instagram hashtags.
Hashtags make posts more discoverable, so users can find things more quickly when searching
for them. Multiple up-to-date hashtag generators can help you with this quest.
The moment you begin writing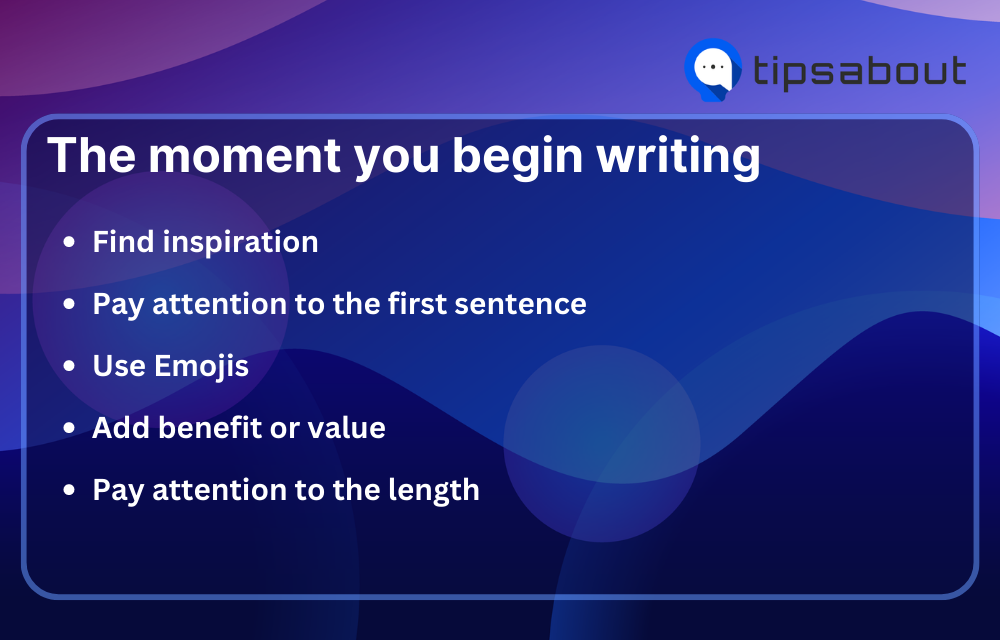 Find Inspiration
Assuming your picture is ready for Instagram, that means that your writing topic is already set.
Getting started might require inspiration.
So where can you find it?
Daily life and experiences
Other Instagram profiles
Quotes and song lyrics
Current events and trending topics
Personal values and beliefs
Pop culture and humor
Pay attention to the first sentence
You must grab readers' attention with the first sentence and make them want to keep reading.
Often, these sentences are called 'hooks,' 'attention grabbers,' or 'hook sentences' and might sound intimidating to Instagram users.
However, there are a few tips and tricks that can help you write a fantastic attention-grabbing sentence.
Start with a question
Questions are excellent for catching the reader's attention. Usually, questions refer to people's problems and make the reader curious about what the writer intends to say.
You can try starting an Instagram description with 'Have you ever wondered _______?' or 'Have you ever experienced______?'
You can use this strategy to make people care about what you have to say and to encourage them to engage with your post more.
Start with a story or a joke
Starting a description with a story or a joke always lightens the mood and evokes curiosity.
Most people love reading an exciting story or listening to a funny joke.
Users can relate to you from the start and build a connection using stories or jokes.
Start with a quote
Quotes are one more thing many users enjoy reading. Quotes can be inspiring, motivational, and illuminating and can be a fantastic hook if you are trying to describe a feeling or a place.
Sometimes, one powerful quote can replace an entire caption.
Include a call to action
A call to action is integral to your Instagram captions since it directs your followers to do something specific.
CTAs can be included anywhere in the description where the users are expected to take action.
Most influencers include CTAs at the end of their description. However, they can be placed anywhere in the body of the caption.
Commonly, CTAs are in the form of a question that motivates users to comment on Instagram posts. But, sometimes, they can be straightforward, like 'click the link in bio,' or 'go visit my website,' etc.
Here is an excellent example of a subtle CTA from an Instagram account named kiwisoffcourse.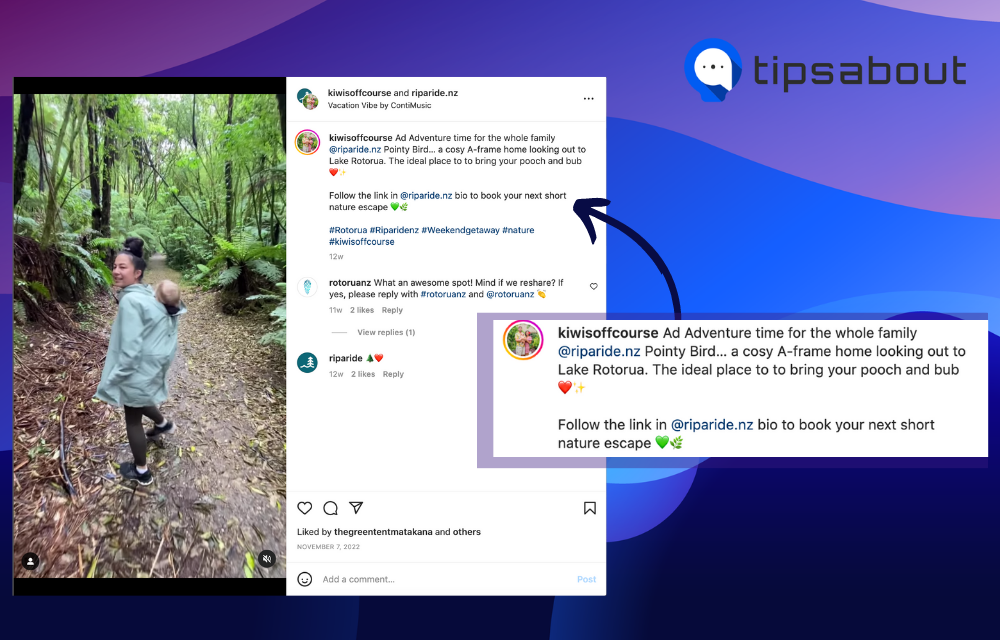 Use Emojis
Emojis are a 'final touch' to Instagram captions, plus emojis make captions look aesthetically pleasing.
Don't be afraid of using emojis, but make sure they fit your brand and tone of voice.
Even if you use a formal expression, emojis can still find a place in your Instagram caption.
Here are some great examples of how you can make an excellent combo of an Instagram caption + emoji.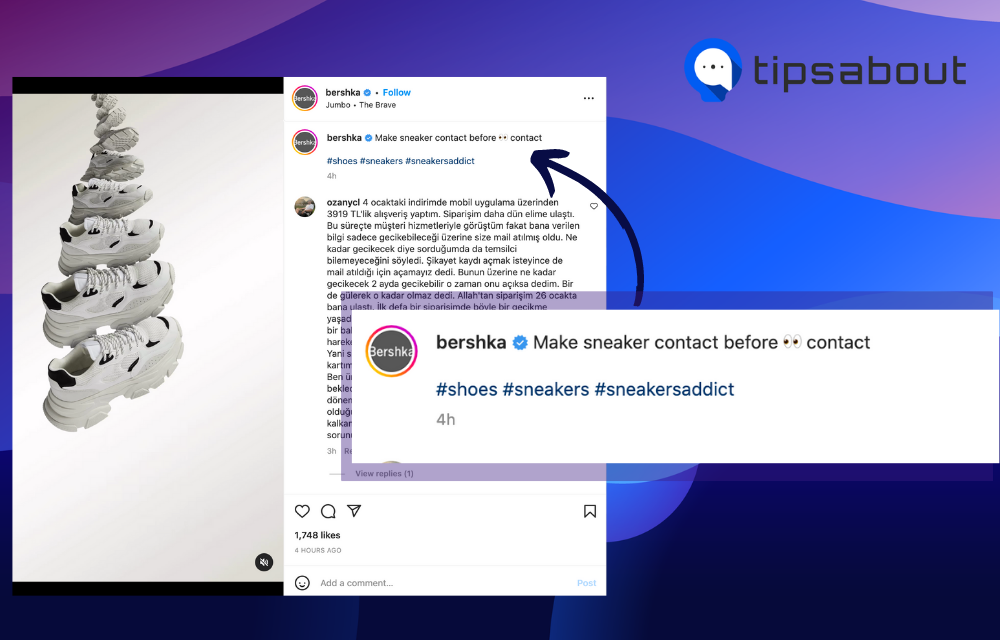 Hand emojis, for instance, can be used for any occasion and can even serve as a substitute for CTAs.
Add benefit or value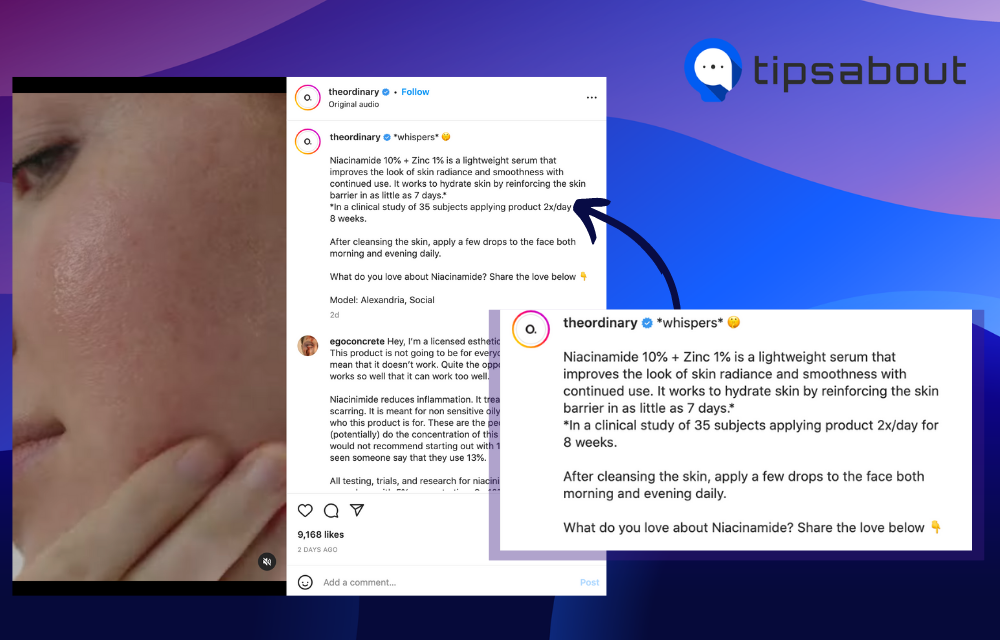 Adding benefit or value to Instagram captions is essential for businesses and influencers trying to sell and promote products and services.
Emphasizing the benefits of specific products or services at the beginning of the Instagram captions is a way to motivate the followers to buy or use a particular product.
In addition, it may also motivate them to save, like, or comment on your post, which will help you receive more exposure.
🌐 Bonus: 21 Cute Instagram Sticker Names
Pay attention to the length
Length is another factor you need to consider when crafting your Instagram captions.
Instagram only allows 2,200 characters per caption, which may look like a lot at first glance.
However, you must be precise in your message and avoid getting carried away with unimportant information.
Additionally, online users' attention span is short, and few people are interested in reading lengthy descriptions.
Nevertheless, no rule says you must write short or lengthy descriptions, but your captions must be well-crafted, straightforward, and easy to read.
Over to you
Instagram is a viral platform with fierce competition, and every day more and more people are trying to find their way to the discover page.
The photos on this platform are essential, but well-written descriptions can further distinguish you from the ocean of images posted daily on this network.