Tijana Kargovska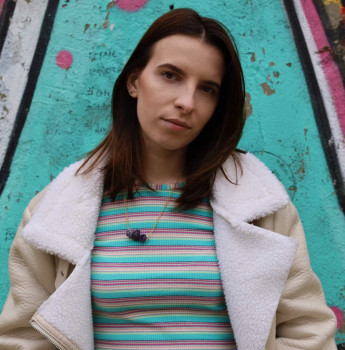 Instagram Story Trends have been a thing for a while now, and the newest addition to the group is the 'Add Yours' sticker, that rolled out a couple of months ago.
We're sure you've seen users following this particular trend, one of the most popular stories that were trending was 'Planting a tree for every pet picture', followed by 'A photo of you in the summer'.
The 'Add Yours' sticker is mainly used as a method to bring Instagram users together as a community, since some of these stickers reached worldwide popularity, with millions of users jumping in on the trend of 'Add Yours' Instagram Story.
Hence, since the 'Add Yours' prompt has been gaining so much popularity worldwide, it's no wonder people want to jump in on the trend.
Luckily, you can both join on already existing sticker icons, and you can create your own. Keep reading to see our step-by-step detailed guide.
Watch the video guide we've created below:
How to do the 'Add Yours' sticker trend
Joining from someone's story
You've probably seen some users joining this trend, and there are plenty of funny twists to this trend too, such as adding a photo of your favorite food when the prompt is asking you to share 'Who Are You In Love With?'.
If you want to jump in, all you need to do is find the sticker on someone's story, and click on the 'Add Yours' button right below it.
You will be redirected to Instagram's 'Add Story'' page, where the 'Add Yours' sticker you decided to join will show up. From here, you can take a photo using Instagram's camera, or you can post a photo from your Camera Roll.
Creating your own sticker
Additionally, if you either haven't encountered any of these stickers while swiping your friends' Instagram stories, or you simply don't like any of those you have seen, you can always create your own.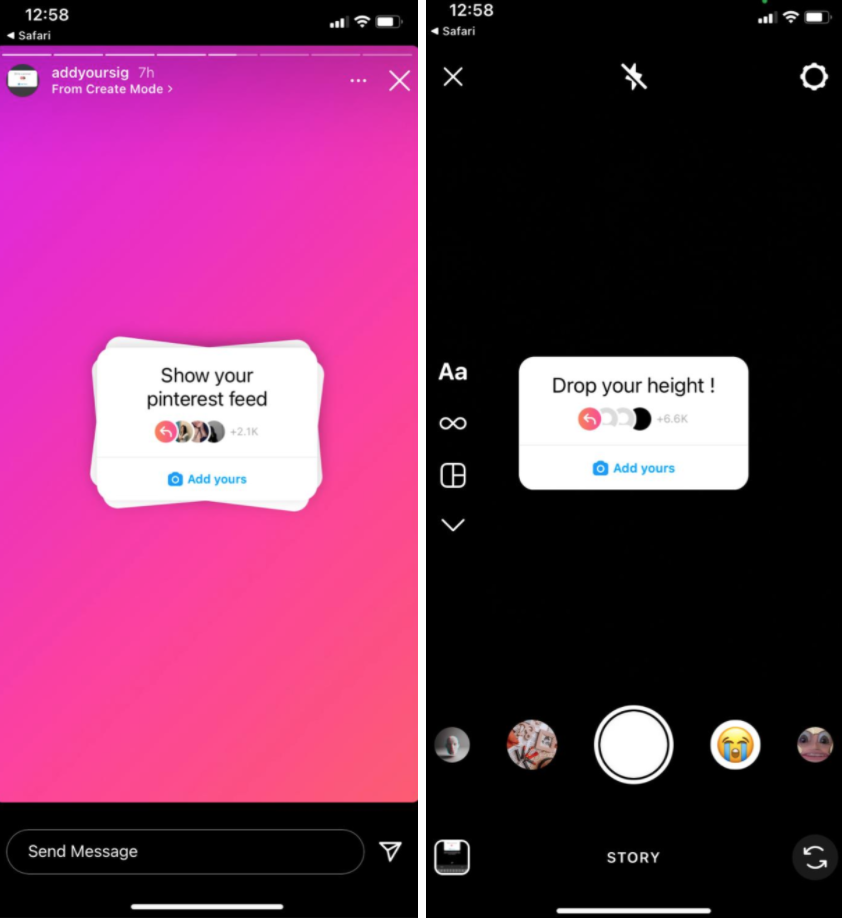 As we mentioned, the 'Add Yours' stickers look like in the screenshots above. To join the trend, click the blue 'Add Yours' feature, and you'll get redirected to your 'Add Story' page. Also, each 'Add Yours' sticker has information about how many users have joined that particular sticker up until the moment you open it, so you can keep track if you're joining one of the more popular ones.
If you decide to create your own sticker, and share a story with your own personal 'Add Yours' button, the steps to do so are quite simple.
Open the Instagram app on your phone, and go to the 'Add Story' feature. You can choose to either take a photo using Instagram's camera, or you can share a photo from your Camera Roll.
Further on, click on the 'Sticker' icon, located in the upper part of your screen. From the choices that are showing up, you need to find and tap on 'Add Yours'.
From here, you can choose to either name the prompt yourself, or you can click the dice icon, and let Instagram give you a prompt.
Search through your Camera Roll, or take the perfect picture, and post the photo or video along with the sticker.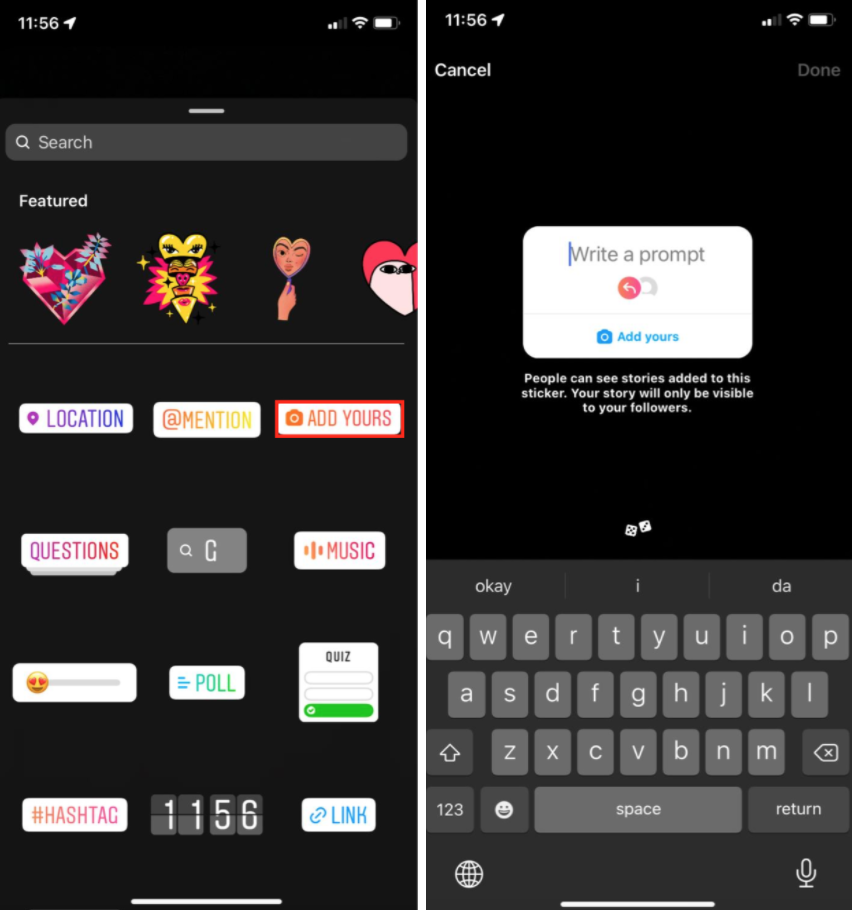 Finding trending stickers
However, if you decide to create your own sticker, it might not gain as much popularity as stickers that have already been created by public profiles. This might be the case with private accounts that don't have too many followers.
Therefore, if you feel pressure that your sticker may not be a success, you can always join other's sticker trends.
Even so, plenty of users, especially those that do not follow too many people, haven't encountered this trend. Luckily, there's a solution to this problem. There's an Instagram profile that you can follow, who constantly shares stories using the 'Add Yours' sticker, and most of them have thousands of users who have already joined the trend.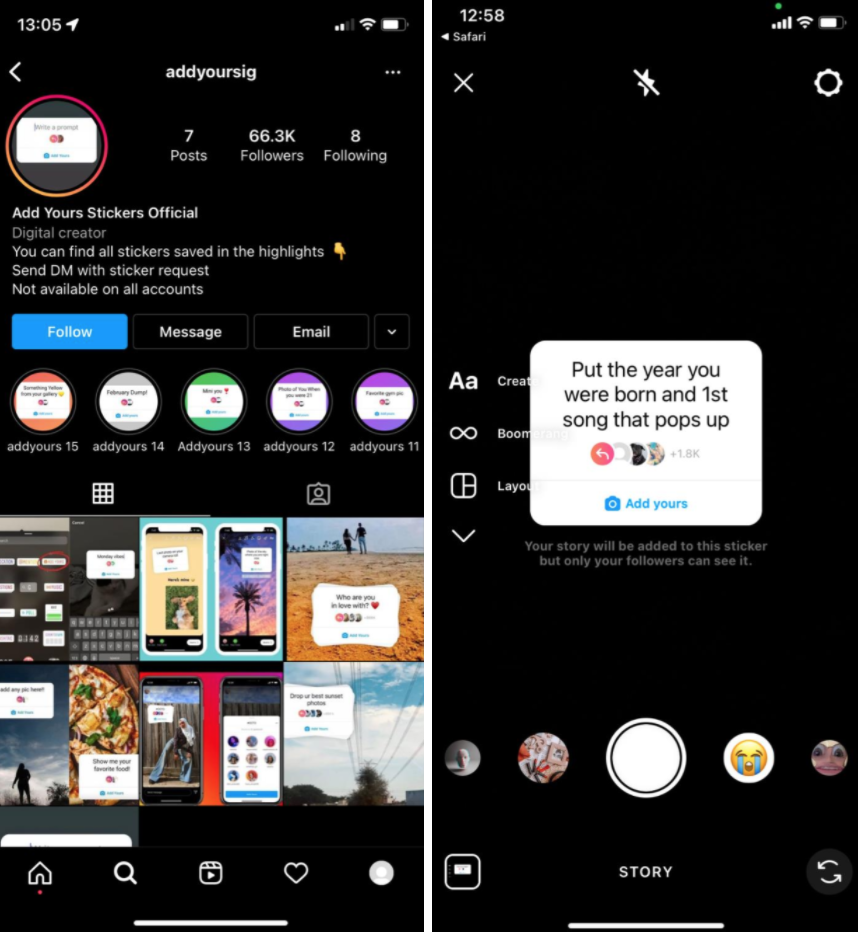 Follow them on Instagram, and you'll be able to find creative things to share to your story everyday, since they post at least a dozen prompts per day.
Note: Some users have reported not being able to find the 'Add Yours' sticker in their stickers section. This might be happening due to the region where you live, since some Instagram features are not available worldwide right away.
However, if you think there's an issue with why you're not seeing this option, you can always place a complaint with Instagram's Help Center, and wait for their guidelines.