Ivana Kotorchevikj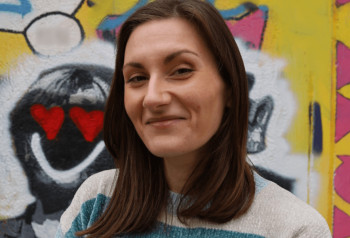 When you open a YouTube channel, there's one more step you need to take before you start uploading videos and customizing your banner - and that is to verify your YouTube account.
Also, if you've tried to change the thumbnail of your videos, you've probably got the notification that you need to first verify your account before you can customize video thumbnails.
Besides proving that you are a real human, verifying your account improves the security of your channel, and introduces extra benefits such as you can upload videos longer than 15 minutes, you can customize your video thumbnails, you can live stream and you can appeal copyright claims.
To verify your account, you need to provide a phone number to prove your identity.
What does it mean to verify your account?
Note that verifying your YouTube account doesn't mean that you'll get a verification badge. To be able to apply for a verification badge, you need to have at least 100,000 subscribers, which tells YouTube that you are an established creator.
But the verification badge doesn't come with the additional features like verifying your account does.
When you verify your account, you let YouTube know that you are the owner of the account. You also help YouTube to fight spam by ensuring that you're not using your phone number to create many different accounts.
If you want to take advantage of the extra perks YouTube provides, this is how to verify your YouTube account.
How to verify your YouTube account
You can verify your account via SMS or voice call on a computer or a mobile browser such as Chrome.
Go to YouTube and tap on your profile picture in the top-right corner.
Click or tap on YouTube Studio.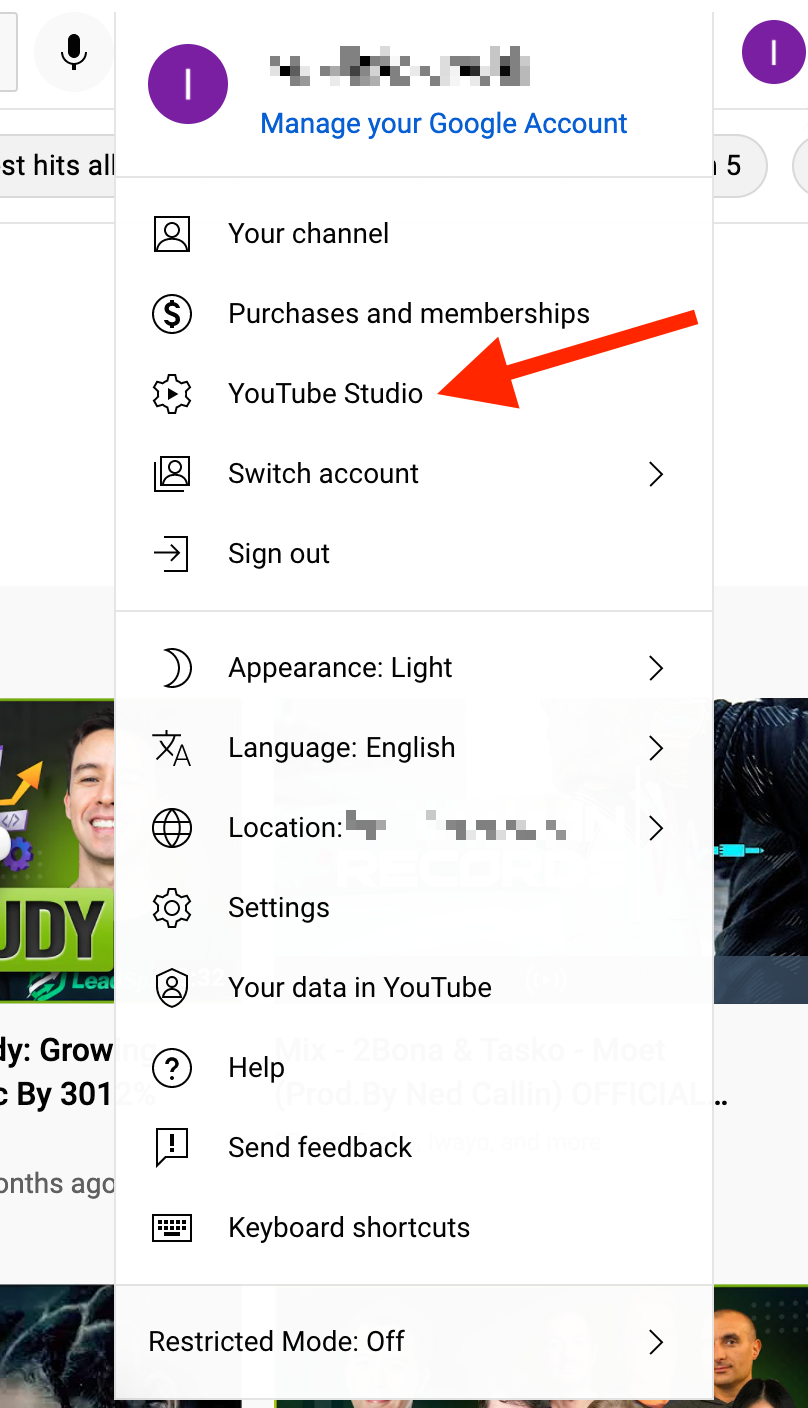 Go to Settings in the left-hand-side menu panel.
Select Channel and go to the Feature Eligibility tab.
Here, you'll see two sections: Default Features and Features that require phone verification. Click on the down-pointing arrow next to the Eligible button next to the second section Features that require phone verification.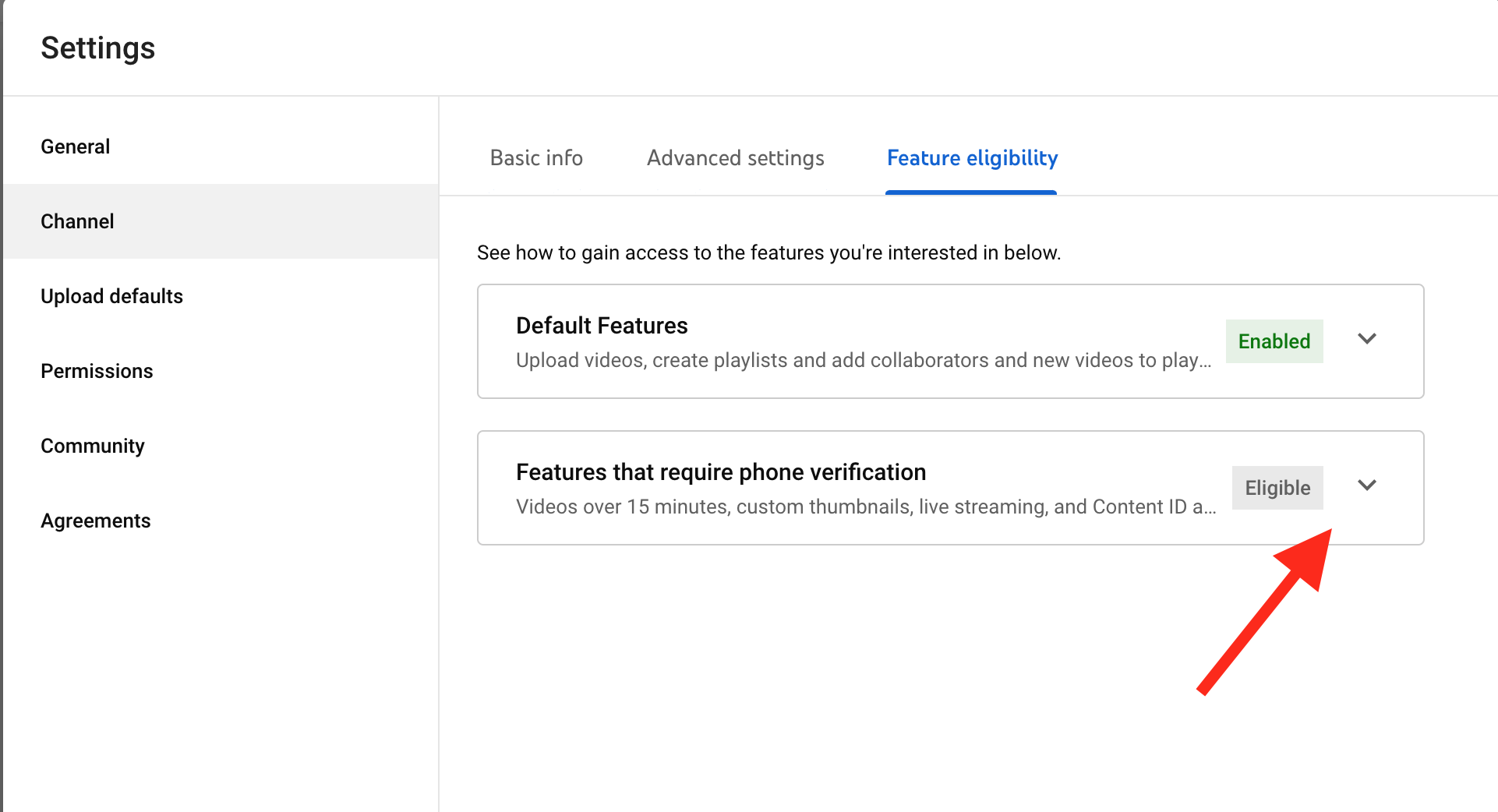 When you click the button, the section will expand. On the right, you'll see the requirements for verifying and the VERIFY PHONE NUMBER button beneath them. Click on it.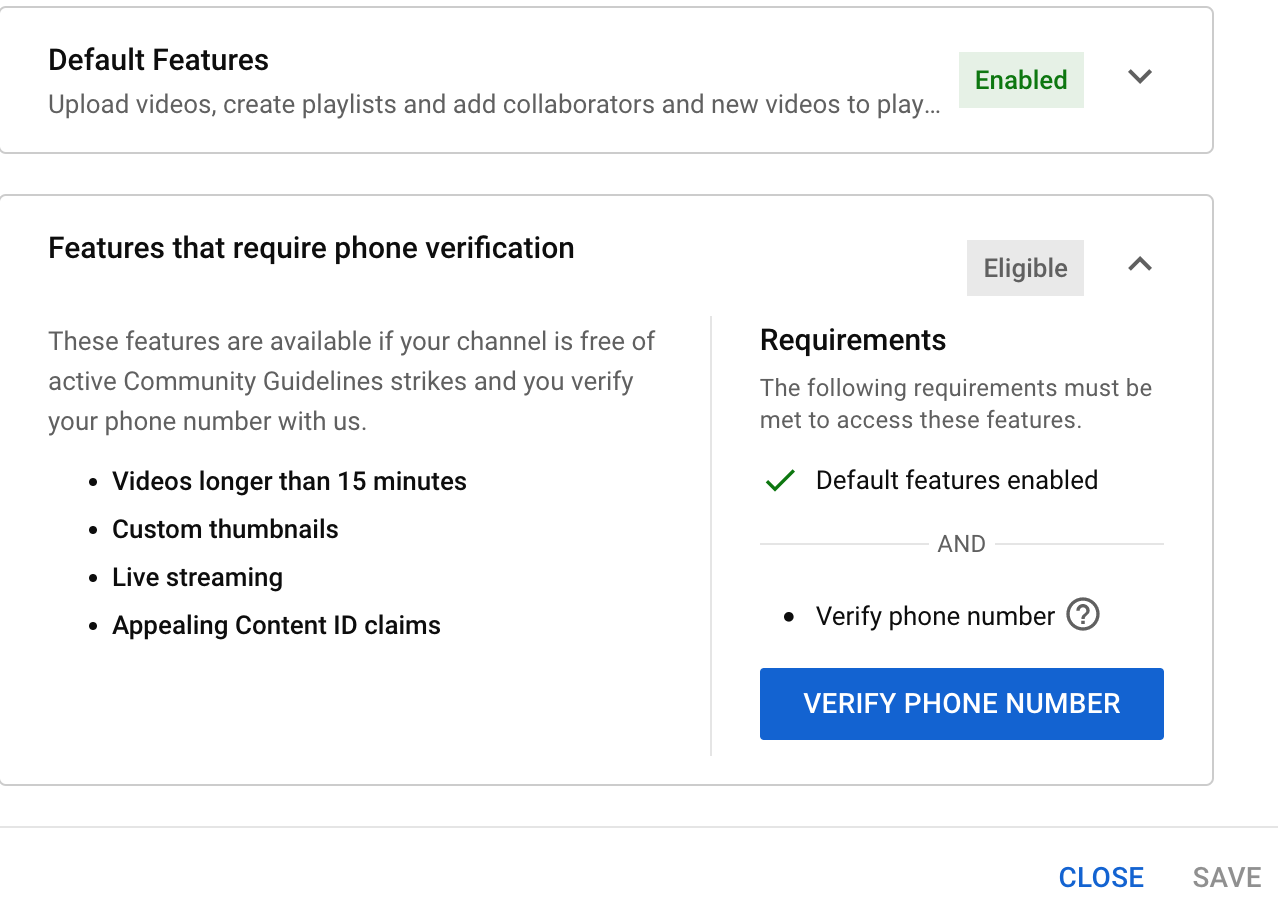 You'll be taken to a Phone verification page. Select the method with which you want to verify your phone number: via a text message or call option with an automated voice message.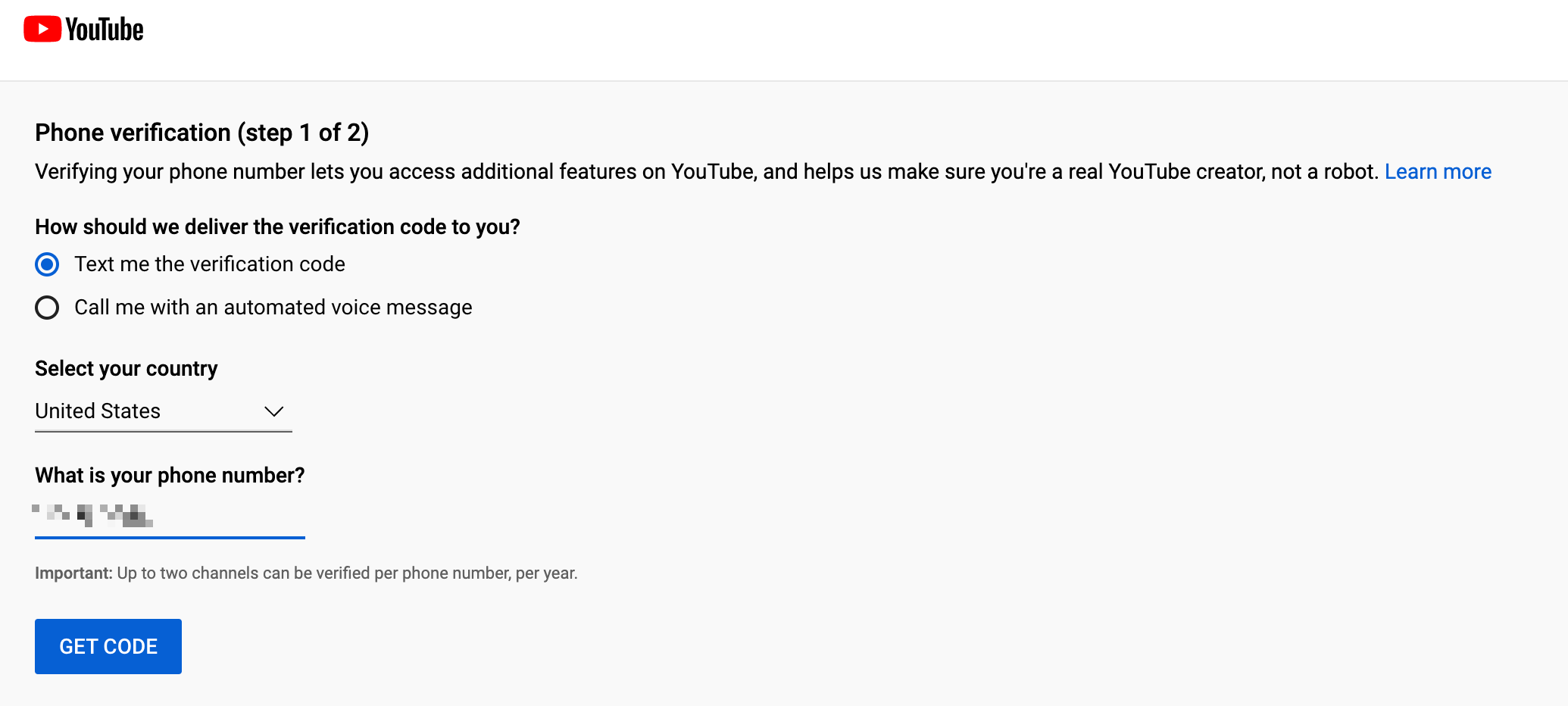 Below, select your country from the drop-down menu, enter your phone number in the last field and click on the GET CODE button at the bottom.
When the page loads, enter the verification code you received on your phone via SMS or via voice call and click the SUBMIT button.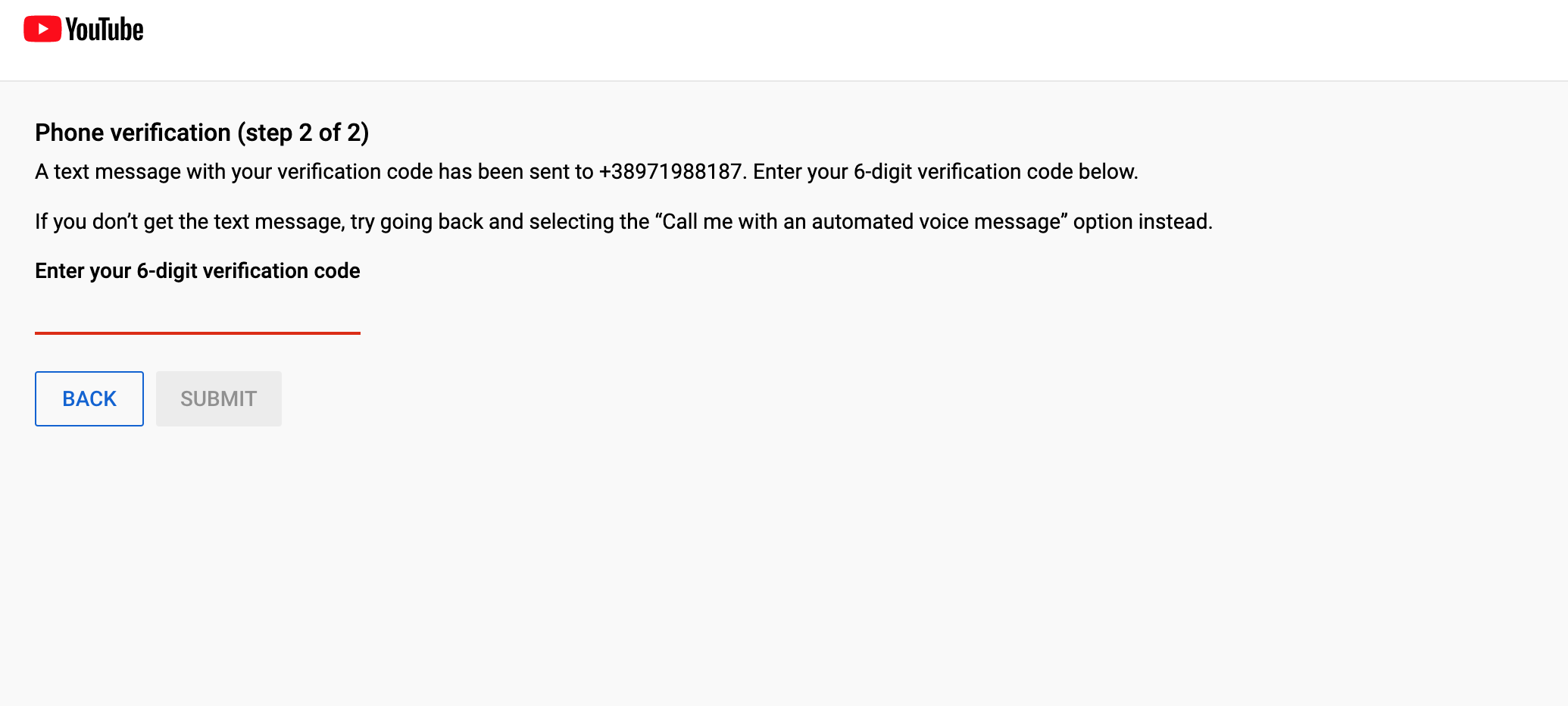 And that's it. Now you've verified your YouTube account.
Keep in mind that if you have multiple accounts and you try to verify them with the same number, YouTube might flag them up as spam.
Why didn't I receive a verification code?
If you didn't receive a verification code after you clicked on the GET CODE button, there may be several reasons for this:
Your country, region, or carrier doesn't support text messages from Google. You may try a different phone number or try the voice call option.
If you get an error message saying, "This phone number has already created the maximum number of accounts", try using a different phone number.
Delayed text message delivery. If you haven't received the verification code even after you've waited for a few minutes, try the voice call option.
In most cases, trying a different phone number or the voice call option should solve the issue. If you are still not receiving the verification code, contact YouTube's support team.
After you've verified your YouTube account, you can upload videos longer than 15 minutes, include mid-roll ads, customize your thumbnails and live stream on YouTube.Did you know that you can also create YouTube Shorts - short vertical videos similar to ones you find on TikTok and Instagram?