Ivana Kotorchevikj
Instagram is a great place to share your creativity through posts and videos with your followers, see what your friends are up to, and discover new content. But the social media platform has also become a place to buy some cool stuff. In 2020, Instagram announced Instagram Shops - a new shopping experience for small businesses to help them deal with online challenges during the COVID-19 crisis.
Instagram Shop is a great way for brands to promote their products to people directly in the Instagram app. If you have a small business, instead of directing people to your website, you can allow them to browse and buy your products directly in their Instagram feed.
More than 130 million users tap on an Instagram Shopping post each month. Also, more than 500 million Instagram users use the platform daily, and 50% of them follow at least one business.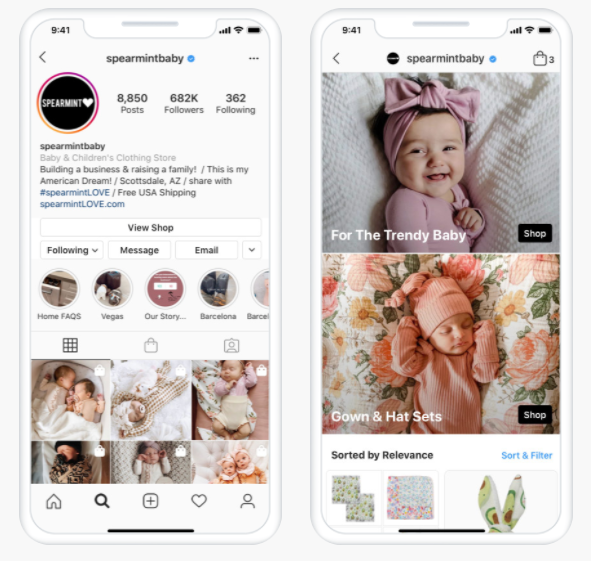 Therefore, Instagram Shop is an ideal way for small businesses to promote their products and boost their sales on the platform.
In this guide, we'll explain what exactly Instagram Shops are, how to set up your Instagram Shop, and how you can use Instagram Shopping to sell your products.
Bonus: Did you know that you can also find Guides in the Instagram Shop tab? Check out where else to find and how to create Instagram Guides.
Instagram Shopping is a collection of tools that allows brands to create digital and shareable catalogs of products directly on Instagram. Users can see and buy products in the app, or they can choose to go to the brand's site to make the purchase.
However, promoting products is nothing new on Instagram. Eighty-seven percent of users say influencers have inspired them to make a purchase, and 70% of shoppers go to Instagram to discover new products, reports the social media giant. Nevertheless, before Instagram Shopping, brands had to share a link to their online shop in the Instagram bio to make a sale, or use clickable Instagram Stories.
With Instagram Shop, the whole shopping process is done in a few clicks, in a customizable digital storefront, right on your Instagram profile.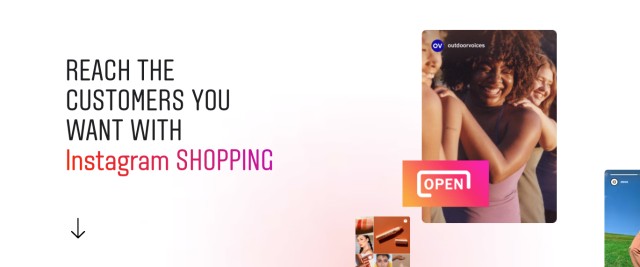 How to get approved for Instagram Shop
Before you set up your own Instagram Shop, there are several eligibility requirements your business needs to check before you can set up Instagram Shopping.
Your business needs to be located in a market where Instagram Shopping is available. Check out the list of available markets.
You have to sell physical, eligible products.
Your business must comply with Instagram's commerce policies.
Your business needs to have an e-commerce website.
And lastly, to be able to use Instagram Shop, you need to have a business profile on Instagram.
🚀 If you already have a business profile, but wish to switch it back to a personal account, learn how to do it in a few easy steps.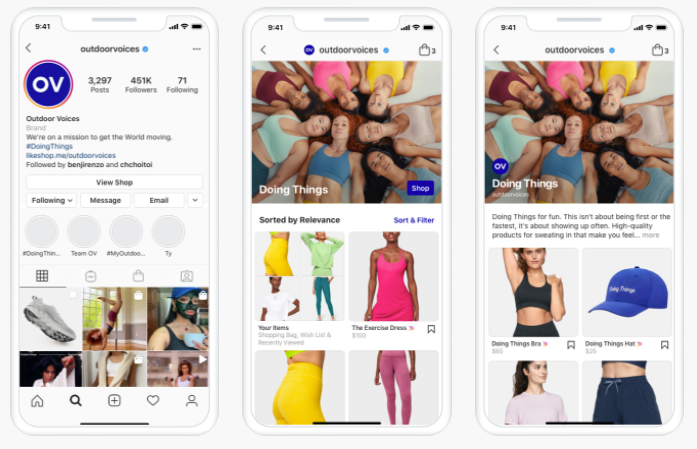 There are several steps of steps you need to take to set up your Instagram Shop. Below, we'll walk you through each of them.
Step 1: Convert your Instagram account into a Business or Creator Account
Besides allowing you access to Instagram Shopping, having a Business account also gives you access to business analytics and tools such as Action Buttons, Instagram Insights, and Instagram ads.
Open Instagram, go to your profile, and tap on the hamburger menu in the top right corner.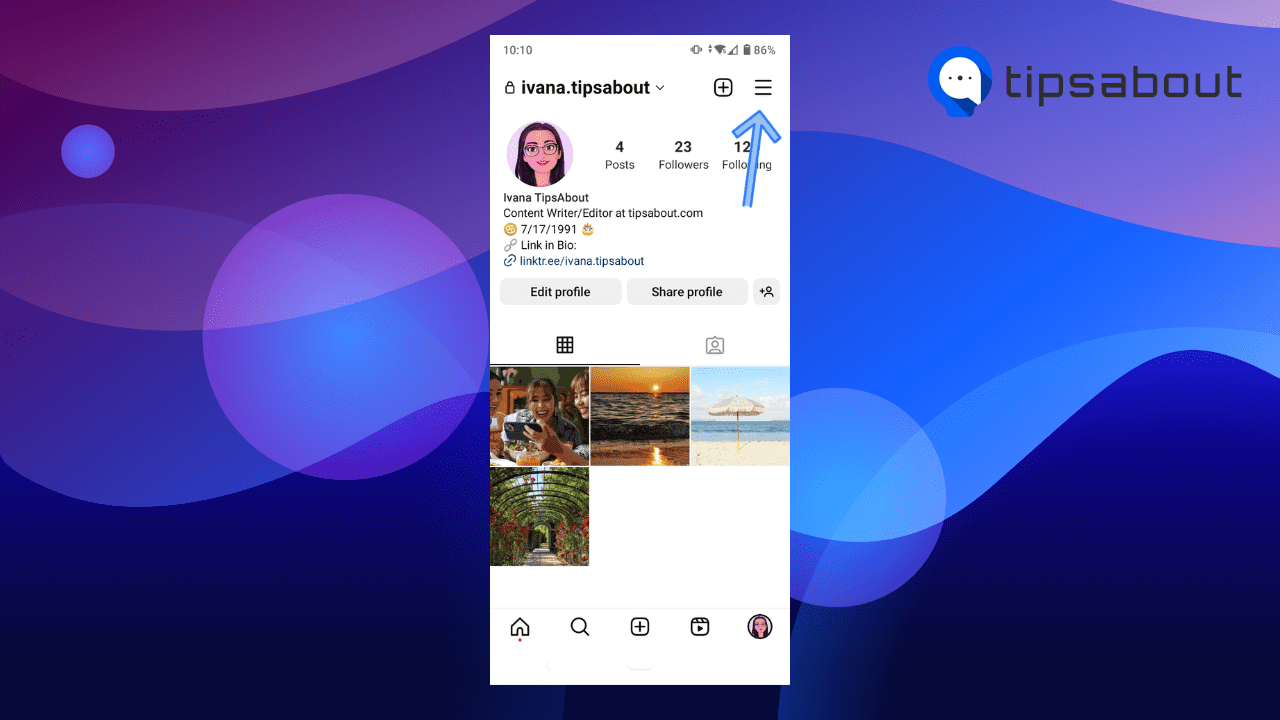 Tap on 'Settings,' and then 'Account.'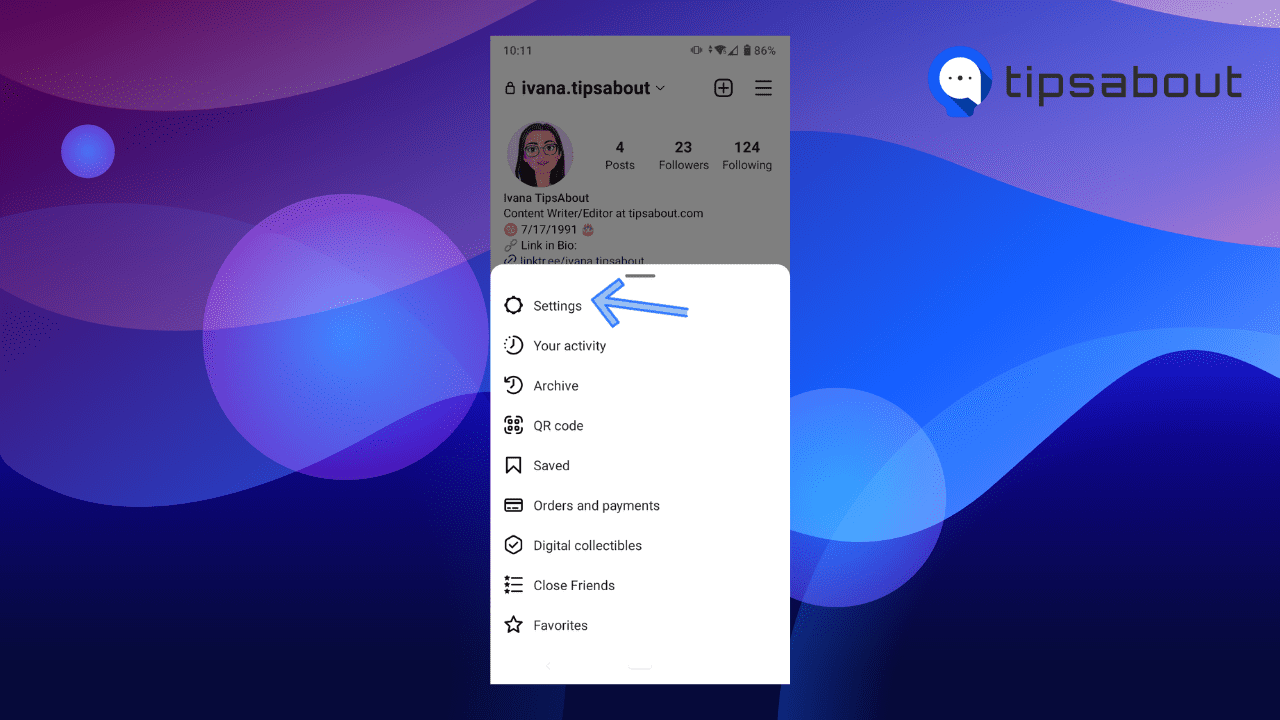 Scroll down to the bottom of the list, and tap on 'Switch to professional account.'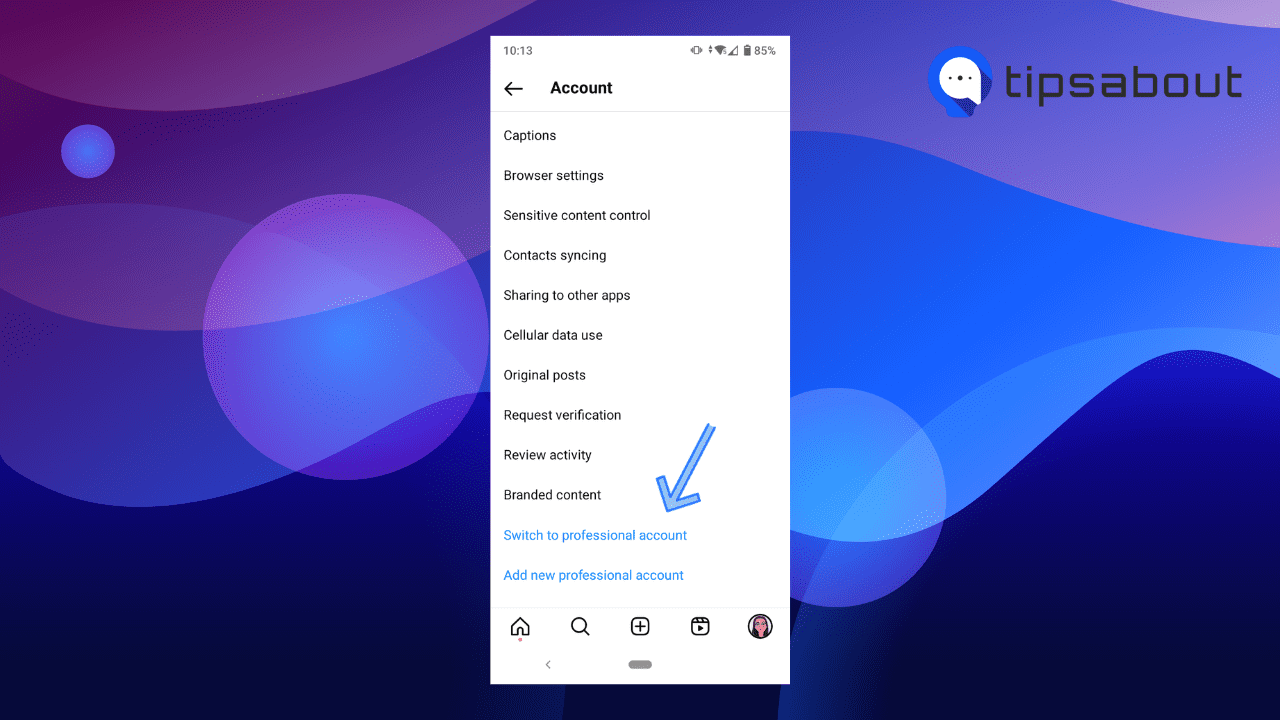 Click on 'Continue' several times to go through all the featured tools on a business account.
When you reach the 'What best describes you?' page, choose the category of your business from the suggested examples, or search for a category in the search bar.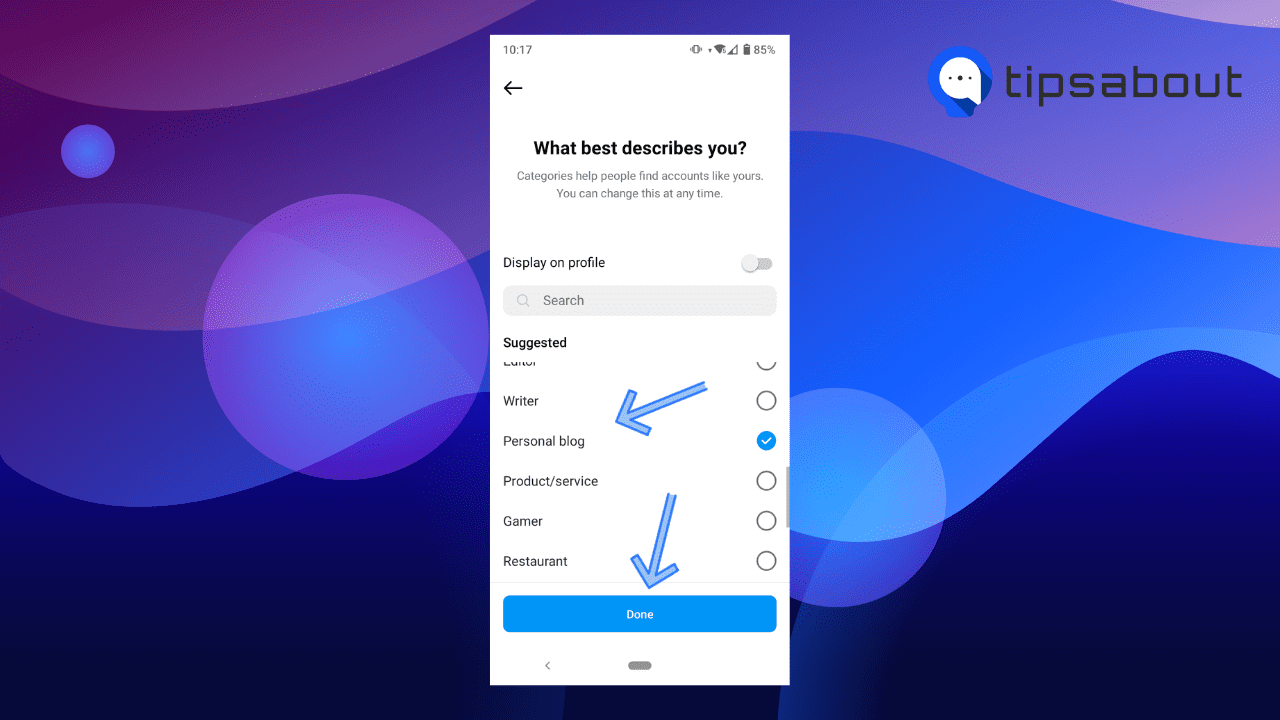 Toggle on the switch next to 'Display on profile' if you want to display your business category on your profile. Finally, tap on 'Done' at the bottom.
Tap on 'OK' in the pop-up window asking you 'Switch to a personal account?'.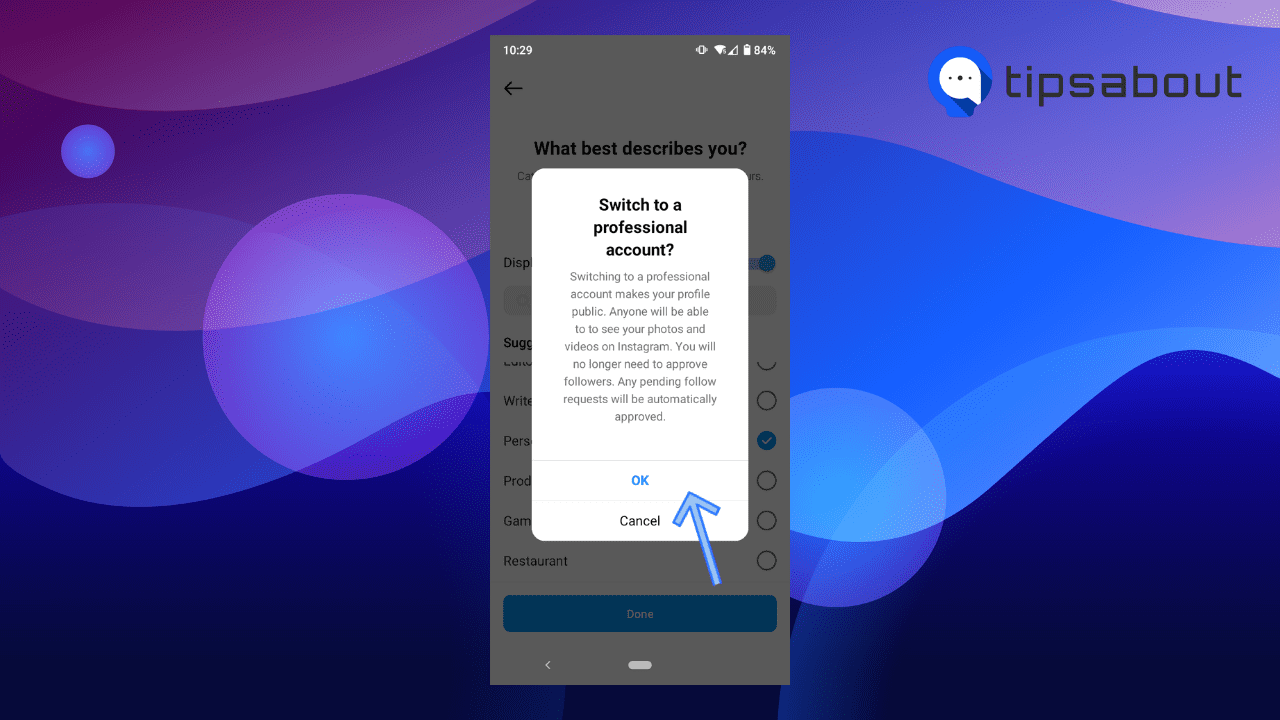 Next, select whether your account is 'Business' or a 'Creator' and tap on 'Next.' if you've selected a category that may be considered a business, select 'Business.'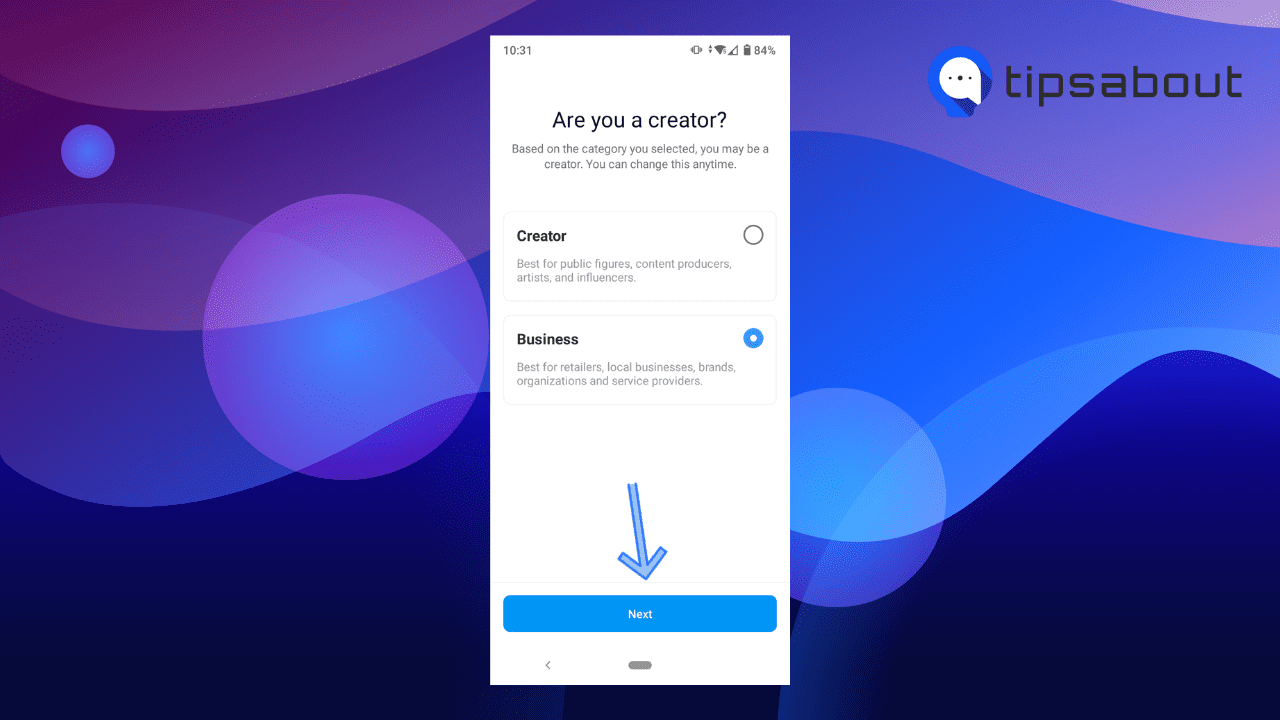 On the next page, add your email address, phone number, business address, and email, and tap on 'Next.' Toggle on the 'Display contact info' option if you want your contact information to be displayed on your profile.
Step 2: Connect your Instagram business profile to a Facebook Page
On the next page, you'll be asked to Connect your Instagram account to a Facebook page.
Tap on 'Log into Facebook,' and tap on 'Continue' to set up your Accounts Center.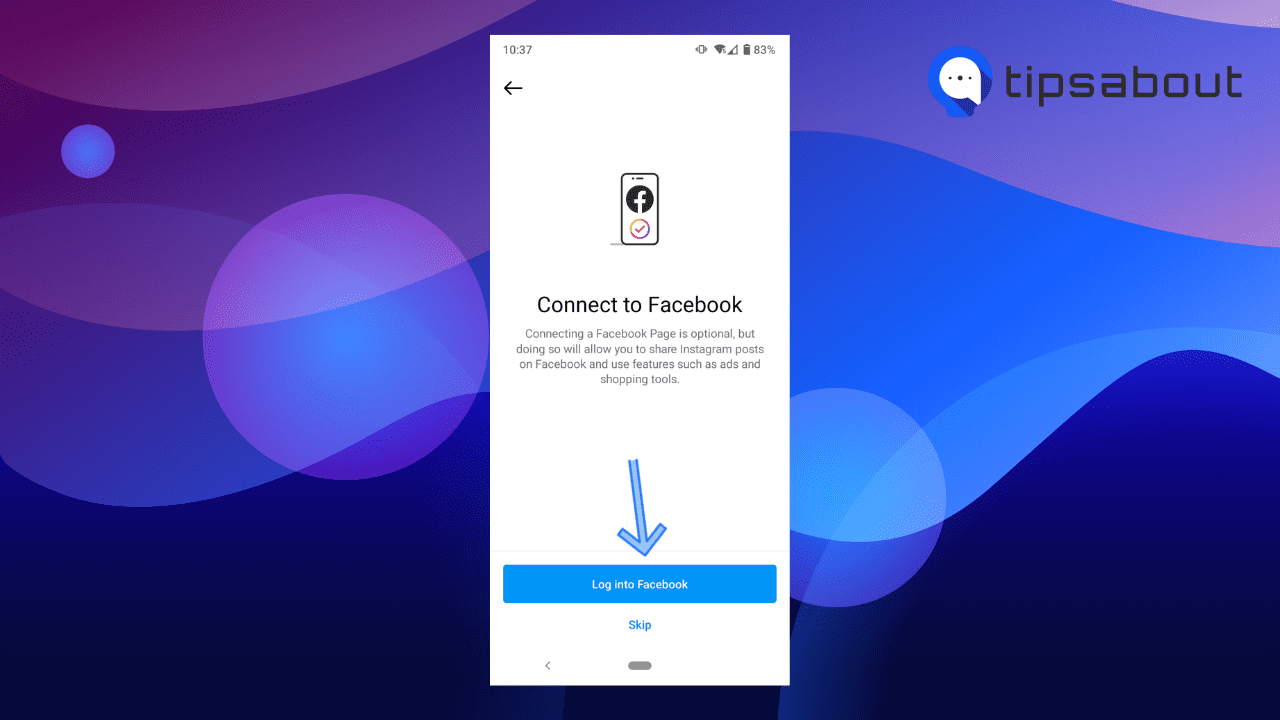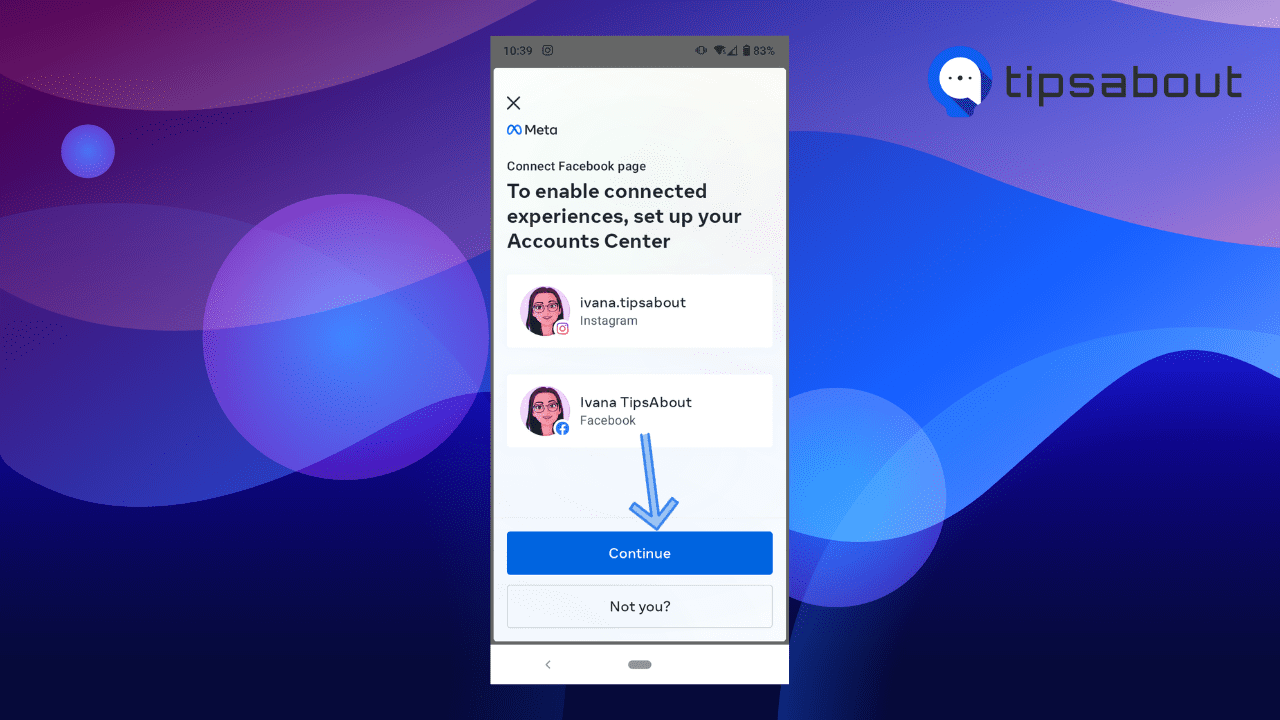 On the next page, tap on 'Yes, finish setup.'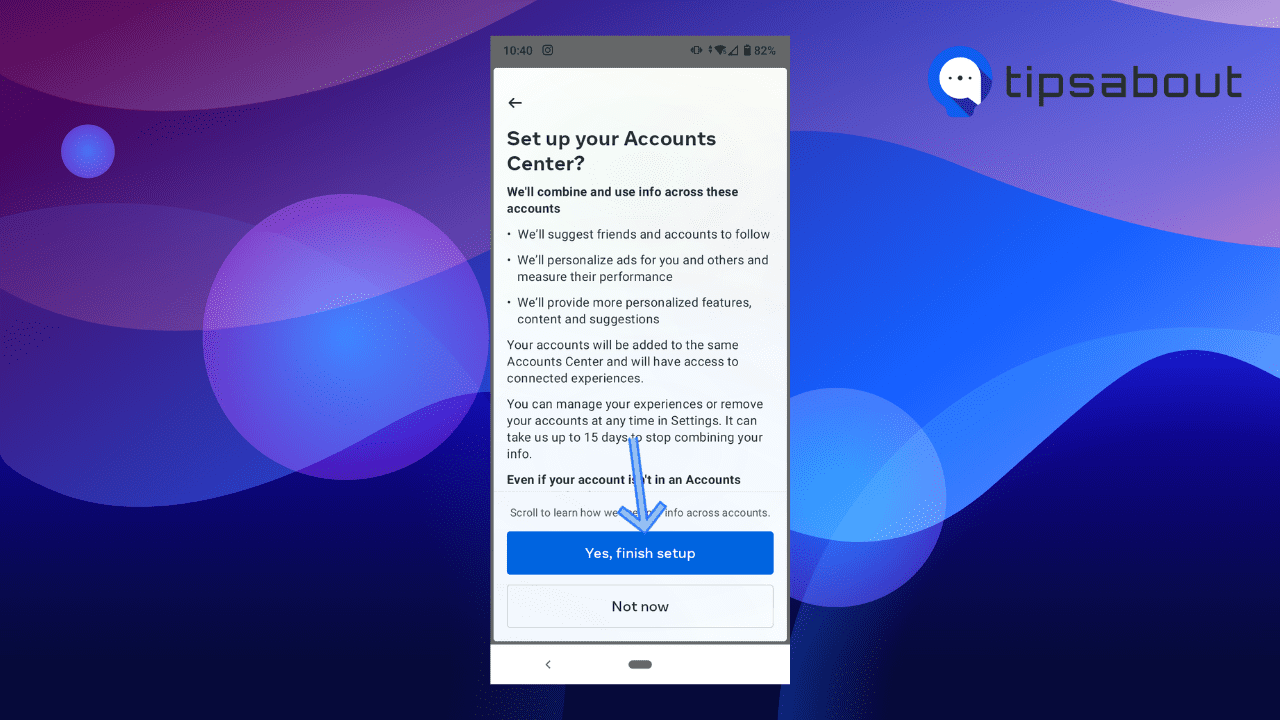 You'll be taken to the next page, asking you to 'Connect to a Facebook Page.' You can either choose to connect to an existing Facebook Page, create a new Facebook Page, or select 'Don't connect to a Facebook Page now' if you don't want to connect to a page at the moment.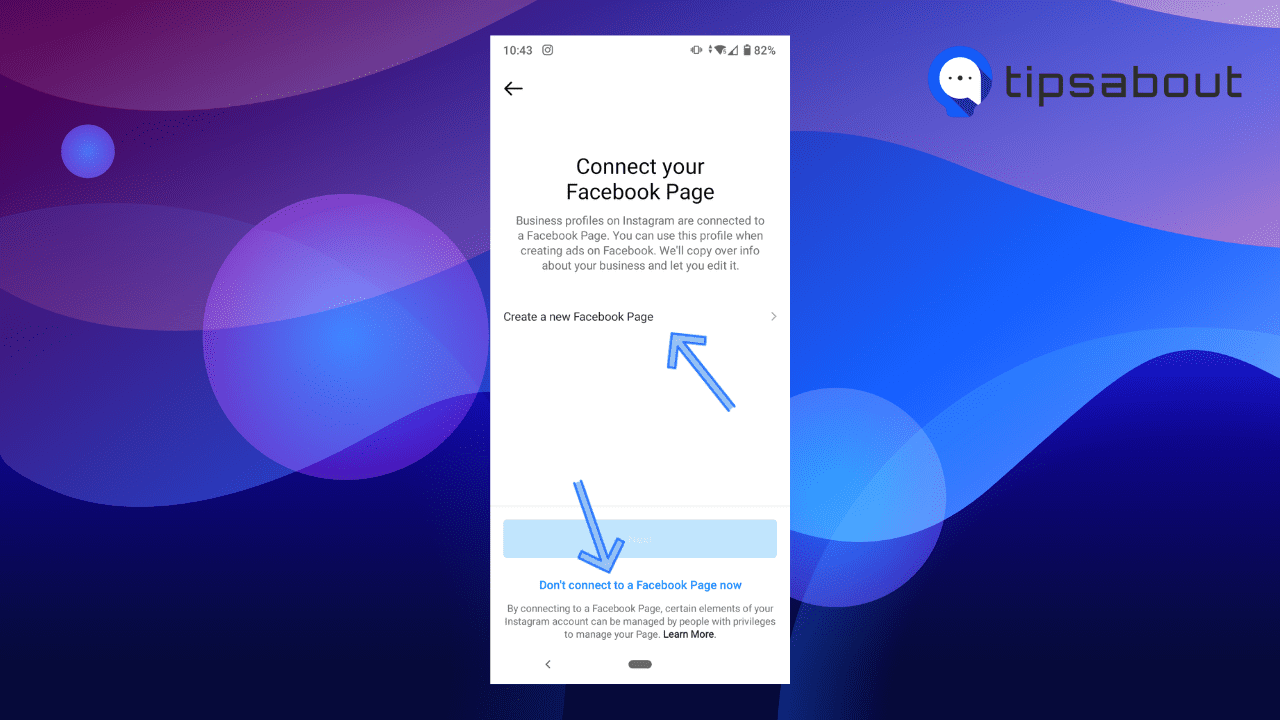 Next, follow the prompts on the next page to finish setting up your professional account: Get Inspired, Gow Your Audience, Introduce yourself, Explore tools and insights, and Complete your profile.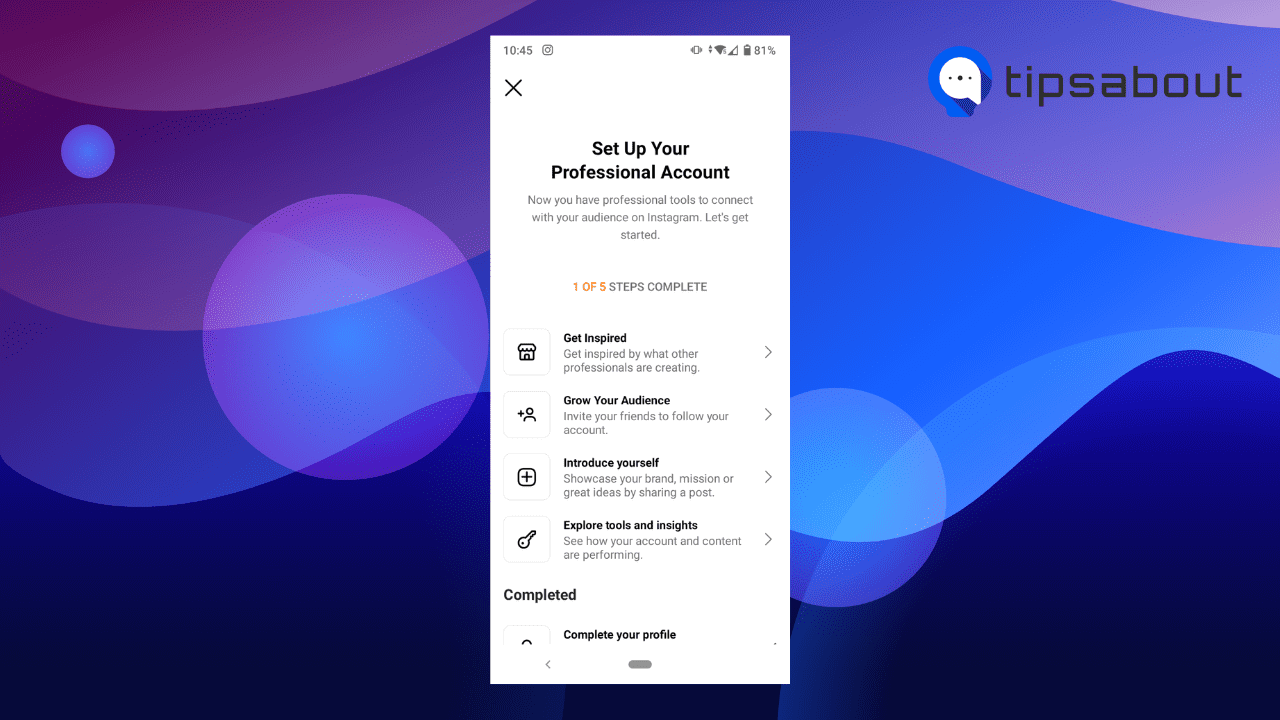 Tip 1: You don't need to have a Facebook Shop page, only a Facebook page.
Step 3: Upload your product catalog
To sell with Instagram Shop, you need to have a product catalog, which is a list of all your products, inventory, and descriptions.
Note: You first need to connect your Instagram account to a Facebook page if you didn't do it in the previous step.
You can upload your product catalog in two ways:
Input every product manually with Catalog Manager found in the Facebook Business Manager.

Log into your Facebook Business account, and go to Commerce Manager.
Select 'Create a Catalog' and click on 'Get Started.'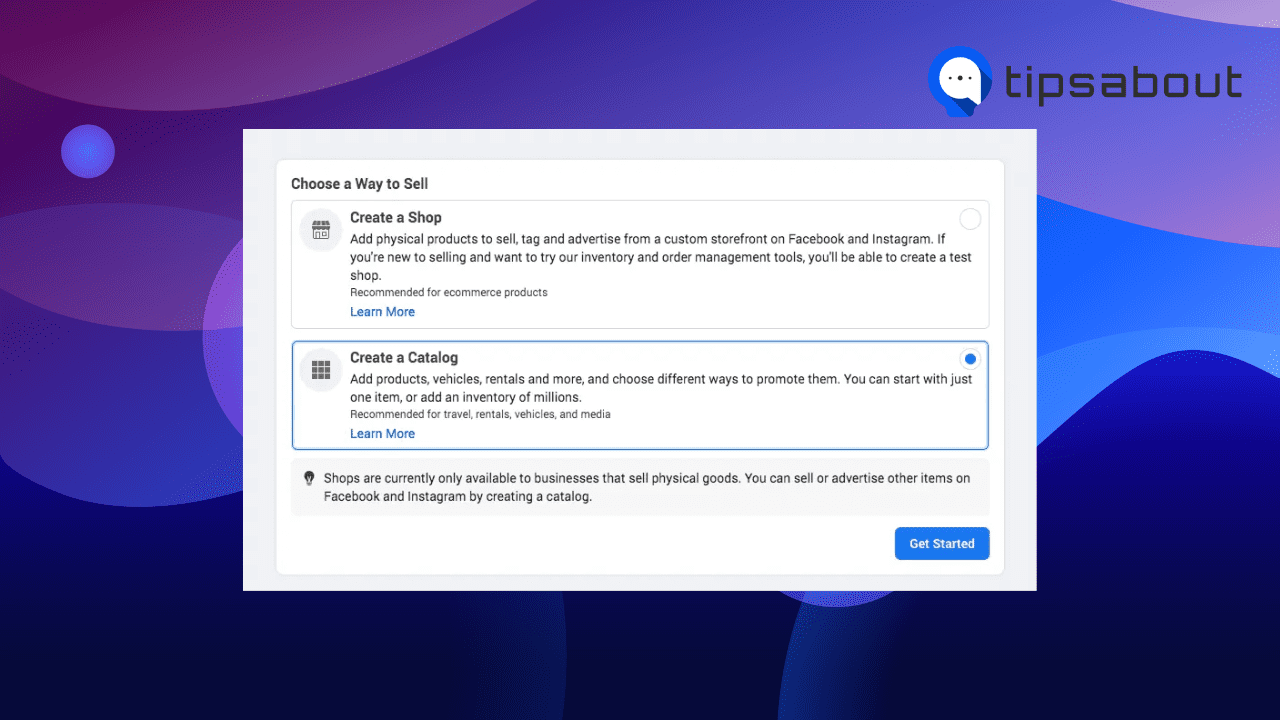 On the next page, select 'Ecommerce (products)' and click 'Next.'
Next, in the Upload Method section, choose 'Upload Product Info.'
Under the Catalog Owner field, assign this catalog to your Business Manager account.
Enter a name for your catalog.
Click 'Create.'
Go back to the Commerce Manager, select your catalog, and click on 'Items.'
Select 'Add Items,' then 'Add Manually,' and click 'Next.'
Upload an image of your item, which should be at least 500 x 500 pixels.
Enter a name, description, and other details.
In the 'Item Category' section, select your specific category.
If your products have different sizes and colors, add them under 'Create Variants.'
When you're done, click 'Finish' or click 'Add Another Item' and start again at step 11.
Upload your products by integrating an E-commerce Platform Partner.

Go to 'Commerce Manager.'
In the Catalog tab, go to 'Data Sources.'
Select 'Add Item,' then 'Use a Partner Platform.' then click 'Next.'
Select any of the platforms: Shopify, BigCommerce, ChannelAdvisor, CommerceHub, Feedonomics, CedCommerce, adMixt, DataCaciques, Quipt or Zentail.
Follow the link to the partner platform website and follow the steps there to connect your account with Facebook.
Step 4: Submit your account for review
Once you've uploaded a product catalog to your Instagram account, next you will need to submit your account for review.
Go to your business's Instagram profile and tap the menu icon.
Select 'Settings.'
Tap on 'Sign up for shopping.'
Follow the steps to submit your account for review.
Visit 'Shopping' in your 'Settings' regularly to check your status.
Tip 2: Account reviews may take a few days or longer.
Tip 3: Some businesses may be notified to submit additional information to prove ownership of their website domain. If you receive this notification, follow these steps to complete a domain verification process to submit your account for review.
When your account has passed the review process, it's time for the last step to connect your product catalog with your Instagram Shop.
Go to your Instagram profile, click on the 'Menu' icon, and then 'Settings.'
Tap 'Business,' then 'Shopping.'
Select the product catalog you'd like to connect to your account.
Click 'Done.'
The process for setting up your Instagram Shop may be a bit longer, but it's nothing compared to the benefit you will get from presenting your products to your followers directly from your Instagram business profile.
Additionally, if you have a Business or Creator account and you live in the U.S., you may be eligible for Instagram Checkout, which allows users to complete their purchases directly through Instagram.
Conclusion
Instagram Shopping is just starting out, and it's just a matter of time before it becomes global. Now is the perfect time to include Instagram Shop as part of your overall social media strategy. It's a great way for businesses to bring their products and services directly in front of their target audience natively in the Instagram app.
In this guide, we've covered how to get started with your Instagram Shop from scratch, including eligibility requirements you need to fulfill, how to switch to a business account, how to connect your Instagram account to a Facebook Page, how to upload your product catalog, submit your account for review and finally turn on Instagram Shopping.
Take advantage of the Instagram Shopping tools and boost your sales using Instagram's immersive shopping experience.