Tijana Kargovska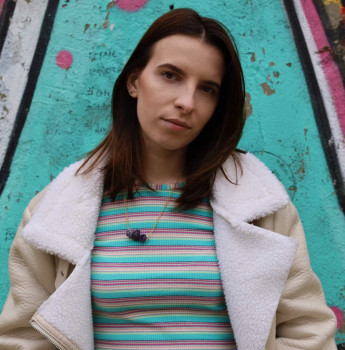 Since Spotify Premium is not free, you need to pay a monthly fee for each family member. Fortunately, Spotify came up with a solution - Spotify Premium Family Plan.
While using this feature, up to 6 accounts can be linked to one another using the Spotify family plan, making the fees lower on average for the entire family. Note that just because the name of the feature contains the word 'family', this doesn't mean you can't share your Spotify Premium with 6 of your friends and make the app even cheaper than using it all by yourself!
Bonus read: Does Spotify notify when you follow someone?
How to switch your Account to a Spotify Premium Family
If your account will be the one doing the payments and managing your family accounts for the family plan, here's what you'll need to do to set it up!
First, you'll need to make sure that your subscription is updated.
Open Spotify from the web browser by entering your email address and password.
After you've logged in, click on your profile picture in the top right corner, and open 'Account'.
On the left-hand side, you'll see 'Premium Family'; click on it.
To be able to use this feature, you'll need to set up a home address, so you'll need to type in your home address and select 'Find Address'. All of the users will need to write the same information to confirm that you live at the same address.
After you've entered your home address, you'll be able to invite others to join your family account. Click on 'Continue' and another bar will show up, which will give you the link, which is an invitation to Spotify Premium Family. You can do this through your Facebook account - Messenger, WhatsApp, or email or by sending the link directly. All of the accounts will have premium access.
In case you want to add kids under the age of 12, you will be given the option to set up a Spotify Kids Account.
Once you've finished, send the invite link to your friends or family members for them to enter the address and start using Spotify Premium Family. This feature is offered for up to 6 accounts!
An alternative way to listen to music with friends and family is to create a Group Session on Spotify.
After you've sent out the invitations, here's how to accept an invitation to Spotify Premium Family.
How to Accept an Invitation to Spotify Premium Family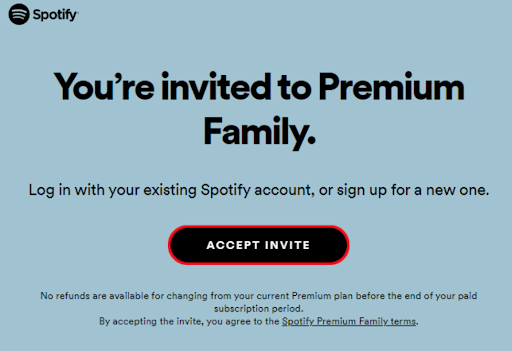 The other users who have opened the link, will be redirected to this page.
Click or tap on 'Accept Invite'.
You'll be redirected to a new page, where you'll need to confirm that you are at the same address.
You will be given an option for Google Maps to determine your location or enter it manually. Make sure that all accounts have the exact same address in order for Spotify Premium Family works!
After confirming the address, you'll be able to use this feature with no issues whatsoever. Enjoy your premium accounts!
Recently, Spotify launched a blocking function that has become very convenient provides users the best possible experience, ensuring that they have a safe environment to stream music and podcasts. Read how to block users on Spotify.