Ivana Kotorchevikj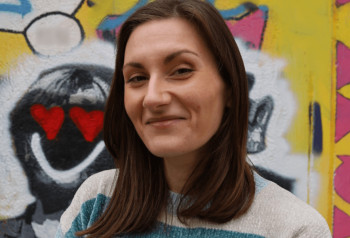 In 2021, Twitter launched live audio conversations known as Twitter Spaces. The Clubhouse-like audio rooms are public and everyone can join to listen to them.
If you join 'Space' as a listener, you can react to the conversation with emojis, see pinned Tweets, read captions, Tweet or DM Space, and request to speak.
Spaces is available from desktop and mobile web browsers. The live audio conversations are Twitter's efforts to compete with Clubhouse, which blew out in 2020 and triggered social media platforms to develop their own live audio rooms.
How you can find and access Twitter Spaces on the mobile app
Listeners can join Space through a public link that a host or listener can share in a Tweet, via a Direct Message, or other channels.
Twitter Spaces can be found at the top of a user's timeline, in the area that used to be taken up by Fleets - disappearing tweets that resembled Instagram Stories that Twitter retired last year.
You can also see and join Spaces hosted by people you don't follow, i.e., if someone you follow is listening to an active Spaces, you can join in too.
If you are curious about how to use and join Twitter Spaces, keep on reading. In this blog post, we'll explain how to join Twitter Spaces from Android and iPhone.
How to join Twitter Spaces on Android and iPhone
The steps for joining Spaces are identical for both Android and iPhone:
Launch the Twitter app.
The Spaces you can join will be available in the section that was previously Fleets at the top of your screen. (If you don't see Spaces, try updating the Twitter app.) Alternatively, tap on the Spaces icon ( 4 circles forming a diamond) at the center bottom of the screen.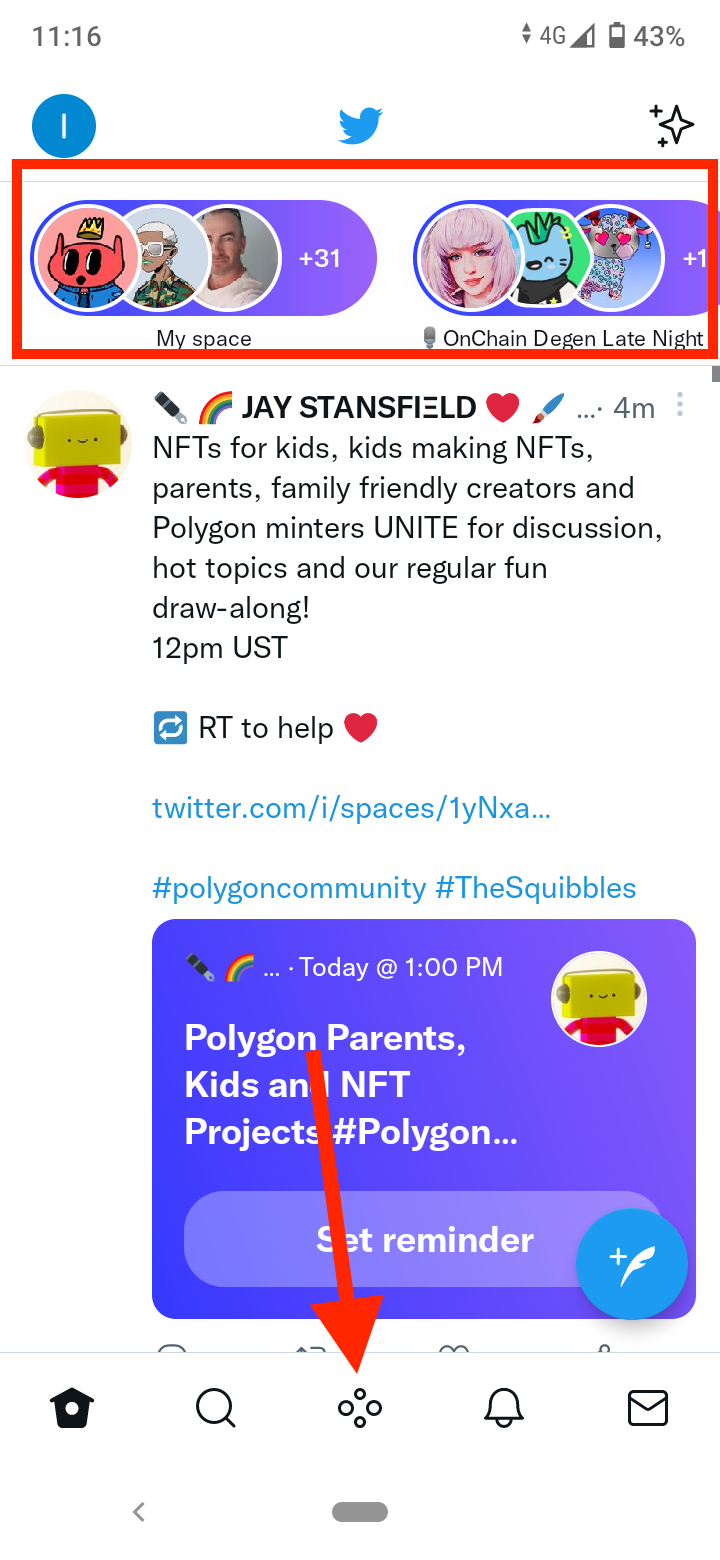 If you've received a DM or see a Tweet with a Spaces link, just tap on it.
If the Spaces is scheduled in the future, you will see the button 'Set reminder which will send you a notification to remind you to tune into the Spaces when it starts.
Tap on a Space to see the host and participants.
To listen to the Spaces, tap on the 'Start listening' button below all the member list.
If you want to ask to join the conversation, tap on the 'Request' button at the bottom-left corner.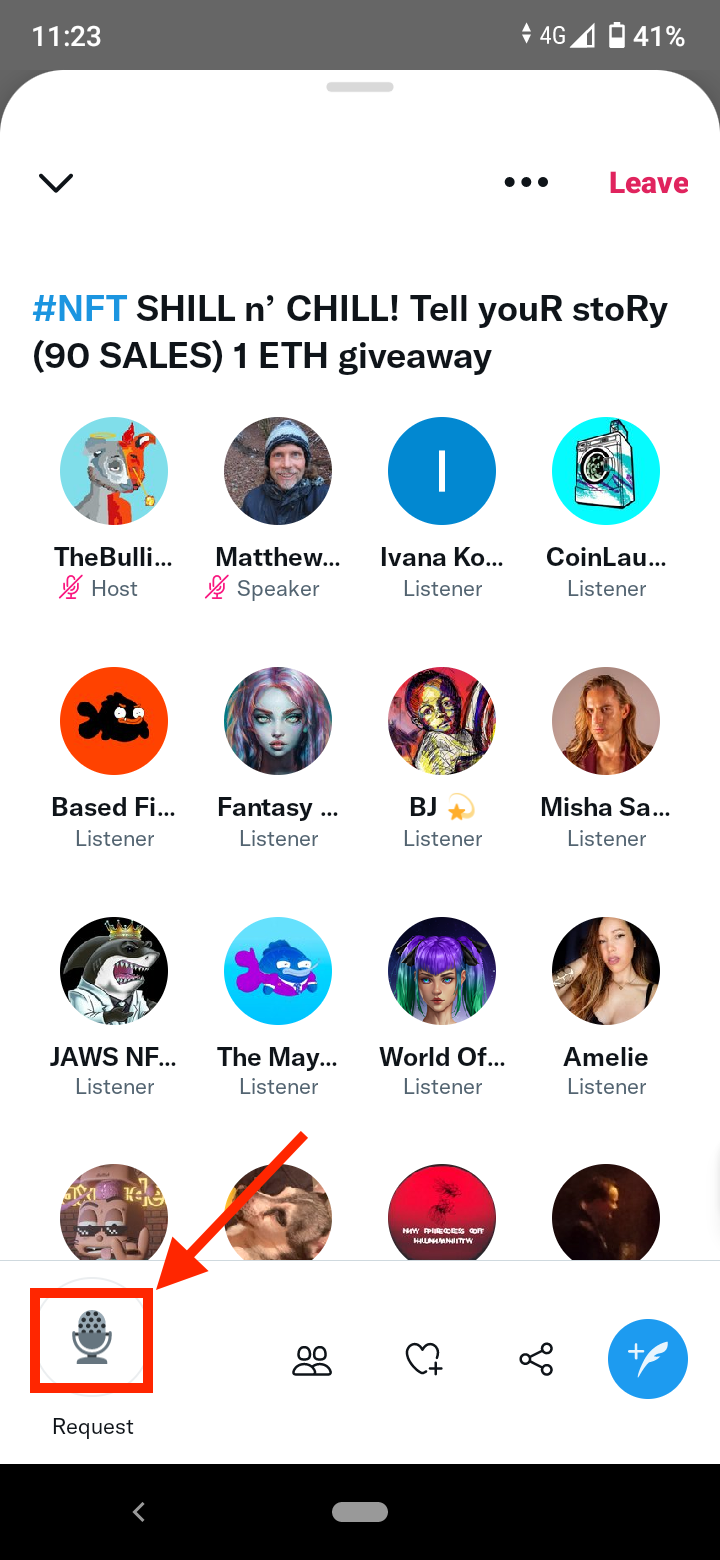 If you are approved to speak, you'll see "Speaker" below your profile picture, instead of "Listener. When you are ready to speak, tap on the microphone to unmute yourself and start speaking.
You can also react to the Spaces by tapping on the 'heart' icon at the bottom and choosing one of the reactions.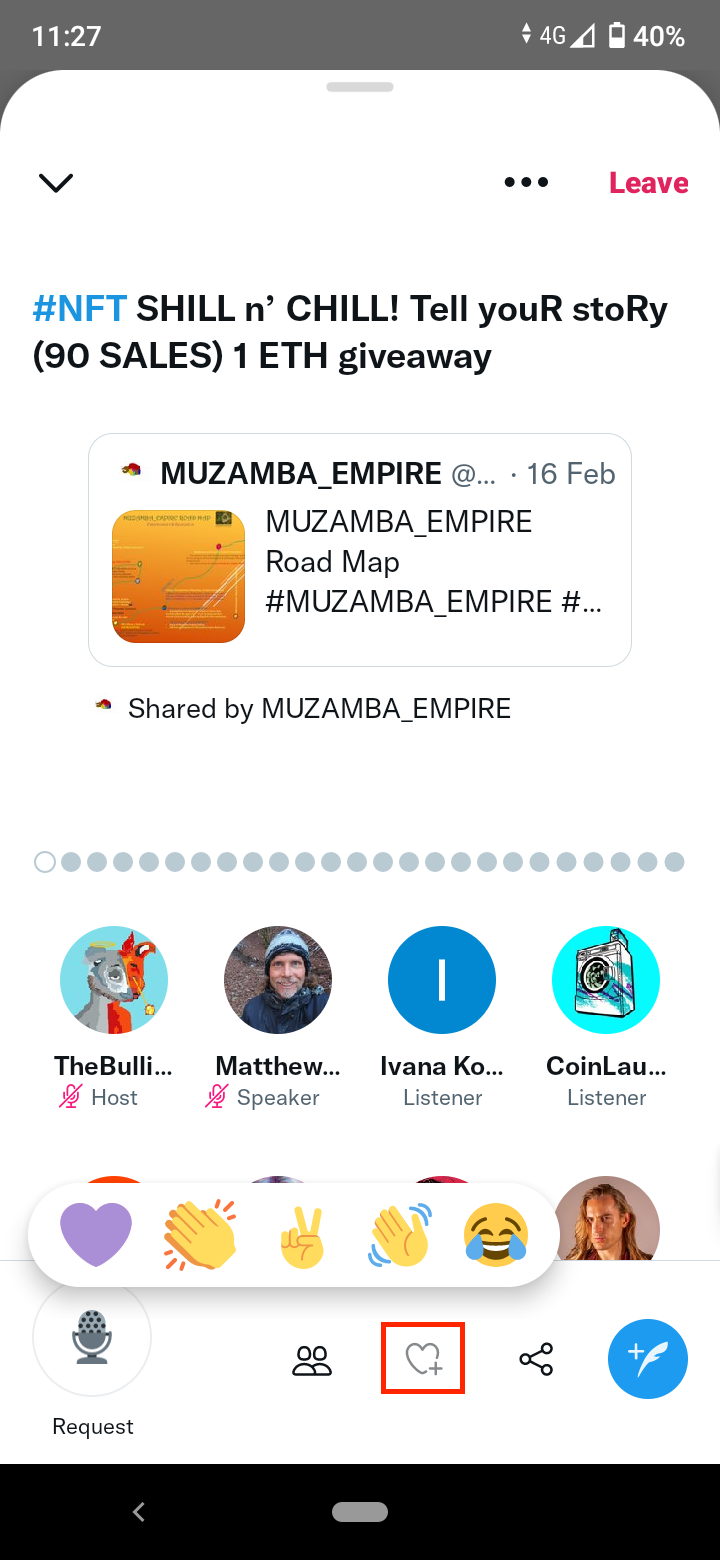 Additionally, you can also share a link of the Spaces via DM or copy the link to send it.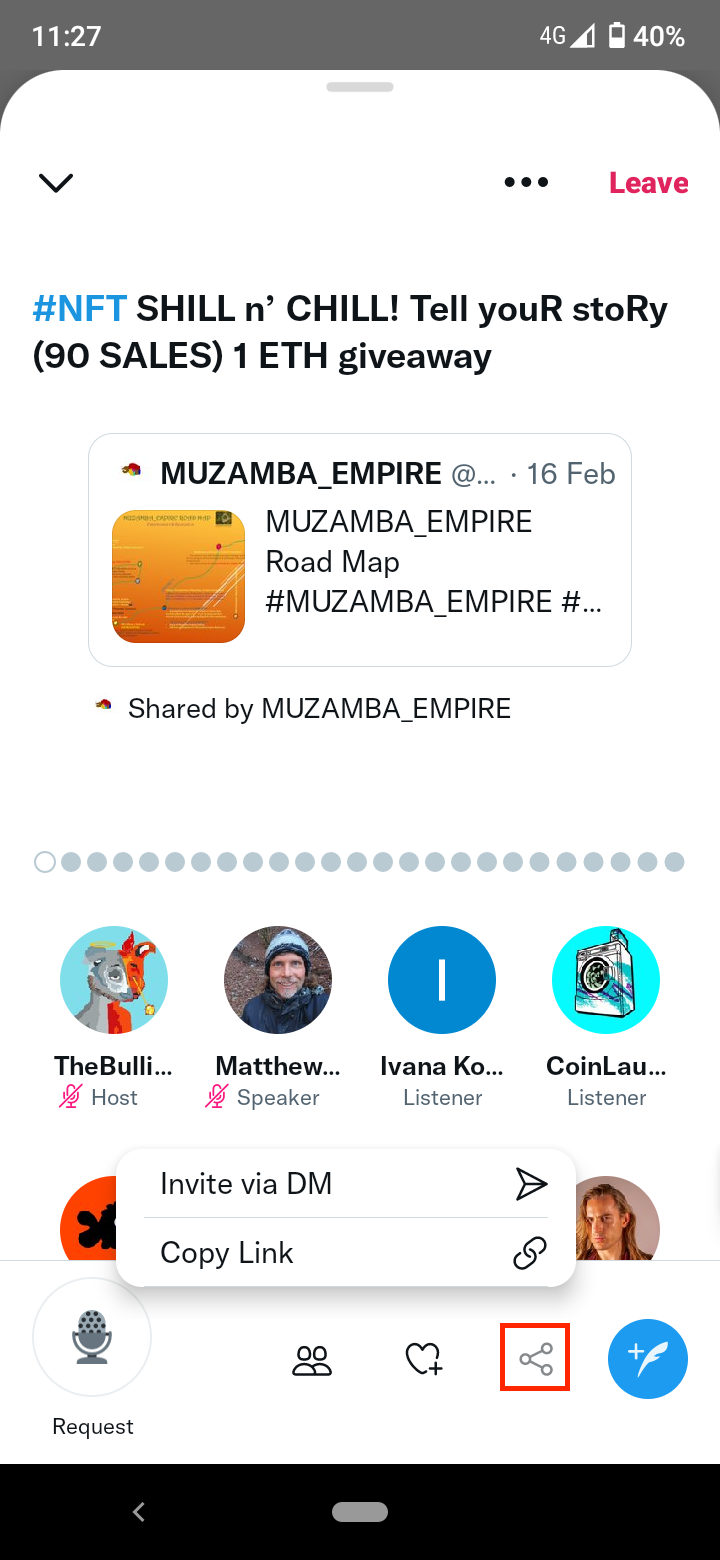 Finally, you can Tweet about the Spaces if you tap on the 'compose' icon at the bottom-right corner.
If you want to leave the Spaces, just tap on the red 'Leave' button in the top-right corner.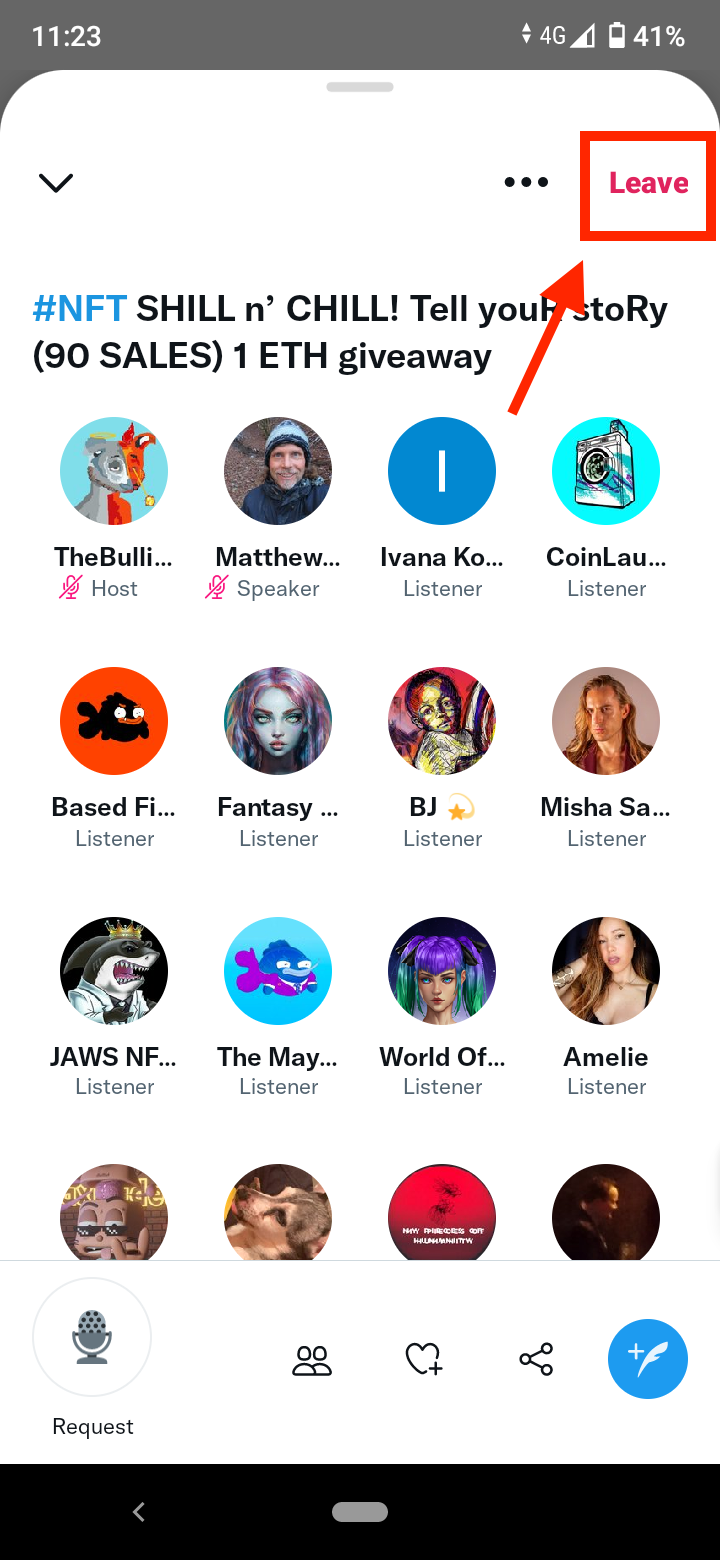 How to find and join Spaces on desktop
The web version doesn't display the Fleets section, nor does it have the Spaces icon (4 circles forming a diamond).
To Search and join Spaces on desktop, you need to go to the search bar and enter 'filter:spaces' string along with a keyword that is relevant for the topic of the Spaces, for example 'filter: spaces nft'.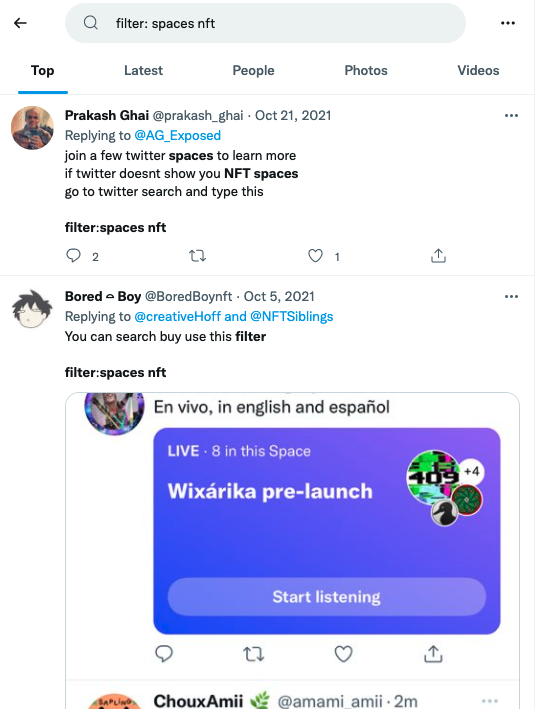 If you like learning about Twitter's cool new features, check out also how to set your NFT as a profile picture.
Frequently Asked Questions
How do you create Spaces on Twitter?

To create a Space, long-press the new tweet button - a feather with a plus sign at the bottom right-hand corner. Then select the 'New spaces icon' (the diamond made of circles, or cluster of dots).

When you first create your Space, your mic will be off. When you are ready to start speaking, tap 'Start Your Space'.

Who can see my Space?

Because all spaces are public like Tweets, anyone can join your Space as a listener even if they don't follow you or without being listed as guests in the Space.

Can I schedule a Space?

You can schedule a Space up to 14 days in advance. You can still have impromptu Spaces in the meantime, but can only have one upcoming scheduled Space.

To schedule a Space, open a new Space, tap on 'Schedule for later' and pick the date and time when you'd like to schedule your Space to go live.

You will receive push and in-app notifications reminding you to start your Space on time. Also, people can set reminders for your scheduled Space to be notified when it starts.