Ivana Kotorchevikj
For a few months now, Twitter has been a front where cryptocurrency investors have been flaunting their big crypto purchases.
Many Twitter users have been promoting their NFT purchases and collections with unique profile pictures — a trend that spread like wildfire among celebrities and athletes as well.
To keep up with the trend and give its users what they want, on January 20, Twitter rolled out a new feature that enables NFT owners to showcase their collection by customizing their profile. You can also check out the Tweet with the official update.
If you are a proud owner of NFTs (Non-Fungible Tokens), you can now show them off with a hexagon-shaped profile picture on your Twitter profile.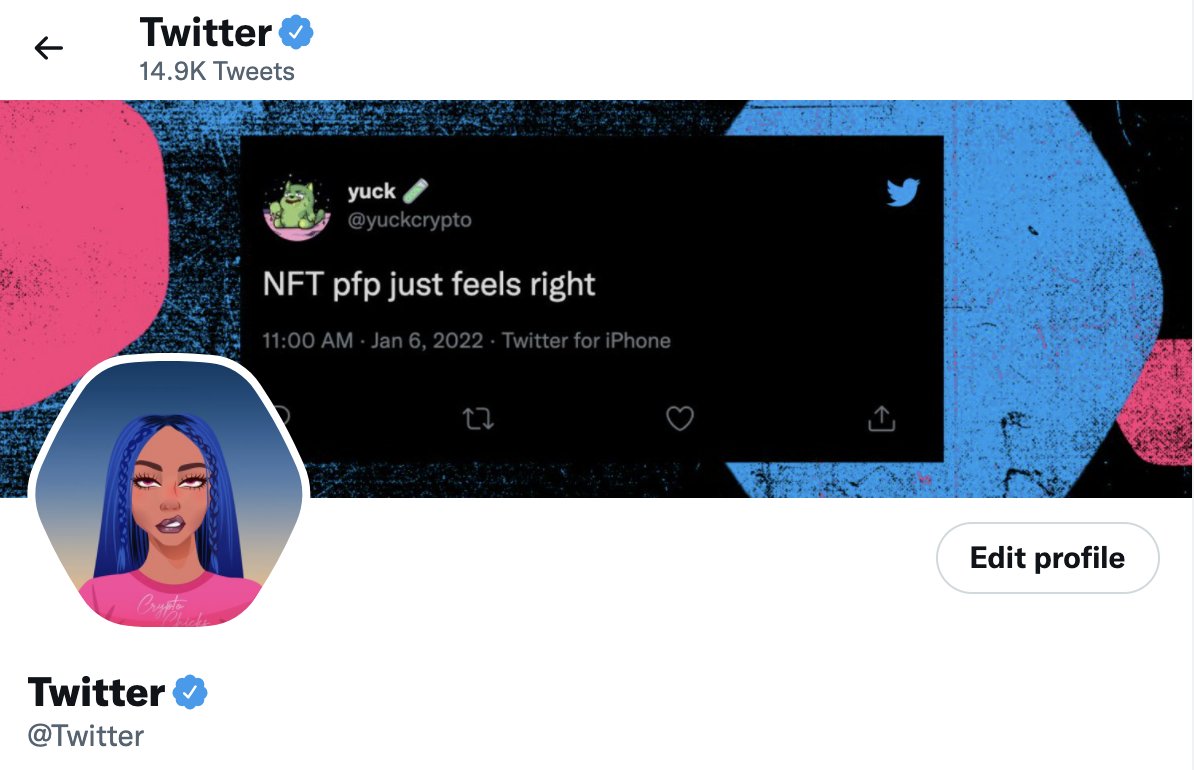 What is an NFT profile picture?
The NFT pictures are hexagon-shaped profile pictures on Twitter only available to NFT owners, presented in quirky cartoon artwork. Also, you can't just change from the standard circle on Twitter with any old picture — it has to be an NFT picture.
There is another catch. The hexagon-shaped NFT profile picture is available only for subscribers to Twitter's premium Blue service on iOS (iPhone) only. However, users' hexa-shaped profile pictures can be seen across all platforms.
Twitter Blue is a paid-subscription service Twitter launched last year, which gives people access to premium and unreleased features, not available to ordinary users. If you have Twitter Blue, you can edit published tweets, read ad-free news, upload longer videos, and as the newest feature, connect your crypto wallet and choose an NFT to upload as your profile pic on Twitter.
Currently, the NFT profile picture feature only supports static images, JPEG, or PNG files. Also, these NFTs have to be minted on the Ethereum blockchain, not Polygon or any other.
You can also take a look at the video tutorial explaining the steps on how to set your NFT as a profile picture on Twitter:
If you have checked off all conditions above, this is how you get the NFT hexagon-shaped profile picture.
First, you need to link your mobile crypto wallet to Twitter. You can only do this through Twitter Blue and on iOS devices for now. You can't access the hexagon-shaped picture from Android and desktop.
Currently, Twitter supports the following crypto wallets:
Argent
Coinbase Wallet
Ledger Live
MetaMask
Rainbow
Trust Wallet
To connect your crypto wallet to your Twitter account:
Open the Twitter app on your iPhone and go to your profile.
Tap on 'Edit profile', then tap on the profile picture icon and select 'Choose NFT', instead of choosing an image.
Click on 'Connect my wallet' and from the list of supported wallets, select your crypto wallet.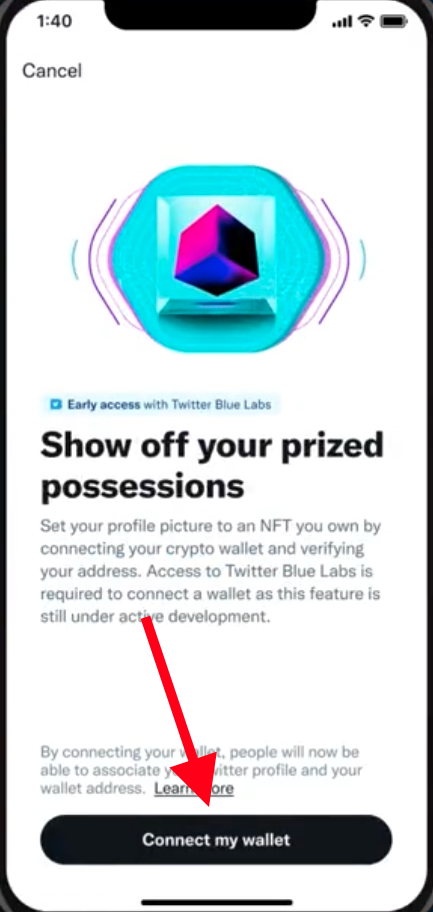 Twitter should automatically connect with the app you selected and ask for permission to view your public wallet address, and generate a verification request message to your wallet address. Next, you'll be asked to confirm that you hold the private keys of your crypto wallet and complete a signing request which will include your Twitter handle. You can do this within your crypto wallet app or by scanning the QR code on the screen.
When you've connected your wallet, you'll see a gallery of all the NFTs in that wallet on Twitter. Select a supported NFT you'd like to use as a profile photo, press 'Done', and 'Save' to confirm your choice.
Your Twitter profile picture will appear in a hexagon shape that identifies you as the owner of that NFT.
If you want to see your NFT details, tap on your profile picture and tap 'View NFT Details'. Here you can see information like the NFT's Creator, Owner, Collection, Properties, and more.
Important Note: Twitter will never request funds from your crypto wallet, nor will it request your private key or seed phrase.
Don't accept any transfer requests unless you know the transaction. Also, never share your private keys or seed phrases anywhere, including on Twitter.
Twitter stores your public address to ensure that it continues to hold the NFT you set as your profile picture.
If you want to learn more cool features about Twitter, check out how to download photos from Twitter and how to access the auto-captions feature on Twitter videos.
FAQs
What does setting up an NFT profile picture mean?

If you set up an NFT profile picture on Twitter, people will be able to associate your Twitter account with your connected wallet's public crypto wallet address.

Your Twitter account will be associated with your current and historical crypto wallet transactions and holdings, including all other NFTs in that wallet.

Can I connect multiple crypto wallets at a time to set up an NFT profile picture?

You can only connect one crypto wallet to your Twitter account at a time.

If you've already set up an NFT profile picture, but would like to use another NFT from a different wallet, just connect that wallet to your Twitter account. Go to 'Settings' under Edit profile, click your profile picture, and select 'Use another wallet'.

How do I remove my NFT profile picture?

If you no longer wish to have an NFT as your profile picture, simply change your profile picture to remove your NFT.

What happens if I sell or transfer the NFT in my profile picture?

If you sell or transfer the NFT in your profile picture, the hexagon shape of the profile picture will return to a circle. The image will remain the same as the NFT you previously owned, but it won't show any NFT details suggesting your ownership.