Ivana
We can learn a lot about a person from their Instagram activity. There are few people who would dare say that they don't have anything to hide in their Instagram search activity.
Whether we admit it or not, many of us have done some snooping on Instagram on people we shouldn't have. You may have found yourself in a situation where someone was peeping over your shoulder into your search activity. Or perhaps a friend asked to borrow your phone to search for a particular person on Instagram, and the inevitable search history pops up in your Instagram search.
Or maybe, you have logged into another person's phone into your Instagram account and want to delete all traces of your logging into their phone. Or perhaps you just don't want to show your active status for other people to see.
Whatever you are trying to hide or delete from your Instagram activity, you'd be relieved to learn that there is a solution for all the above situations.
Read on to learn how you can delete your activity on Instagram.
How to delete your search activity on Instagram
To delete your search activity on Instagram via phone, follow the steps:
Go to your Instagram profile.
Tap on the hamburger menu in the top-right corner of the screen.
On the pop-up menu, select "Settings", and then tap on "Security".
Once on the Security page, scroll all the way down and tap on the tap on "Search History".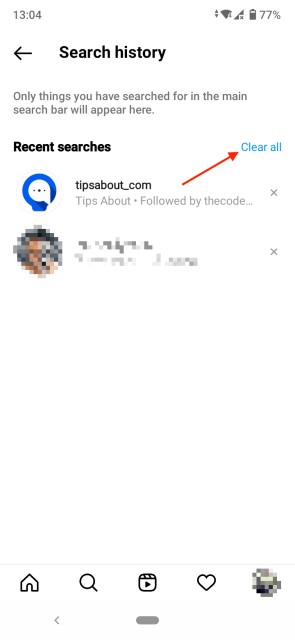 Here you'll see all your recent searches. Tap "Clear All' in the top-right corner to delete all search history.
Alternatively, you can delete specific (most embarrassing) searches from the list by clicking on the "x" symbol next to each of the searches.
Another quicker way to delete your search history is to go directly to the search tool. Here in the top-right corner, you'll see "See All". Here you can also delete specific searches, or click on "Clear All" button if you need to obliterate your entire search history on Instagram.
To delete your search activity from the Instagram web browser:
Go to your profile on Instagram via a web browser.
Click on your profile photo in the upper right corner of the screen.
Go to "Settings" and click the "Privacy and Security" tab on the left-hand-side menu.
Go to the "Account Data" section and click on "View account data".
Under the "Account Activity" tab > "Search History" click on the option "View All."
Click "Clear Search History" and "Yes, I'm Sure" to delete the list of searched Instagram handles.
How to delete your login activity on Instagram
To delete any trace that you've logged into Instagram from a specific device:
Go to your Instagram profile and tap on the right upper corner hamburger menu, which will take you to "Settings".
On the settings page, tap on "Security".
In the Login security section, tap on "Login activity". Here you'll see all the places and devices from which you have logged into Instagram.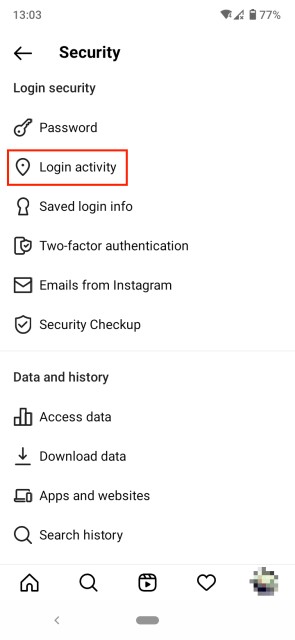 To delete a login activity, tap on the three dots next to each of the activities, click on the "Log Out" button on the screen, and then "Okay".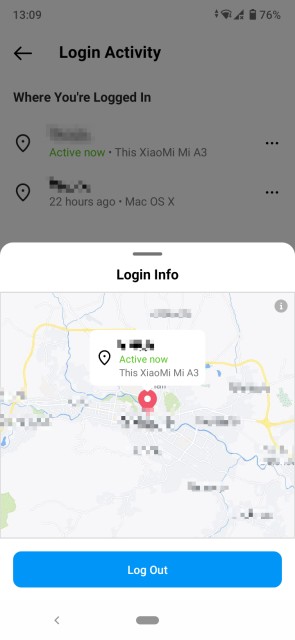 How to turn off Active Status on Instagram
Open the Instagram app.
On the screen, tap on your profile picture.
Click the menu icon on the top right-hand corner.
Go to "Setting" and then "Privacy".
Under the Interactions section, click on "Active Status".
Next to the "Show Activity Status" option, toggle the button off.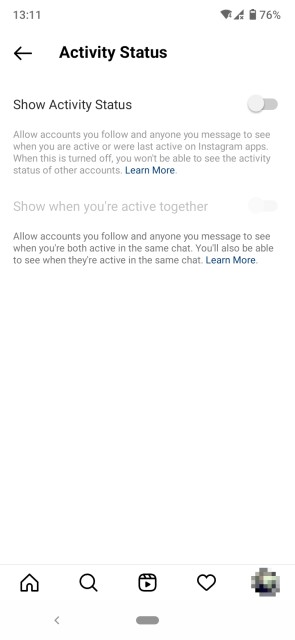 Instagram registers all our activity, whether we search for someone, open the app, or log into other devices. But luckily, it also provides ways to wipe clean our search or login history and spare ourselves unwanted or embarrassing situations.
Apart from deleting and hiding your activity on Instagram, you can also limit how other users see and interact with your profile and posts. If you don't want people to see the likes on your posts, you can hide the likes on your already posted and future posts.
Also, you can choose who can and can't comment on their Instagram posts by restricting someone's account without blocking them.