Ivana Kotorchevikj
Although AirPods are Apple products and are built primarily to be used with an iOS device, you can connect them and use them with an Android phone. AirPods or AirPods Pro are Bluetooth headphones, which means they rely on Bluetooth to connect to a device; they can be paired with any Bluetooth device, or even Windows.
Although you can use Apple AirPods with an Android phone, there are several features that are reserved only for Apple devices - iPhone, iPad, or a Mac, such as Siri, checking the battery life, automatic ear detection, and automatic switching between devices.
Nevertheless, there's a way to check the AirPods battery on Android. Keep on reading below to learn what it is.
How to check the battery status of your AirPods on an Android phone
There's no built-in way to check the AirPods battery stats on an Android device.
This is because connecting AirPods to non-Apple devices is done through manual pairing. However, you can still check AirPods battery stats with the help of a third-party app found on the Google Play Store.
These apps allow you to check the battery status of AirPods and other wireless devices. To check AirPod battery levels on an Android phone, first, open the Google Play Store and search for "AirPod battery app". There are many options to choose from, but in the steps below, we describe the steps with the AirBattery app.
First, pair your AirPods with your Android device.
Then, download and install the AirBattery app.
After installing, go to 'Apps and notifications' in settings and open the AirBattery app.
Open the Advanced section and tap on 'Display over other apps'.
Toggle on the switch next to 'Allow display over other apps'.
If you see the power saving prompt, tap on 'Ignore'.
Then, open the AirBattery app and choose your AirPods model.
Next, open the lid of your AirPods charging case with your AirPods inserted.
The battery and charging status of your AirPods and AirPods case will appear on the pop-up card on your Android device.
Note: If you can't see the battery status, try closing the AirPods case and opening it again. Also, make sure the AirPods case isn't too far away from your phone.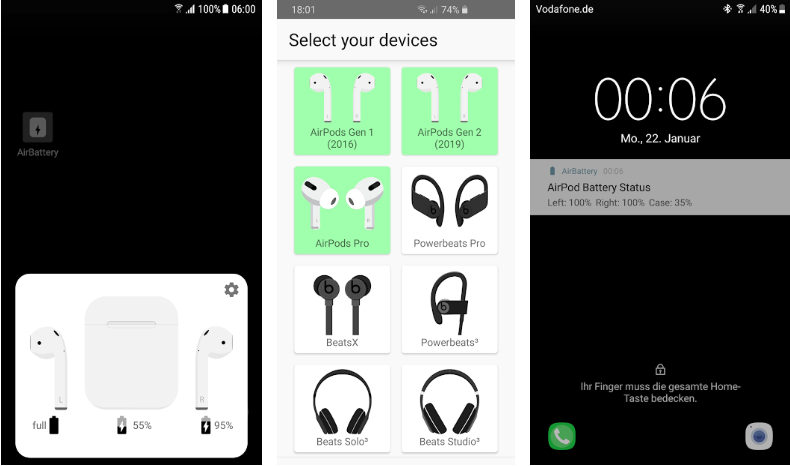 Can I use other AirPods features on my Android phone?
As we mentioned earlier, you can use most of the AirPods features on your Android device, except for Siri and the Fit Test. You can't ask Siri questions on your Android Phone, as it has its own virtual assistant.
Also, if you've replaced one of your AirPods, there's no way to use the Fit Test function to find out the correct size tips on Android, as it's only available. You'll have to do trial and error to replace your AirPod Pro tips on an Android phone.
Other AirPod features work on an Android phone, but you'll need to activate them with the stem buttons on the AirPods. For instance, if you want to turn on active noise cancelation on iOS or macOS, you can do it in the control center, but there's no such option on Android.
To use other AirPod features on an Android phone:
Active noise cancelation: Squeeze the stem sensor until you hear a chime.
Transparency mode: Squeeze the stem sensor until you hear a chime.
Play/pause music: Single squeeze.
Skip a track: Double squeeze.
Play previous track: Triple squeeze.
Bonus read: How to Fix: AirPods Randomly Connect
Frequently Asked Questions


Why won't my AirPods connect to my Android?

If your AirPods can't connect to your Android, there may be several reasons. Their battery could be too low or there may be an issue with the Bluetooth. Try restarting your Android device, updating the software or resetting the connection.

Can I rename my AirPods on my Android?

Yes, you can! To rename your AirPods and any other Bluetooth device on Android, go to the Bluetooth settings, select AirPods, tap on the three-dot menu and then select 'Rename'.

Can I use my Android to find my AirPods?

There's a workaround way to find your AirPods on your Android if you have one of your AirPods. Go to the Bluetooth settings and put the AirPods in pairing mode. If it connects, then your AirPod is within 30 feet. Additionally, you can use a third-party app like Wunderfind to find your AirPods on your Android.