Key Takeaways
Instagram does not have a feature allowing users to archive Reels; however, you can remove them from your profile grid.
Facebook, on the other hand, allows users to both delete and hide their Reels.
If you're wondering if you can archive Reels on Facebook or Instagram, the answer is both yes and no.
Meta, formerly known as Facebook, introduced Reels in 2020 for Instagram, and 2021 for Facebook.
The short videos came as a response to TikTok blowing up massively during the pandemic, and the world's most known platforms had to keep up by introducing a similar feature.
Reels are being used each day widely by both Facebook and Instagram users; the feature is getting expanded since there was an official announcement by Meta notifying creators that they will be able to monetize their posted Reels.
If you posted a Reel, but you wish to archive it for Instagram or hide/delete the Reel for Facebook, check out the step-by-step process listed below.
Check out: How to Find an Old Reel on Instagram.
How do I archive Reels on Instagram?
Even though Instagram allows you to archive your posts, stories, and videos, they, unfortunately, don't have the same feature for Reels videos. Instead, all you can do to remove a Reel, but not delete it permanently, is remove it from your profile grid.
Follow these steps to learn how to remove Reels from your profile grid.
Open the Instagram app on your smartphone, and click on your profile icon in the bottom-right corner to open your Instagram profile.
Tap on the 'Reels' feature, and open the Reel from your account that you wish to remove.
Note: Hiding a Reel from your profile grid doesn't delete or archive your Reel. It will still show up in the Reels section to other Instagrammers. However, it won't show up on your profile.
Once you've opened the Reel you need to archive, tap on the three horizontal dots in the right part of the screen.
Tap on 'Manage', and tap on 'Remove from Profile Grid'.
Bear in mind that after you tap on 'Remove from Profile Grid', you will not receive a prompt asking you to confirm you're sure you want it removed.
Note: After removing a Reel from your profile grid, it won't show up on your Instagram account. However, it will not end up among your archived content, since the archive feature is unavailable for Reels.
Also, after a Reel has been removed from the profile grid, bear in mind that you won't be able to bring it back like the rest Instagram posts from the Archive section. Check out our How to Add Reel to Profile Grid on Instagram article.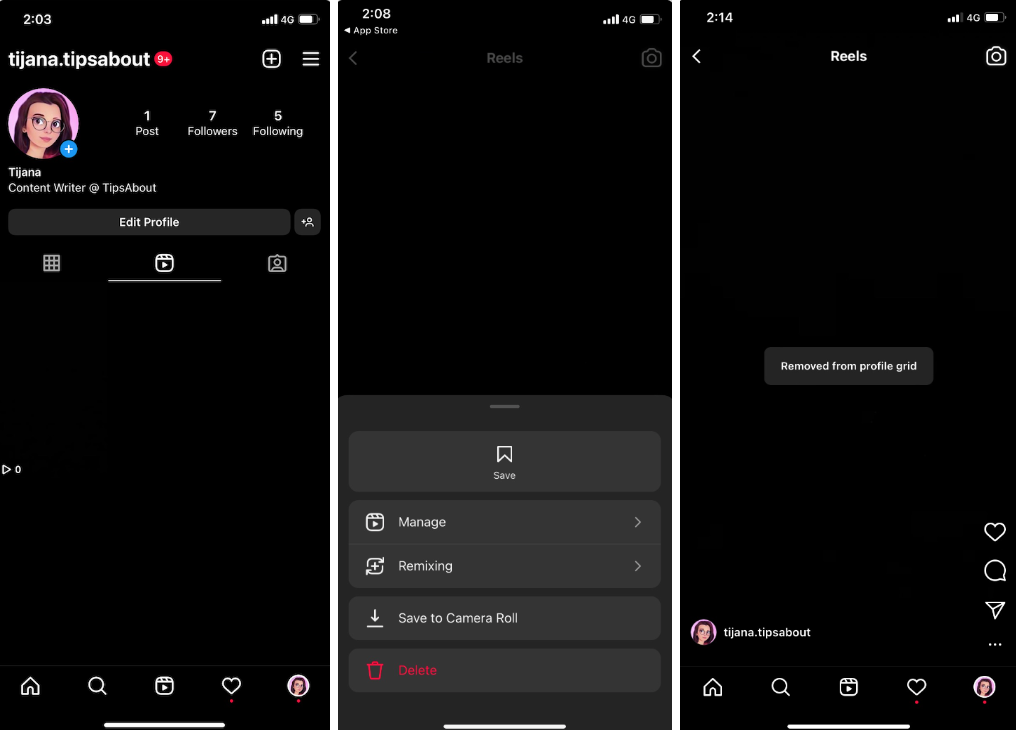 How do I archive Reels on Facebook?
Facebook doesn't have a feature named 'archiving'; however, you can hide or delete Facebook Reels.
Follow these steps:
Open the Facebook app, tap on the three horizontal lines, and from the menu, tap on 'Reels'.
In the top right corner, tap on the circle with your profile picture.
In the 'My Reels' menu, you'll see all your posted Reels.
Find the Reel you wish to hide or delete, and tap on the three-dots button in the lower-right corner of the screen.
If you wish to hide the Reel, and not delete it, tap on 'Edit Audience'. Follow the instructions, and either select 'Only Me' - if you want to hide it from everyone, or 'Custom' - to enter specific users you wish to hide it from.
If you wish to completely delete your Reel, tap on 'Delete'. You will need to confirm once again - tap 'Delete' again.
Note: Deleting a Reel with original audio that has been used by other users, means that the audio will be removed from all other Reels.
Conclusion
Archiving Instagram Reels is a real hassle, and for some reason, Instagram hasn't announced any changes about whether such a feature will be added.
Facebook Reels, on the other hand, can easily be managed, which is truly convenient.
If you liked this article, check out: Facebook Reels Not Showing (Fix It) and How to Find a Reel You Saw on Facebook.