Ivana Kotorchevikj
WhatsApp is a popular messenger app that is used by more than 2 billion monthly active users globally. Users of the app can communicate with their friends and family by creating individual or group chats.
You can use WhatsApp to call and message people, send photos and videos to your contact, and share a contact or document. But as one of its convenient features, WhatsApp allows you to share your live location with your contacts. This is especially useful when you are meeting with friends in a new restaurant or bar while eliminating location confusion. You can easily share your live location of the particular place without calling people to explain your whereabouts.
When you want to share your location, you can choose to "Send current location", which shares only your current location or "Share live location", which updates as you change locations. If you choose the latter, you can also define for how long you want to share your location, opting for the duration times of 15 minutes, 1 hour or 8 hours.
The good news is that the messenger app users can share their location both on an iPhone or Android device. Below we are sharing a step-by-step guide on how to download WhatsApp and set up your account in order to start sharing your live location.
Steps to share your live location
Step 1 - Download and install the app
First, if you haven't installed WhatsApp, go to the App Store or Play Store, find the app and follow the installation instructions. WhatsApp will ask for your phone number and name to register your application. You can also upload your profile picture and status to your WhatsApp account.
You'll find your contacts when you tap on the "New Message" icon to create a new chat. The contacts displayed in the WhatsApp contact list are all the contacts in your phonebook who have already downloaded and are using the app.
After you've installed the app and successfully completed verification, make sure to turn on contact synchronization in the privacy settings so all your newly added contacts will automatically appear in your WhatsApp contact list.
Step 3 - Enable location permissions for WhatsApp
To enable location permissions for WhatsApp, go in your phone's Settings, into Apps & notifications find WhatsApp, tap Permissions and then select Location to turn it on.
Once you have the WhatsApp application installed on your device and contact synchronized, select the preferred contact to send a message. You can also create a group chat to send a single message to multiple contacts at once.
Step 5 - Share your location
The previous steps were identical regardless of whether you are using an Android or iPhone. The only difference between Android and iPhone phones when it comes to sharing your live location in WhatsApp is the icon you tap in order to start sharing your live location.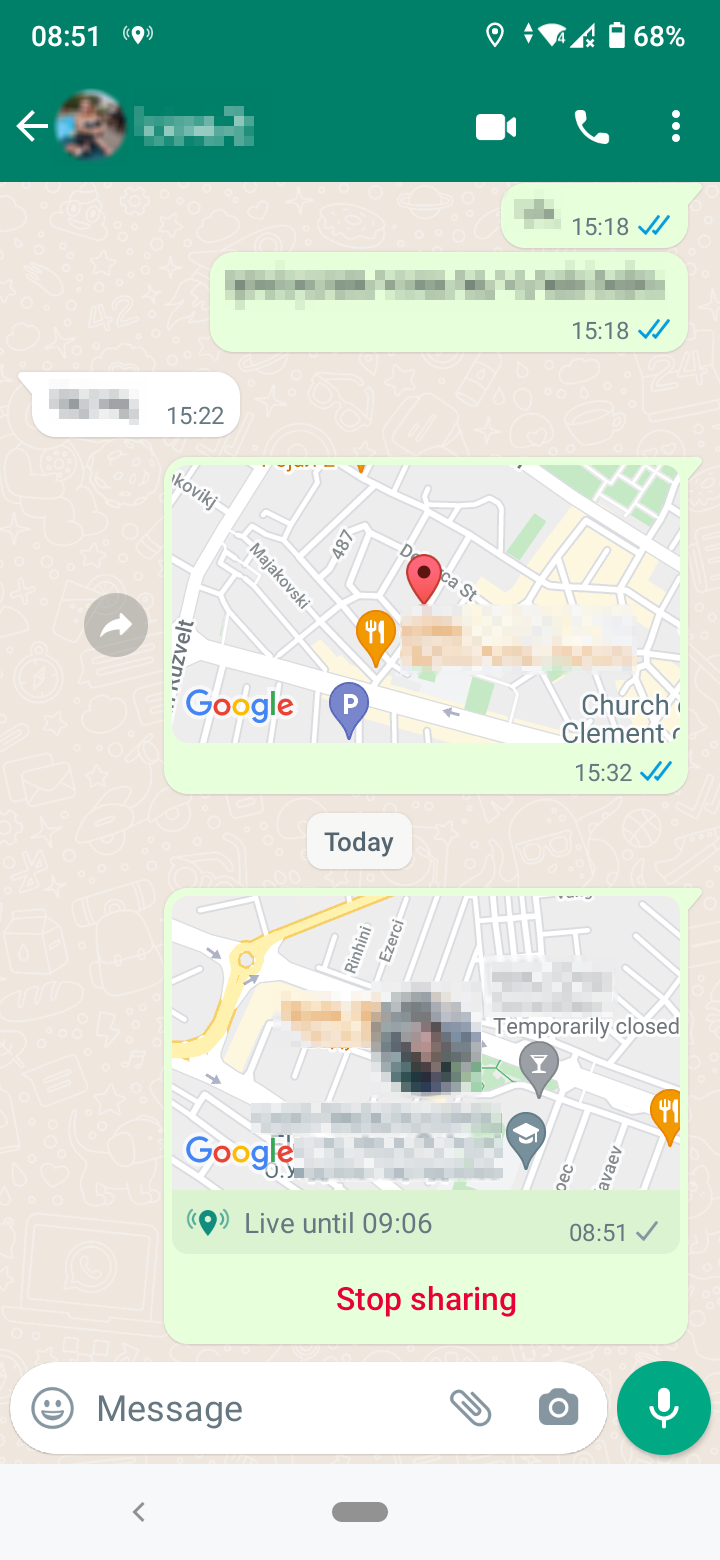 Android users
For Android users, when you enter in the individual or group chat, tap the "Attach" icon found to the right of the message box, go to Location, tap Share live location, and Select the time frame.
iPhone users
For iPhone users, when you go in a specific chat, tap on the "+" symbol to the left of the message box, go to Location, click Share Live Location and Select time frame.
🔎 Explore how to make Google Maps default on iPhone.
How to stop sharing your live location
To see everyone that you are sharing your location with, go to Settings, in Account, tap Privacy and select Live Location.
If you want to stop sharing your location, just go to the individual or group chat, tap Stop sharing and select STOP.