Key Takeaways
To send voice messages on Viber:
Open the app and find the chat where you want to send a voice message.
Tap the microphone next to the chat.
Hold the button and speak.
Release the icon, and the message will be automatically sent.
Viber is one of the most popular messaging apps for secure communication.
Since its inception a decade ago, the app has been updated with multiple features that enable smooth and easy communication between users.
Alongside the options for sending images, sending location, and hiding and unhiding Viber messages, there is the option for sending voice messages or audio files.
The audio message option is one of the most popular features offered by the messaging app. According to their official statement back in 2018, hundreds of millions of audio files are sent each day. For that reason, the company updated the audio file length, and in 2018 users could send voice messages with a duration of one minute.
"Since Audio Messages are one of Viber's most popular messaging features, with hundreds of millions sent every month, we've noticed that they often reach the maximum recording length. We understand that you need more conversation time, and therefore we have extended the recording length to 60 seconds, giving you a fresher, more enhanced sound quality."
Fast forward to 2021, the company decided to increase the length of the voice messages, even more, so now users can send Viber audio files that last up to 15 minutes.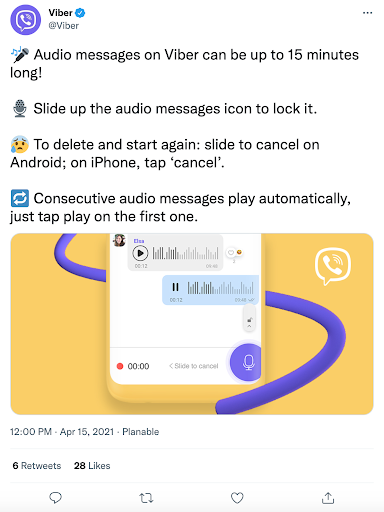 Sending voice messages is convenient for many users. Quite a few older users prefer sending voice files too since they don't require typing.
You should definitely give Viber voice messages a try if you have never done it before.
Just follow the steps below to learn how to do it.
How to send audio messages on Viber for iOS and Android
Open the app.
Tap on a conversation.
Tap on the microphone icon in the bottom left corner.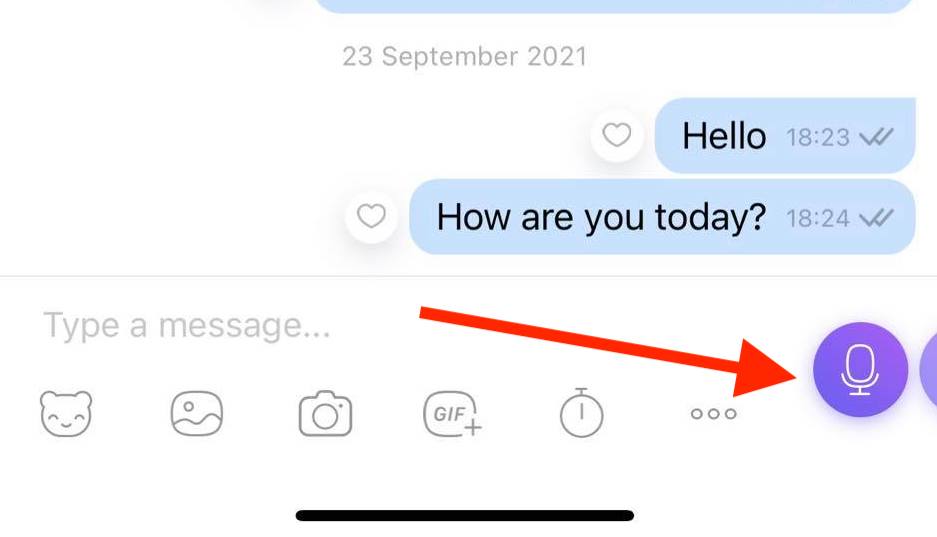 Start speaking and release to send the message.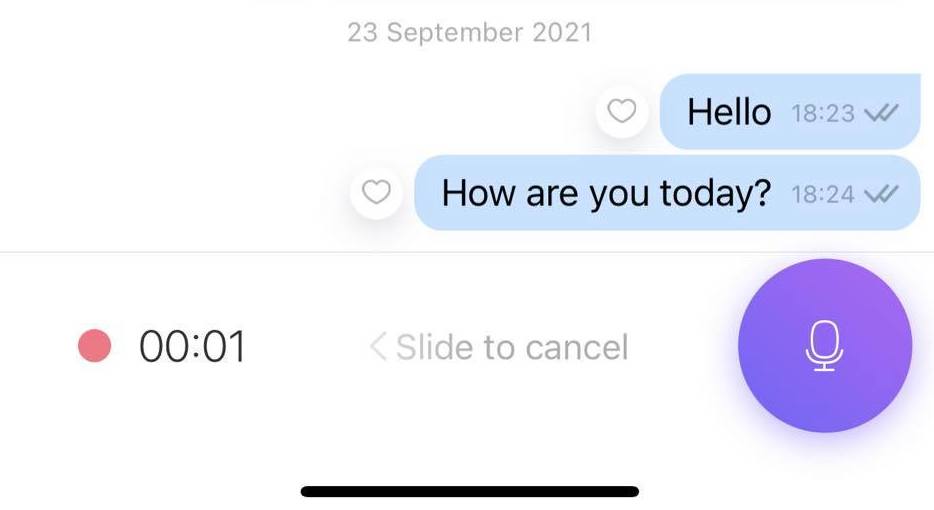 You can also swipe from the bottom up for hands-free speaking.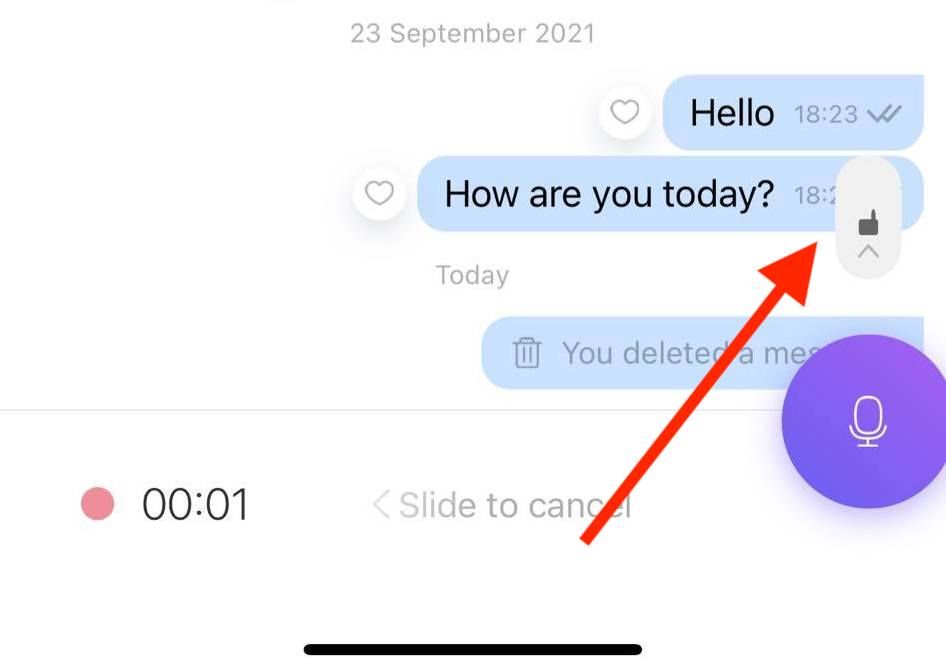 Swipe left to cancel the voice message.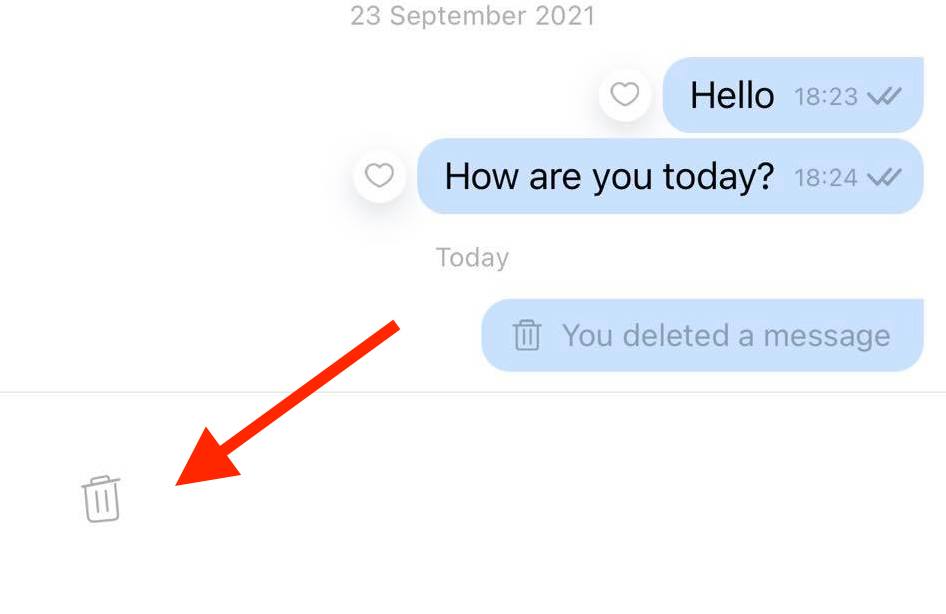 FAQ about Viber voice messages
How to forward audio messages on Viber
To forward audio messages on Viber, just long-press the message and tap on 'Forward'.
Where are audio messages stored in Viber?
The voice messages in Viber are stored in the Media, Links, and Files menu. To find the voice messages, just tap on 'Voice Messages'.
Long-press the Viber voice message to forward, delete or show in chat.
Are audio files encrypted in Viber?
You cannot be read by anyone, not even the company, with end-to-end encryption provided by Viber. This means that all files in Viber are encrypted, including voice files.
How to delete an audio message on Viber?
To delete an audio file in Viber, just long-press the audio file and tap delete.
What does the padlock on Viber audio files mean?
The small padlock allows users to record a message without the need to hold the microphone icon. This feature may come in handy for users who want to send long voice messages.