Ivana Kotorchevikj
If you are a passionate Twitch streamer, you know the pain when it's over. But luckily, you can save your streams through the VOD (video on demand) feature on Twitch, where your viewers can go to re-watch them.
In this post, you will find how to save the streams on your Twitch channel.
How to enable VOD on Twitch
Open Twitch and click on your profile icon in the top right corner.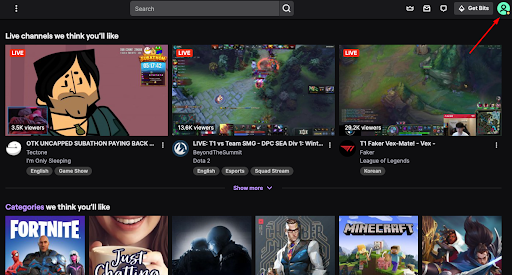 2. Go to "Creator Dashboard".

3. Click on "Settings" on the left-hand side and then click "Stream".

4. Go to the "VOD Settings" section and toggle on "Store Past Broadcasts".
5. You'll see a purple check appear on the toggle, confirming that it is enabled.

6. If you want to turn off the VOD feature, just toggle off the button.
Where to find and download your saved videos on Twitch
Now that you've enabled the "Store Past Broadcasts" function on Twitch, you may be wondering where to find your saved VODs. Follow these steps to find your past saved streams:
Click on your profile picture in the top right cornet and go to "Channel".
2. Select "Videos" from the horizontal list. Here you will see all the videos on your channel.
3. If you want to download your videos, go to "Edit Videos" on the right-hand side, which will take you to the "Video Producer" panel.
4. Alternatively, from the Twitch home page, you can click on your profile picture and directly go to "Creator Dashboard" and click on the "Content" drop-down menu on the left-hand side, and again select "Video Producer".
5. From here, select the video you'd like to download, and click on the three vertical dots next to "Watch". From the dropdown menu, select "Download".
6. It will take a few seconds for the video to process and prepare, and finally the download will begin.
Bonus read: Explore how to delete clips you and your followers saved on Twitch.
How long does Twitch store your broadcasts?
Twitch saves your past broadcasts for 14 days before they are deleted. However, if you are a Twitch Prime, Twitch Turbo or you are a Twitch Partner, your past streams will be saved automatically for 60 days before being deleted.
Why you should enable VOD on Twitch
As we mentioned previously, enabling VODs on Twitch allows viewers who were not able to tune into your live stream, to go back and watch the episode they missed out. Apart from that, saving VODs on your Twitch channel can motivate people to subscribe to your channel - increasing your number of subscribers.
Twitch offers a great feature with VODs to motivate people to subscribe to your channel. So if a person watches your channel, but they are not your subscriber, you can set your VODs so that only subscribers can view your past broadcasts. So if a viewer drops by on your channel and wants to see your saved streams, they have to subscribe to your channel.
Besides motivating people to become your subscribers, saving your VODs allows you to go back and analyze parts of the stream that you liked and use them to make awesome YouTube and social media videos.
If you also like using Instagram to live-stream and post videos, check out how to download your Instagram videos and reels.