Ivana Kotorchevikj
AirPods remain the most popular wireless earbuds, mainly because they are cordless, convenient and easily portable. They are ideal for everyday listening to music and chatting, but users have been asking if it's possible to use them as gaming headsets with Xbox One and Xbox Series X|S.
Although they are not a perfect substitute for a proper gaming headset, AirPods are a simple and easy-to-use alternative if you want to immerse yourself in a game.
So if you are looking to connect your AirPods to your Xbox, read on below. In this post, we'll cover how you can do that.
Can you connect AirPods to Xbox?
This commonly asked question by users has a bit of a complicated answer.
The simplest answer is that Xbox consoles don't work with AirPods.
The obstacle boils down to Bluetooth connectivity.
The issue is that Xbox consoles don't support the necessary type of Bluetooth connection for audio devices, which means it has no built-in option to pair Apple AirPods to the console. To make matters worse, it's also impossible to connect AirPods to the Xbox One controller headphone jack.
This is why AirPods can't be connected to Xbox One out of the box.
Additionally, AirPods are compatible with almost any Bluetooth connection, but it wouldn't be possible to use Siri with them if they're not connected to an Apple device.
However, the good news is that there's a workaround for you to use your AirPods on Xbox to talk to other players. The solution isn't seamless, but it does the trick if you want to connect your AirPods to Xbox and it's the closest solution if you need a quick headset alternative.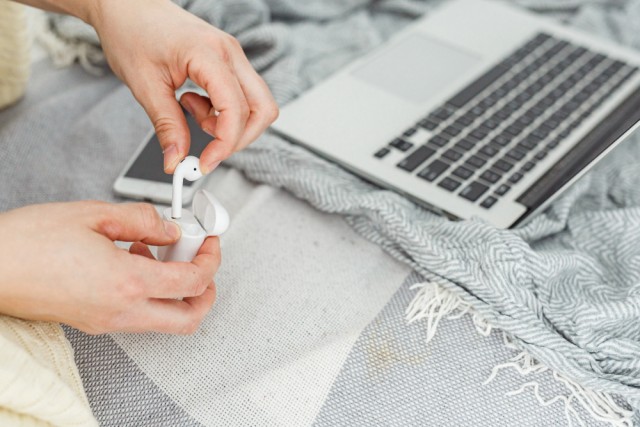 How to connect AirPods to Xbox One
Even though it's technically impossible to connect AirPods to an Xbox console or controller, you can still use them during an Xbox gaming session via the official Xbox app.
Although it's designed to stream a gaming session to your phone screen, the Xbox app also serves as a method to stream audio to an external output.
Note: The steps below work best if your AirPods are paired to an iOS device. However, Android phones and other wireless earbud brands will also do the trick.
The official Xbox app is available for iPhone, iPad, iPod touch, and most Android smartphones and tablets. Apart from using it to connect Xbox to AirPods, you can also use the app to:
Track Xbox achievements
Buy Xbox One games.
Send messages to friends in your Xbox Network.
This is how you can use the Xbox app to connect your AirPods to an Xbox console.
Download the Xbox app on your iOS or Android device.
Next, pair your AirPods to your iPhone or Android phone. Wait for the confirmation sound from your AirPods to make sure you have connected them.
Now, open the Xbox app.
Tap 'Sign in' and log in with the same Xbox or Microsoft account you signed in to your Xbox One.
If you've entered your Microsoft account into your phone previously, it will automatically appear as an option. If the displayed email associated with your Xbox One console is correct, tap on it.
Tip 1: If you don't have a Microsoft account or your phone doesn't recognize your account, tap on 'Add New Account'. You'll need to go through several setup steps in which you'll have to add your console to the app. Before adding it, turn your Xbox console on and sign in.
Tip 2: An Xbox and a Microsoft account are the same thing, although they are named differently on different platforms.
Tap on 'Let's play'.
Next, tap on the 'Parties' icon on the top-right-hand menu, which looks like a group of three people.
On the next screen, tap on 'Start a party', which will automatically create an Xbox party.
Tap on 'Invite to party' and select the names of your friends you want to add to your Xbox party.
Next, tap on 'Send invitation'. All invited friends should receive a notification of their invite on their Xbox One consoles or their Xbox app.
Now, put your AirPods on and start chatting with your friends. Your AirPods should deliver the audio and serve as your microphone. Now, you can continue playing as you normally would.
When you stop playing the game session or finish chatting, just tap on 'Leave party
Note: Keep in mind that using AirPods with your Xbox has certain limitations. You can listen to the audio from your video game. Instead, the sound from your console will be transferred through your TV and its built-in speakers.
Connect your AirPods to Xbox One using other apps
Apart from using the official Xbox app to connect AirPods to your Xbox One and chat with your friends, you can also do it using other apps.
You can use Discord, WhatsApp, Facebook Messenger, and Telegram to talk to your friends while you're playing an Xbox One video game.
Do AirPods work with Xbox Series X|S?
Although the Xbox Series X|S controllers are connected to the console via Bluetooth, unfortunately, they don't support Bluetooth for audio connectivity.
But you can still use your AirPods to chat with your friends using the Xbox App the same way you'd do with the Xbox One. Just download the Xbox app on your phone and sync your AirPods to it.
Additionally, you can buy a Bluetooth adapter to plug into your Xbox controller. This will provide Bluetooth audio capabilities that enable you to use AirPods with your Xbox Series X|S controller.
Explore also: How to connect AirPods to Dell laptop.