Emilija
One of the biggest social media platforms, Facebook, is tirelessly working on numerous Messenger features to make the user experience more fun and engaging.
Besides sending files in different formats, users can also send audio, effects, stickers, and even messages wrapped as gifts.
Users can send gift messages on Facebook Messenger whenever they want to wish someone a happy birthday in a fun and thoughtful way.
Furthermore, sending digital effects via Messenger will not cost you anything, and you can send them to anyone, anywhere, anytime.
If you are curious to learn how to send gift messages on Facebook Messenger, keep reading as this post will explain everything.
How to make a gift on Messenger
Sending gift-wrapped messages on Facebook Messenger is very easy; however, some users still struggle to find the option since it is not as visible as other messenger options.
Nevertheless, below is the step-by-step process that will show you how to find it.
Open the Messenger app and select a conversation.
Type your message and tap on the magnifying glass in the message box. From the suggested effect, tap on the gift effect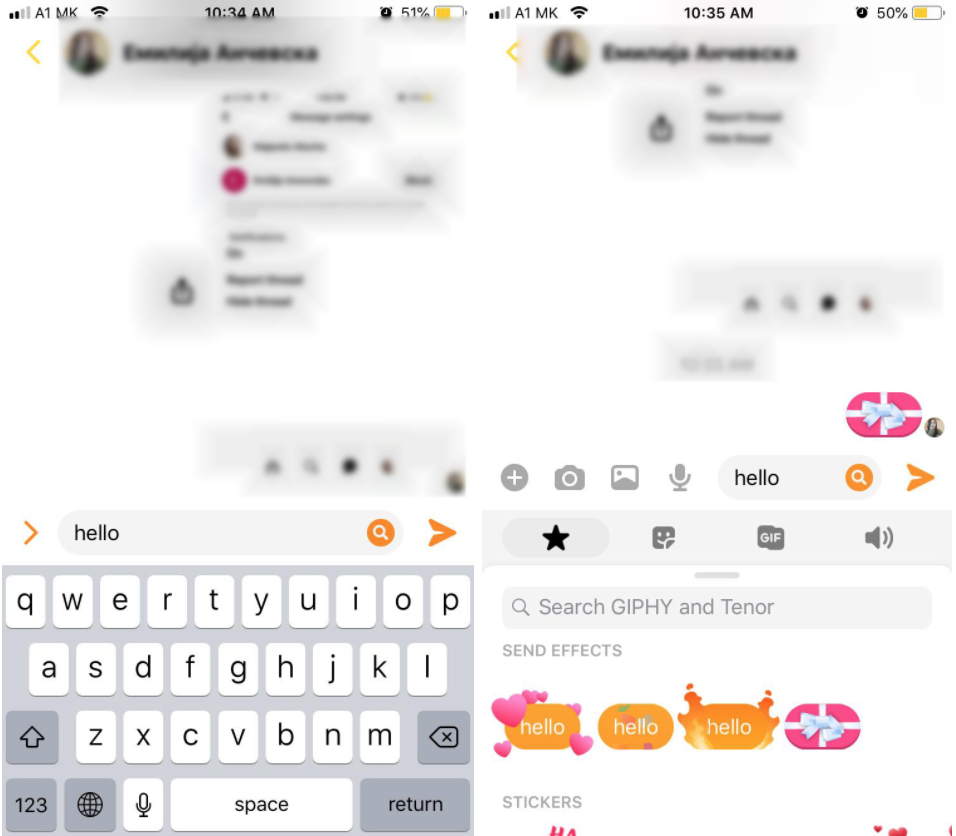 How to unsend a gift message
In case you have sent a gift message to someone by mistake, there is a solution for that, too - deleting the message.
Open Facebook Messenger.
Find the message that you want to un-send, and long press on it.
Tap 'More' and tap on 'Unsend'.
FB Messenger gift option not showing
The gift message option is rolled out globally, and every Messenger user should have access to it.
However, some users have reported that the option is not available for them or that when someone is sending them a gift message, they are receiving it as happy birthday (sent gift warped effect).
If you are experiencing a similar issue, there are a few things you can do:
Make sure that you have typed in something in the message box. Otherwise, the magnifying glass option won't appear, and you won't be able to access the feature.
The gift messages effect won't work if you send a message to a group.
The gift messenger effect won't work on the Messenger web version. It only works on the Messenger app.
Make sure that the app is up to date.
If you are the recipient of the gift message that cannot see the effect, try to apply the effect yourself and send a gift message back. Some users have reported that tricks and helped theme fix the glitches.
Bonus Messenger effects
Other entertaining effects are also built-in within the Messenger app, besides the gift wrapping effect. Users can send GIFs, videos, emojis even word effects.
In addition to the gift wrapping effect, users can add confetti, fire, and harts effects when sending their message. The process of applying these effects is the same as applying the gift message effect.
FAQ about gift message effect
Can I send an image with the gift message effect?

As for now, only text messages can be sent with the message wrapping effect.

How to send gift messages on iPhone?

The process is the same for both Android and iOs devices. Just follow the mentioned steps from above.