Ivana Kotorchevikj
Let's face it, Snapchat filters are the unsung heroes of our selfie game, turning average shots into eye-catching masterpieces in just a swipe. If you're looking to add a dash of glitz and glam to your snaps, you're in the right place. From radiant skin to show-stopping eyes, these filters are more than just special effects; they're your new go-to beauty assistants.
Buckle up, as we take you on a rollercoaster ride through the 12 must-try Snapchat filters for beauty in 2023. Get ready to elevate your selfies, wow your followers, and discover your new signature look!
Pretty
We are starting off the best Snapchat filters list with the simple and classic Pretty filter. Snapchat users often turn to the Pretty filter for its ability to delicately enhance their appearance. The lens achieves a natural yet polished look with its subtle skin smoothing, brightening, and gentle glow.
Golden Butterflies
Another Snapchatters' favorite beauty filter is the Golden Butterflies. The filter is so popular that there are dozens of results when you search Snapchat. However, the best and most used are the first two Golden Butterflies lens results.
The Golden Butterflies filter brings warmth and a look of serenity to your snaps and adds an enchanting touch to your portraits.
Natural Glow
As the name suggests, the Natural Flow filter helps you achieve that radiant look by adding foundation to your skin and smoothing the imperfections. Natural Glow is amazing when you want to take an up-close selfie snap without having to fuss over the small facial flaws you'd want to smooth over if you had a magic brush.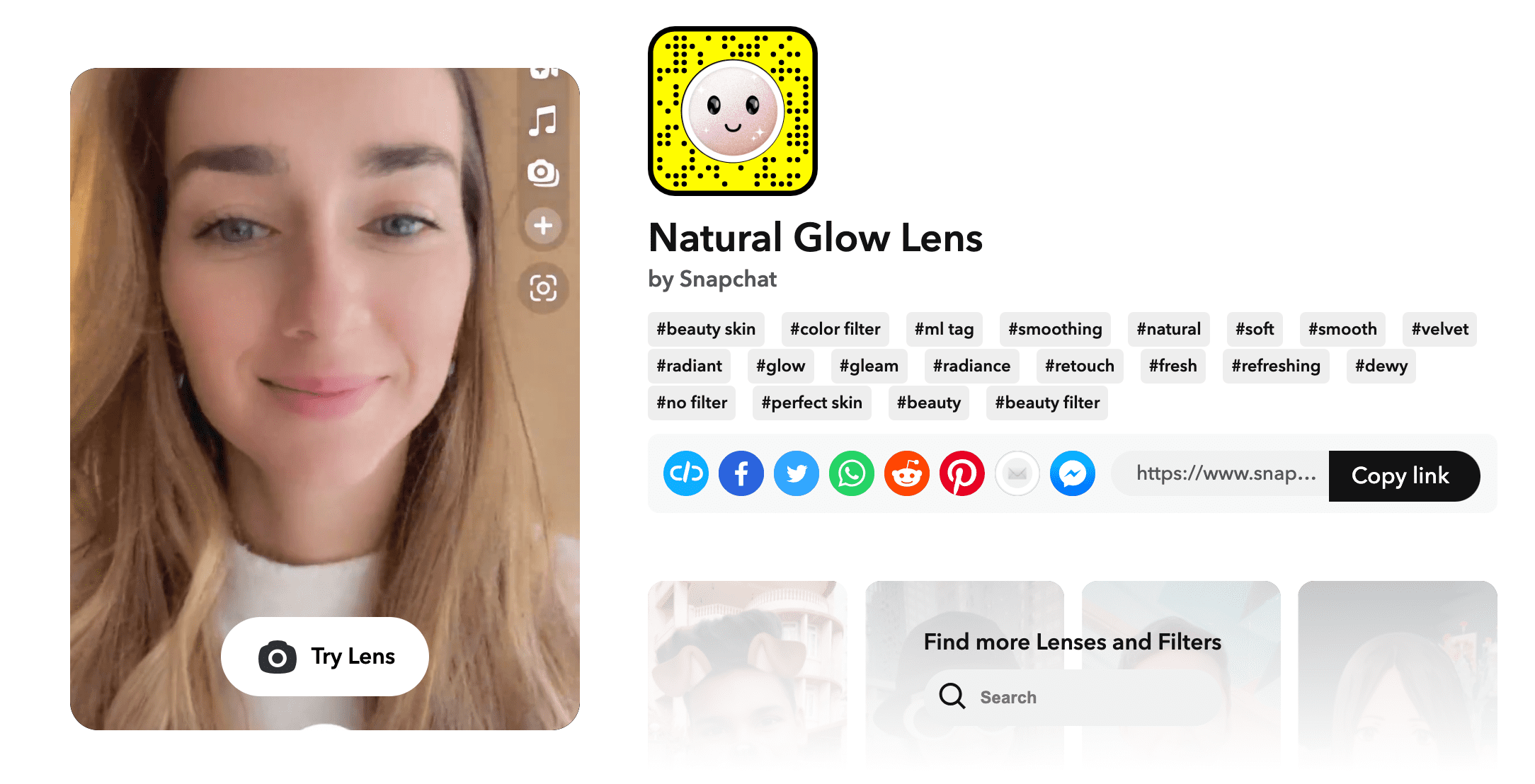 🚀 You might also like to read: The Top 14 Snapchat Filters for Instant Selfie Enhancement
Soft & Natural
If you don't like to go over the top but need a subtle filter to give you a natural and glowing look, then the Soft & Natural filter is your choice. The lens gives you smoother skin and a soft glow, creating a natural-looking snap.
Soft Skin Glow
The Soft Skin Glow filter gives your face a warm and natural tone, highlighting your eyes, adding lipstick to your lips, and a natural-looking rouge to your cheeks. Use this filter to achieve that effortless beauty and no-make-up look.
Skin Touch-up
Skin Touch-up provides more options than just making your skin smoother and glowing. It gives 4 retouching options: smooth over your eyebags, eliminate wrinkles, clear your skin, and change your face shape.
Although perfect for removing tiny facial imperfections, use this filter in moderation so you don't completely change your facial features.
wOw Lens
The wOw filter uplifts your face, giving you a warm tone and brightness. Compared to other lenses, the wOw filter also visibly changes your facial features by providing cat-like eyes and narrowing your jawline. Although it may be a desired effect for some Snapchaters, some may find it a bit excessive and artificial.
Natural Gleam
There are two Natural Gleam lenses on when you search in Snapchat filters - one by SALMANAR and the other by Dhruv Satel. Natural Gleam by SALMAN adds more brightness and radiance to your face and natural-looking makeup with rosy cheeks.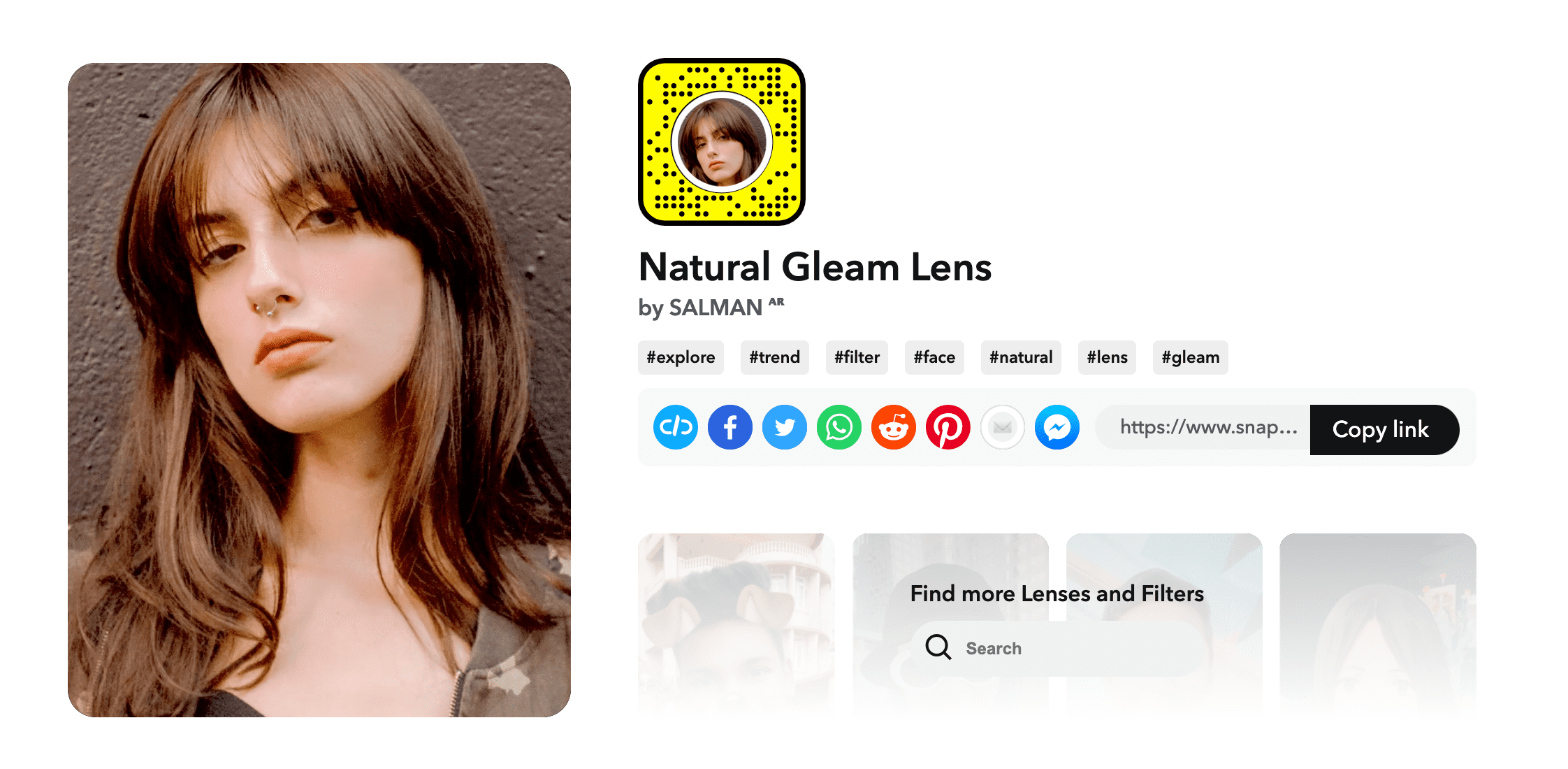 The Natural Gleam by Dhruv Satel has a similar effect, giving you a gentle glow. But it also adds a slight uplift to your nose, chin, and lips.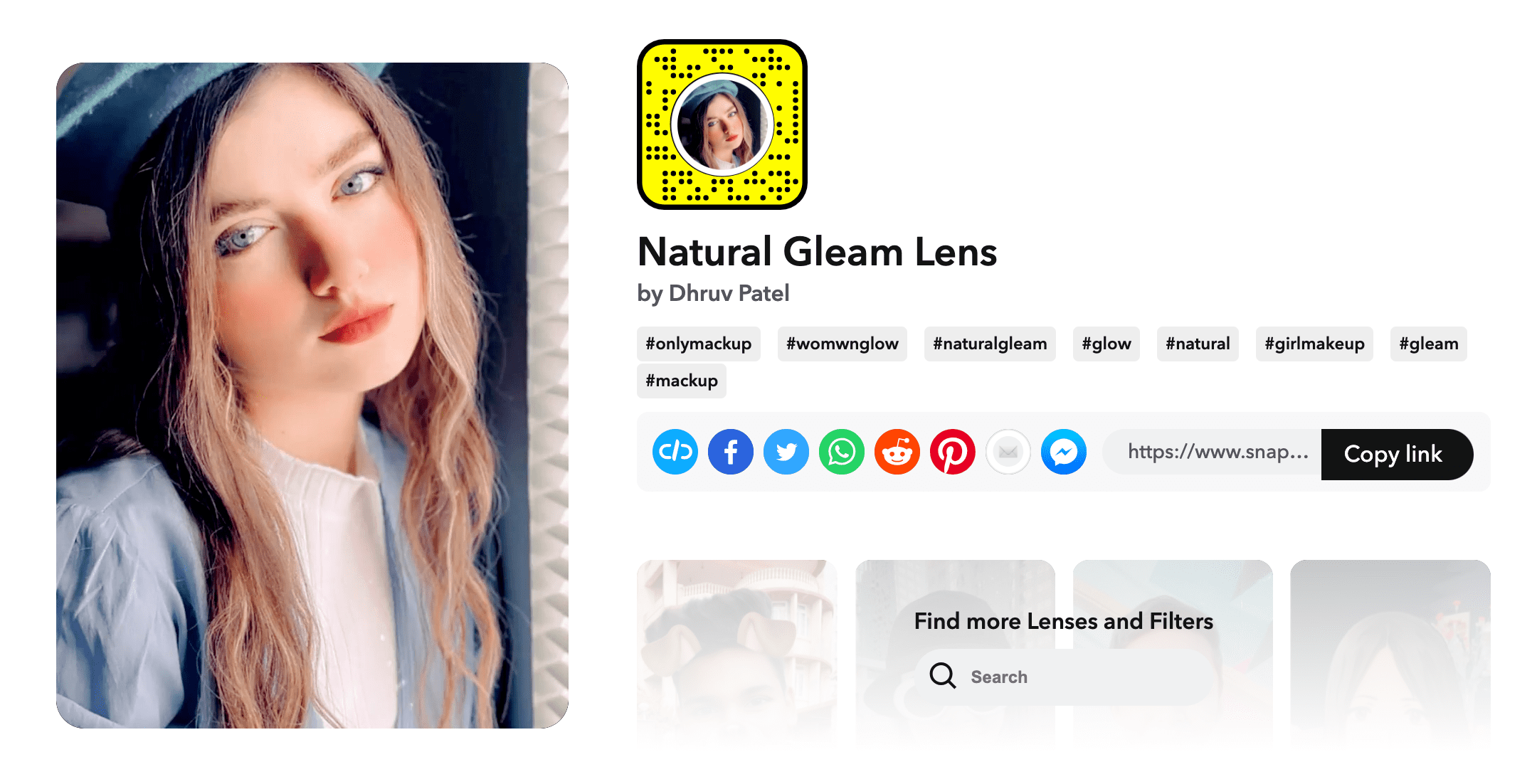 Teal and Orange
Although it has a strange name and you wouldn't connect it to a beauty lens, the Teal and Orange filter does an amazing job of delicately enhancing your natural features, revealing a fresh and glowing complexion.
Similar to Natural Gleam, it narrows your chin, gives your nose and lips a gentle retouch, and highlights your eyes.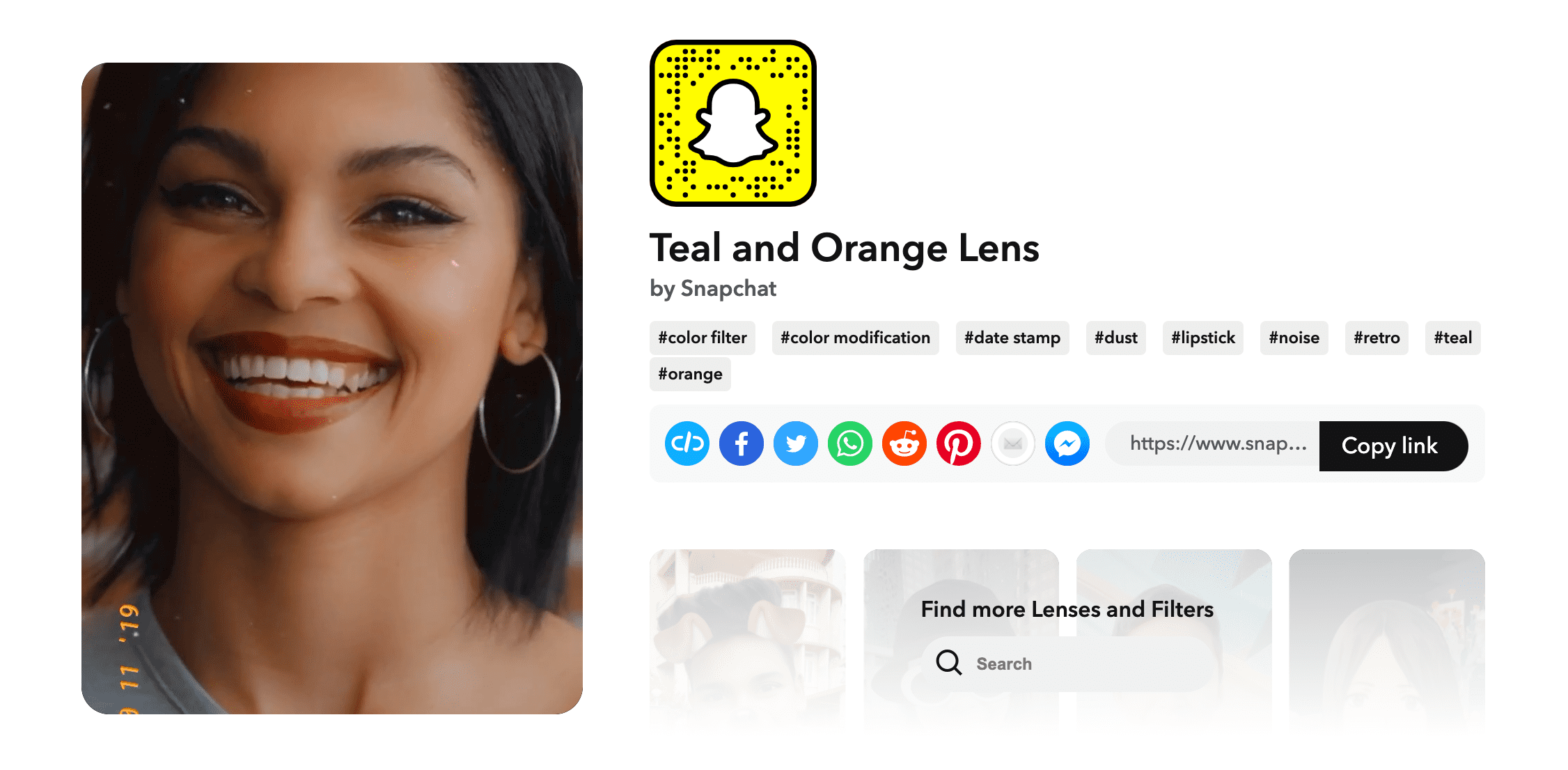 Soft Makeup
Do you want to snap a cute selfie but don't feel like doing your makeup? Soft Makeup is your go-to lens to achieve that effortless, minimalistic makeup look. The lens adds a light foundation to your face and couples it with a gentle rouge, contour, lashes, and lipstick. The final result is a natural and velvety look.
Dewy
Are you looking to achieve a glowing, moisturized complexion? Look no further than the Dewy filter. With this lens, your skin will appear radiant and radiant in any lighting, bathed in a retro, golden-hour light.
Dewy Lip Booster and Dewy Lip Glaze
The Dewy Lip Booster and Dewy Lip Glaze are a lens duo that is all about accentuating your lips. The Dewy Lip Booster plumps up your lips while still looking natural and allows you to choose from vibrant lip booster colors.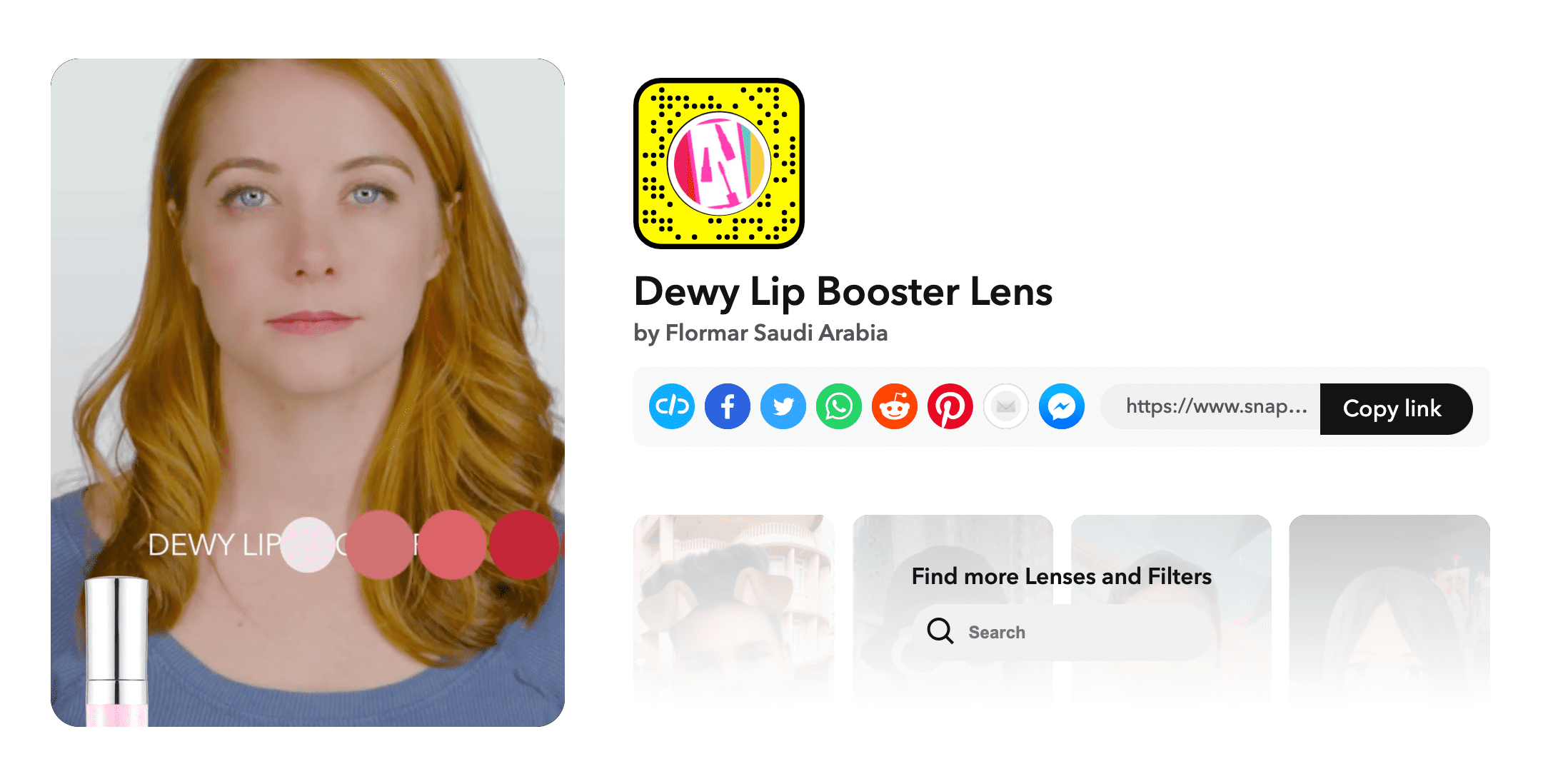 The Dewy Lip Glaze offers a palette of 20 bold matte shades perfect for different skin complexions and tastes.
🔮 Check out also: Best 7 Snapchat Filters for Enhancing Your Landscape Photos
Snap, glam, repeat: Time to choose your signature lens
Snapchat isn't just a social media app; it's your virtual makeup artist, beautifying your selfies one swipe at a time. With these 12 extraordinary beauty filters in your arsenal, you're ready to conquer the digital realm. Now, it's time to choose your go-to lens, step into your newfound glam, and take that jaw-dropping snap!
🔆 Are you looking for how to get verified your Snapchat account? Check out out 6 step guide.