Ivana Kotorchevikj
Pinterest is the most widely-used and famous DIY platform where people get visual inspiration about home decor, design, cooking, handmade products, and so on.
With more than 400 million users every month, the image-sharing platform has become a goldmine for marketers to promote products and services.
After all, unlike Instagram, TikTok, Twitter or other social media platforms, Pinterest is primarily a web-based platform - meaning it is more of a search engine than a social networking site.
Reasons why someone would like to make their Pinterest account private
There are many reasons why you would want to make your account private, but some of the most common are:
You use a Pinterest business account and want to keep your personal pins hidden from your audience with secret boards.
You are a private person and you want to hide your profile and boards from search engines.
You use Pinterest to save personal images that you don't want to share with the world.
You are searching and saving an image for your personal reference.
You are using Pinterest for research, and not for active involvement.
You want to keep your boards private and only invite specific users to view them for project collaboration.
Whatever the reason may be, we respect that you like to keep your Pinterest account private. Below, read about all the ways that you can use to protect your personal information on the platform.
Hide your Pinterest profile from search engines
If you don't want your Pinterest profile to show up on Google and other search engines, you need to update your search privacy settings on Pinterest:
Open the Pinterest app and tap on the profile icon in the bottom right corner of the screen.
Tap on the three dots in the upper-right corner to access Settings.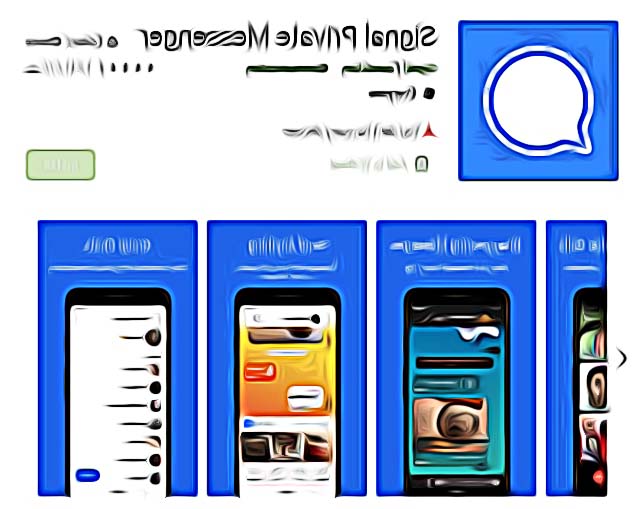 In the Personal Information section, tap on "Privacy & data".
Just below Search engine privacy, toggle on the button next to "Hide your profile from search engines".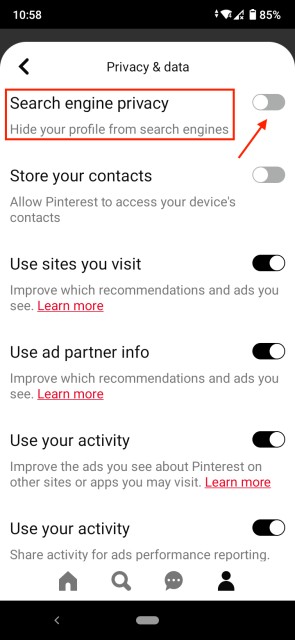 Note: Keep in mind that toggling on the option won't make your profile incognito at the very second. It may take some time for search engines to remove your profile from results.
👉 Explore also how to merge boards on Pinterest.
Create Secret Boards on Pinterest
If you don't want to make your whole profile incognito on Pinterest, there is the option to lock down a portion of your profile by creating secret boards.
Secret boards are visible only to you and anyone you invite to the Board.
Creating secret boards is quite easy, you just have to enable the option while creating the board. The good thing is that you can make existing boards secret as well.
To enable creating secret boards:
Go to your Pinterest profile.
Click on the + sign and then click on "Create Board".
Name your Board and add collaborators if you want other people to be able to add to it.
If you want your Board to be secret, just toggle on the button next to "Keep this board secret".
You can do this for all Boards you want to keep personal. And you can always go back to a Board and make it public if you wish to.
Apart from making a Board secret while you are creating it, you can also make existing Boards secret. To do this follow the steps:
Go to your Pinterest profile.
Hover over the Board that you want to make it secret (if you are using a desktop) or tap on the three dots in the upper-right corner of the screen (if you are using a mobile), and then go to "Edit board".
Scroll down to the Settings section. Next to "Keep This Board Secret" you'll see a toggle switch. Toggle this switch on to make your Board secret. If you want to make your Board public again, just toggle off this switch.
Click Done.