Ivana Kotorchevikj
Avatars have really become popular on social media channels, and they are expected to be used more widely as more companies invest in the Metaverse.
Snapchat and Facebook allow users to create avatars. Instagram finally jumped on the avatar train in 2022.
On January 31st, Meta announced improvements to their 3D avatar feature and that they will be bringing it to Instagram on January 31st.
In a recent update, Head of Instagram Adam Mosseri announced that they are rolling out 3D Avatars to Stories and DMs. As of last week, the Instagram avatars are available in the United States, Canada, and Mexico, but they will be rolling out to more regions globally in the coming months, Mosseri wrote in his post.
https://www.instagram.com/reel/CZe7TfGgyFU/?utm_source=ig_embed&ig_rid=e52ec77d-e54a-4994-8f4b-a48a95444262/
What are Instagram Avatars
Instagram avatars are a clear sign that the Metaverse is coming, or as Mosseri described himself, "Avatars are a key building block for the future of personal identity in the Metaverse".
They are customizable 3D digital personas that users can create to mirror their physical characteristics, or how they want to be perceived online. And they are really fun to make because you can customize your avatar's outfits, hairstyles, facial shapes and lines, skin shades, assistive devices for people with disabilities, NFL clothes and more.
What's interesting is that Instagram didn't include the option to define gender. Instead, there are customization options that are expressive of gender.
Additionally, avatars can also have "digital goods" (Read: NFTs) that are stored in limitless backpacks, purses, or pockets.
Although for now avatars can only be used on stories and DMs, the future holds greater opportunities. Mosseri stated that "avatars will be the virtual identity you use to show up across the metaverse – whether that's "an app built by Meta or another company".
Check out the video tutorial we've created with steps on how to make your own Instagram avatar:
How to make your Instagram avatar
To create your one 3D avatar on Instagram:
Go to your Instagram profile.
Tap on the menu icon at the top-right corner.
Select 'Settings'.
Go to 'Account'.
Select 'Avatars'.
Here, you will see the option to sync your Instagram avatar with a pre-existing Facebook avatar from Facebook, if you've created one, or create a new avatar from scratch.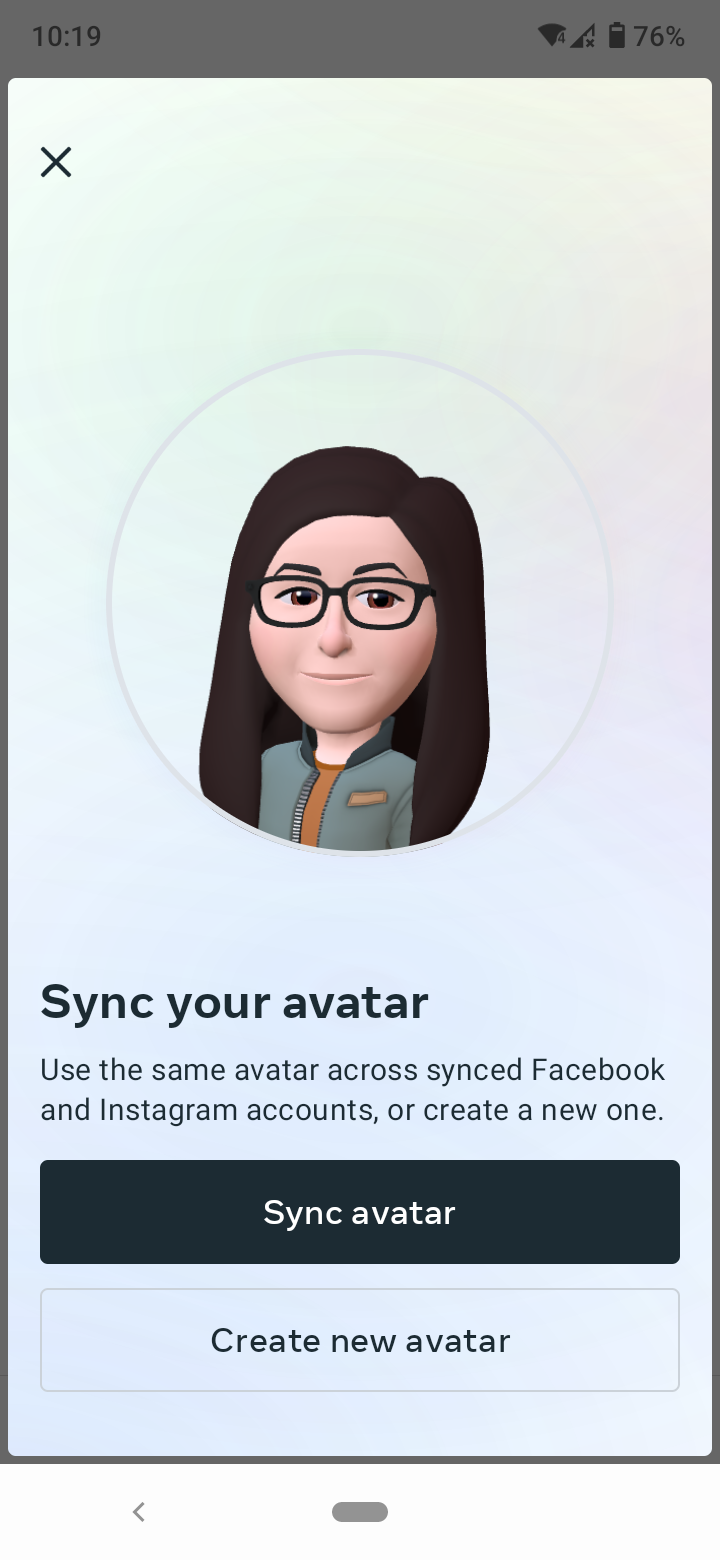 When you're done, tap 'Done' to save your avatar.
Another way you can access Instagram avatars is to go to the Instagram Stories sticker tray and select the "Avatar" sticker. For now, if you are not from the United States, Canada and Mexico, the avatar icon won't appear on Instagram Stories for you.
How to use your Instagram avatar
After you've created and saved your avatar, you should be taken back to the stickers menu. Here you click on "Avatar" again and choose from 44 different avatar formats, which include very realistic facial expressions or messages with "thanks" or "goodnight, etc.
You can also change your avatar size and position as part of your story.
You can use your Instagram avatar in direct messages through similar steps. Navigate to the sticker menu, select the avatar variation that represents your mood or contains the message you want to express and send it.