Emilija Anchevska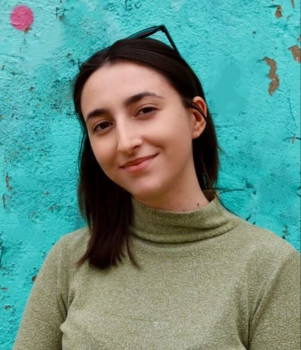 Profile pictures are more than just a simple feature on your social media accounts. Pfps are often the first thing people notice, and in some cases, they influence someone's decision to follow you or not.
TikTok, like other social media apps, has an option that allows users to publish a profile picture on their profiles in order to distinguish themselves from others.
In addition, many users place something funny, cute, or creative as their profile image instead of a photo of themselves.
So, if you are one of those users looking for inspiration for a cool TikTok pfp, we have created a list of images that might catch your attention.
List of PFPS for TikTok
Anime profile pics
Anime pfps are frequently used on many social media platforms besides TikTok. Anime lovers love to publish their favorite characters as their profile pictures on TikTok in order to showcase their favorite shows. In addition, it's a great way to connect with users who have similar anime interests as you.
Cartoon character profile pics
The cartoon profile picture is another profile picture TikTok trend that users enjoy. As with anime profile pictures, cartoon profile pictures feature characters from your favorite cartoon shows. Some of the most trending cartoons recently are Adventure Time, Teen Titans Go!, The Amazing World of Gumball and so on.
Default TikTok profile pics

Since default images are never interesting, so many users search for good TikTok profile pictures to share on their profiles. However, users have recently found creative ways to make the default TikTok profile photo look more appealing, so much so that other users now enjoy sharing modified default TikTok photos as their profile pictures.
Retro aesthetic profile pics

Retro aesthetic images are typically vivid images with bride rainbow colors. Most of the time, users can edit these images within a simple app they have on their phones and upload them on the TikTok app as their profile image. In addition, users can also upload a retro aesthetic profile pic that is not from them.
Online game characters profile pics
If you are a gamer enthusiast, your favorite game character might be the perfect TikTok pfp for you.
Also, it's a great way to find users who love the same game as you.
Animal profile pics

Animals make for a cute profile picture. When it comes to social media, they even have their own accounts, since many users just enjoy watching cat and puppy videos. So, if you are looking for a cute TikTok profile picture, a white cat with rosy cheeks will get the job done.
Car aesthetic profile pics

The car aesthetic profile pics are pretty common when it comes to all social media platforms. Typically, the image includes a car that is edited with pastel colors or includes a sunset that matches the color of the car.
Plants and roses profile pics
Plants and roses are also a part of TikTok's profile picture aesthetics. Profile images such as these include a plant in the foreground and a contrasting background that emphasizes the plants. Sometimes users take creative freedom and edit the images with blurry effects or other colors.
Butterflies profile pics
Butterflies are another nature's object TikTokers are commonly inspired by and add to their profile pictures. To look more trendy, these images are often edited with either vivid or pastel colors, and sometimes even blurry effects and dark backgrounds.
Blurry aesthetic profile pics

Blurry images are becoming more and more common. If in the past blurred images were a total rookie mistake, today, they are considered trendy and fun by all TikTok users. So, instead of focusing on high-quality photos, try to take a blurry one and post it on your profile.
Transparent background profile pics
Simple, yet interesting, profile images with transparent background will surely make other users look twice at your photo. To erase the image background, users need a simple editing tool that they can find online for free, attach a picture of themselves and erase the background.
How to change your TikTok profile picture
Open TikTok and navigate to your profile by tapping the 'Profile' option in the bottom-right corner.
Tap the 'Edit profile' option.
Select 'Change photo'.
Once you've picked your new icon, crop it, then hit 'Save'.
Note: In TikTok, a profile picture size is 200*200 pixels. Anything larger will automatically be resized.
Explore also how to add a picture in your TIkToks apart from your profile picture.
Wrapping up
TikTok is a fun place where many photos and videos are shared on a daily basis.
So to make your profile even more entertaining, try publishing an interesting profile picture.
There are many websites like Pinterest, where users can search for cool TikTok profile pictures.
Also, make sure to bookmark this list in case you need inspiration for your next profile picture.