Emilija Anchevska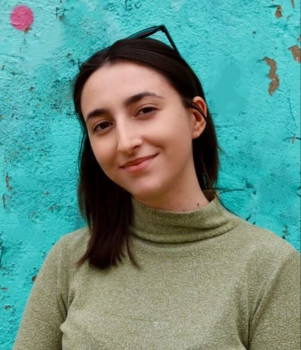 Miley Cyrus - Flowers
Kill Bill- S.Z.A.
Rema, Selena Gomez - Calm Down
'Bloody Mary' by Lady Gaga
Matt Mulholland - My Heart Will Go On
Coi Leray- Players
"Don't be Ridiculous Andrea Everybody Wants This"- The Devil Wears Prada
"Love on the Brain" - (speed-up version) by Rihanna
"Do You Think I Look Good, Mr. Armstrong" - The Cleveland Show

Sasique - Kute & Neat

B.O.T.A. (Baddest of them all)
Reels would only be Reels with catchy background audio.
The audio sets the video's tone, engages the viewer, and conveys the message more accurately.
Additionally, jumping on a Reels trend can boost engagement rates and introduce you to a larger audience.
Therefore, in this blog post, we will go through the best-trending sounds on Instagram, so content creators can make their short-video content more attractive and relatable.
When you finish this list, check our article on The Best Travel Songs for Instagram Reels.
List of most popular Instagram audio
Miley Cyrus - Flowers
Miley Cyrus's new song "Flowers" is trending, reaching the top spot on Spotify's most streamed songs chart. Miley's immediate hit was enough for many Instagrammers to use her song in their Reels. Some use the song's popularity to create more relatable and popular Reels, while others portray the song's lyrics, making it comedic and engaging.
Here is how Ian.brownhill used it for their Reels.
https://www.instagram.com/reel/Cno7weijsoY/?igshid=MDJmNzVkMjY%3D
Kill Bill- S.Z.A.
"Kill Bill" by S.Z.A. is another popular song that has been on repeat for many listeners. The song was released in mid-January 2023 and quickly became a staple in many Instagram users' Reels. Artists have popularly used the song's slower tempo to showcase their skills, but it is also being incorporated into Reels about makeup and fashion.
Here is how Kill Bill by S.Z.A. is incorporated in sophiesconcepts Reels.
https://www.instagram.com/reel/CnZxVLVuANs/?igshid=MDJmNzVkMjY%3D
Rema, Selena Gomez - Calm Down
"Calm Down," a song by Rema and Selena released in September 2022, continues to be popular among Instagram users. As of 2023, the original audio has been used in 1.9 million Reels, including by celebrities themselves. The song is still trending on Instagram, so create a Reel.
In case you need a Reels inspo, here is one:
https://www.instagram.com/reel/CnIK24jhJwm/?igshid=MDJmNzVkMjY%3D
'Bloody Mary' by Lady Gaga
In 2022, Netflix's "Wednesday" was one of the most successful T.V. series of the year. As a result, many Instagram and TikTok users created short videos inspired by the show, often using Lady Gaga's "Bloody Mary" as the soundtrack.
Various versions of the song are being used on Instagram, including Gaga's original song. Users are incorporating "Bloody Mary" into a wide range of Reels, from workout videos to makeup tutorials.
Here is the one Lady Gaga made:
https://www.instagram.com/reel/CnHgGuwJy-k/?igshid=MDJmNzVkMjY=
Matt Mulholland - My Heart Will Go On
Ten years ago, an artist named Matt Mulholland released a soft and satirical cover of Celine Dion's classic hit "My Heart Will Go On."
Fast forward to 2020, with the rise of internet users and the popularity of filming oneself doing goofy videos, the song has become one of the trending songs for Instagram Reels.
🤯 Fun fact: Matt Mulholland is a trained and talented musician and vocalist with over a decade of experience in band work and songwriting. He has recently released a serious album.
Reels for inspiration:
https://www.instagram.com/reel/CnRwCiPA0c0/?igshid=MDJmNzVkMjY=
Coi Leray- Players
Coi Leray is another artist that smashed Instagram Reels with her song "Players." Many influencers, big and small business owners, have used this track to make their Reels catchier and more engaging.
Here's one we think is excellent:
https://www.instagram.com/reel/CnSgUpdNjcL/?igshid=MDJmNzVkMjY=
"Don't be Ridiculous Andrea Everybody Wants This"- The Devil Wears Prada
A line from Meryl Streep's character in the movie "The Devil Wears Prada" has become a popular reference for many Instagram Reels. The bar is used in various scenarios, such as "coffee drinkers" versus "non-coffee drinkers" in Ig Reels.
"Love on the Brain" - (speed-up version) by Rihanna
This Reels audio started growing in popularity after Instagrammer began using it in their Reels. The song has many versions; however, the one that has been used the most is the speed-up version.
Here is an example of a Reel with this song:
https://www.instagram.com/reel/Cmy8sMCKc_r/?igshid=MDJmNzVkMjY=
"Do You Think I Look Good, Mr. Armstrong" - The Cleveland Show
This Reels audio has gained popularity as Instagram users have begun incorporating it into their Reels. The song is available in multiple versions; however, the speed-up performance has been used the most.
Sasique - Kute & Neat
"Yuh want a picture, let me pose for you now. You got me now. Oh, you'd like another one? Yuh like this one."
It is the perfect lip-syncing material for creating tons of creative Reels. The song has quickly become one of the most used tracks on both Instagram and Tiktok. In addition, many businesses have devised innovative ideas for implementing this song to promote their product and services.
B.O.T.A. (Baddest of them all)
Do you wanna dance, baby? I know you see me lookin' at you on the daily" is a catchy and memorable line perfect for creating engaging and trending Reels. The song is versatile and can be used in various scenarios, making it a popular choice for Instagram users.
Here is a Reel with the song:
https://www.instagram.com/reel/CnIR_LpI8Hq/?igshid=MDJmNzVkMjY=
How can trending music help your Instagram grow?
Increased engagement: Trending music often captures users' attention, making them more likely to engage with your content by commenting, liking, or sharing.
Reach a wider audience: Trending music has a broader appeal, which can help you reach a wider audience and attract new followers.
Increased discoverability: Using trending music can make your Reels more discoverable, as people are searching for and watching Reels with that specific song.
Align with current trends and culture: Being up-to-date with trending music can help you align your brand with current trends and culture, making your Reels more relatable and appealing to your target audience.
Increased views and watch time: Since trending music is more likely to be seen and heard by many people, it can help improve the views and watch time on your Reels.
Boost your brand awareness: If you creatively use trending music and make a great Reel, it can boost your brand awareness and attract new followers.
How to find trending music on Instagram
Finding trending songs on Instagram is an easy process. The quickest way to find a piece on Instagram is by typing in the name of the music in the search bar. Nevertheless, a few additional ways can help you find popular audio for Instagram Reels and help you reach the explore page.
Check out popular Reels: Look at popular Reels in your niche or industry and see what music they are using.
Use hashtags: Search for relevant hashtags and see what music is being used in the Reels that show up in the search results.
Use Music Chart websites: Websites like Billboard or Rolling Stone have charts of the most popular songs of the week, month, or year.
Follow Influencers and Music Artists: Follow musicians, bands, and influencers that are likely to use trending music in their Reels.
Research popular music on Social Media: Look at Twitter, TikTok, or other social media platforms to see which songs are trending.
Use Music Recognition apps: Some apps like Shazam can help you recognize the song you are listening to and find it on Instagram.