Ivana Kotorchevikj
Have you even scrolled on Facebook and noticed that your friends' profile photo has something added to their original photo, for example, a rainbow background?
This is possible with Facebook's feature that allows users to upload temporary profile pictures. The purpose of uploading a temporary profile picture is to show support for some cause or group, celebrate an event or just express themselves.
When you upload a temporary picture, you can set a period of time, after which it expires, and your original profile picture appears again. You can choose between a time period of 1 hour, day, month, week, or a custom period.
Before Facebook introduced this feature, users had to manually change their pictures by uploading a photo or using a Facebook app. And after some time, they had to remember to change back their profile picture. So it often happened that you came across a 'St. Patrick's Day" party snap week after the event has ended.
With the temporary profile picture feature, you don't have to risk going through the trouble of remembering to switch back to your original photo.
Stick around and read on if you want to learn how you can also add a temporary profile picture on Facebook for the next celebration or event.
How to add a temporary profile picture on the Facebook app
Open the Facebook app and tap on the three-line hamburger menu in the top-right corner of the screen.
Tap on your name.
Next, tap on your profile picture.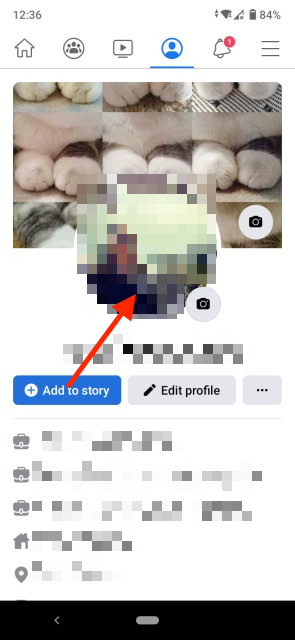 From the drop-down menu, tap the "Select profile picture" option.
Select a picture from your camera roll, media library or take a new one.
Once you've selected a photo, below the photo tap on "Make temporary".
Next, select the time period you want the photo to be on your profile. After this period the photo will expire and will be automatically removed.
Tap on "Save" at the top of the screen.
How to add a temporary profile picture on Facebook from desktop
Go to facebook.com and log into your account.
Click on your profile picture in the left-hand corner of the screen, which will take you to your profile.

Next, click the camera icon in the bottom-right corner of your profile picture.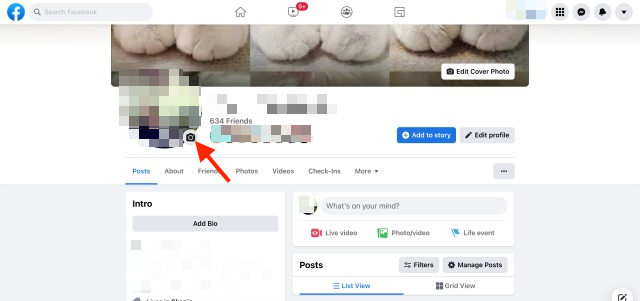 Click on "Upload Photo" to select a photo that you want to make a temporary profile picture.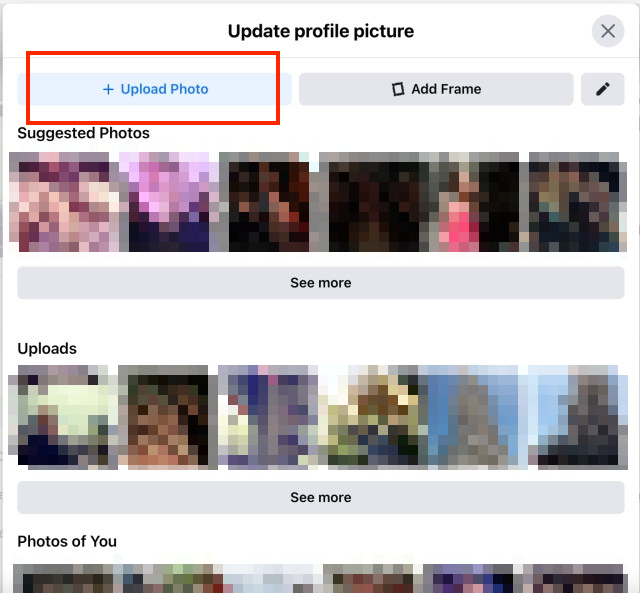 When you have selected a photo, click on "Make Temporary" and select a duration for your temporary profile picture.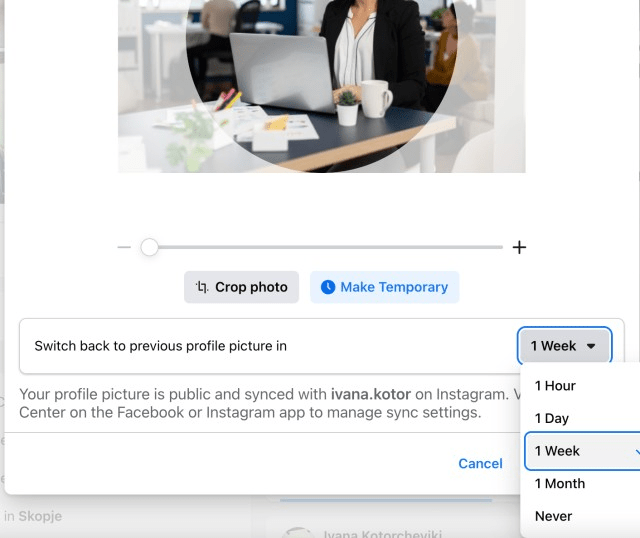 Click the "Save" button.
Quick note: Your temporary profile picture will still be visible to users after it has expired. You can find it in your profile pictures album if you want to delete it completely.
How to add a frame for your profile picture on Facebook
Apart from adding a temporary profile picture, Facebook also offers the feature to add a frame overlay to your profile picture to show support for a social cause, organization, sports team, or another purpose. You can also make the frame on your profile picture temporary so it disappears after a certain amount of time.
To add a frame to your Facebook profile picture:
Go to the Facebook app or log in to your profile on facebook.com.
Go to your profile and click on your profile picture.
Above the "Select profile picture" (if you are using a mobile), or on the right of the "Upload photo" button (if you are using a desktop), click on "Add frame".
On the Profile Frames page, you will be presented with the Popular Frames, Frames Your Friends Used and Frames From Pages You Like. If you don't see any frame you like in the suggestions, you can search for a frame in the search bar by typing in a topic, for example, "Football".
Once you have selected your frame, tap on "Make Temporary" and select the time period after which you want the frame to disappear.
Click "Save".
Just like the temporary profile picture, the frame will expire at the date specified and your profile picture will revert to its previous state.
If you want to remove the frame before the time period you have selected, or you haven't made the frame temporary but you don't want to have it on your profile picture, learn how to remove a frame from a Facebook profile photo.