Ivana Kotorchevikj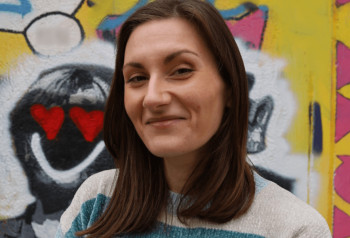 Reddit has become a popular social media platform in the online world, connecting lots of users through different communities called subreddits. With its special upvote and downvote system, Reddit helps people share, discuss, and explore many interesting topics.
One way to make your content more visible and engaging on Reddit is by crossposting. Crossposting helps you reach more readers and encourages a variety of discussions.
In this guide, you'll learn how to crosspost on Reddit on a web browser and in the mobile app. We'll also cover the benefits of crossposting, how to check subreddit rules for crossposting, and the difference between crossposting and linking to existing posts.
Let's explore the exciting world of Reddit crossposting and learn how to get the most out of your content!
What is crossposting on Reddit
Before jumping into the detailed steps of crossposting on Reddit, let's dive into the basics.
crossposting on Reddit is the practice of sharing the same post across multiple subreddits, allowing it to reach a broader audience.
When you crosspost, you repost the same post. However, each post is separate and differs from the original in that it looks like a post embed containing the original subreddit it was posted to, the user's name, and their karma score. The crosspost doesn't contain the original post's likes and comments).
Crossposting shouldn't be confused with reposting on Reddit. Reposting means posting the same post in the same subreddit, whereas crossposting refers to posting a post in different subreddits.
Crossposting is great for increasing your content visibility by exposing your post to more users who may not have seen it in the original subreddit. Additionally, it enables you to reach multiple communities, allowing you to tap into various niches and expand your content's reach.
Lastly, crossposting encourages diverse discussions by inviting different perspectives from users across different subreddits, fostering a richer and more inclusive conversation around your content.
Note: To crosspost in a community on Reddit, you must be a community member. Also, keep in mind that some communities don't allow crossposting, and you check the subreddit rules before crossposting there. We'll discuss this in a separate section below.
Also, depending on your karma score and the subreddit rules, you may need a minimum amount of karma to crosspost in a certain subreddit.
How to crosspost on Reddit in a web browser
If you are using Reddit on a desktop web browser, here's how to crosspost:
Go to Reddit and find the original post in your community.
Click on the 'Share' button at the bottom of the post.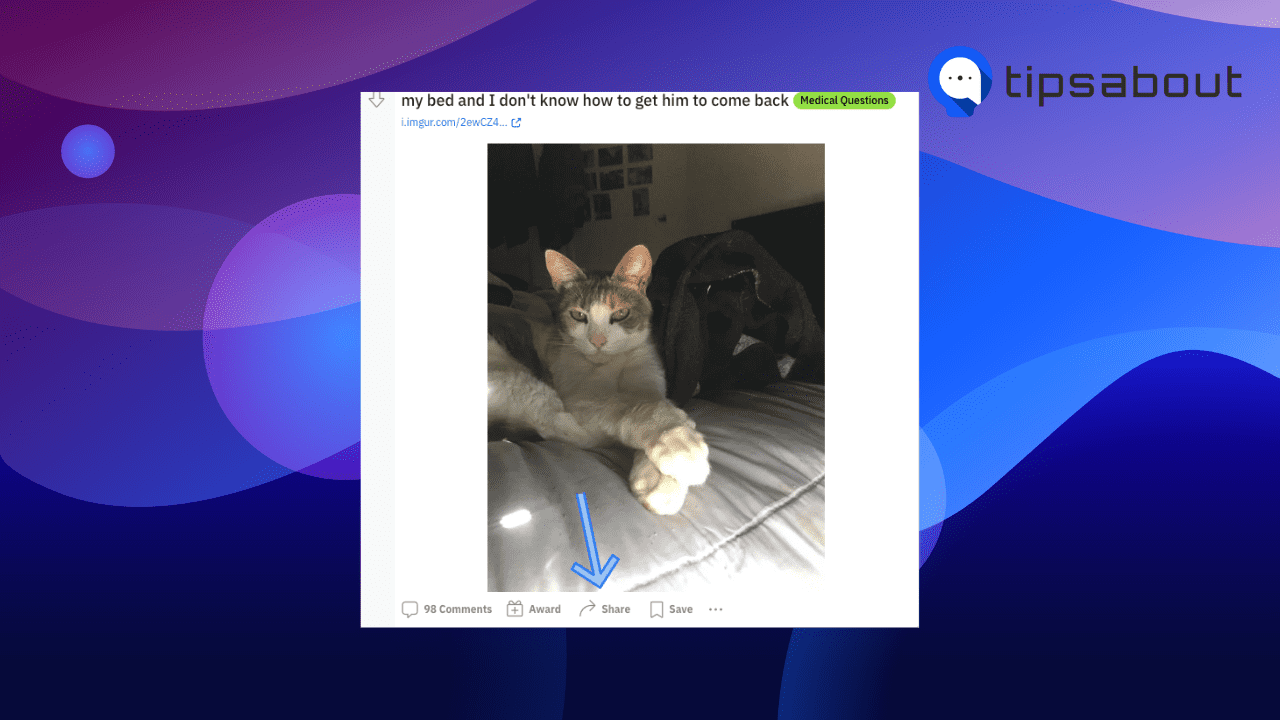 Select 'Crosspost' from the drop-down menu. You'll be redirected to a new Create a crosspost page.
Click on the 'Choose a community' drop-down menu and select a community to crosspost the post. (Note: The subreddits that don't allow crossposting appear grayed out.)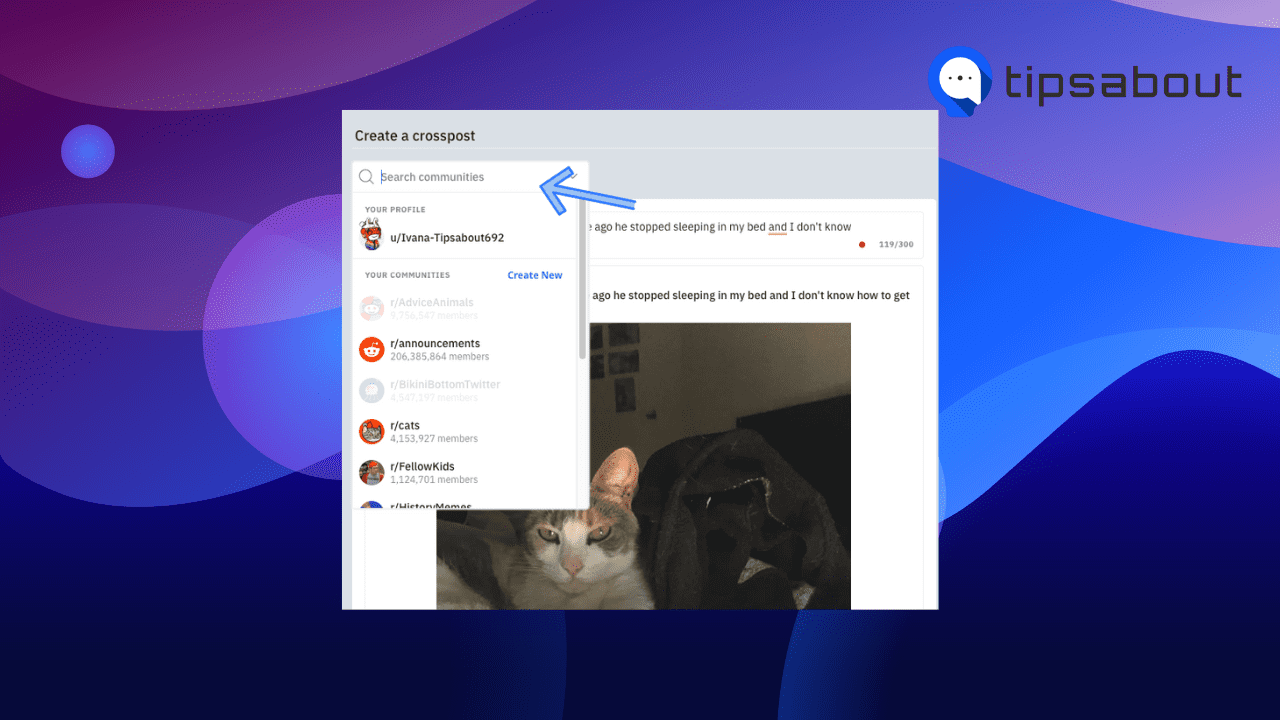 Optionally, add a description in the text box above the post to customize it.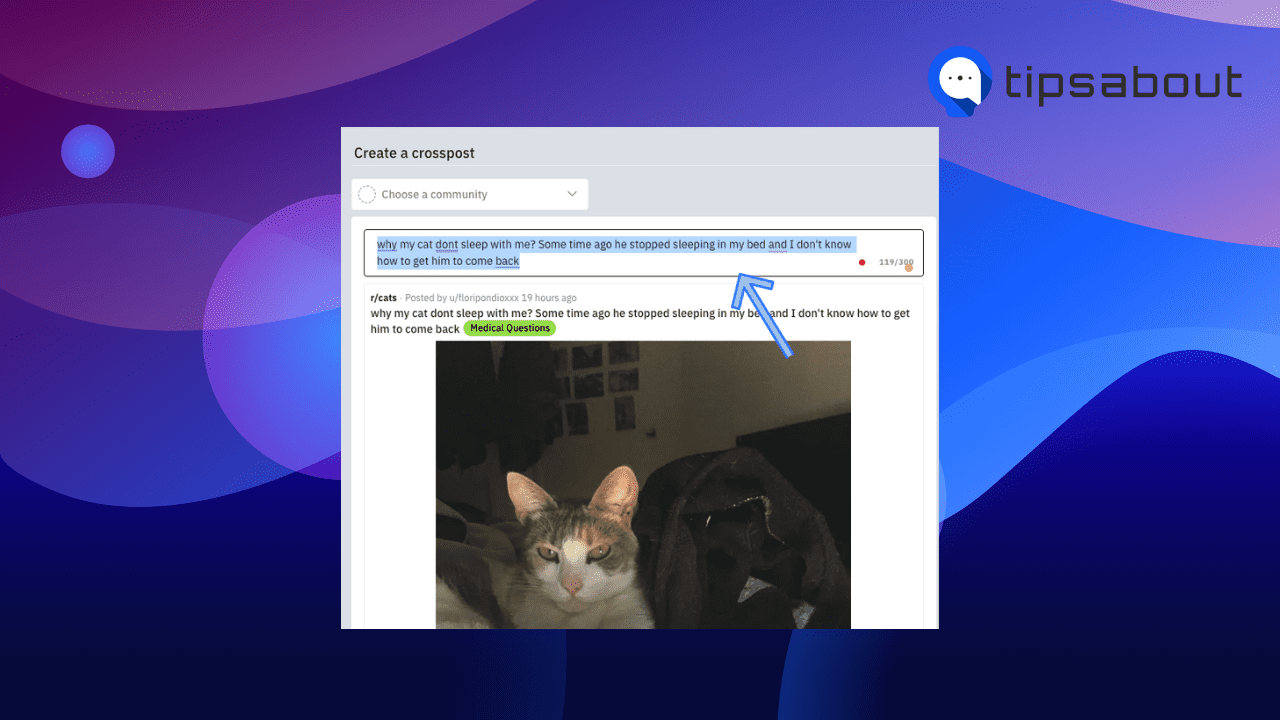 Finally, click on the 'Post' button in the bottom-right corner.
After the cross-post is approved, it will appear in the subreddit with the tag 'Crossedposed by [username]' in the top-left corner of the post.
How to cross-post on Reddit in the mobile app
Follow the steps below to crosspost on Reddit in the mobile app:
Open the Reddit app and find the post you want to crosspost.
Tap on the 'Share' button in the bottom-right corner of the post.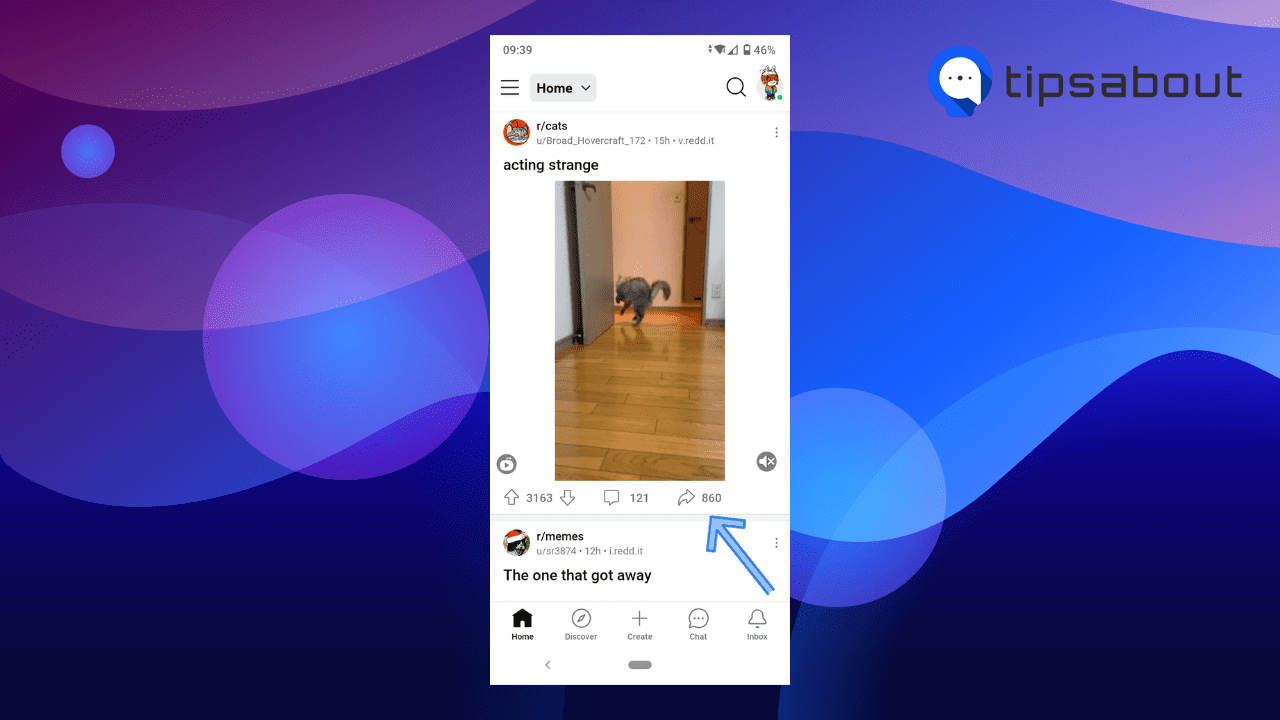 In the slide-up menu, select 'Community.' (This step may vary depending on the phone model).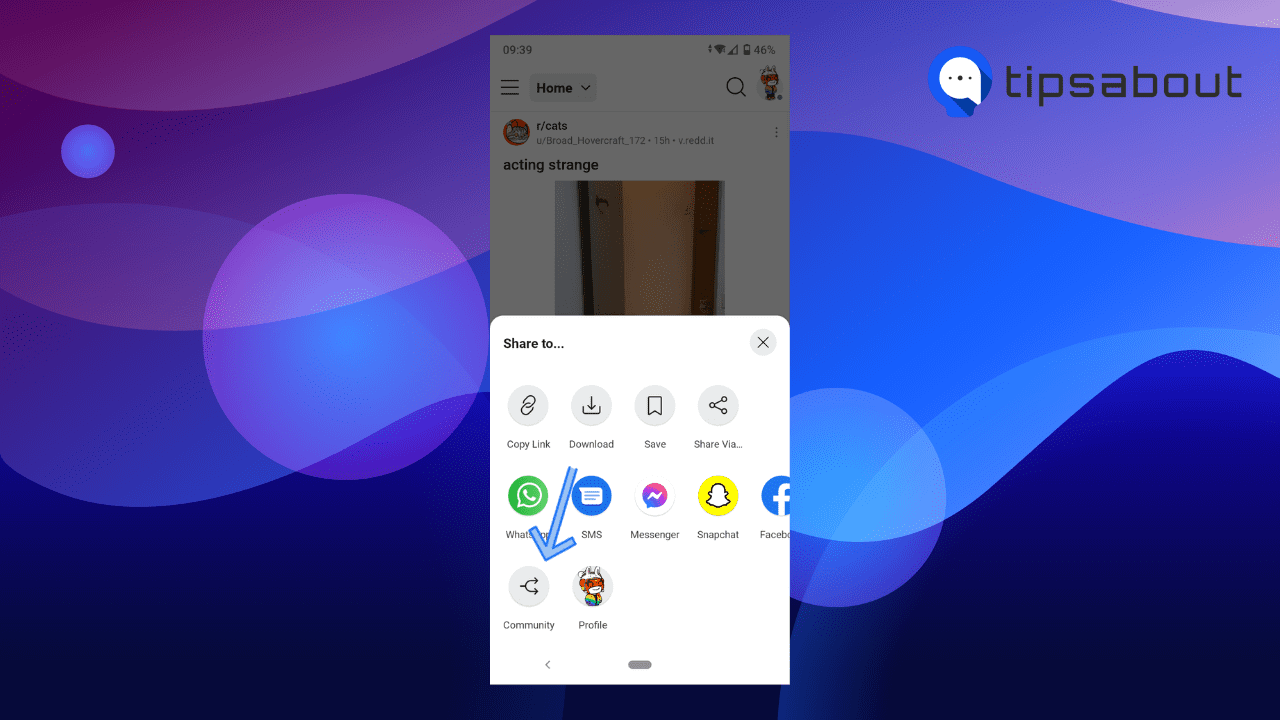 You'll be taken to a Choose a community page. Select a subreddit from the list to crosspost your post.
Tap on the description above the embedded post to customize it.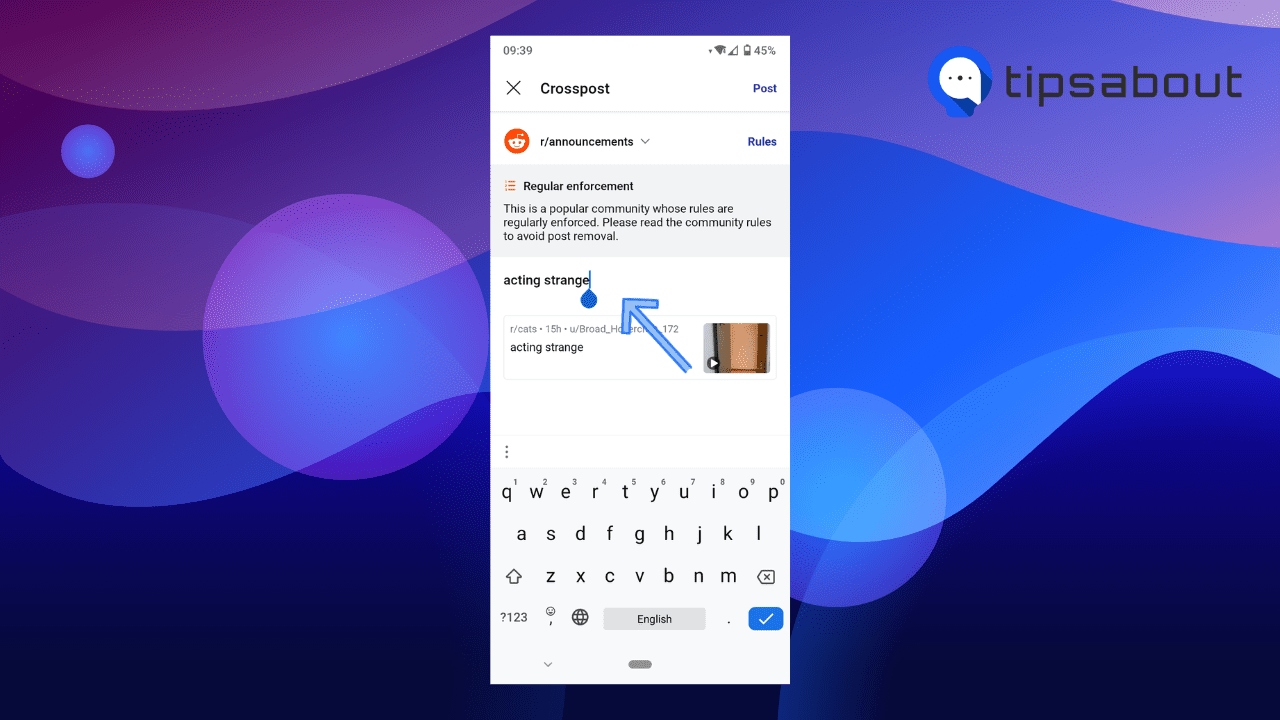 After writing the description, tap on 'Post' in the top-right corner.
Your crosspost will appear in the subreddit with the tag 'Crossedposed by [username].'
Explore how to post pictures on Reddit.
Rules for successful crossposting
To make the most out of crossposting on Reddit, it's crucial to understand and follow each subreddit's rules. This not only helps maintain the quality and relevance of the content but also ensures a positive experience for both you and the subreddit community.
Importance of respecting subreddit rules
Each subreddit has its own set of rules and guidelines that users must adhere to while posting or crossposting. Respecting these rules is essential to maintain the integrity of the community and avoid any negative consequences, such as post removal or being banned from the subreddit.
Common rules for crossposting
Although each subreddit may have its unique rules, some common guidelines apply to crossposting:
Relevance to the subreddit: Ensure the content you crosspost is relevant and appropriate for the target subreddit. Irrelevant or off-topic posts may be considered spam and removed by the moderators, which can lead to a negative reputation.
Properly crediting original posts: When crossposting, it's essential to credit the original post and its author. This gives proper recognition to the content creator and maintains transparency within the community.
Avoiding spam and excessive self-promotion: Crossposting should be done thoughtfully and in moderation. Excessive crossposting, especially for self-promotion, may be considered spam and lead to post removal or account suspension.
How to find and understand subreddit-specific rules
To find subreddit-specific rules, visit the main page of the subreddit you want to crosspost in and look for the "Community Rules" or "Subreddit Rules" section. This is typically located in the right sidebar or under the "About" tab. Before crossposting, read and understand these rules to ensure your content aligns with the community's expectations.
Difference between crossposting and linking to existing posts in subreddits
While cross-posting is an effective way to share content across multiple subreddits, it may be confused with linking to existing posts in the same or different subreddit. It's essential to understand the differences between these two methods and when to use each to maximize content sharing and engagement on Reddit.
Linking to existing posts refers to the practice of creating a new post in a subreddit that contains a link to an already published post in another subreddit. Instead of directly sharing the content, this method directs users to the original post to view and engage with it.
Although crossposted posts include a link to the original post, the emphasis is on replicating the original content rather than highlighting the link itself. But with posts containing a link to an existing post, the main purpose is to take the user to the original post.
When to use each method
The choice between crossposting and linking to existing posts depends on your goals and the context of sharing:
Crossposting: Use this method when you want to increase visibility and generate discussions in multiple subreddits. It's particularly useful when the content is relevant to various communities and you want to encourage diverse conversations.
Linking to existing posts: This method is suitable when you want to direct users to the original post, consolidate engagement in one place, or share content that may not permit crossposting due to subreddit rules or other restrictions.
Conclusion
Crossposting on Reddit is an effective and powerful tool for increasing your content's visibility, reaching diverse communities, and sparking engaging discussions.
By following the steps outlined in this comprehensive guide, you can easily crosspost on Reddit using both web browsers and mobile apps. Just remember to respect subreddit rules, choose the appropriate method between crossposting and linking to existing posts, and always focus on sharing valuable content that encourages meaningful conversations.
With these strategies in place, you're well on your way to maximizing your content's potential and making the most of your Reddit experience. Happy crossposting!