Tanja
You have a subscription to the Showtime free trial, but you are not satisfied with what the channel is offering. No problem, you can cancel your Showtime subscription anytime you want.
In this case particularly, if you subscribed to Showtime through Prime Video, the only way for you to end the service is via Amazon.
Note: The free trial to Showtime service lasts only 30 days.
In case you are also wondering how to cancel your Showtime subscription directly through their website from your computer or your smart device, check out our blog post on that - we give you full guidance on how to do it.
How to cancel Showtime subscription on Amazon
Here, we share 4 different ways on how you can cancel your Showtime subscription via Amazon Prime.
Cancel Showtime from the Amazon website
An easy way for you to cancel your Showtime subscription is via the official Amazon.com website. So, to stop the channel from billing you, you need to take the following steps:
Navigate to Amazon.com and sign in to your Amazon account.
Click on Accounts & Lists to access the accounts settings.
Then, click on Membership and Subscriptions.
From the options, choose Prime Video Channels.

Under Prime Video Channels you will see Showtime - click on the Cancel Channel link.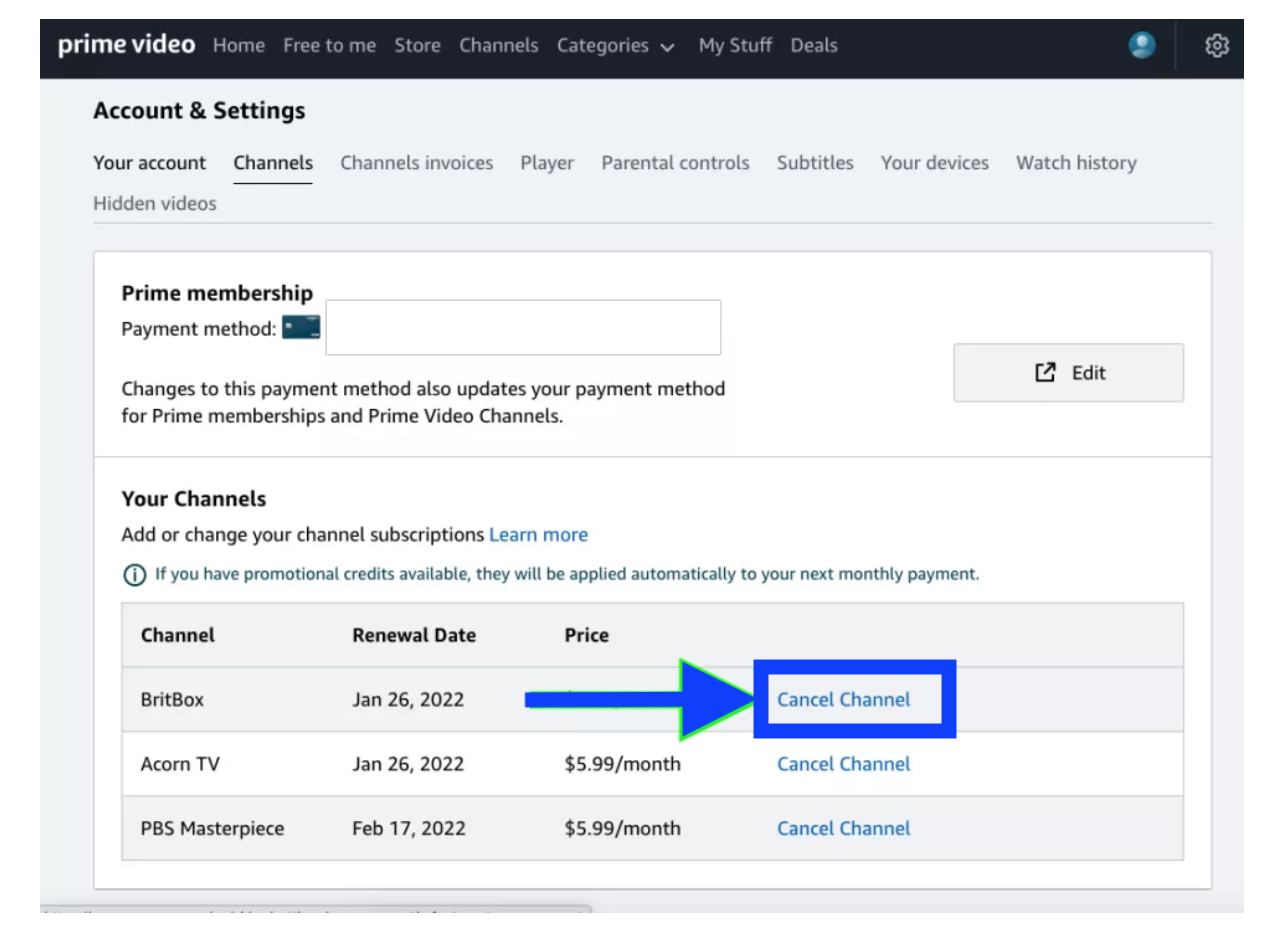 Cancel Showtime via the Amazon mobile app
You can also change or cancel your subscription on Amazon through the mobile app. These are the steps to do it via the mobile app:
Open the Amazon app on your smartphone.
Log in to your Amazon account.
Tap on the three horizontal lines and then on Your Account.
Next, tap on Membership and Subscriptions.
In case no active subscriptions appear, tap on Don't See Your Subscriptions.
From the window that appears (with different types of subscriptions), next to Prime Video Channels, choose and tap on Channel Subscriptions.
From there, search till you find Showtime and tap on Cancel Channel.
Cancel Showtime through email
If you still have no success in canceling your Showtime subscription to either the website or the app, you are left with yet another alternative and that is to write an email. So, you'll need to contact Amazon's customer support via email and write a request to cancel to Showtime subscription.
This is what you'll need to do:
Navigate to the Amazon customer support help center.
Then, scroll down to Help Topics and click on Need More Help.
Next, click on the Contact Us link (right side).
You will be prompted to describe your issue, so choose Prime or Something Else.
Then, scroll down to the Tell Us More section and choose the options: Prime > Membership Management > Change Prime auto-renew.
To proceed, scroll further to the option Or, talk to someone and click on the email.
When the box pops up, write to the customer support team about your request for Showtime cancellation.
You will receive a message from the team in a few hours to assist you in stopping the billing process.
Cancel Showtime by calling the Amazon customer support
As your last resort solution, you can always call Amazon customer support and cancel your Showtime subscription. So, make a call on 1-888-2804-331 and ask for a representative to talk about canceling your subscription.
FAQs
Can I cancel my Showtime subscription at any time?

Absolutely! Amazon does not limit users when to cancel their Prime Video subscriptions.

Can I get a refund after I cancel my Showtime subscription?

No, once you cancel a subscription on Amazon you will not get any refund from that.