Tijana
Key Takeaways
Android users: Open 'Settings' > 'Display' > 'Dark Mode'
iOS users: Currently there are no ways to switch the Amazon app to Dark Mode.
Table of Contents
If you love shopping on the Amazon app, you surely spend hours scrolling through all available products. Hence, the best option is to enable the Amazon App dark mode.
Ever since dark mode rolled out a couple of years back, smartphone users have been 'flipping the switch' on their smart devices. As a matter of fact, all major social media platforms currently have a Dark Mode feature - TikTok, Facebook, Snapchat, YouTube, and many more.
Amazon, the world's most used shopping platform, currently has 310 million users, with over 197 million monthly app users.
Even though the platform is not yet available worldwide, its popularity is undeniable.
In this article, we'll guide you through the step-by-step process of enabling the Amazon app dark mode feature.
Related: How to Change Phone Number on Amazon.
How do I enable the Amazon app dark mode feature?
As shocking as it may sound, the Amazon app currently does not have a built-in 'dark mode' button. However, changing the appearance of your smartphone from light to dark will change the UI on the Amazon app as well.
Follow the steps below to learn how to enable the dark mode on the Amazon app for both Android and iOS devices.
You might also like: How to Use Apple Pay on Amazon.
Amazon app Night Mode for Android
An important note before you try to enable Amazon dark mode is that your Android smartphone needs to be running on Android 10 or above for the steps to work.
On your Android, open 'Settings', and from the list of options, tap on 'Display'.
Find the 'Dark Mode' feature, and either select or toggle the button next to it.
Note: Launch the Amazon app after, and check if you've turned on dark mode in the app too. If the app UI is still in light mode, you can either close and reopen the app or restart your phone. In addition, some Android models might have the feature labeled 'Dark Theme'.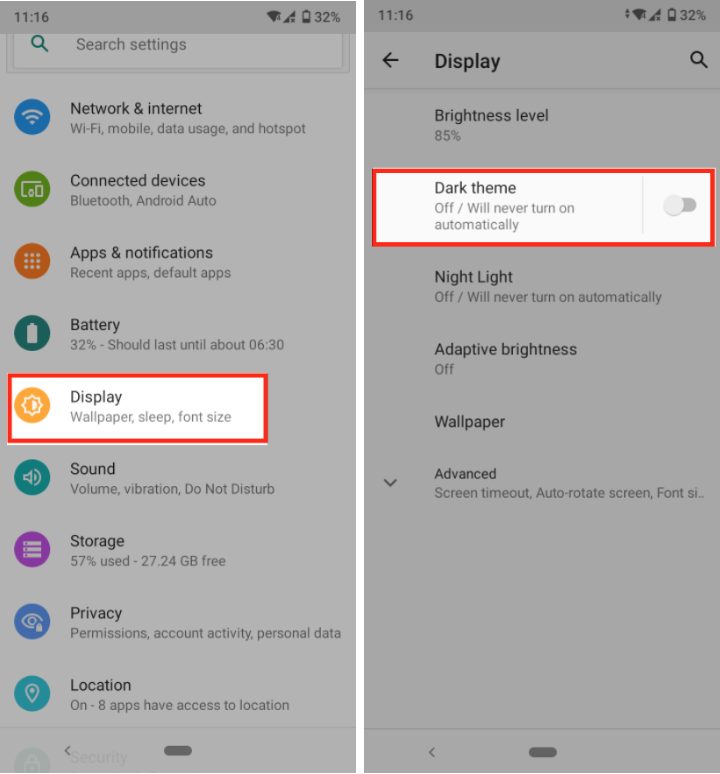 Amazon Dark Mode on iOS devices
Unfortunately, switching to dark mode does not work for the Amazon app on iOS devices.
Additionally, iOS users used to be able to switch between dark/light mode using Safari's built-in web browser 'Reader' mode. However, this feature is no longer available on the Amazon app, and the bad news is that there's no way to switch to dark mode for Amazon's app or website if you're an iOS user.
However, if you decide to switch to your laptop/computer, and you're a Google Chrome user, we have a solution.
Amazon Dark Mode on PC/laptop
If you're using Google Chrome, we're sure you're familiar with the Chrome web store, where you can find numerous extensions that you can add to Chrome.
Luckily, there's an extension that launches dark mode once it gets activated.
Follow these steps:
Open Google Chrome on your PC/laptop.
Search for 'Chrome Web Store', and in the 'Search' field, type in 'Dark Reader Extension'.
Click on the 'Add to Chrome' button.
Launch the Amazon website after, and check if the dark mode has switched. If not, close Google Chrome, and reopen it again.
Note: There are multiple available extensions on the Chrome Web Store. One of them is 'Night Eye Extension'.

Wrapping up
These are all the things you need to know about how to enable the Amazon app dark mode feature. Even though iOS users are still unable to switch between light and dark mode, there's a solution for all other users.
Check out: How to Find My Amazon Account URL.