Tijana
Even though we're currently still struggling worldwide with COVID, there are countries whose regulations allow travelers to enter and exit the country with negative tests or proof of vaccination.
Summer will come sooner than we all think, and the time to browse the Internet searching for the ideal vacation spot is around the corner.
2022 has just started and looking at the bigger picture, hotels have been getting more and more expensive, while there are apps offering accommodations that look amazing, for affordable prices. One of the best things about using one of these apps is you might actually become friends with the owners of the accommodation!
Since technology has been on the rise for the past decade, it's only logical that apps such as Airbnb would become popular.
The platform offers accommodation to nearly every single place on planet Earth - and when we say nearly every place, we mean it!
Airbnb is being widely used in Europe and the States, but there are people who are worried about their safety and the legitness of the app.
No need to worry, however, we will go through all privacy and security measures, as well as a guide on how to use the app, and start traveling without paying tons of dollars to soulless hotels!
What's Airbnb?
Airbnb is an US based company and is considered as an all-in-one software for short-term vacation rentals.
Let's start from the basics - Airbnb was founded back in 2008, and it started with two friends hosting three travelers. Currently, the platform has over 150 million users, both hosts, and travelers.
Regardless of whether you want to list your property on Airbnb, or you're planning a trip in the future, creating an account and signing up is free.
AirBnb takes care of all payments, meaning they process them, and you can consider them as a mediator between you and hosts or travelers, depending on which side you're on.
The platform has a 24/7 support center, meaning you can contact them at any time for whatever inconvenience or question you might have.
The app also has amazing ways to help you get the best experience while traveling, such as Airbnb Adventures - which offers travelers to get together with someone who knows the area, or as they like to call them 'local experts', and help them sightseeing through the best parts of whichever city they might be in.
However, depending on how big some cities are, features like these might not be available for every city you think of.
Airbnb is mainly being used by people who want to get the real experience of living in the town they're visiting, instead of staying in a hotel neighborhood.
The prices are usually lower than most hotels, but there are a lot of amazing high-end and classy apartments, for both short-term and long-term leases.
Setting up an account for Airbnb
You can look through everything that's listed on the app, however, to book a studio/apartment, you'll need to have an account This is necessary in order to keep both parties safe and satisfied, since random people with no intentions of traveling might book places, and the ones renting the apartments would be losing money.
The process of setting up is not complicated at all, open AirBnb's website, and in the upper-right corner click on the 'Me' icon to sign up.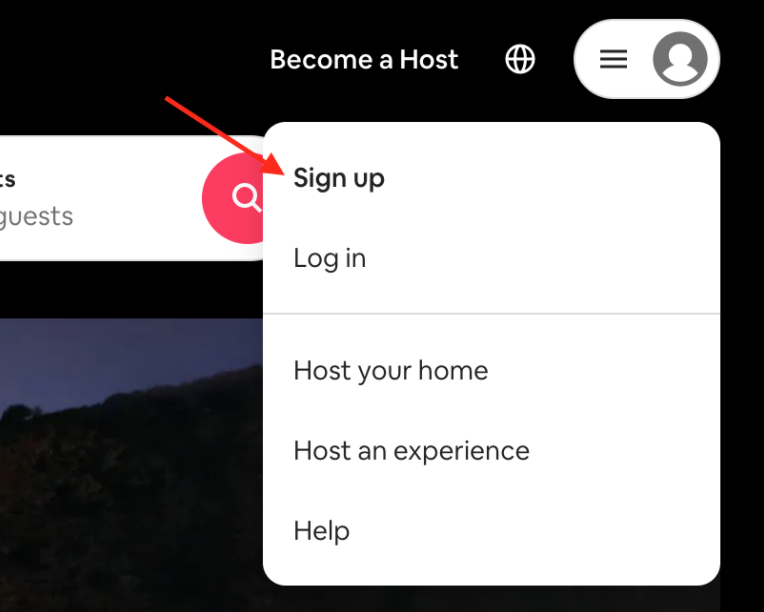 In order to confirm your identity, you'll need to confirm your email and phone number.
Make sure to go through all the needed steps carefully, so you don't seem off to those listing their properties.
Choosing a property you want to book
Setting up the filters
Entering the date and location of your planned vacation
First things first, you'll need to enter the exact date you plan on booking for.
You need to finish this step first, so you don't plan on booking a studio that is unavailable for the dates you need. If you're flexible with the dates, you can move the dates a week before and after, and some unavailable accommodations may become available.
Regarding the location, you'd be surprised at how small towns have rentals listed on the app. However, if you're planning a trip to an extremely off-grid location, try using the map to find the nearest place offering accommodation.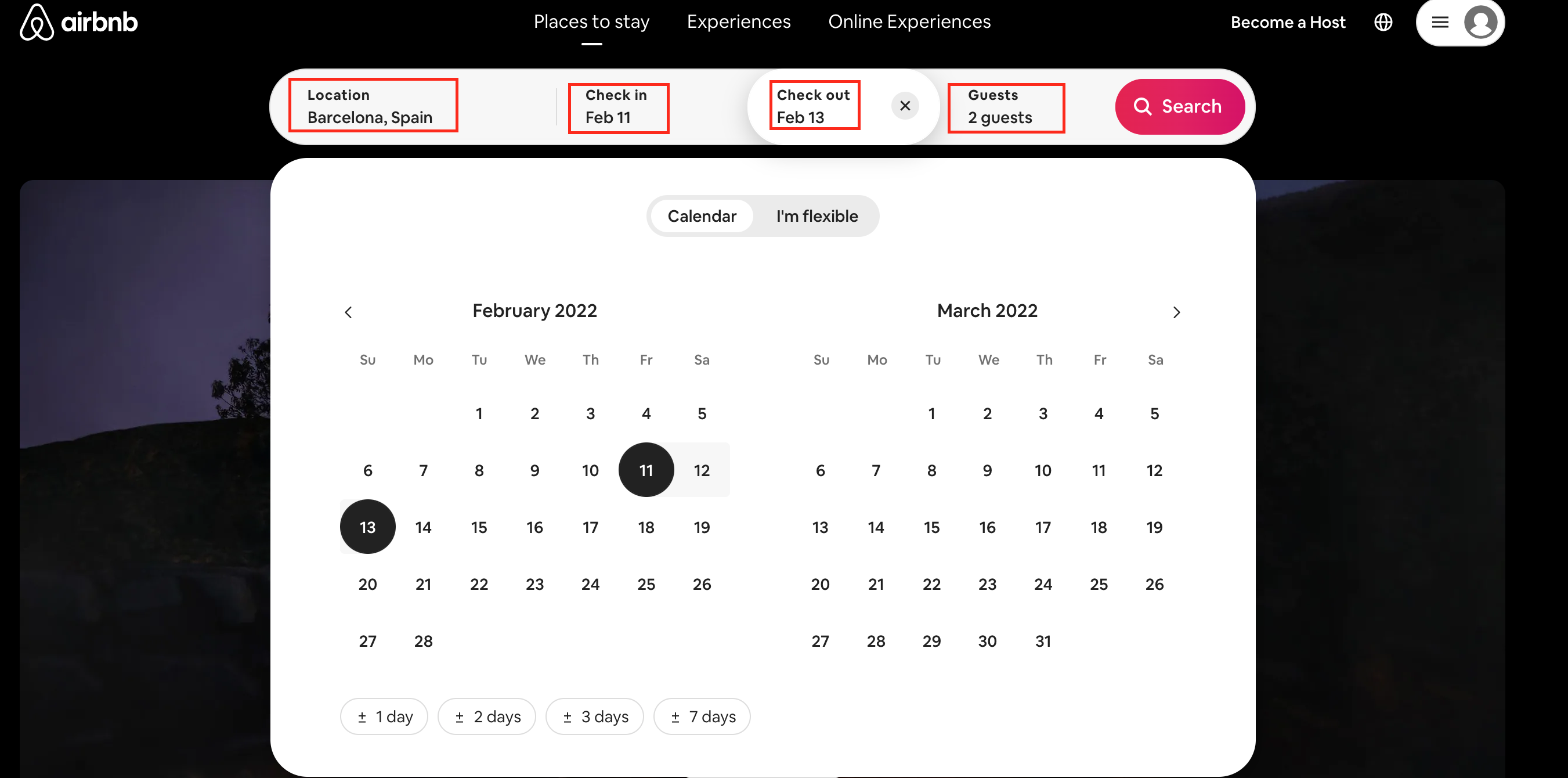 The rest of the filters - all 10 of them
We are all aware of our likes and dislikes. Therefore, to make the process of finding the perfect place easier, use every filter you see on AirBnb.
This will help you narrow down your search from over 20,000 apartments (which is more than a human can look at in a day) to a couple hundred places, suitable to your wishes.
Regarding the rent types, you can choose to rent the entire apartment/house, you can choose to rent a room in an apartment/house, or you can even rent something together with other travelers.
There will be dozens of pages to look through, but the more filters you use, the more narrowed your search will be.
There is a checklist of things you think are necessary, such as parking, WiFi, languages the owners speak, and which neighborhoods are suitable for you.
The best thing you can do is do some research of the town, to find out which neighborhoods are the best - closest to the center, have shopping malls, and most importantly - are safe.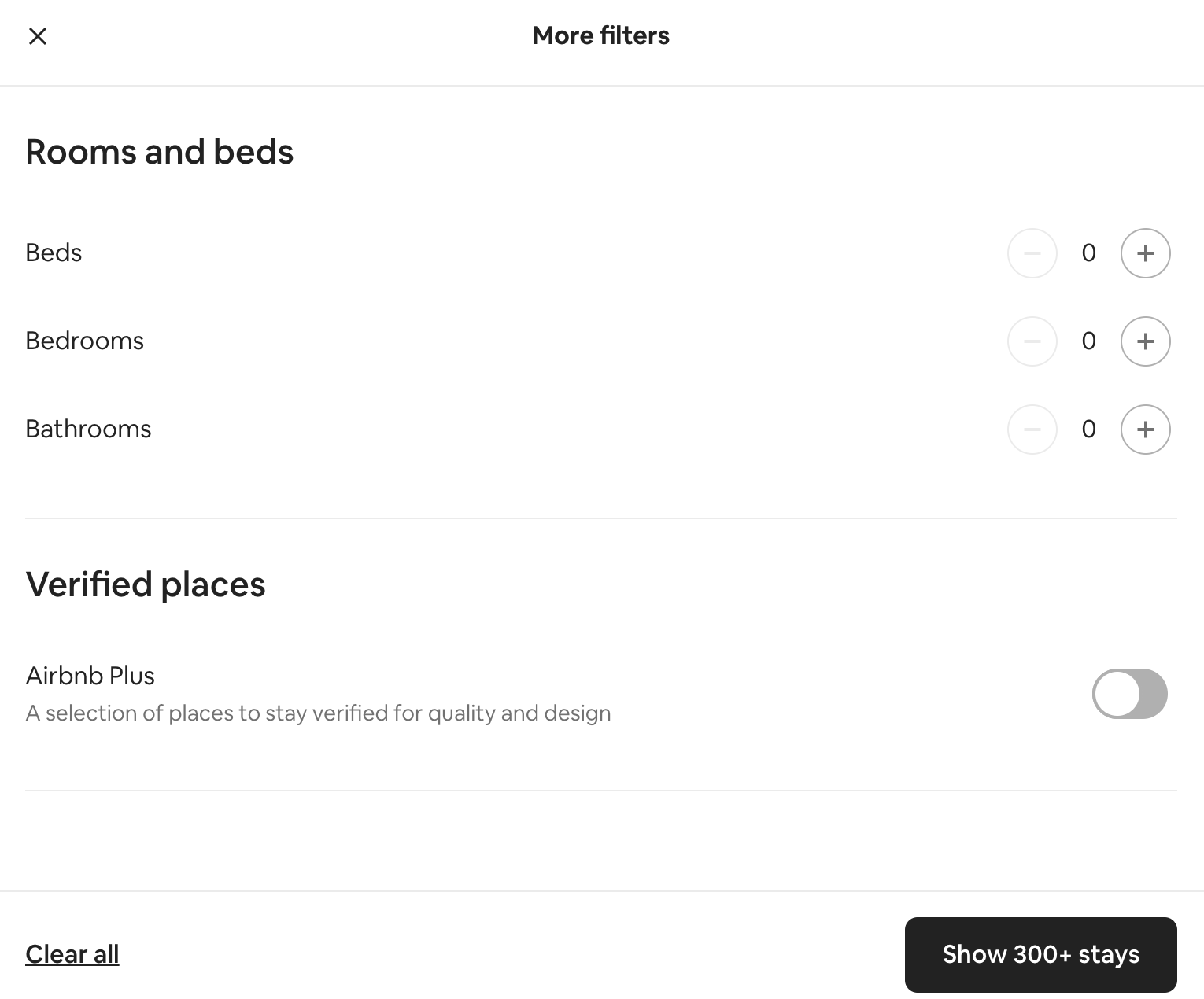 Reviews are comments made by previous customers regarding the hospitality of the hosts.
You can read through them to check if everything you like or dislike is as the host stated in the profile.
Every listing has a rating, which will help you choose the right ones for you. The context is simple - the higher the score, the better the host.
Try avoiding AirBnbs with low ratings - there has to be a reason for it, check the comments, or no ratings at all - which might mean it hasn't been booked by anyone before, which may turn out to be unsafe.
Right below the name and location of every Airbnb, there is a rating, so make sure to check it for those AirBnbs you're interested in.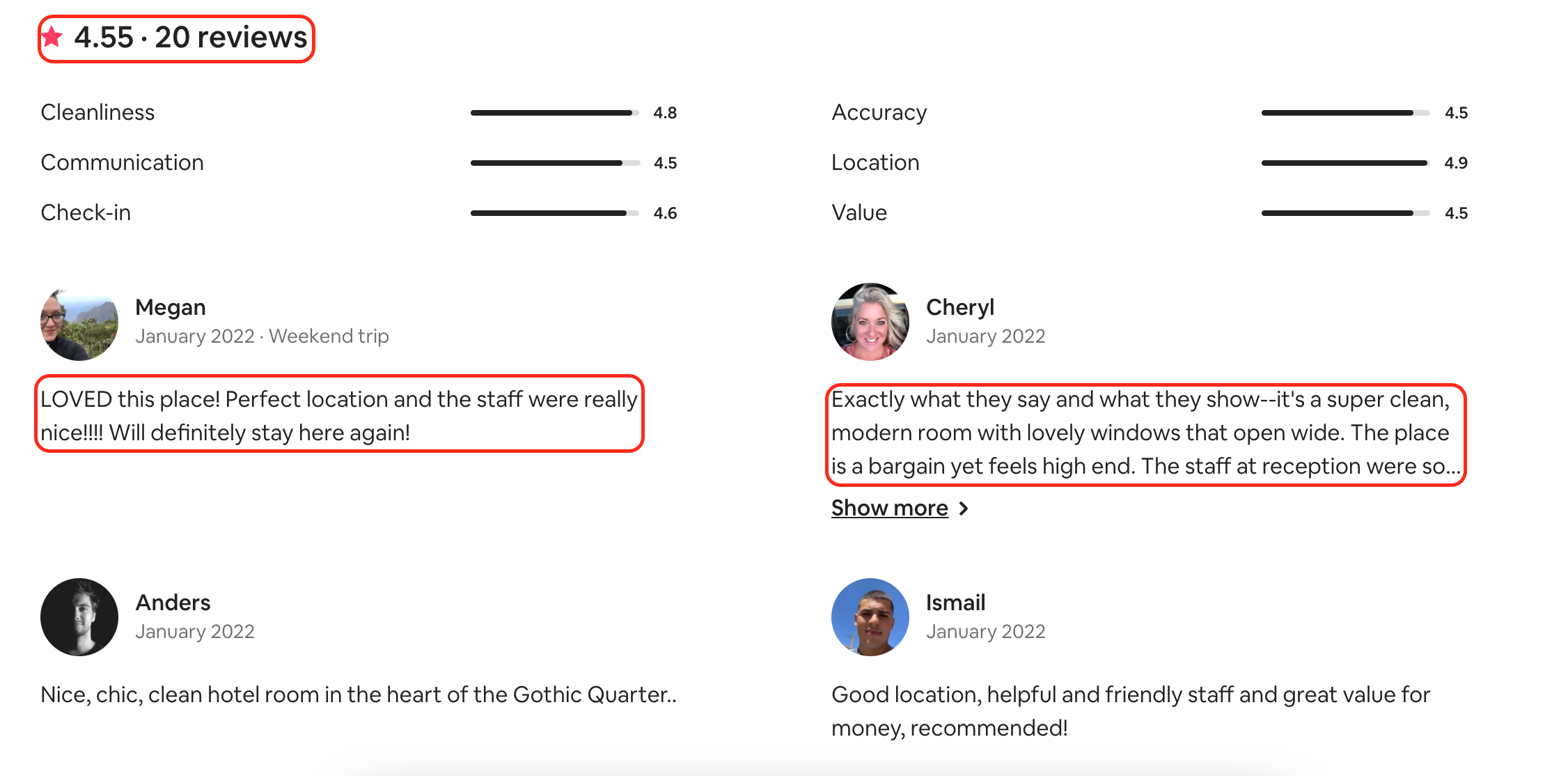 The information that's provided from the Airbnb hosts
All Airbnb listings have detailed information about what the accommodation has and doesn't have. Make sure to double-check that the listings have everything you need from the filters you put.
You need to read through everything the host has put on the listing to make sure you're both on the same page - imagine your flight landing at 2 AM, and you can't enter your AirBnb before 2 PM.
The most important part of finding the ideal Airbnb before the booking process is checking what the host has to say. Make sure you're looking at an accommodation that offers air conditioning or heating, check-in and check-out timings, cleaning fees, and service fees.
Some listings have penalty fees for canceling, some allow smoking (which might be a big no-no for non-smokers), so make sure to read through the details.
Please note that some hosts will ask for deposits, this means you'll need to pay some amount using your credit card before arriving, and some hosts keep the deposits in case of cancellation. Luckily, this is not required by all hosts, so if you do not want to lose your money - look for accommodations with no deposits and no cancellation penalties.
Another thing that might lead you in the right direction to make your decision - in the filters, select only 'Superhosts', and the best-reviewed listings will show up.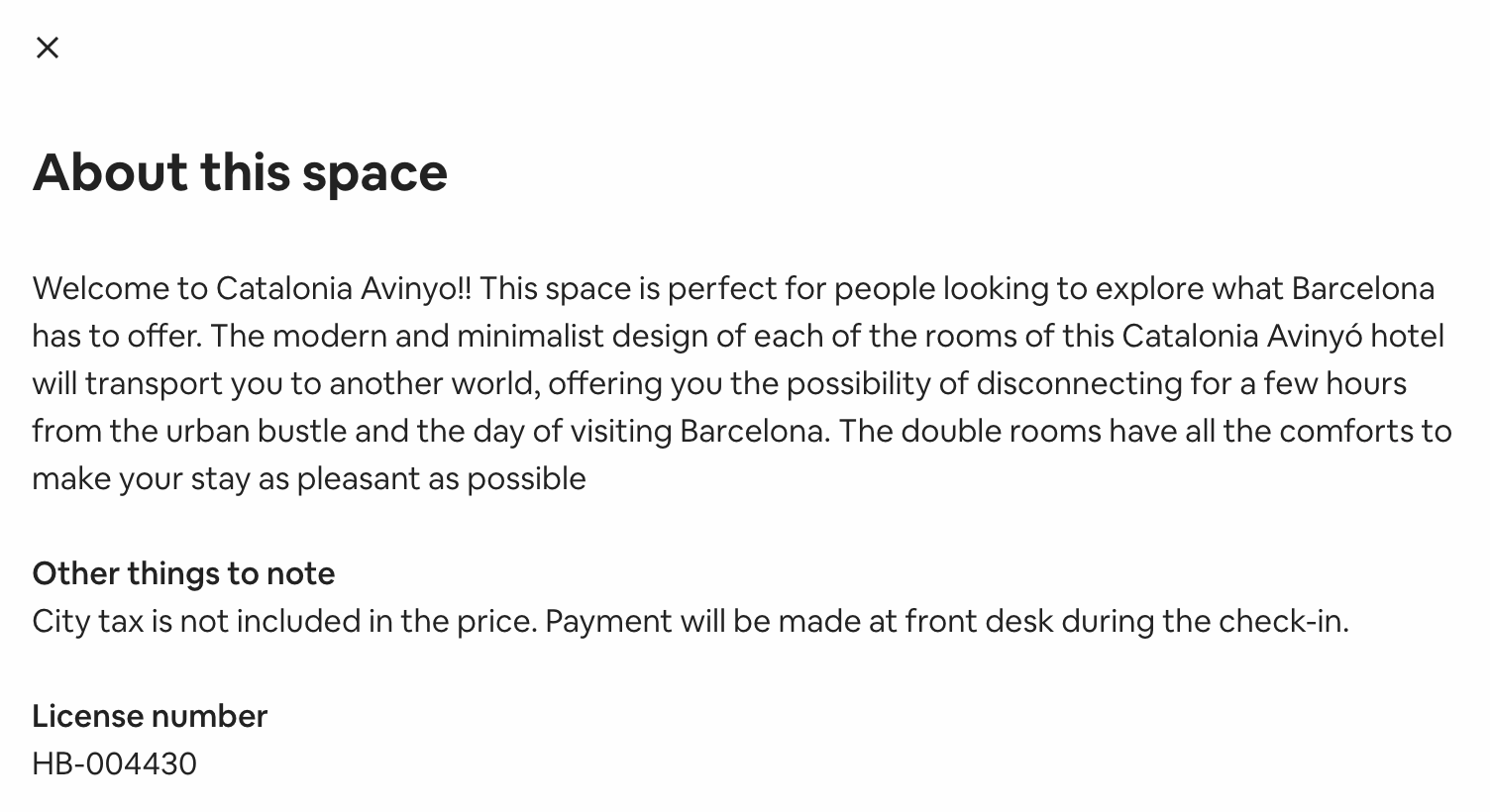 Checking the photos of the listings
We reached the part that's the most fun while looking for a place to stay. However, it's a cruel world, so we will give you a few heads-up tips and tricks to not choose the wrong one while searching.
First things first, there are some hosts who will state that their apartment is a sea view one, thus making the pricing of the apartment higher. We noticed that in some listings, even though the apartments are listed as sea view - there is only one window looking at the sea, or the corner of the sea. This is where you need to check the comments, especially if you don't see any photos of the sea in the listing.
Another thing to watch out for is the windows. There are some listings that are a part of the house the host lives in, so they might be renting out the basement, and we're pretty sure you would not like your vacation in Italy to be spent in a basement.
Furthermore, while looking at the photos, make sure to either double-check the comments or completely avoid listings where the photos are taken using a fish lens. This distortion makes the rooms seem a lot bigger than they actually are, so you wouldn't want to spend your vacation in a room that doesn't even have enough space for you to place your suitcases.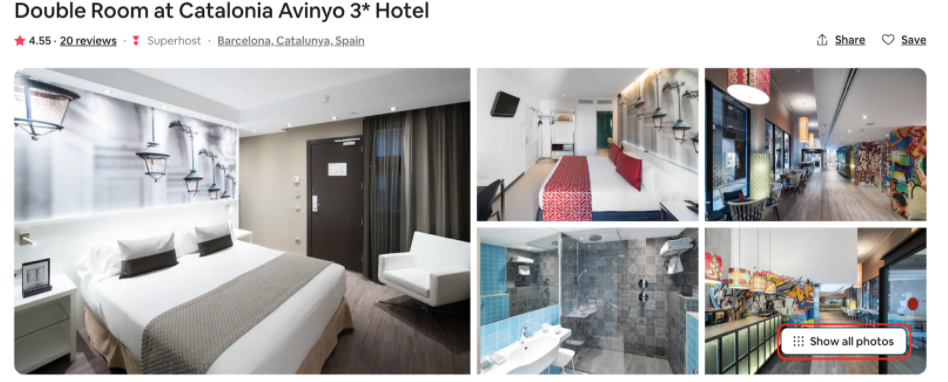 Getting in touch with the host
Let's say you went through all the steps we mentioned above, but you're still confused about something that might be a deal-breaker. In this case, you can contact the host by sending them a message with whatever you need to know additionally.
From our experience, if you truly like an Airbnb, contact the host and let them know you need more photos of the accommodation, for example. Hosts tend to help out in instances such as this since they need to rent it out.
You can also ask about the WiFi, hot water, kitchen/bathroom supplies, so you can get there prepared, especially if you need to work, you'll need high speed Internet.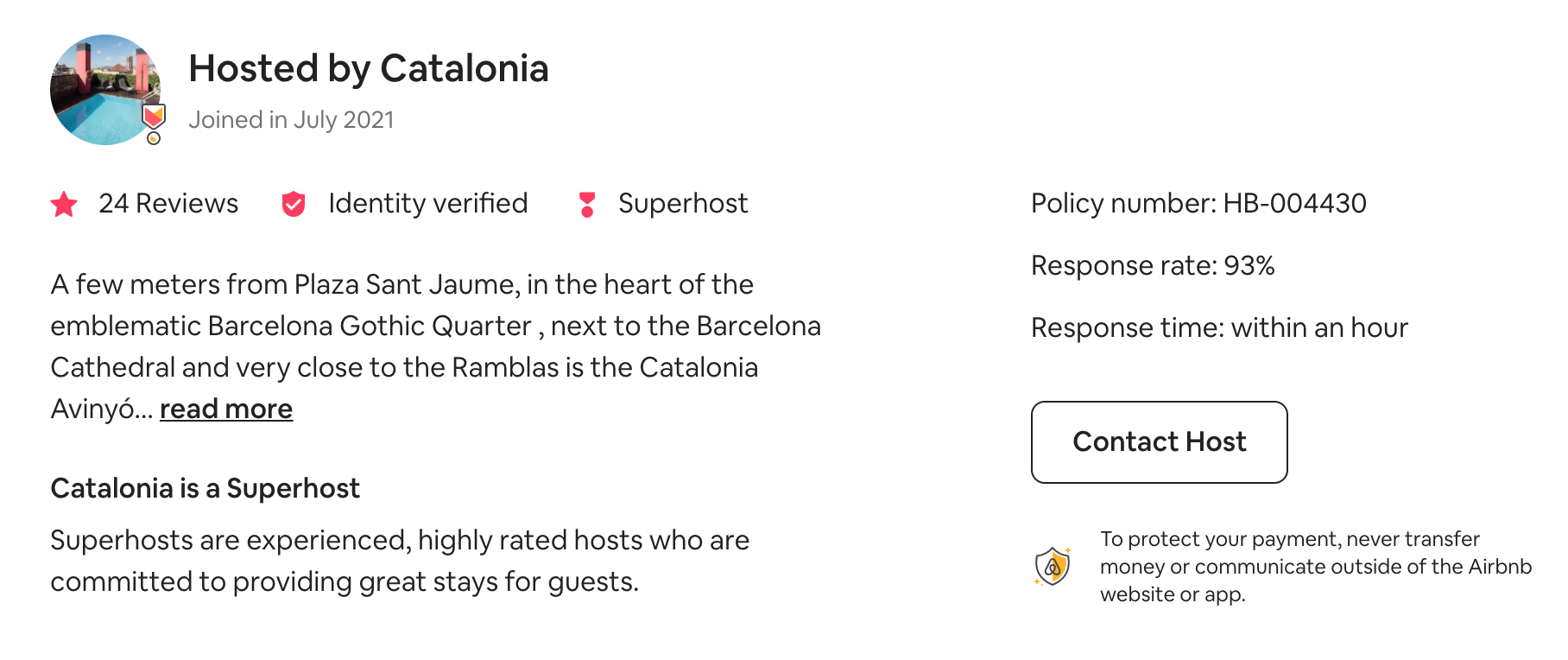 Booking a property
After choosing an Airbnb to stay at, you'll need to book it, to make sure no one else takes it before you.
However, before making the final booking and payment, you'll be given a detailed insight into the pricing, and what you're paying for.
All AirBnbs have cleaning fees - make sure the pricing is normal, who would want to pay $50 for cleaning services?
On another note, Airbnb takes a percentage from every booking you make. The hosts are charged 3% by Airbnb, while the guests' service fee usually varies between 6-12%.
After you check everything, and you want to book the place (finally, right?), you will be taken to a new window where you'll need to contact the host, if you haven't already.
Hosts can look through your profile, so as we mentioned, make sure to fill in every needed field upon completing your Airbnb account, so you don't get rejected by hosts.
Unfortunately, hosts too have bad experiences with guests, so getting in touch with them, and briefly explaining who you are, when you're traveling and the nature of your trip will only help you create a friendly bond, which might come in handy further on!
If a host doesn't accept the booking within 24 hours, the booking request will be automatically rejected. Therefore, sending a message might give them a nudge in the right direction.
If you don't feel like waiting, there are also listings where an 'Instant Booking' option is available, so you don't have to wait, nor get in touch with anyone.
Your stay at the Airbnb
Upon arrival, you will probably meet the host, so you can get the keys and some information about how things work.
From our experience, most hosts are willing to help out by giving you directions on which places you should visit, the best transportation routes, as well as which parts of the city you should avoid.
However, some hosts might not be able to make it to meet with you and will let you know how you can find the keys or the PIN to enter the accommodation.
Whatever your initial experience might be, you need to bear in mind that even if you paid for the Airbnb, it's not yours after all.
Don't bring too many people in the place, be respectful since it's not your property, and contact the host if you're in need of some gadget, but you're unsure whether you're allowed to use it, always be respectful!
The best thing you can possibly do is ask the host for their phone number, in case something goes wrong. However, don't bother them by calling constantly, use the number in cases of real emergencies, or at least text them instead of constantly calling.
What to do after the stay in the Airbnb
Once your vacation is finished, get in touch with the host if you haven't already. As we mentioned, some hosts will come to the accommodation to check if everything is as you found it, as well as taking the keys.
However, some hosts may tell you to leave the keys in the mailbox, so getting in touch with them before leaving is a must!
Another thing you should do after your stay has ended is leave a review.
Reviews are really important in this business since they are the most reliable part of the decision of whether you should book the place or not.
Therefore, if you had an amazing experience with the host and the place, make sure to leave a good review and a brief comment with the highlights of your vacation, to help the host get more bookings in the future.
On the other hand, if you experienced something not so amazing during your stay, write a comment about that situation as well, in order to help other travelers get the best experience.
Note: The reason we mentioned that you should be really respectful when being in the Airbnb, is because both guests and hosts can write reviews and comments.
This is exactly why you need to follow the guidelines that are given by the hosts, so you don't get a bad review, which will make it extremely difficult for you to book another Airbnb in the future without getting denied right away.
Additional info
Regardless of whether you're a guest or a host, Airbnb will require you to give them some form of ID. Their customer service feature is available 24/7, so you can contact them at any time for any possible issue you might be experiencing.
In case of damages done to a property, Airbnb covers the damages up to $1M dollars, with exceptions.
In some extreme cases, if you're completely not satisfied with the Airbnb you rented, you can always leave the place, and ask for a refund. You will either be paid the entire amount, or the deposit will be withheld.
Additionally, for those of you that are worried about your safety, or getting scammed, bear in mind that Airbnb currently has over 7 million listings around the world, and since its launch, Airbnb has accommodated over 400 million guests.
Therefore, no need to worry, Airbnb has offices in over 31 cities, and everything you're booking is on record and legal!
After all, if you're not satisfied with what Airbnb has to offer, you can always delete your Airbnb account.