Tijana
Key Takeaways
Tinder Rewind is a premium option that allows you to rewind your actions. In other words, you can return to the last profile you swiped left or right on, something that is not available for the free Tinder accounts.
To activate it, press on the yellow arrow located in the bottom-left part of the screen. The Rewind option can only be used on your last swipe.
If you're using Tinder regularly, you surely swiped left on someone that you might have found attractive by accident.
Don't worry; it happened to the best of us, and we almost immediately regretted it. Most of us even wished we could get a do-over, and for some time, there was no such feature.
Luckily, Tinder is here to save the day with the 'Rewind' feature, which is available for Tinder Plus and Tinder Gold users.
In this article, we'll go through what Tinder 'Rewind' is and how to use it. Keep reading!
What is Tinder Rewind?
Accidentally swiping left on a Tinder user that you find quite attractive indeed feels like heartbreak sometimes.
This is why Tinder introduced the Rewind feature. However, there are rules about how you can use this option.
You can only use the Rewind feature when you accidentally swipe left only once. This means that if the account you wish to bring back is among the last two or three left swipes, you will not be able to use the Rewind back - it only works on the last accidental swipe left.
In addition, the feature is a part of the premium packs, so it's unavailable for regular Tinder accounts.
To activate the Tinder Rewind feature, you need to:
Be a Tinder Plus or Tinder Gold subscriber.
Make sure not to close the app. This will delete the current session, reset your Tinder data, and the account you need to do the rewind on will get lost.
Tap on the yellow arrow in the lower-left part of the screen to activate the 'Rewind' button.
After activating the Rewind option, you could even use the Swipe Note feature for the Tinder user you liked so much.
Can I Rewind Tinder for free?
Unfortunately, Tinder hasn't made the Rewind feature available for non-paying Tinder accounts, which means it's unavailable for free. In order to be able to Rewind on your accidental left swipes, you'll need to subscribe to either Tinder Plus or Tinder Gold.
How to subscribe to Tinder
Follow these steps to subscribe to Tinder Plus, Gold, or Platinum:
Launch the Tinder app, and tap on your profile icon.
Tap on 'Settings', and from the list of options, choose Tinder Plus, Gold, or Platinum.
Updating to Tinder Platinum can only be done from Tinder Plus and Tinder Gold subscriptions.
Tinder premium accounts features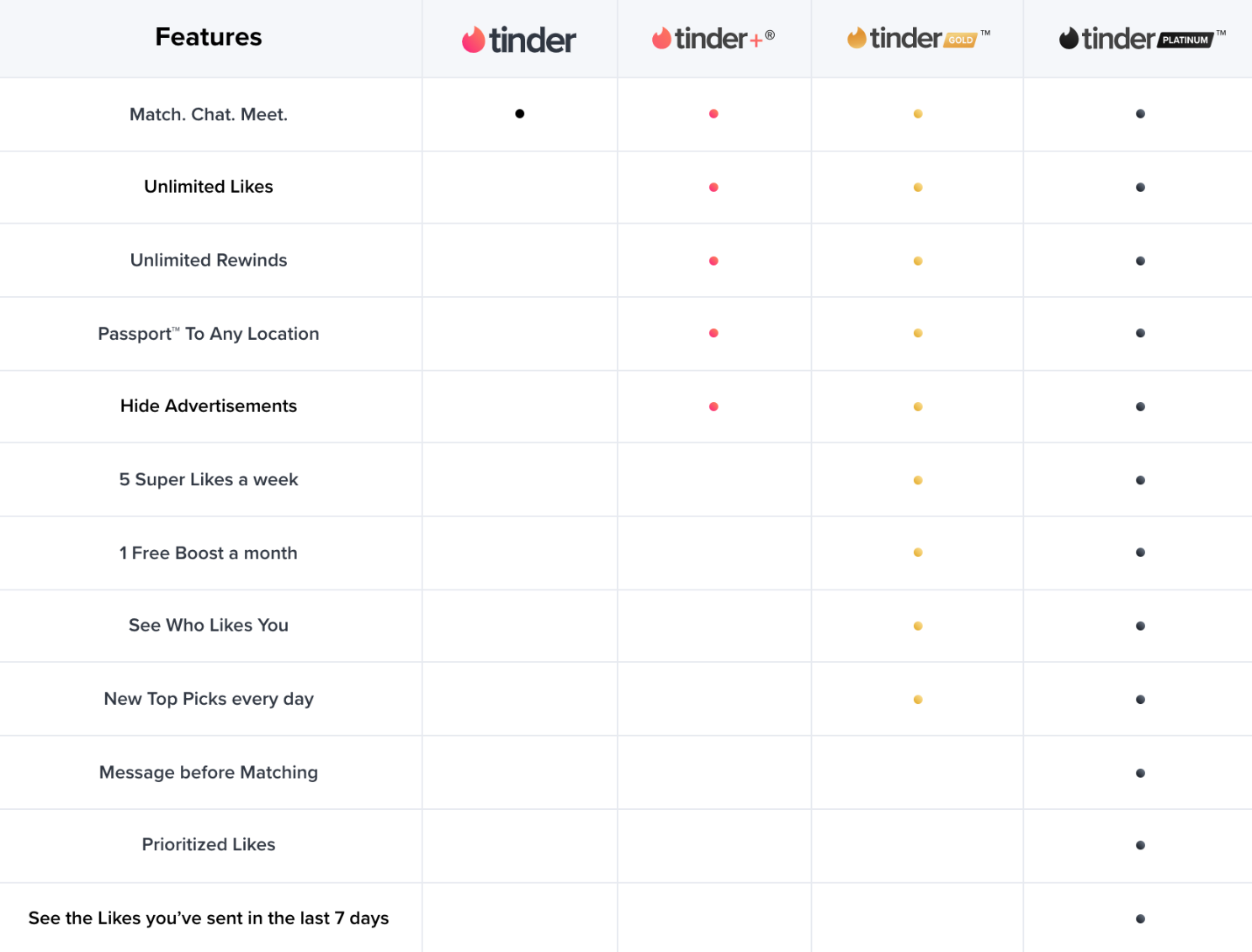 Is it worth it subscribing to Tinder premium?
If you're considering upgrading your Tinder account, you're surely wondering if it's worth it to pay for Tinder's services and the features it offers to premium subscribers.
Depending on the Tinder subscription you're considering, you might find some features as necessary, and some not as much.
Tinder Plus doesn't have as many new features as the Tinder free version - you can get unlimited swipes and check who's already liked you. In addition, you will receive several other features occasionally - such as free boosts and daily super likes. The prices are $16 for 1 month, $10 for 6 months, and $7 for 12 months.
If you're not getting many matches, and you're serious about your presence on the dating scene, you should consider Tinder Gold. The Gold subscription offers unlimited rewinds, 5 super likes per week, 1 free boost per month, and new top picks daily. The prices are $25 for 1 month, $15 for 6 months, and $10 for 12 months.
You might also like: How to Cancel Tinder Gold [2022].
The Platinum subscription offers everything we previously mentioned, with the addition of the following features: messaging users before matching, prioritizing likes, and seeing all likes you've sent in the past week. The prices are $99.99 for 3 months, $149.99 for 6 months, and $199.99 for 12 months.
Note: All prices are on a monthly basis.
What happens when you accidentally swipe left or right on Tinder?
If you swipe the wrong way on Tinder, the user will either receive a notification that you liked their account if you swiped right, or you will lose them if you swiped left.
If you want to undo your action, you should consider purchasing one of Tinder's subscription plans to activate the Rewind feature.
Conclusion
You now have all the needed information on what Tinder Rewind is, which types of paid subscriptions Tinder offers, what features are available, and what their prices are.
You can get back to swiping left and right on Tinder, and look for your soul mate.
If you liked this article, check out: What Does the Green Heart Mean On Tinder.