Tijana
After iPhone X and later started rolling out, we slowly started saying goodbye to the iPhone's home button.
However, along with the home button, another important section in the iOS UI ceased existing - the battery percentage being shown on the home and lock screen.
This is an important feature for both Android users who decided to switch to iPhones, as well as users who had iPhones such as iPhone 8 or earlier, both of which could see the battery percentage on their home screens.
Therefore, the biggest concern remains - is it possible with newer iPhone releases to have your battery percentage shown on your home screen and lock screen, and how?
How do I turn on the battery percentage on my iPhone?
We're sure that by now you know the only way to see your exact battery percentage - swiping down from the upper-right corner of the screen.
This will open the Control Center, and in the upper-right corner you'll see the exact battery percentage.
However, is there a way to have the battery percentage shown constantly, even when your phone is locked?
The short answer is no, you can't. Unfortunately, newer iPhones do not have a feature which can be turned on, so it shows you your battery percentage in the top-right corner.
All iPhones running on iOS 14 and later - mainly iPhones who have Face ID instead of Touch ID, do not have the feature to turn on the percentage in the status bar.
However, swiping down on the Control Center will show you the battery percentage from your lock screen, home screen, or whichever app you might have running at the moment.
Due to the notch at the top of the screen on newer iPhone models, it is impossible to have enough space for both the battery icon and the percentage to be shown in the corner.
Luckily, there is a way for you to have an additional insight into your battery percentage. You can add a widget which will be showing you the exact percentage at any given moment.
Follow these steps to add it to your home screen:
On the home screen of your iPhone, tap and hold on any empty space, until your apps and folders start shaking.
In the upper-left corner, click on the '+' sign, and the widgets menu will open.
Scroll down through the options, until you see the 'Batteries' widget.
Click on it, and swipe right to choose the appearance you want to have on your home screen.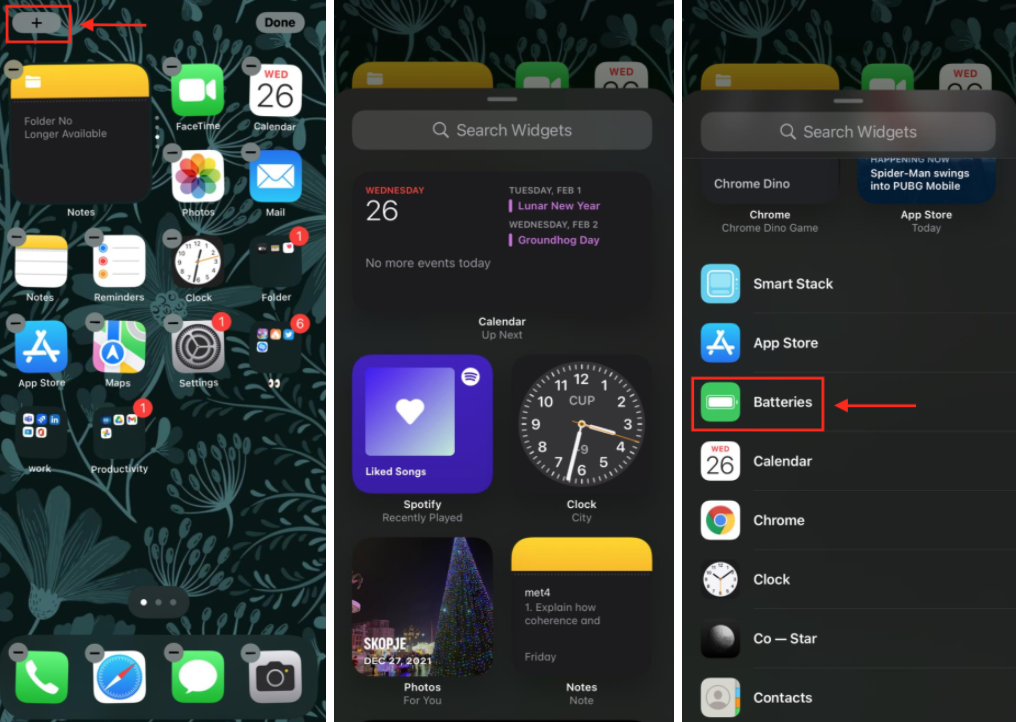 Press 'Add Widget' and choose which home screen page you'd like to see it on.
All of the widgets will give you insight into the exact battery percentage of your other Apple products - such as your Apple Watch or AirPods, if you have them connected to each other.
Alternative ways to see your Battery Percentage
Asking Siri
If you're too busy, and just making sure your battery will push through your working hours, you can always ask Siri to let you know at what percent your battery is. It doesn't show you your percentage, but it comes handy when your hands are busy at the moment.
Third-party apps
If you're not satisfied with Apple's current ways to check your battery, you can always download an app which will show you which apps drain your battery, the exact temperature of the battery, and usage patterns. The best app we found on Apple's App Store is Battery HD+.