Ivana Kotorchevikj
With its infinite scroll and attractive content, it's very hard not to want to check your Instagram feed every few minutes. Whether you open Stories, browse through the newsfeed or scroll away in Reels, fun Instagram photos and videos are just one swipe away.
If you were an Instagram user before 2019, you may remember that it had the Activity tab. You could access it by tapping on the Heart icon and then the Following tab. Here you could see the activity of those users you were following, for example, what they liked, where they left comments, etc.
It's no secret that many of us use Instagram, in particular, to find out more information about friends, family members, or anyone else we'd like to know a bit better. So it was a complete surprise for most of its users when Instagram decided to remove the Following tab in the Activity feed.
Today, Instagram still has the Activity tab, but it only shows your activity. However, the Following tab that showed your friends' activities, such as likes, follows and comments, has disappeared, and the days when we could see the Instagram activity or people we follow are over.
In this post, we'll explore why Instagram decided to shut down the Following tab and how we can see other people's activity on Instagram today.
Why has Instagram removed the Following tab from Activity feed?
The official statement from the company is that they have removed the tab in order to make the app easier to use. But according to Instagram's head of product, Victor Shah, the decision to remove it was because the majority of people didn't use the tab, and not many people actually knew about the Following Activity tab at all.
However, not all is lost. There are still some features that allow you to see someone's activity, like their most recent posts and comments on Instagram, even though they show minimal insight.
Read below to learn some tips and tricks to find out recent news and activities of the people you follow on Instagram.
Check out people's recent Instagram posts
Have you noticed that when you are scrolling through Instagram, posts from some people pop up more frequently in your feed? This is because Instagram's algorithm has noticed that these are the people you interact with more frequently. So you'll see their new posts in your newsfeed appear on top even though you haven't opened the app for a while.
Also, when you scroll down in the feed, you can see the reactions to the posts from people that you follow or who follow you. So this is another way you can indirectly see other users' activity.
But what about the people you don't interact with that often and still want to know what they are up to? Well, you can rely on the old-school way of going through their profile to stay updated about their recent posts.
Go to the search bar in Explore. Search for the username of the person whose recent posts you wish to see.
Once you are on the user's profile, you will see their most recent posts at the top and the oldest posts towards the bottom.
Click on a particular post to see when it was shared.
Set up notifications for people's profile updates
Also, if you'd like to be notified every time a user posts new posts, Instagram allows you to set up notifications for updates on specific profiles.
Go to someone's Instagram profile.
Find the bell icon located at the top right corner of their profile, right next to the three dots.
If you click on the bell icon, a notifications screen will pop up with five options: posts, stories, videos, reels, and live videos.
If you want to receive a notification every time a person uploads one of these types of posts on their profile, simply swipe the toggle right for any or all of these.
See if someone is online on Instagram
Sometimes we need a quick response from a person, but it's really annoying when you send them a message and they take forever to reply. In their defense, they may not be online at the moment.
To see when a person was last online, you need to have conversations with the person on Instagram Direct Messages first.
Go to your Instagram Direct Messages, where you'll see a complete list of all the people you've talked to on Instagram.
Click on the person's username to see the time they were last online.
If there's a green dot on the person's picture, it means that they're currently online.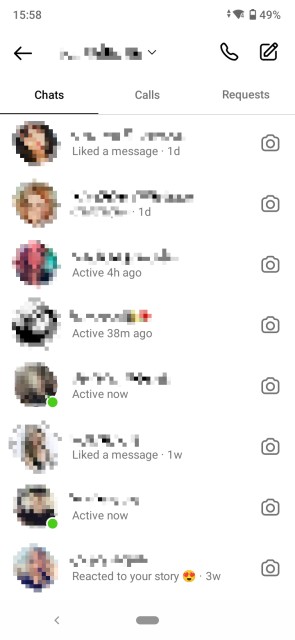 However, if you haven't texted this person on Instagram, there's no way to find out when they're online on the app. In this case, maybe it's time for you to break the ice and send them a DM.
You might also like to learn how to delete your activity on Instagram.
See users that a person follows and who follows them
When you are on the person's profile, click on the "Following" tab at the top. This section shows the users this person is following. This brings you to the list of people they follow. However, keep in mind that this page won't show you when they started following these users, but only lists the users themselves.
Additionally, next to the "Following" tab on the left, you'll see the "Followers" tab, which lists the number of followers a person has. If you tap on it, you'll see a page that lists everyone who's following them. Just like with the Following lists, you can only see the total list of their followers, not the dates when the users started following them.
Final words
Although Instagram removed the Following tab in the Activity feed and we are no longer able to see our friends' comments and likes in Activity, these are several workaround ways you can still track what users are doing. However, at the end of the day, Instagram is an app that helps you create and discover fun content. And using it this way, you'll get the most out of it.