Ivana Kotorchevikj
If you are seeing an interesting video, playing a game, or want to demonstrate something that it's in motion on your new iPhone 13 or iPhone 13 Pro, you can capture it with the screen record option available in the phone settings.
iPhone 13 (whether you have the regular, Pro, or Pro Max) has a neatly available screen recording feature in the Control Center. After making the screen record, you can save it to your phone's gallery as well as edit the footage if you want to upload the content to social media or your computer.
So, continue reading below if you want to learn how to screen record on iPhone 13 and how to screen record on iPhone 13 Pro.
How to screen record on iPhone 13 and iPhone 13 Pro
To take a screen recording on your iPhone 13 or iPhone 13 Pro, you first need to enable the "Screen Recording" button in Control Center, which is disabled by default.
You can find the option in the device's Settings. Here's how to do it:
Open the Settings app on your iPhone.
Tap on 'Control Center' near the top.
Tap the '+' icon next to Screen Recording. This will move the Screen Recording option from the 'More Controls' section to the 'Included Controls' section and will make it appear in the Control Center.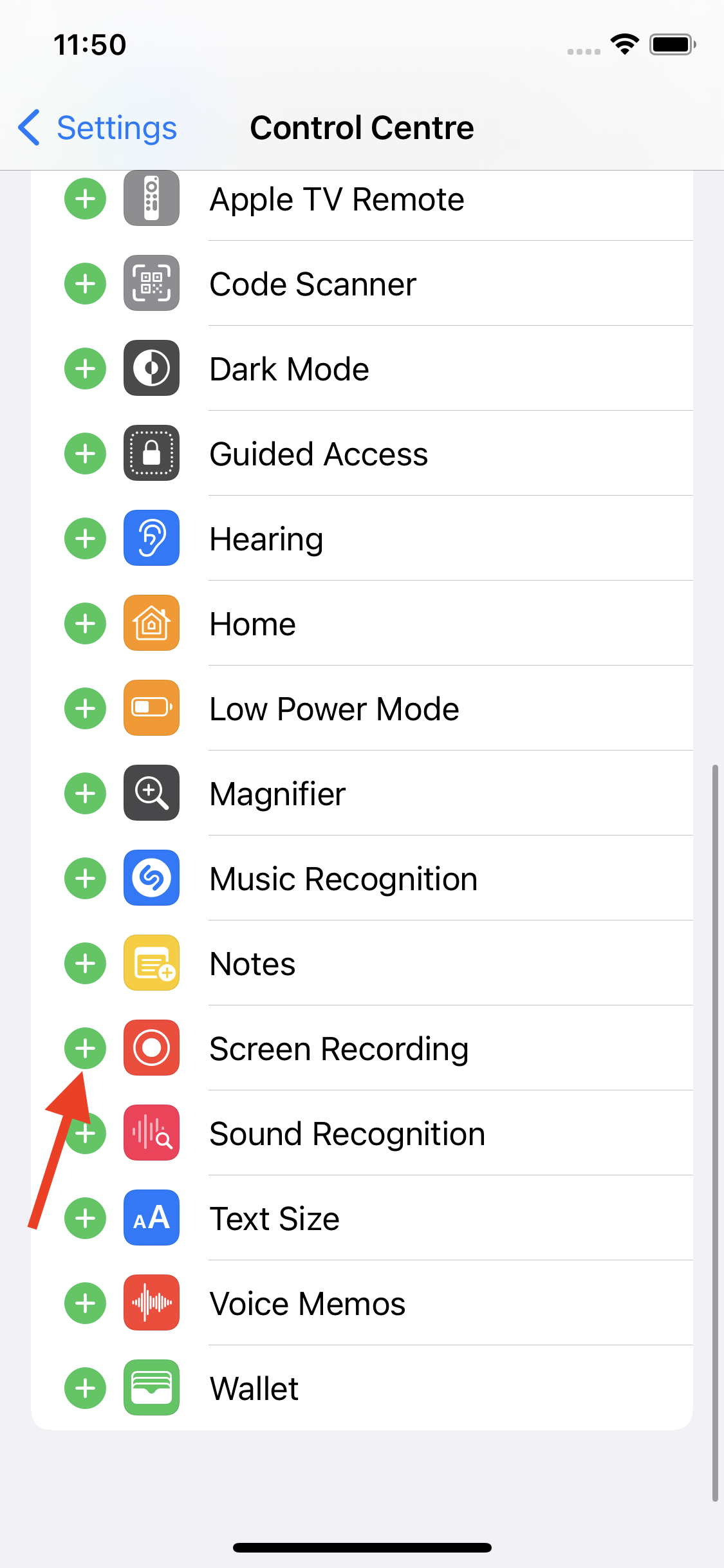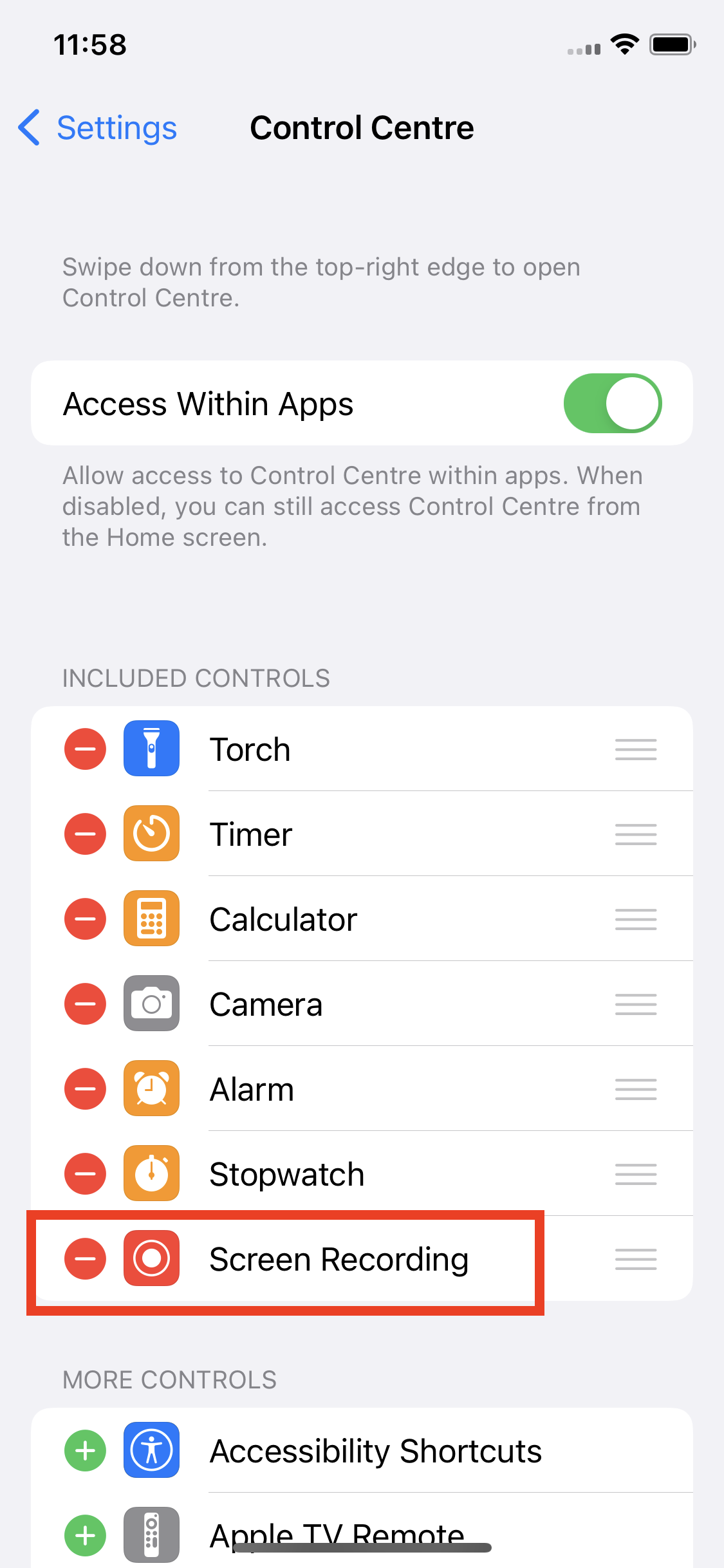 Now that you've enabled the Screen Recording button, you can proceed to take a screen record:
Go to the app, video, or action you want to take a screen recording of.
Next, swipe down from the upper-right corner of your screen to open the Control Center.
To start recording, tap the screen recording icon (a solid dot with a circle around it).
Additionally, if you tap and hold on the screen recording icon a screen with recording settings will appear, where you can enable the microphone and to choose where to save the recording (The save location is the photo app and the microphone is turned off by default).
To change the location where the footage is saved, choose an app from the list.
Tap on the microphone icon to enable it if you want to speak during the screen recording.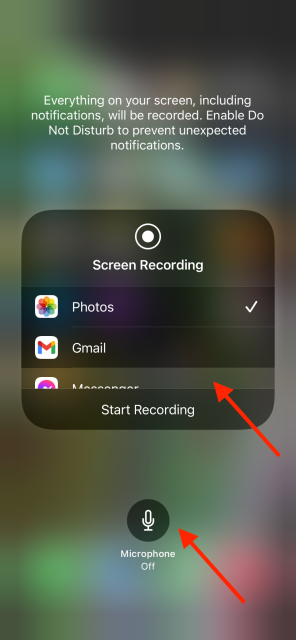 Next, tap on 'Start recording'. A 3-second countdown timer will appear. After the time is up, the recording starts.
To stop recording, again open the Control Center and tap on the Screen Recording icon, which now will be the color red as the recording is in progress. (If you have the Screen Recording controls opened as in step 4, tap on the Stop Recording button.)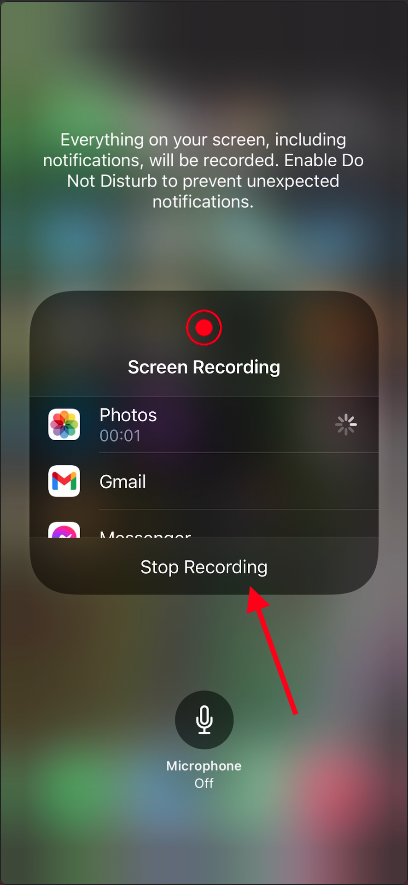 Screen recording videos are saved in the Videos album in the Photos app by default. However, if you've chosen another app to save the video in step 5, look for your screen recording video there.
Note: You can screen record most apps and activities you do on your iPhone, but not all. Some apps, features, and actions may be blocked from screen recording due to security or copyright issues. For example, you can't screen record a video streaming app or a screen where you add your credit card number to Apple Pay.
✔ You might also like to learn how to delete screen time data on an iPhone.
Issues with screen recording on iPhone 13
Below are some of the most common issues you may come across while trying to screen record on iPhone 13 or 13 Pro and how to fix them.
Screen recording has no sounds - If your screen recording doesn't have sound, make sure you toggle on the microphone in the screen recording settings (check step 6 above).
You can't record a video game - If you can't record a gameplay video, you may have a Screen Time setting preventing it. If this is the case, go to Settings > Screen Time > Content & Privacy Restrictions > Content Restrictions > in the Game Center section, Screen Recording > Allow.
Screen mirroring: Unfortunately, iPhone doesn't let you screen record and use screen mirroring simultaneously.
Restart your iPhone - If you are having issues with screen recording and you can't pinpoint the problem, the simplest troubleshooting step is to restart your phone, which usually sorts most software glitches.
Update your iOS - Sometimes, updating the iOS may solve issues with the screen recording. So check if there are any new versions available in Settings.
Now that you know how to record the screen on iPhone 13 and iPhone Pro, continue reading about more iPhone tips, such as how to take long screenshots on iPhone.