Tijana Kargovska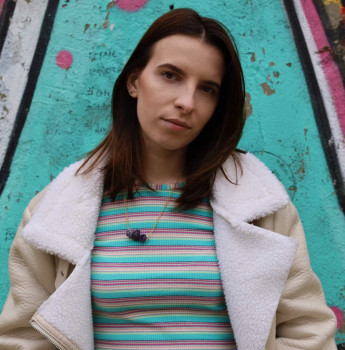 Scheduled text messages, especially for those days when you're too busy to be thinking of anything else, might be the optimal solution to stop forgetting to make a dentist appointment or to check in with your loved ones while you're working late.
However, not all smartphones have scheduling features in their messages app, and not everybody has access to Google Messages. Therefore, the main question is, can iMessages be used to send scheduled text messages?
Even though iMessages as an individual app does not have anything similar to scheduling messages, don't worry, we found the trick.
Can I schedule text messages on my iPhone?
The short answer is you can, but not directly through iMessages.
Unfortunately, iMessages does not have a built-in feature allowing users to schedule messages, but this doesn't mean it can't be done at all.
Hence, as with all other issues, we found a couple of workarounds for you.
How do I schedule text messages on my iPhone?
As we mentioned, since iMessages does not offer scheduling or setting reminders, here's how to do it yourself:
Using the Shortcuts App on iPhone
All iPhone users, running with iOS 13 and above, have a preinstalled app in their phones named Shortcuts (if your phone is currently running below iOS 13, you can find and download the Shortcuts app in the App Store).
Follow these steps to set up automated text messages:
Open the Shortcuts app on your phone, or download it if you don't have it preinstalled.
From the home screen of the app, tap on 'Automation' - located in the middle of the lower part of your screen.
Under 'Automation' select 'Create Personal Automation'.
This feature will only show up to users that are launching and using the app for the first time. If you have already used it, click on the '+' in the upper right corner, and click on 'Create Personal Automations'.
In the 'New Automation' screen, fill in the 'Time of Day' for when you'd like your automated message to be sent.
In the following field, select whether you want the message to go through daily, weekly, or monthly.
In the next field, named 'Actions', select 'Send a Message' and type in the name of the contact and the message you need to send.
After finishing, click on 'Done'.
You will be given an option to choose whether you want your phone to send out notifications before sending the text message. If you want to, set the 'Ask before running' as on, if not - toggle the button next to the feature to turn it off.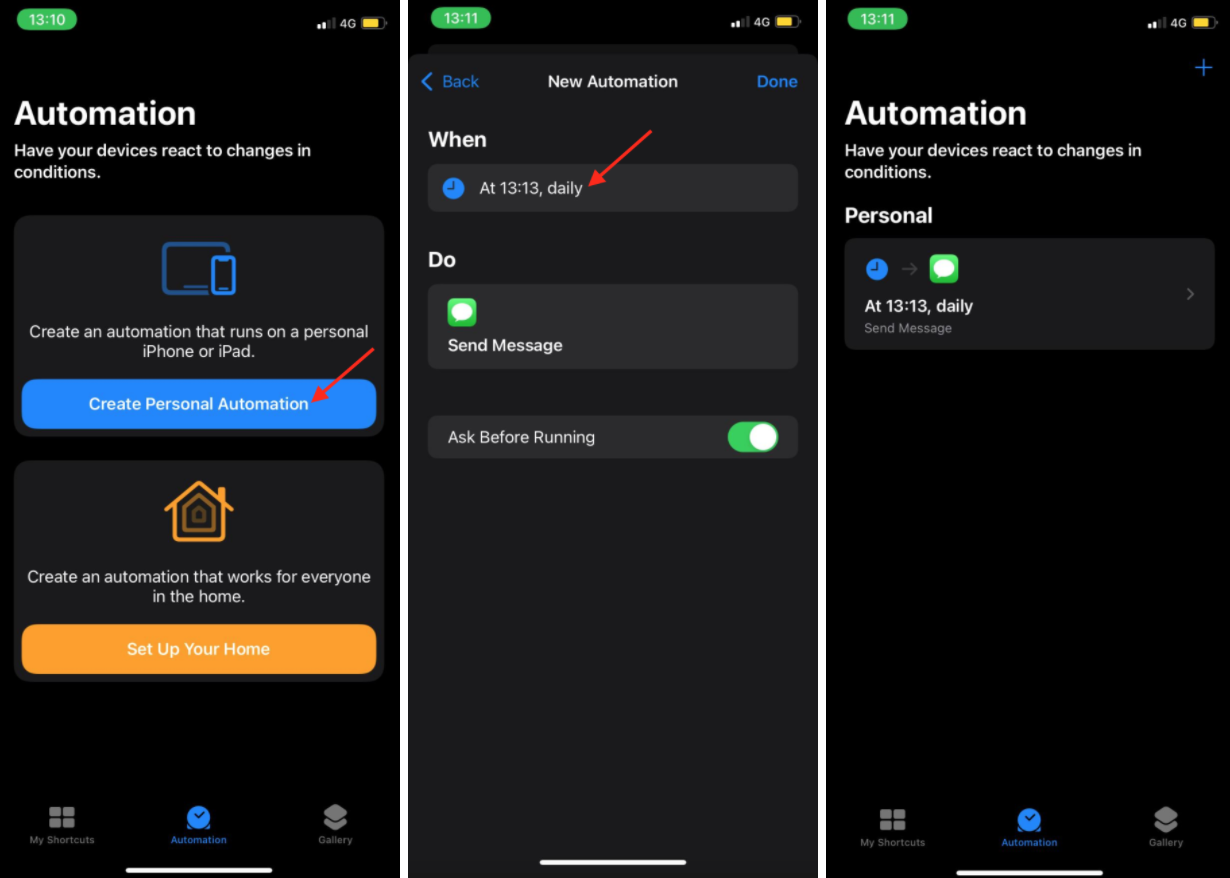 Note: Setting this Automation on means the text message will be sent out daily, weekly, or monthly at the timing you have selected. If you want the text to be sent as a one-time thing, you'll need to delete the Automation after the text has been sent.
👉 Also read: How to Make Your Messages Icon Aesthetic
If you do not want your text messages to be recurring, but rather delayed, it can be done as well.
However, it cannot be done through the Shortcuts app, and you'll need to download a third-party app.
There are several apps that can be used to schedule and automatically send messages.
Moxy Messenger: Moxy Messenger is an app available for all users on the Apple App Store. This app allows you to create templates to send out using iMessages, email, regular SMS, and works with WhatsApp, Slack, and Messenger. You can schedule messages, attach photos and files, and you will receive reminders from the app regarding your upcoming scheduled messages.
Carrier Messaging: Carrier Messaging works similarly to Moxy - however there are limits as to how many scheduled messages you can send. If the limit they have set is not enough for you, you can upgrade to Carrier Pro to unlock unlimited messages.
Reminderbase: Scheduled Text: This app is a bit different than the previous ones. You cannot use your own phone number, but you can use one of their local phone numbers to send out scheduled text messages, but you will be charged extra. The texts are limited to 160 characters. They have three different packages: Standard, Deluxe, and Plus.
If you liked this article, make sure to check out our other iPhone-related articles: How to erase keyboard history on iPhone, and How to add people to a group message on iPhone.