Tanja
Most social media users are used to the situation when, out of nowhere, some of their apps just crashes all of a sudden. One of those apps that also crashes is Snapchat and this is actually the biggest bug in the app itself.
The app will display the message "Something went wrong, please try again later", informing users that they cannot use the app due to an instant crash.
But, there is no need for panic, as this is something that can be solved in no time.
So, if you are using Snapchat and you've also encountered such an issue, or if it keeps happening over and over again, you should definitely check out this tutorial.
Keep on scrolling to learn how you can fix it when Snapchat keeps crashing.
Bonus read: How to fix: Snapchat deleted my account.
Why does my Snapchat keep crashing?
Just like any other app, the commonly known phenomenon of Snapchat crashing can come as a result of many factors. These factors, in this case, culprits include faulty software updates, and malware/malfunction of the software, not to mention that sometimes even your VPN service might also be coming in the way.
Some Snapchat users that have been using this app since the beginning say that this error has been a default error in Snapchat's system since its launch.
How to fix when Snapchat keeps crashing on iOS devices
Snapchat is especially crashing on iPhones and reports indicate that it is all due to the new version of the app, even though that version was made for the maintenance purposes of the app itself.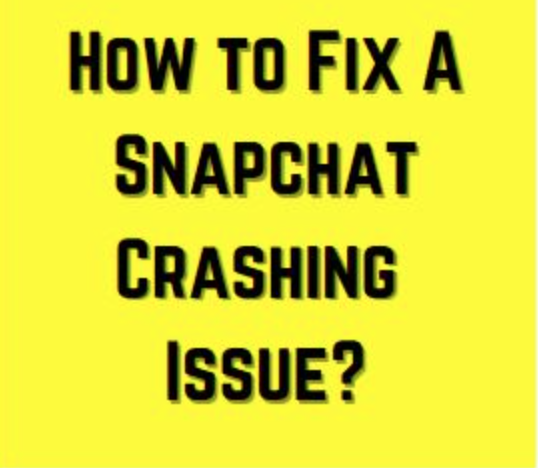 Solution No.1 Clear the Snapchat app and restart it.
When the app is "misbehaving", the first thing you should consider doing is to force quit it. In some cases, this is the only trick that gets the job done.
Solution No.2 Restart your iPhone.
This solution might also be considered the first try because there might be some minor glitches and software errors on different smartphones, including iPhones. So, clean your iPhone's software errors by simply restarting (soft and force restarting) your iPhone.
Follow these simple steps to do so:
Soft restart:
Press and hold the Power/Side button.
When the Slide to Power Off menu appears, release the Power button.
Drag the slider to the right and this will set your iPhone to shut down.
Wait for around 30 seconds, then press and hold the Power/Side button again.
Release when the Apple logo shows up.
Force restart:
Press and release the Volume up button.
Press and release the Volume Down button.
Press and hold the Side/Power button till the Apple logo shows up.
Solution No.3 Disconnect your Wi-Fi connection and reconnect again.
Snapchat can function properly when the key requisites are all covered, meaning processing power (CPU), internal memory storage, graphical requirement, software version, and most importantly, stable internet connection.
Otherwise, when users post something on this platform, there might be some errors occurring and causing posting failure as well as crashing. Therefore, another best thing to try is turning off your iPhone's network and then reconnecting to it.
Solution No.4 Update your Snapchat app.
Updates are a must and sometimes bugs and malware are the only triggers for why Snapchat keeps crashing. So, check for available app updates, in this case particularly, check for the latest updates on Snapchat, and here is how to do it:
Tap on the App Store on your iPhone's home screen.
Tap on Updates (bottom right corner).
You will see a list of all of your apps with pending updates - tap on the Update option next to Snapchat.
Solution No.5 Enable background app refresh for Snapchat.
This option is there for apps to be able to check for updates and new content in the background so that the apps run smoothly. To enable this option on your iPhone, these are the steps to take.
Open your iPhone's Settings.
Tap on General.
Tap on Background App Refresh.
Search for Snapchat.
Turn the toggle next to it.
Solution No.6 Check the server to be sure that Snapchat is not facing a crash.
Sometimes, it might happen that Snapchat's server is facing outrage. You can check the server status on Downdetector.com, enter Snapchat in the search field, and hit Enter.
This site will inform you about the e status information related to the Snapchat app.
Solution No.7 Disable the VPN service on your iPhone.
If you are using a VPN service on your iPhone, this might be causing an unstable internet connection and consequently, it could have an impact on Snapchat's internet connectivity.
So, go to Settings > General > VPN & Device Management > VPN > disable the VPN service.
Open the Snapchat app to check if the crashing problem is gone.
Solution No.8 Delete Snapchat and reinstall it.
This solution should be your last resort as there are some software issues that can be fixed by clearing the cache data, but it will only wipe temporary files that are stored in the app's memory. On iOS, clearing cache data from an app is by uninstalling the application, so delete the Snapchat app as you would delete any other app and then reinstall it.
Also read: How to fix: Why is my Snapchat not installing?!
You can always contact Snapchat's Support center website to report this issue. Their team will give you the best advice for further assistance and recommendations if none of the previous fixes worked out for you.
How to fix Snapchat crashing on Android devices
Possible fixes to try on Android when your Snapchat app is not working properly/crashing:
Close the Snapchat app and relaunch it.
Log out of the app and log in again.
Shut down your phone.
Clear the app's cache data.
Delete the Snapchat app and reinstall it again.
Also, you can check other fixes in case your Snapchat Location is not updating, or how to fix the Snapchat loading screen issue.